Delicious and moist Cinnamon Apple Muffins. A perfect dessert to make your day, and a perfect recipe that has fresh apple bits and cinnamon spice!
Are you a muffin fanatic? Then you have to try these Blueberry Muffins!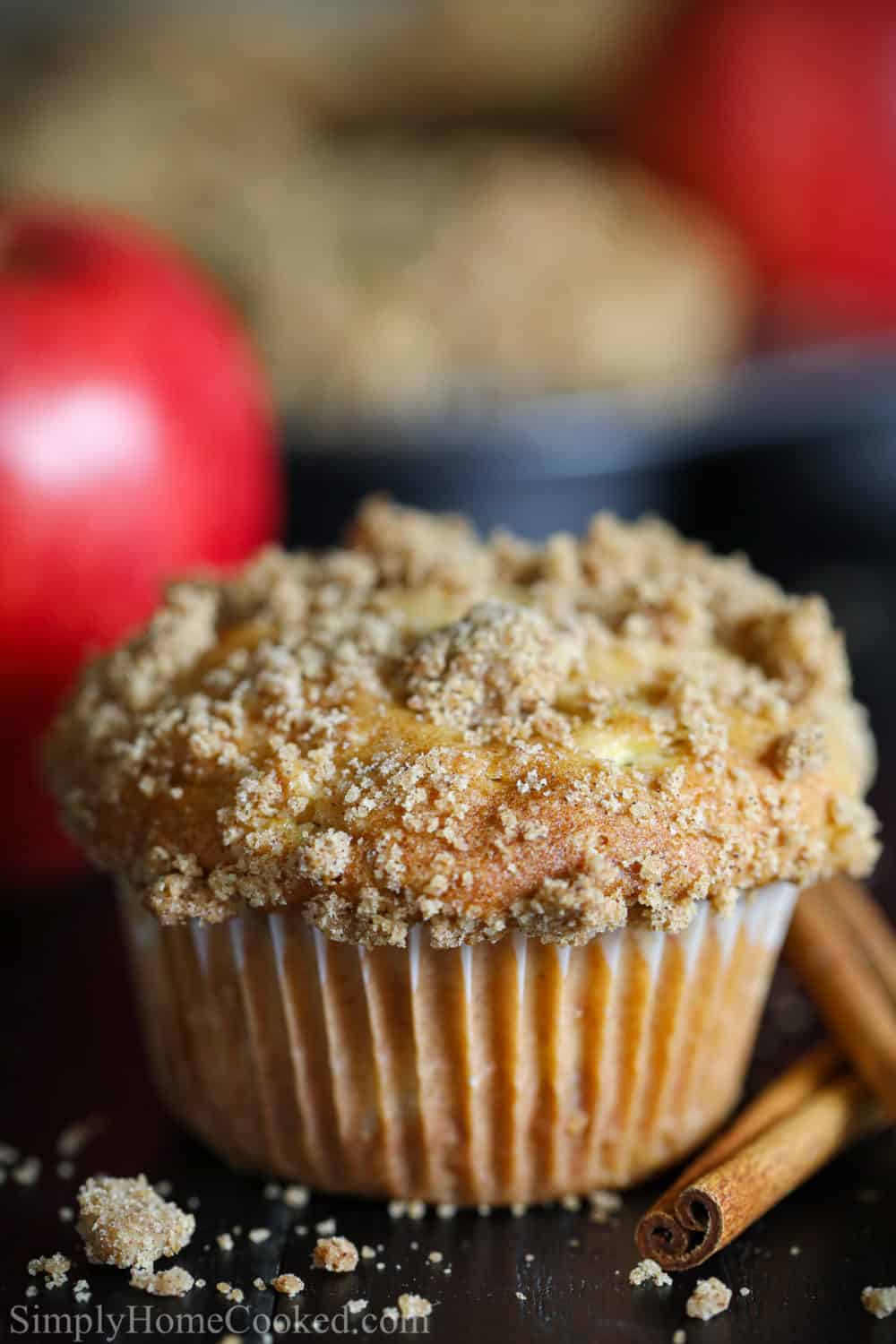 Ingredients for these cinnamon apple muffins
Dry ingredients: you will need a basic flour like all-purpose, some baking soda, powder, sugar, and salt, along with cinnamon for extra fall flavor.
Wet ingredients: large eggs, heavy cream (for richness), vanilla extract, melted butter (tastier than oil), apples, and lemon juice to keep the apples from browning.
Streusel topping: This is one of my favorite parts! It is as simple as a combination of flour, salt, brown sugar, cinnamon, and butter.
What type of apples to use
This one tends to be a personal preference. I used gala apples. However, you can also use pink lady or Honeycrisp apples. Just make sure to use a crunchy and crisp apple. If you use a softer apple then after baking your apple bits will be a little mushy.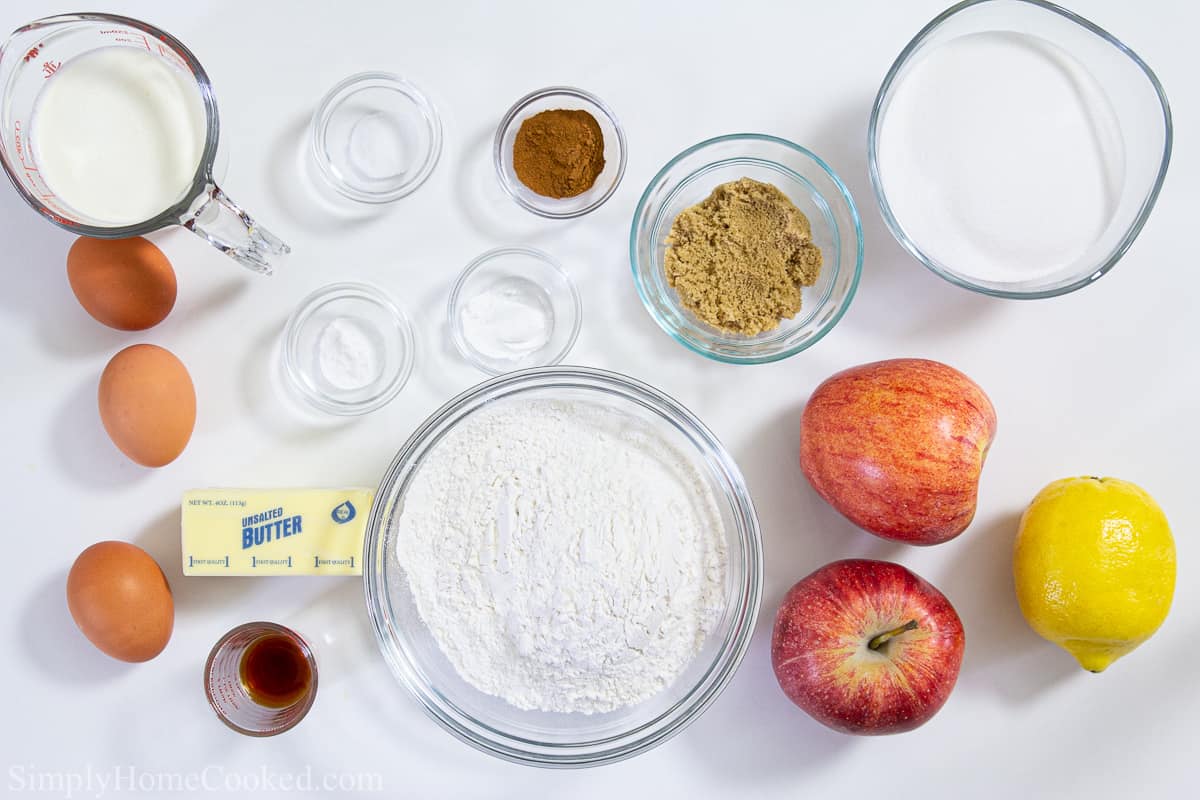 How to make these cinnamon apple muffins
The batter
Combine all the dry muffin ingredients as instructed in the recipe card below and set them aside.
Mix the eggs and remaining wet ingredients on high speed using an electric hand mixer.
Then add the flour mixture and apples. You'll want to line a muffin tin with cupcake liners and scoop them out using an extra-large cookie scoop.
The streusel topping
Everyone knows that having streusel on your apple muffins turns a good recipe into a great recipe. First, you want to combine your streusel ingredients (cold cubed butter, salt, cinnamon, flour, and brown sugar). You'll want to use a fork to mash the ingredients together until it has a dry crumbly texture. If it begins turning into a paste then its probably because your butter was too warm. Once it's completed, add a layer on top of each muffin and bake the muffins in the oven as instructed below.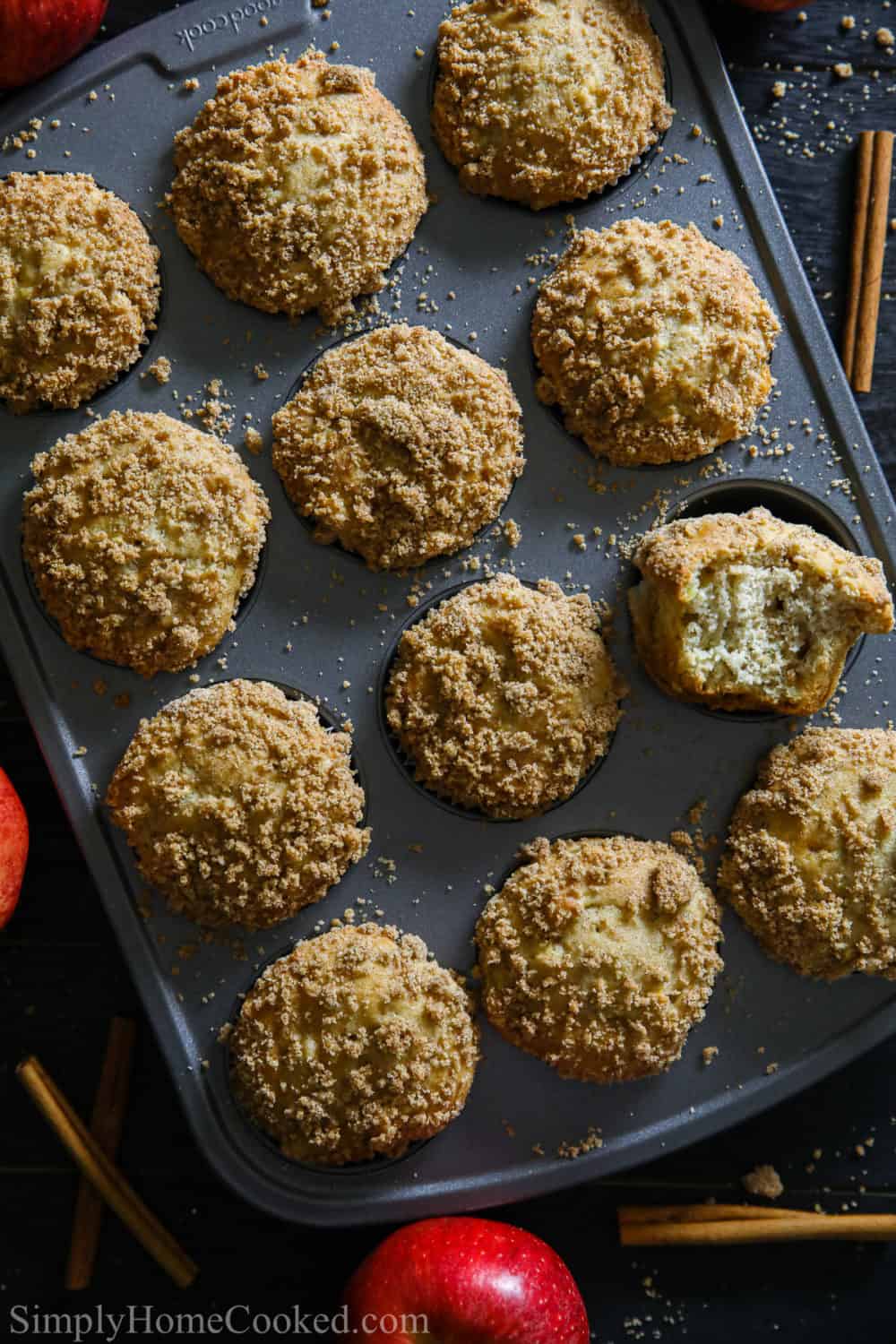 How to store apple muffins
Anything fresh is always better, however, that doesn't always happen. So to keep your muffins tasting as fresh as possible you want to keep them in an airtight container at room temperature. This method will allow you to enjoy them for up to 3 days.
Different flavor variations for muffins
Any recipe can be tweaked to your liking. Adding some nuts or seeds, grated apple, different spices, or even adding a maple glaze on top of this apple muffin recipe. These are just a few good flavor additions to apple muffins.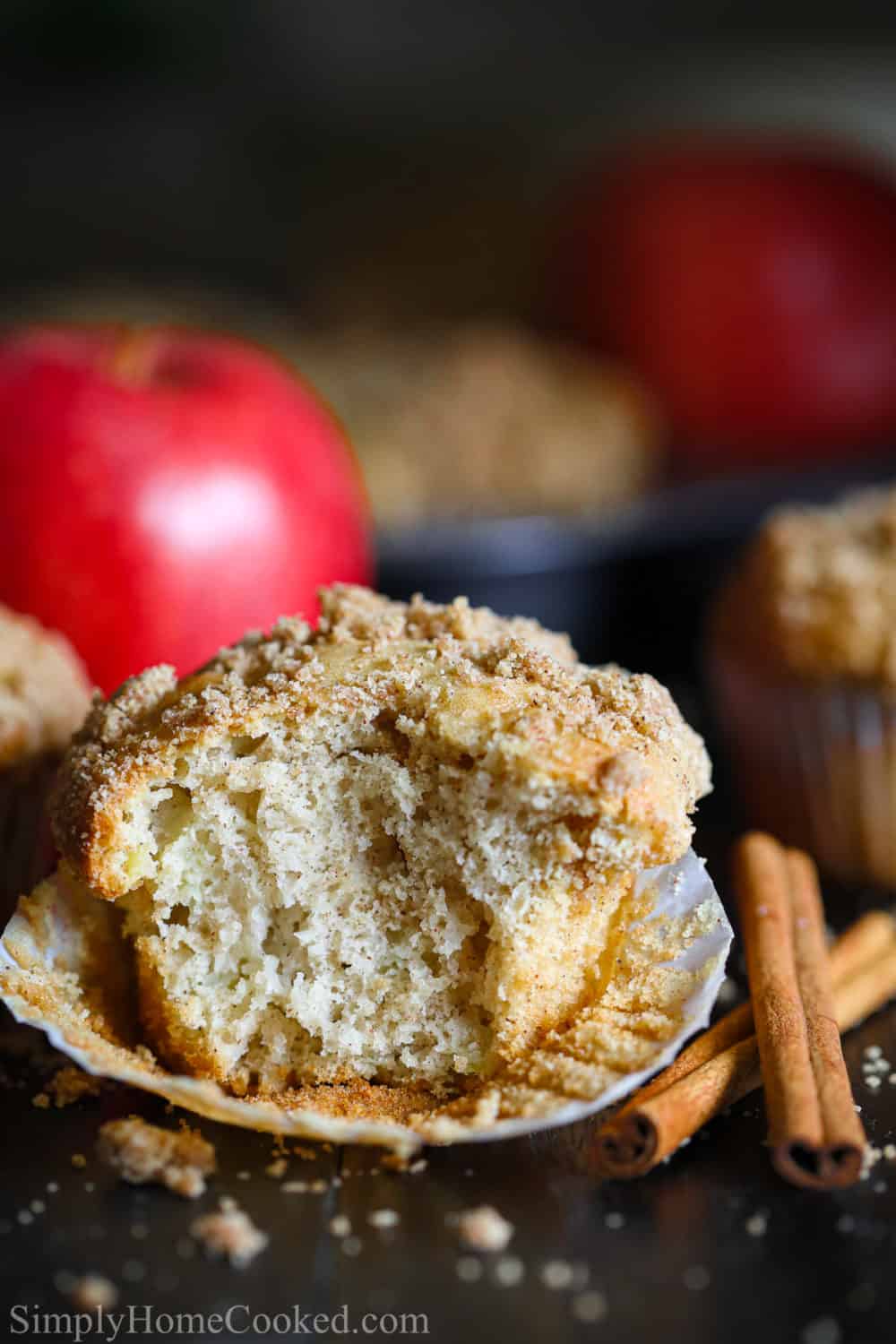 Watch a video on how to make these easy Apple Muffins!
If you are still not convinced to make this apple muffin recipe, then perhaps you will be interested in some of these great ideas!
Full Recipe Instructions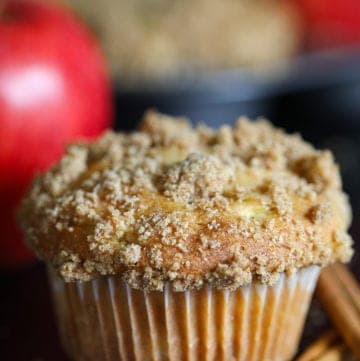 Cinnamon Apple Muffins
Delicious and moist Cinnamon Apple Muffins. A perfect dessert to make your day, and a perfect recipe that has apple bits and cinnamon spice!
Print
Pin
Rate
Ingredients
Ingredients for the muffins
Instructions
Start off by combining all of your dry ingredients into a bowl. Add 2 cup all-purpose flour, 1 tsp baking powder, 1/2 tsp baking soda, 1/4 tsp salt, and 1 tsp cinnamon, then whisk together and set aside.

Now add 2 eggs into a large bowl and whisk them on high speed with an electric mixer. You want to whisk them for a few minutes until the eggs become pale and fluffy.

Then continue beating the eggs as you slowly add in 1 cup of granulated sugar. Keep beating for about 3 more minutes. The key to super fluffy muffins is well-beaten eggs.

Now add 1 tsp vanilla extract and mix it unit the batter on high speed again and this time slowly add in 1/2 cup heavy cream.

Now you can begin sifting in your dry ingredients into the batter. But don't add it in all at once. You'll want to add about 1/3 of the dry ingredients at a time with mixing in between.

Once you've got all your dry ingredients well Incorporated, mix in 3 tbsp of unsalted melted butter.

Now chop up 3 cups of your choice of apples (Galla, honey crisp, or pink lady work). Add the cubed apples to a bowl and mix it with 2 tbsp of fresh lemon juice.

Fold the cubed apples into the batter using a spatula.

Now Line your muffin tin with cupcake liners and begin scooping the batter out using a large cookie scoop.

Before the muffins go in the oven you want to top them with a simple streusel. In a small bowl combine 5 tbsp all-purpose flour, 1 tsp cinnamon, a pinch of salt, 3 tbsp brown sugar, and 2 Tbsp.

Mash that all together using a fork until all the ingredients are well combined and they have a crumbly dry texture to them.

Now top the apple muffins with the streusel topping and bake them in the oven at 350 degrees Fahrenheit for about 35 mins.
Nutrition
Calories:
270
kcal
|
Carbohydrates:
43
g
|
Protein:
4
g
|
Fat:
9
g
|
Saturated Fat:
6
g
|
Cholesterol:
54
mg
|
Sodium:
160
mg
|
Potassium:
123
mg
|
Fiber:
2
g
|
Sugar:
23
g
|
Vitamin A:
350
IU
|
Vitamin C:
2
mg
|
Calcium:
41
mg
|
Iron:
1
mg