This delicious homemade apple turnovers recipe is made entirely from scratch! The crunchy buttery dough and sweet shredded apples are a combination worth splurging on.
If you love the combination of flakey dough and apples, try our apple strudel and apple fritter recipe!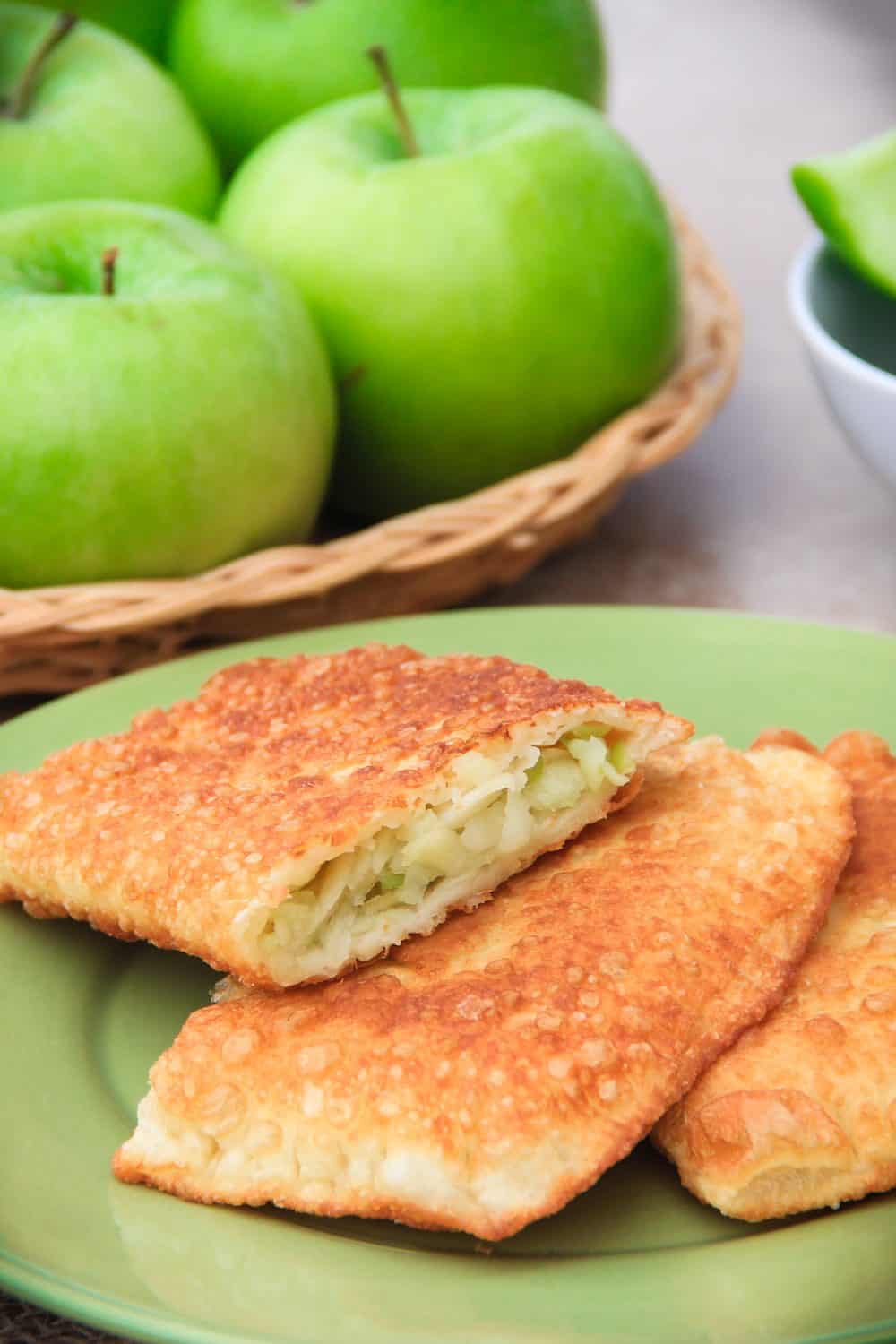 Why these homemade apple turnovers are so amazing
Its made from scratch! Everyone knows "from scratch" means its the real deal. The crispy fried dough obtains an irresistible taste and texture that you just can resist.
Easy filling– This filling couldn't get any easier because it's made with freshly shredded apples and a hint of sugar.
A family recipe for generations– this recipe has been passed down to me by my grandmother. This apple turnover recipe was one of my favorite desserts that she used to make for us as kids.
What ingredients do I need for apple turnovers
For the dough- You will need eggs, buttermilk, salt, vinegar, baking soda, flour, and melted butter. You will mix all of these very thoroughly in a stand mixer.
For the apple turnover filling– This is the easiest part of the recipe. You just need some fresh granny smith apples and a little granulated sugar.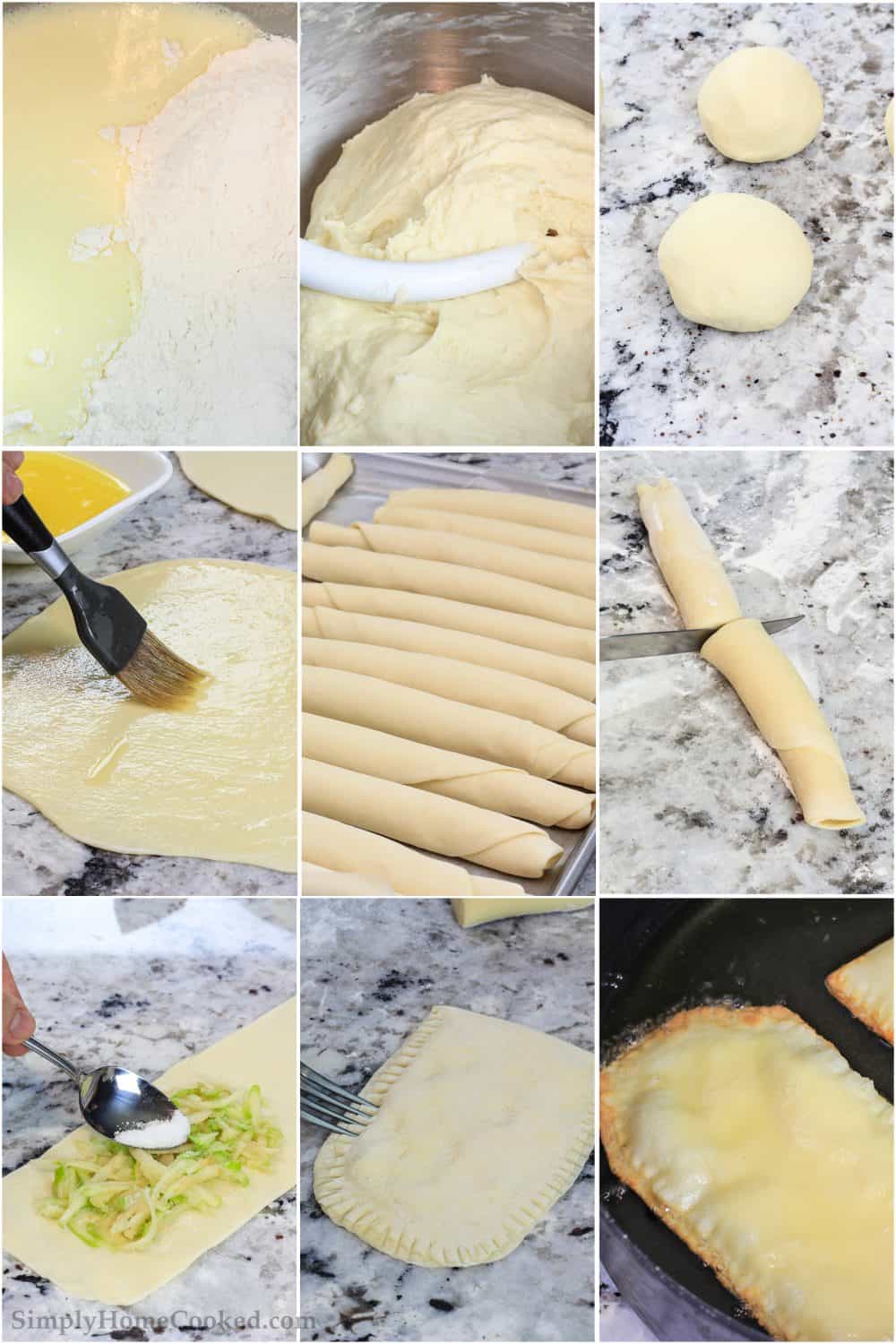 How to make these homemade apple turnovers (from scratch)
The most time-consuming part of the apple turnover recipe is the dough. Its made in a very unique way, but there is a very special reason why. Rolling up the dough creates pockets of butter so it becomes super buttery and flakey.
How to make the homemade dough
In a stand mixer, add the eggs, salt, buttermilk, and AP flour. Then in a separate bowl combine the vinegar and baking soda so it fizzes up and pour it into the mixer bowl. Now start off by mixing it at low speed and slowly pick the speed up to high. Once the dough no longer sticks to the side of the beater bowl, you are done.
Now divide the dough into 14 equal pieces and roll them out to a circle. This is when you can brush the melted butter on top. Now cut each roll in half and tightly roll the circle up, then flatten and roll it out again into a long wide strip.
How to fill homemade apple turnovers
Now that you have each turnover ready to be filled, shred up your apples using a box grater. And make sure to squeeze out any extra juices. This will prevent the apple juice from leaking out while you fry the apple fritters.
Fill half the fritter with the apple filling and sprinkle a few tablespoons of sugar. Then fold over the other half and seal it with a fork.
Now fry the turnovers in a skillet as instructed in the recipe card below.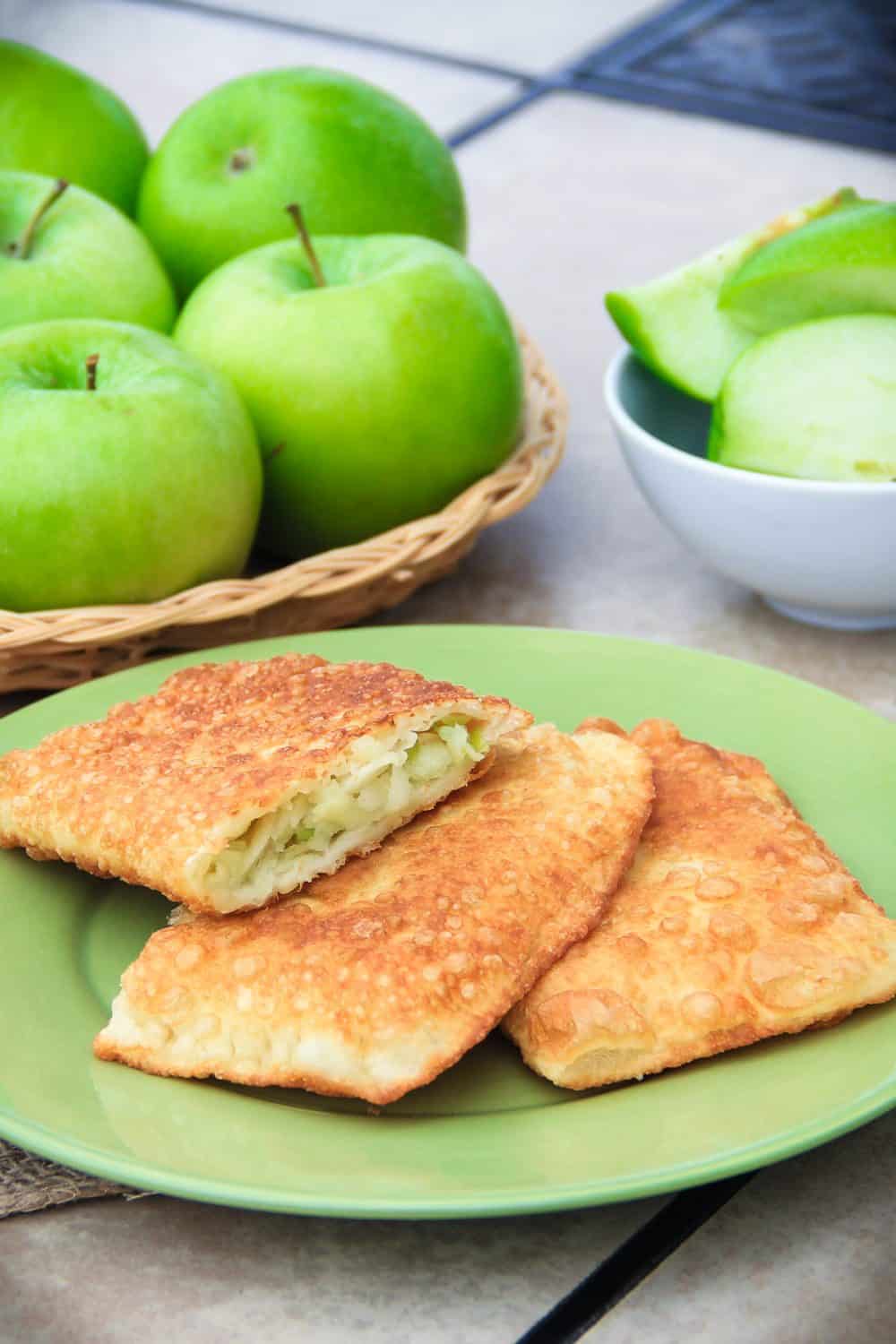 More apple recipes for you to try!
Full Recipe Instructions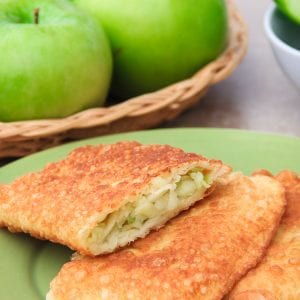 Homemade Apple Turnover Recipe
These delicious apple turnovers are made entirely from scratch! The crunchy buttery dough and sweet shredded apples are a combination worth splurging on.
Print
Pin
Rate
Instructions
Make the dough
In a stand mixer, lightly whisk the eggs together. In a small bowl, combine the baking soda and vinegar until it becomes foamy. Then add the salt, buttermilk, and baking soda mixture to the eggs.

Add in the flour and mix together using the hook attachment. You'll know it's done mixing when the dough doesn't stick to the sides of the mixer bowl anymore.

Place the dough onto a floured surface and divide the dough in half. Roll each half into a log, then cut each log into about 7 equal pieces.
Roll out the dough
Form each piece into a ball and flatten it out into a circle using a rolling pin. (About 8 inches in diameter)

Generously brush the melted butter onto one side of the circle and roll up tightly. Place the rolled-up buttery dough onto a baking sheet and refrigerate for 30 minutes. This will help stiffen the butter.

Cut each rolled up circle in half and roll each half out longways. If you want, you can cut the ends so they look prettier. (Totally optional)
Fill the turnovers with shredded apples and fry them
Shred the apples and gently squeeze out any excess juices. Fill 1 side of the turnover with about 1-2 tbsp of the shredded apples and sugar to taste. Flip the empty side of the turnover on top and seal with a fork.

Heat a skillet with about 1 inch of oil over medium-high heat and fry each turnover for 2-3 minutes on each side.
Notes
Can I make these homemade apple fritters ahead of time?
Yes, you can make the homemade dough in advance and keep it in the fridge (tightly wrapped) for up to 1 day.
Can I freeze these apple turnovers?
Once they are fried, let them cool completely and freeze them in a single layer then store them in a zip-lock bag for up to 2 months.
Nutrition
Calories:
296
kcal
|
Carbohydrates:
50
g
|
Protein:
8
g
|
Fat:
7
g
|
Saturated Fat:
4
g
|
Cholesterol:
48
mg
|
Sodium:
287
mg
|
Potassium:
165
mg
|
Fiber:
3
g
|
Sugar:
7
g
|
Vitamin A:
268
IU
|
Vitamin C:
2
mg
|
Calcium:
54
mg
|
Iron:
3
mg
This recipe was originally posted on Jul 10, 2015, we've tweaked it a bit since then.