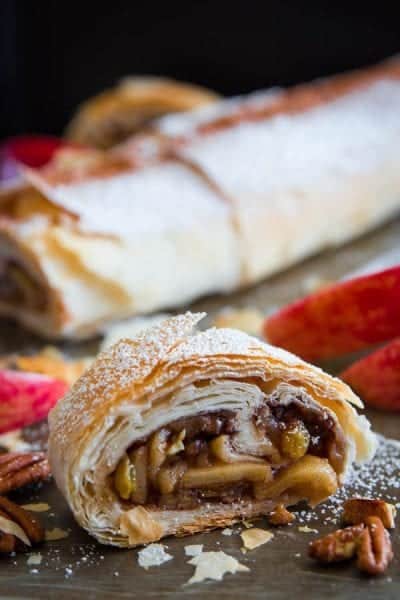 Apple Strudel
Ingredients
7

honey crisp apples

1/2

lemon juice

1/2

cup

plus 2 tbsp butter

divided

1

cups

brown sugar

2

tsp

cinnamon

Pinch

of salt

1/2

cup

golden raisins

1

tbsp

rum

2

tbsp

corn starch

3/4

cup

pecans

1

package phyllo dough

Makes 2 strudels
Instructions
Slice the apples into 1/4 inch slices and squeeze in the juice of 1/2 a lemon.

Melt 2 tbsp butter in a large skillet over medium high heat. Add in the sliced apples, brown sugar, cinnamon, and a pinch of salt. Cook for about 5 minutes.

Meanwhile, soak the golden raisins in 1 tbsp rum.

Once the apples are tender, add in the raisins (including the rum they soaked in). Cook for an additional 2 minutes.

The apples should begin to give off their juices at this point. Push the apples to the side of the skillet to create a small welt of apple juices in the middle. Add the corn starch into that welt and quickly stir until the corn starch has dissolved. Then stir the apples into the dissolved corn starch. Lastly, add the chopped pecans.

Cook the apples for another 3 minutes or until the juice has thickened into a glaze. Set aside to cool.

Melt the remaining 1/2 cup of butter.

Lay the first sheet of fillo dough onto parchment paper. Sprinkle a light layer of belted butter over the first sheet (about 2 tbsp). Repeat this for a total of 20 sheets.

Place 1/2 of the cooked sugar cinnamon apples onto the bottom third (lengthwise) of the last fillo sheet. Roll the bottom of the fillo sheets over the apples.

Brush the sides with butter and fold in the edges. Brush the folded sides with melted butter once again to prevent the fillo dough from drying.

Roll up the entire pastry and place it seem side down.

Transfer the rolled pastry onto a baking sheet lined with parchment paper. Brush the entire pastry with butter once again.

Repeat step 7-11 for the second strudel.

Bake the 2 strudels at 380 degrees Fahrenheit for 35 minutes. The strudel is best consumed warm with vanilla ice cream or just a dust of powdered sugar. Be sure the use a serrated knife for a cleaner cut.