This Easy Napoleon Cake consists of rich custard and puff pastry cake base. You won't believe how quick and easy it is to make!
If you love the taste of homemade custard, you might also enjoy our mini fruit tart recipe or our easy white chocolate creme brulees!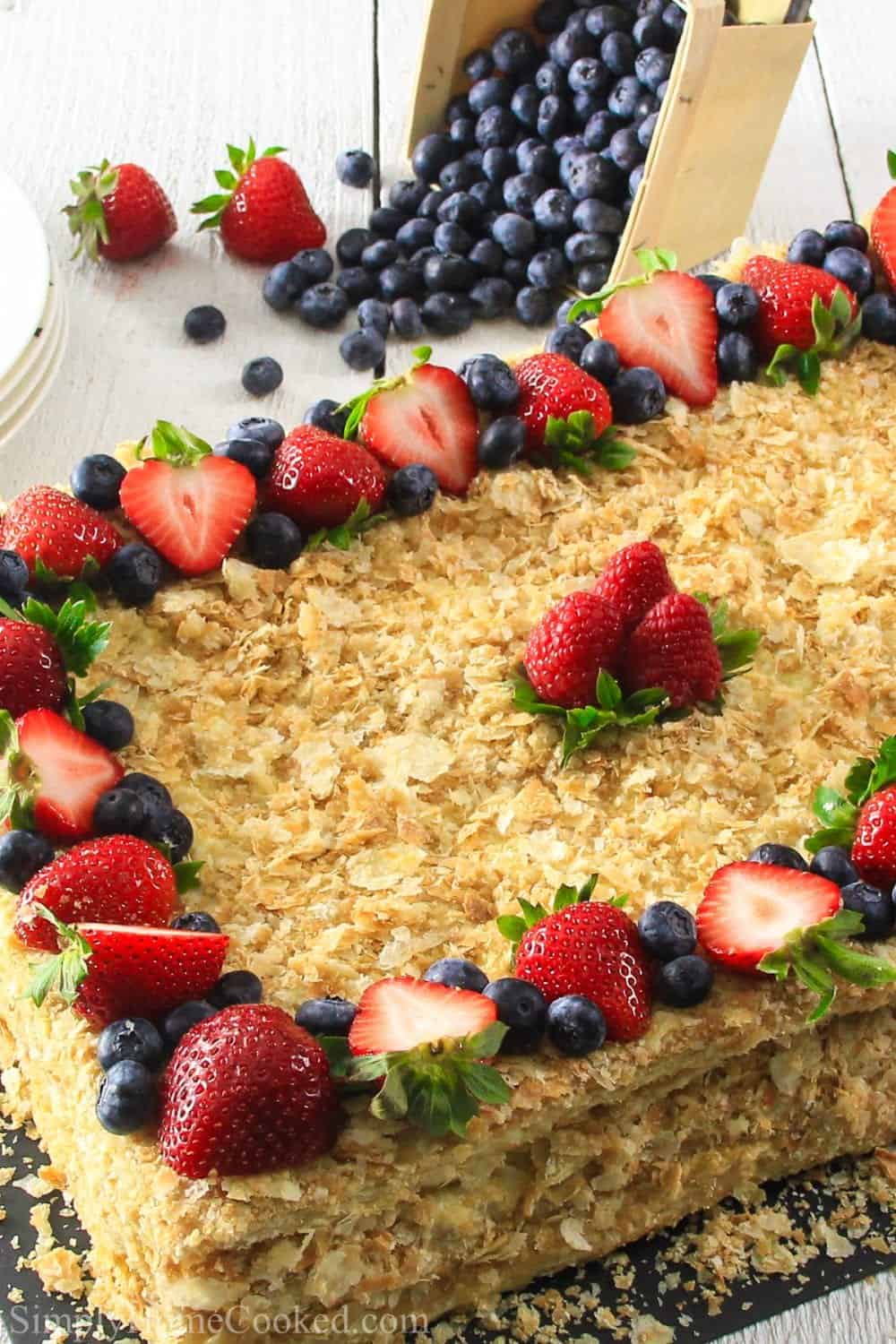 Easy Napoleon Cake
This EASY recipe is my aunt Nelya's recipe that has been a family favorite for many years. I personally think a Napoleon tastes best on the next day when the puff pastry has absorbed the custard. But if you don't really like super moist cakes, eat it the day you make it.
DELICIOUS French desserts
Almond Pear Tart– With a shortbread crust, fresh pairs, and frangipane filling.
Chocolate espresso Macarons– A foolproof guide for perfect French macarons.
Almond Croissants- Made from scratch, including the almond paste inside.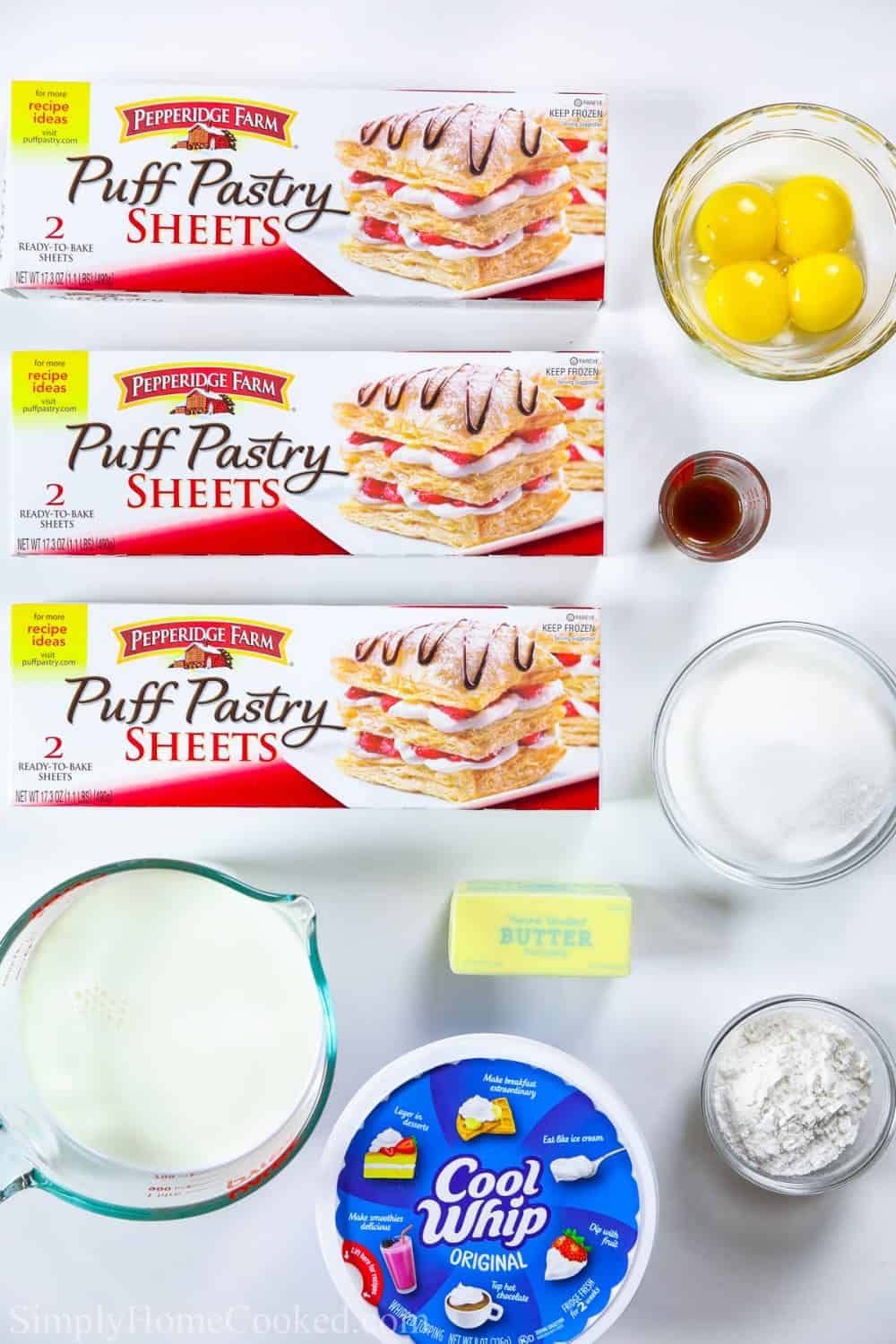 What is this easy Napoleon cake made of?
Easy Cake base– For this quick and easy Napoleon recipe, you will need just store-bought puff pastry sheets (Pepperidge Farm brand)
Custard– egg yolks, sugar, flour, milk, vanilla extract, unsalted butter, and thawed cool whip
Napoleon custard
The custard in a Napoleon is creamy, buttery, and sweet – but not too sweet. The mixture of eggs, sugar, and milk give it a smooth, rich texture that works really well with the flakiness of the Napoleon's pastry layers.
Troubleshooting custard cream
It's too thick– If your Napoleon custard has turned out too thick, then thin it out by mixing in some more milk, or even folding in some whipped cream.
Why did the butter separate? If your custard was too warm when you incorporated the butter, this causes curdling and separation. The best thing to do is quickly cook it when this happens, placing the bowl of Napoleon custard in an ice bath and whisking vigorously until it re-incorporates.
How to make Easy Napoleon Cake
Make the custard– Beat eggs and sugar in a bowl. Then add flour and milk. Beat just until incorporated. Then slowly pour 3 cups of hot milk into the egg mixture, while stirring quickly.
Add remaining ingredients to pastry cream– Transfer to the cooktop and continue cooking over low heat until it thickens. Let the napoleon custard cool completely, then add the thawed cool whip and vanilla extract. Beat softened butter separately then fold it into the custard.
Bake 6 puff pastry sheets– Bake them until they're golden brown and let them cool. Reserve 1 baked sheet and crumble it up. Layer the cream and cooled pastry sheets, then coat the top and sides with the crumbled one.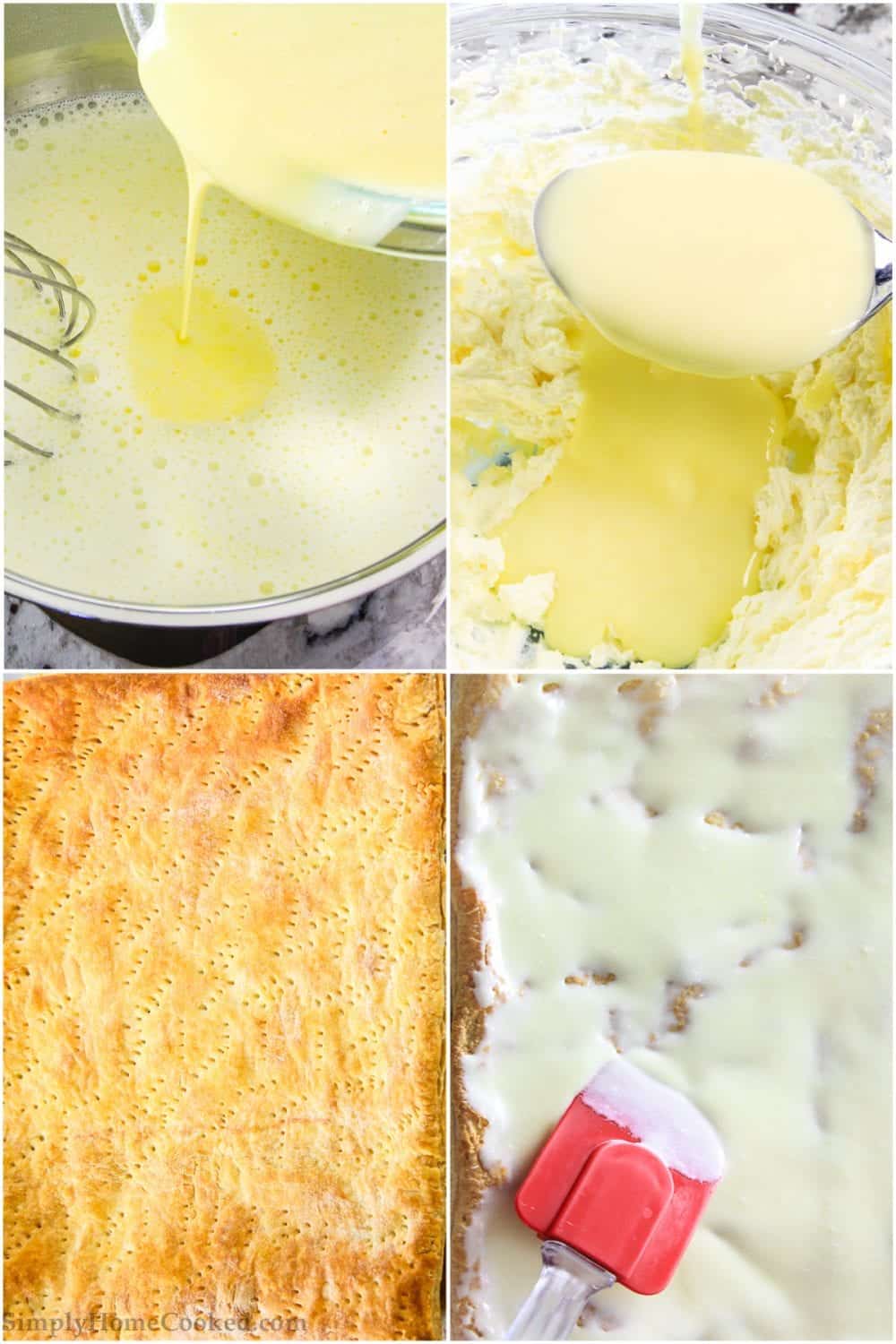 What is Napoleon Cake
Napoleon cake is made of flaky, buttery puff pastry layered between sweet vanilla custard. There are many variations of this cake. This recipe happens to be an easy and faster version since the pastry sheets are store-bought.
What to do with leftover egg whites?
Since this easy Napoleon cake calls for egg yolks, you'll be left with 4 egg whites. You might want to make something as simple as these chocolate meringue cookies. Or maybe take up another baking challenge and make coffee macarons or raspberry macarons?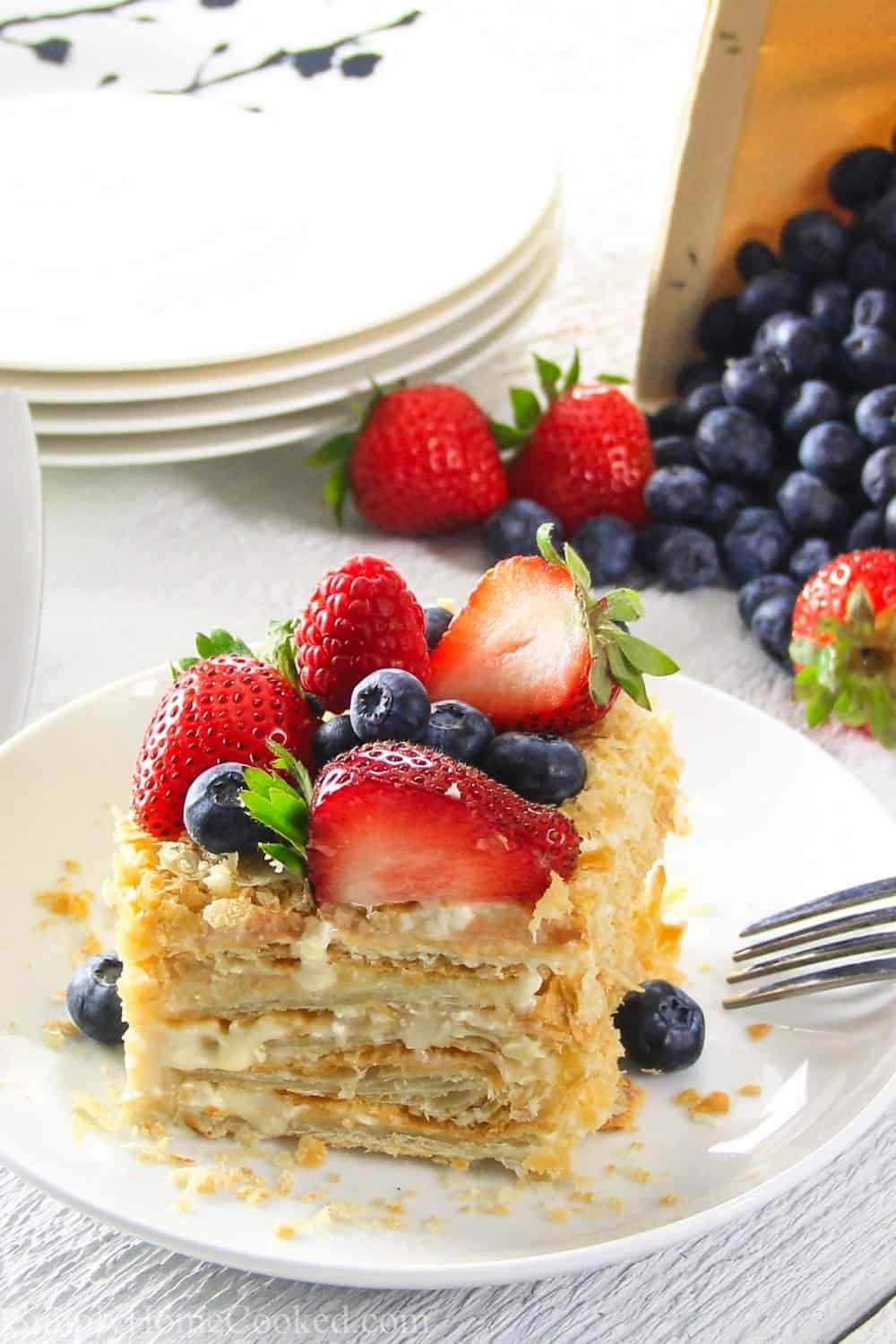 Does Napoleon cake need to be refrigerated?
Yes, a Napoleon will need to be refrigerated because of the custard. Allow it to sit out for 1-2 hours to allow the custard to absorb a little into the pastry, and then cover with plastic wrap or place in an airtight container and refrigerate.
How long does it keep?
If refrigerated and kept in an airtight container, a Napoleon cake will stay fresh in the refrigerator for 2-3 days. If you choose to freeze it, this will keep it for about a year. Just thaw the Napoleon cake overnight when you are ready to eat it.
Watch how to make Napoleon Cake here: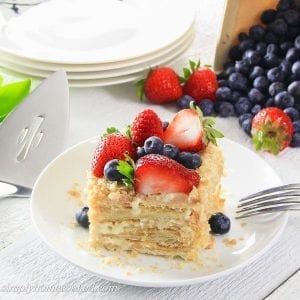 Easy Napoleon Cake
An easy Russian-Frech inspired Napoleon Cake recipe that is made with baked puff pastry sheets and layered between a rich custard cream.
Print
Pin
Rate
Instructions
Make the custard on the stovetop
In a bowl, beat the eggs and sugar using an electric mixer.

Add the flour to the eggs, then blend in 1/2 cup milk.

Add 3 cups of milk into a saucepan and bring to a slight simmer, but don't let it boil.

Slowly pour the egg mixture into the hot milk while stirring constantly with a whisk.
Thicken the custard and let it cool completely
Transfer the saucepan back to the burner and heat over low heat. Make sure to constantly stir until the custard thickens. Remove the custard from the heat and let it cool completely.
Thaw, roll, and Bake puff pastry
Thaw out each sheet of puff pastry and place onto a floured surface. Using a rolling pin, roll each sheet out to a 12 x 16 inch rectangle.

Using the rolling pin, transfer the puff pastry sheet onto a baking sheet. Then generously puncture the puff pastry with a fork.

Bake in a 400 Fahrenheit degree oven for 20 minutes or until golden brown.
add remaining ingredients to pastry cream
Once the custard has cooled completely add in the vanilla and thawed cool whip.

Lastly, beat the softened butter with an electric mixer and blend it into the custard.
Assemble the Napoleon cake
Divide the cream amongst 5 layered puff pastry sheets and reserve the 6th sheet.

Crumble the reserved puff pastry sheet and coat the top and sides of the cake with it. At this point, you can either leave the cake as is or decorate it with fresh berries.
Notes
How long will it last in the fridge?
If refrigerated and kept in an airtight container, a Napoleon cake will stay fresh in the refrigerator for 2-3 days. If you choose to freeze it, this will keep it for about a year. Just thaw the Napoleon cake overnight when you are ready to eat it.
Nutrition
Calories:
562
kcal
|
Carbohydrates:
50
g
|
Protein:
8
g
|
Fat:
36
g
|
Saturated Fat:
11
g
|
Cholesterol:
62
mg
|
Sodium:
215
mg
|
Potassium:
119
mg
|
Fiber:
1
g
|
Sugar:
15
g
|
Vitamin A:
305
IU
|
Calcium:
75
mg
|
Iron:
2.1
mg
This recipe was originally posted on Aug 11, 2015, we've tweaked it a bit since then.