These classic Lofthouse Frosted Sugar Cookies are soft and cakey with a tasty buttercream frosting on top. They're bright, festive, and oh so scrumptious.
For more delicious sweet treats, try our shortbread cookies and chewy peanut butter oatmeal cookies (video).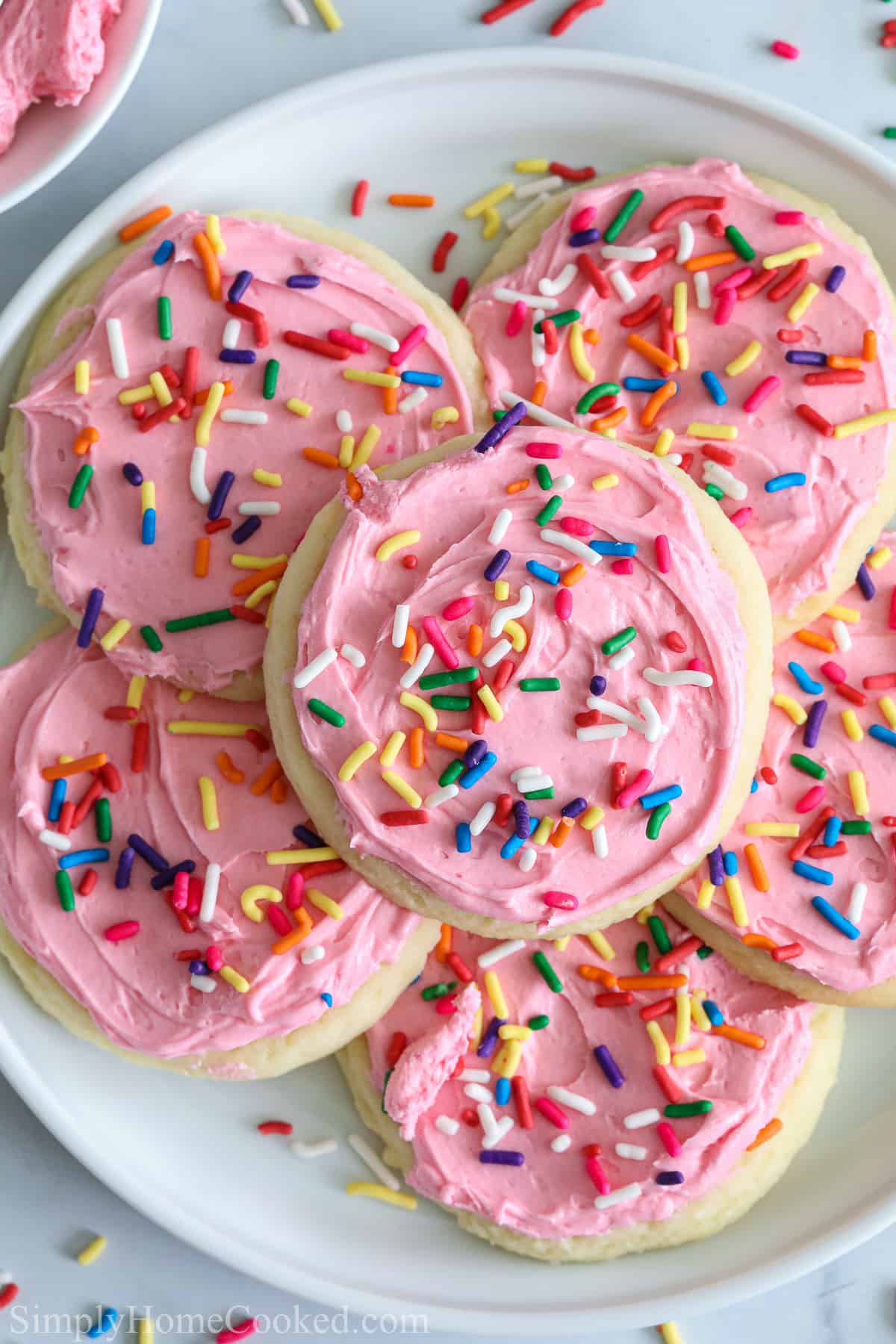 Frosted Lofthouse Sugar Cookies
Lofthouse Sugar Cookies aren't like other sugar cookies. They are airy and thick, with a texture somewhere between a fluffy cupcake and a denser sugar cookie. They are also typically topped with a thick layer of buttercream frosting and sprinkles, which makes them bright and perfect for celebrations and holidays. If you're looking for a sugar cookie that's different from the rest, these Lofthouse cookies are perfect.
Why are they so soft?
This kind of cookie is unlike many others. They have an airy, fluffy quality to them that is distinctive. They are so soft because the recipe calls for baking soda, which gives these Lofthouse sugar cookies a less crumbly texture and incorporates more "lift" and air. The cream cheese also adds moisture, so they don't get dry. Together, this gives them their soft, cake-like texture.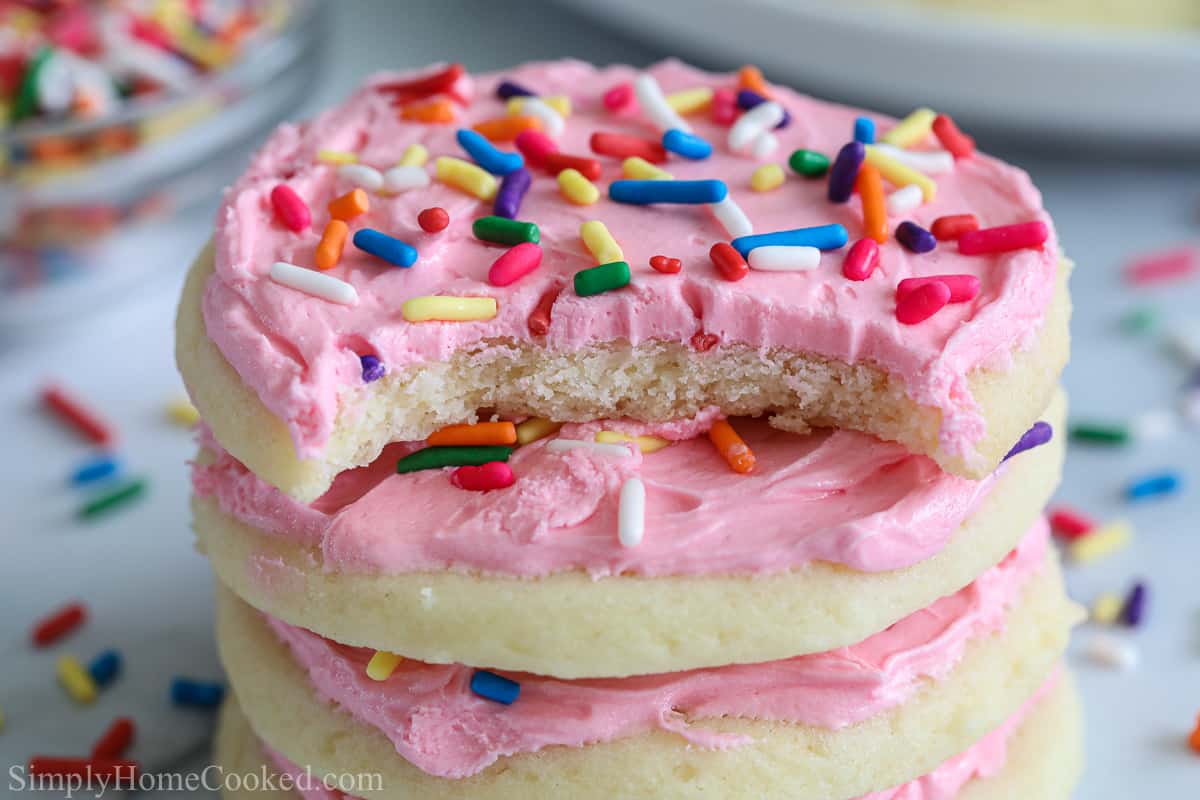 What You'll Need for this Recipe
For the cookie dough, you'll need Unsalted butter, Cream cheese, Granulated sugar, Light corn syrup, Vanilla extract, an Egg, Flour, Salt, and Baking soda. To make the buttercream frosting, you'll use Unsalted butter, Vanilla extract, Powdered sugar, Milk, Salt, Food coloring, and Sprinkles.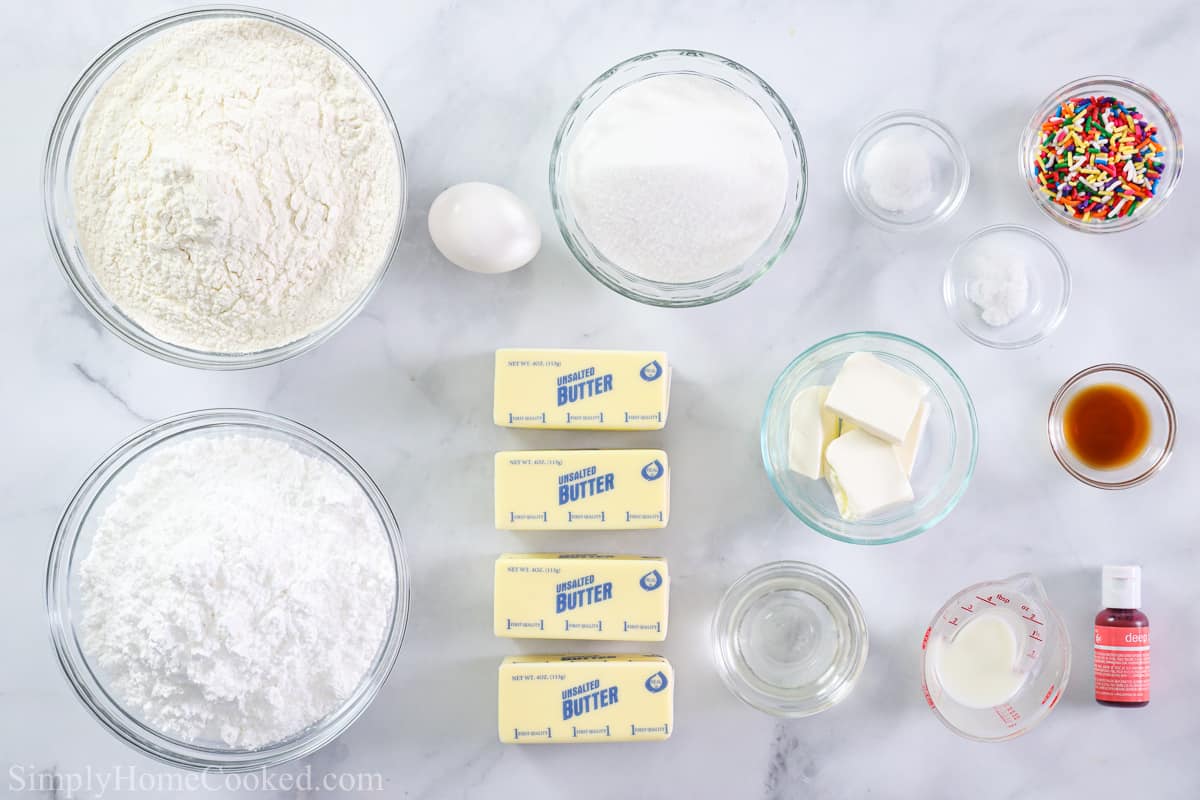 How to Make Lofthouse Sugar Cookies
1. Beat the butter, cream cheese, and sugar. In a large bowl, beat the softened butter, room-temperature cream cheese, and granulated sugar together using an electric hand mixer. Beat on high until everything is well-creamed, about 2-3 minutes.
2. Add in the other wet ingredients. Pour the corn syrup, vanilla, and egg into the bowl and beat on high again until well-combined.
3. Sift in the dry ingredients. With a fine-mesh sieve over the mixing bowl, add in the flour, salt, and baking soda. Then mix everything together.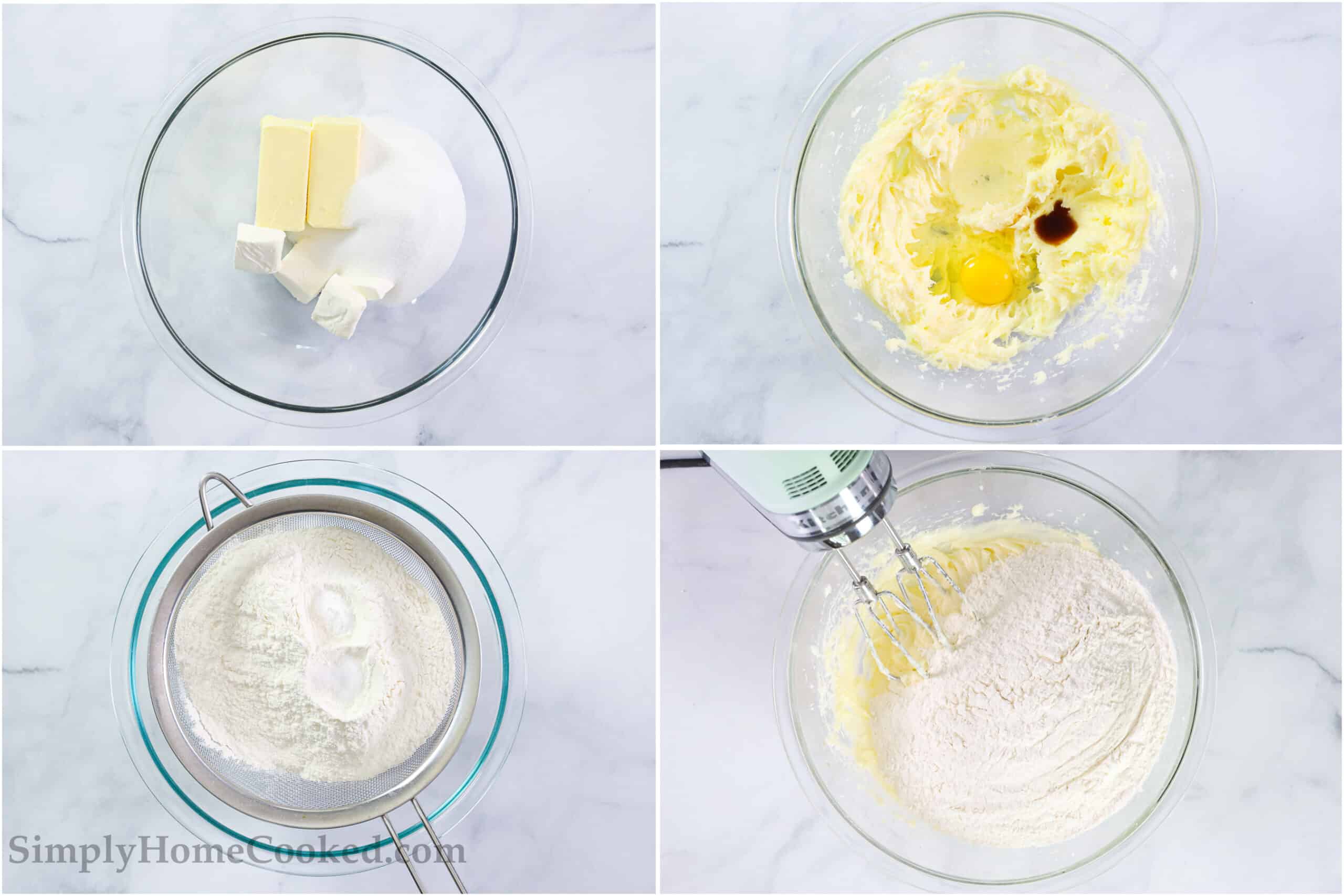 4. Chill the dough. Form the cookie dough into a disk and wrap it in plastic wrap. Refrigerate it for 1-2 hours, or until firm.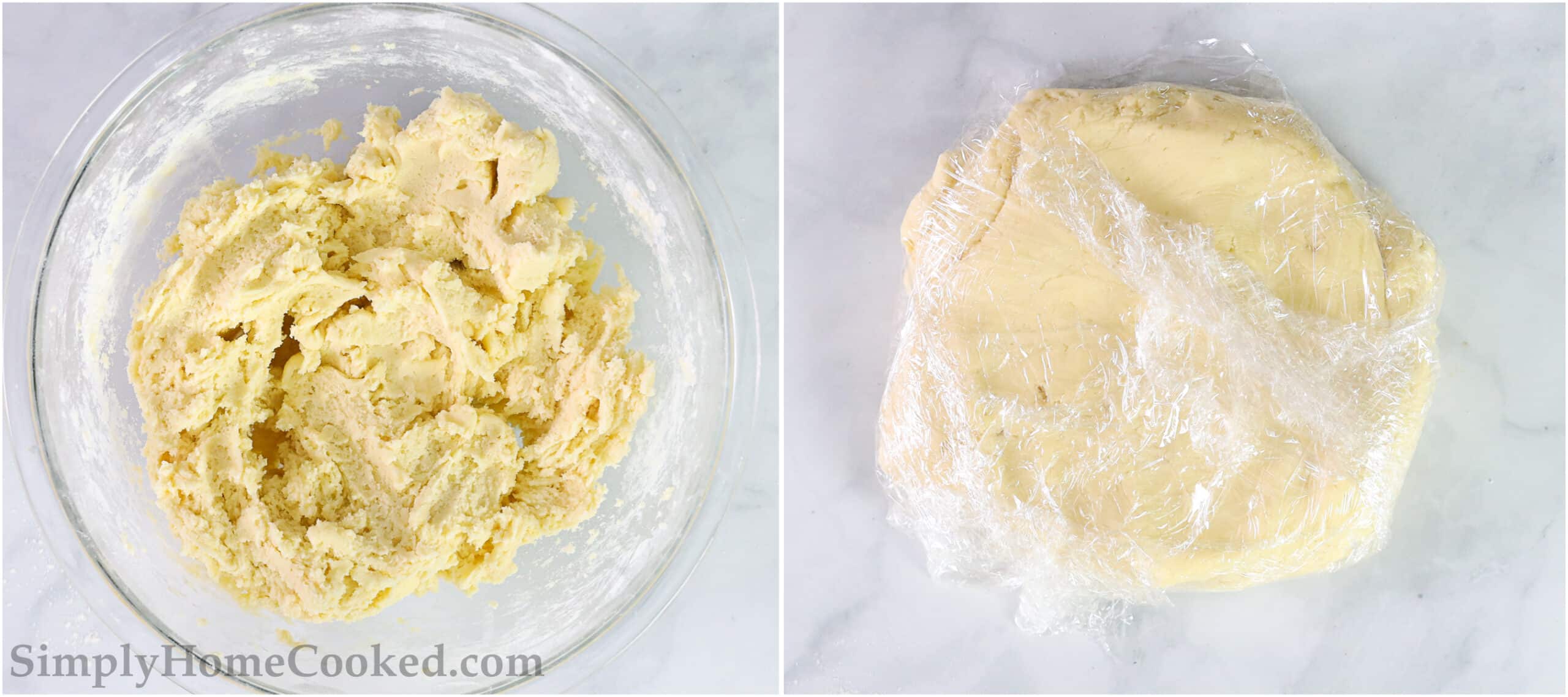 5. Roll out the dough. Place the dough disk on a sheet of parchment paper, then place another on top. Roll the dough out with a rolling pin to 1/4-inch thickness.
6. Cut out the cookies. Using a cookie cutter or glass cup, cut out shapes. Then roll out the scraps and cut more shapes until the dough is all used up.
7. Bake the Lofthouse cookies. Very carefully (the dough is still soft), place the cookies on a baking sheet lined with parchment paper. Bake them for 6-8 minutes at 350 degrees Fahrenheit.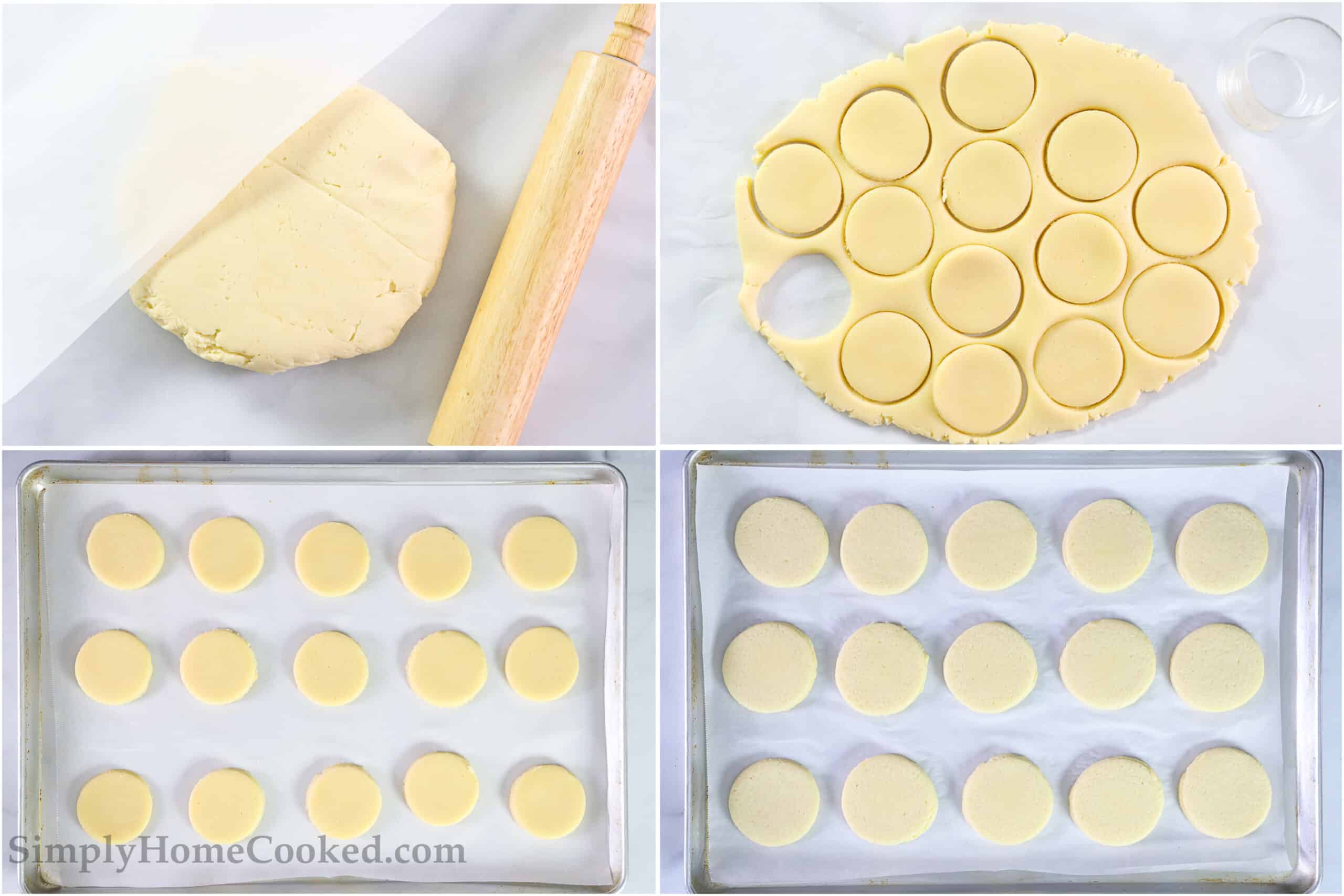 8. Make the frosting. In a large bowl, add the softened butter and beat it. Then add in the vanilla, powdered sugar, milk, and salt. Mix well. If you plan to color the frosting, then add the food coloring at this time.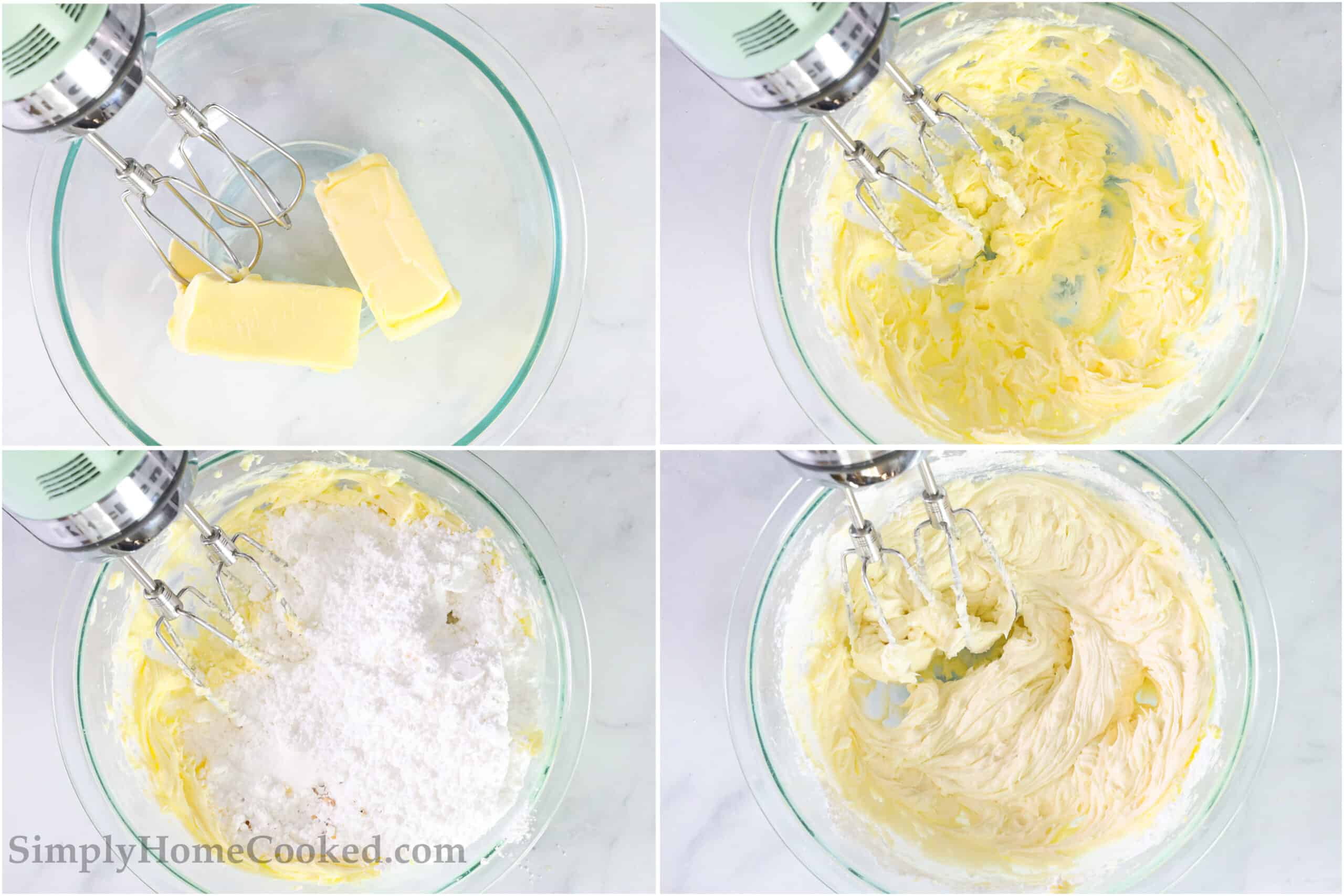 9. Decorate. When the Lofthouse sugar cookies have completely cooled, frost them and decorate with sprinkles on top. Enjoy!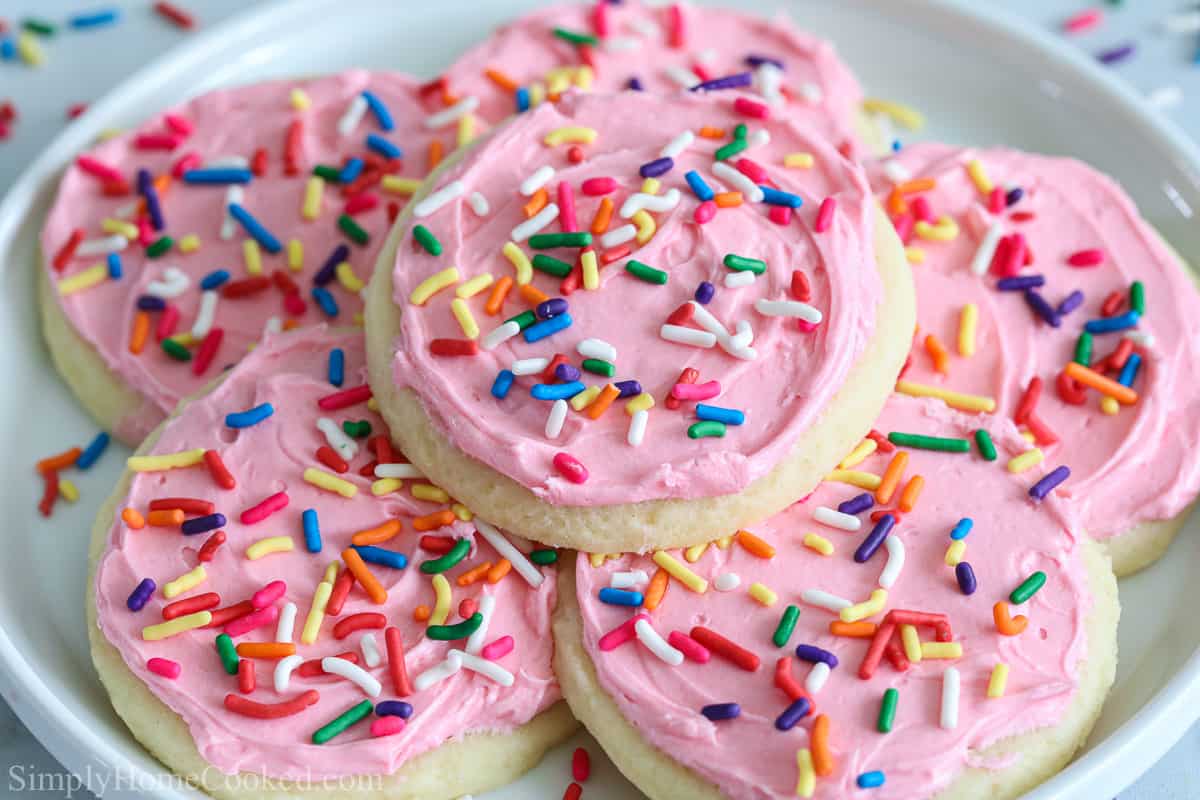 Tips for the Best Lofthouse Sugar Cookies
Don't use cold butter or cream cheese- In order for these cookies to be moist and fluffy, the butter and cream cheese need to be softened and at room temperature. Otherwise, they won't completely combine with the other ingredients.
Chill the dough- It's important for the dough to be cold when you roll, cut, and bake these. This keeps them thick and from spreading too much while they bake.
Cool them before frosting- This buttercream frosting will melt if the cookies are too warm, so let them cool all the way before decorating.
Spoon and level off the flour- This is the most accurate way of measuring flour because scooping a measuring cup into flour leads to it packing in and possibly adding too much to your recipe.
How to store them
Lofthouse sugar cookies can be stored at room temperature or in the refrigerator for 3-4 days. They stay freshest when kept in a container with an airtight lid.
Can you Freeze these sugar cookies?
Yes, they freeze really well. If you want to make these ahead of time or save some for later, place the cooled cookies on a baking sheet in the freezer. Once they're frozen, transfer them to a ziplock freezer bag, with parchment paper in between each cookie to keep them from freezing together. They will last up to 3 months.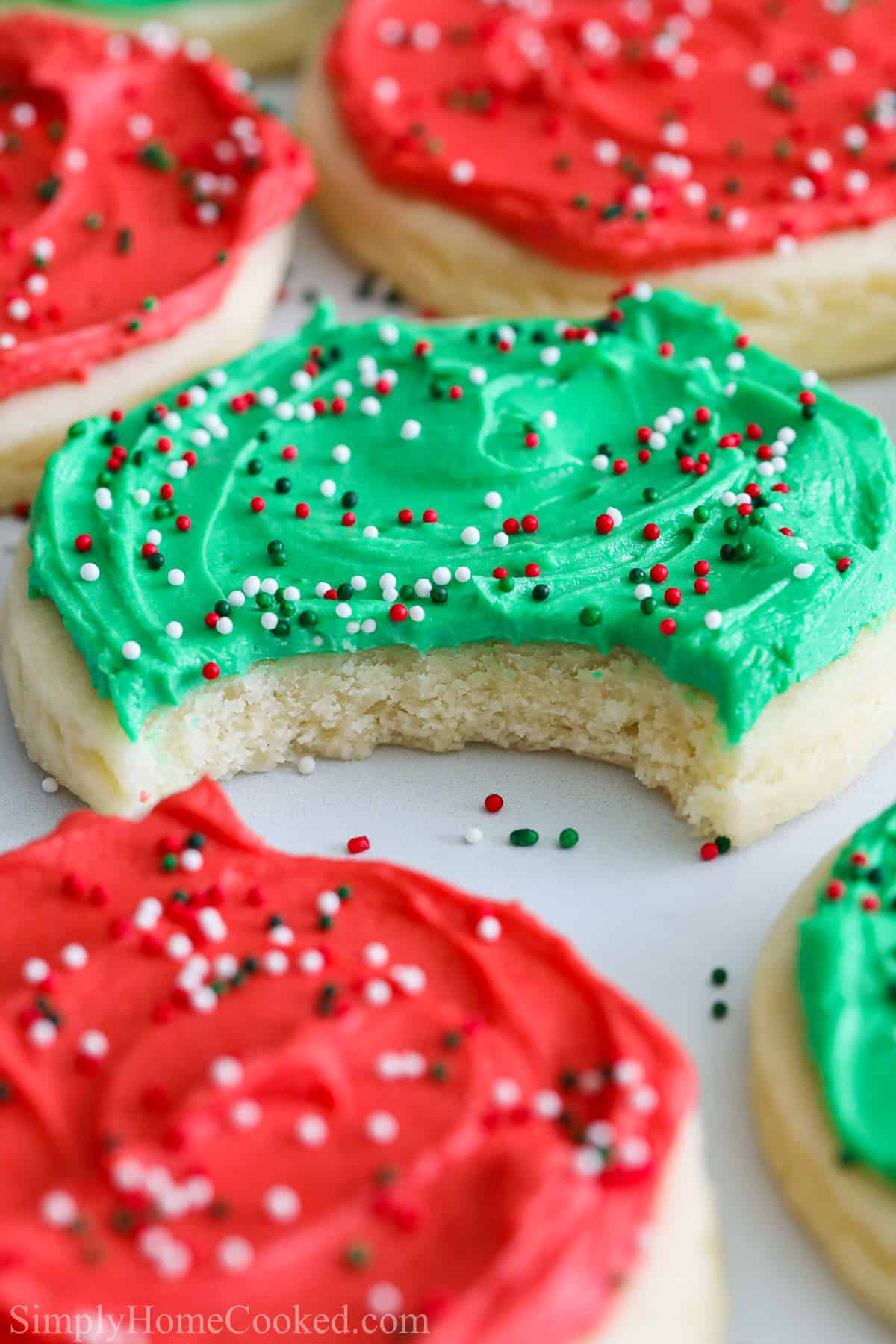 More Great Cookie Recipes to Make!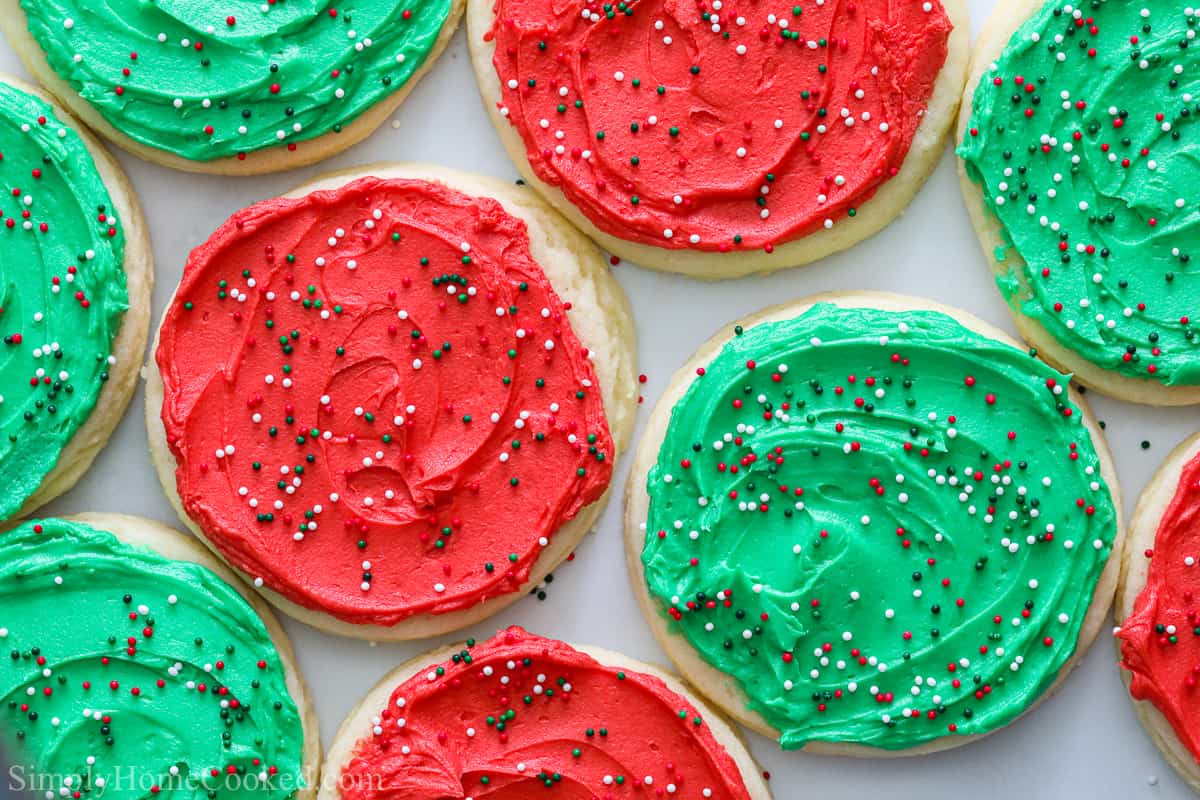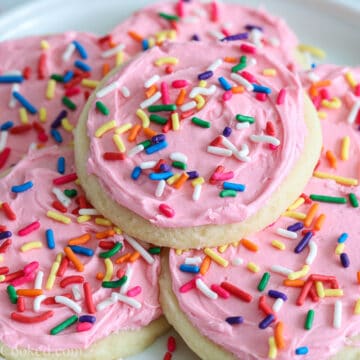 Lofthouse Frosted Sugar Cookies
These Frosted Lofthouse Sugar Cookies are perfect for the holidays, or anytime. Soft, cake-y, and sweet, they practically melt in your mouth.
Print
Pin
Rate
Instructions
Notes
More Great Cookie Recipes to Make!
Nutrition
Calories:
264
kcal
|
Carbohydrates:
33
g
|
Protein:
2
g
|
Fat:
14
g
|
Saturated Fat:
9
g
|
Cholesterol:
43
mg
|
Sodium:
86
mg
|
Potassium:
24
mg
|
Fiber:
1
g
|
Sugar:
22
g
|
Vitamin A:
441
IU
|
Calcium:
10
mg
|
Iron:
1
mg

Latest posts by simplyhomecooked
(see all)