Rich, moist, and perfectly spiced pumpkin cake that's smothered between a delicious cream cheese frosting. Its everything you want in a pumpkin roll, but easier and faster!
If you want to make a mini version of this cake, you should try our pumpkin spice cupcakes! They are perfect for fall parties and potlucks.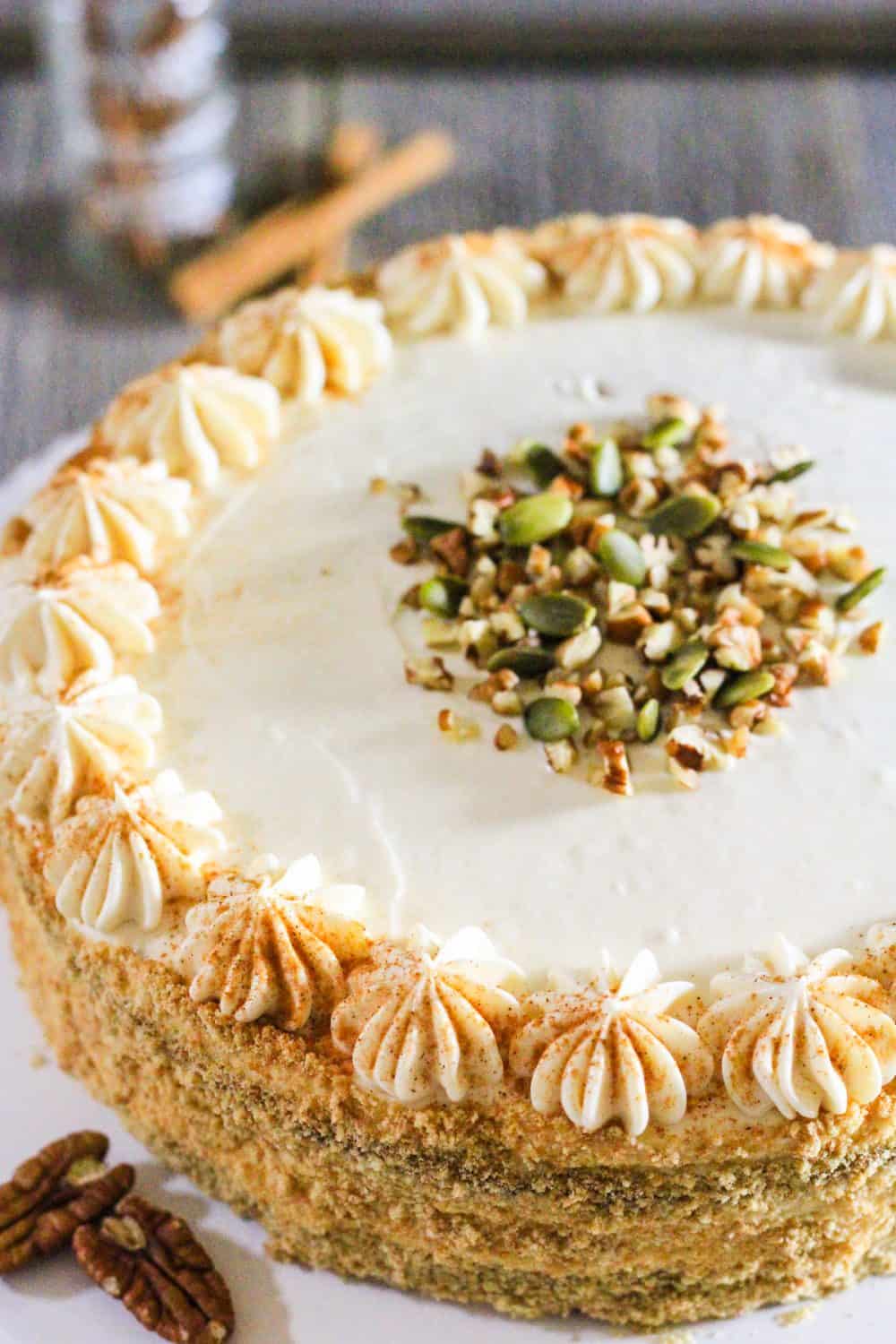 Pumpkin Cake Recipe
It's been a tradition at our house to make a pumpkin roll for Thanksgiving along with mini pecan pies and pumpkin cheesecake. I love the taste and texture of a pumpkin roll, but not so much the making of it. It's kind of a finicky thing to make. There are times that that cake roll will crack as you try to roll it up, even when it's still warm. So this year I've decided to take all the ingredients of a pumpkin roll and make it into a cake. This is so much EASIER, and it tastes just as amazing! It's practically foolproof.
How to make easy pumpkin cake
Like any basic cake, you want to sift the dry ingredients first using a mesh strainer.
Then you want to beat your eggs and sugar on the highest speed setting until the become super voluminous and pale yellow. Then you can add in the pumpkin pie spice and vanilla, along with the dry ingredients.
Bake the pumpkin cake in 9-inch baking pans. Bake in the oven as instructed in the recipe card below. In the meantime, you can make the cream cheese frosting.
Once your cake is cooled you can assemble it with chopped pecans in between each fluffy cake layer and homemade frosting.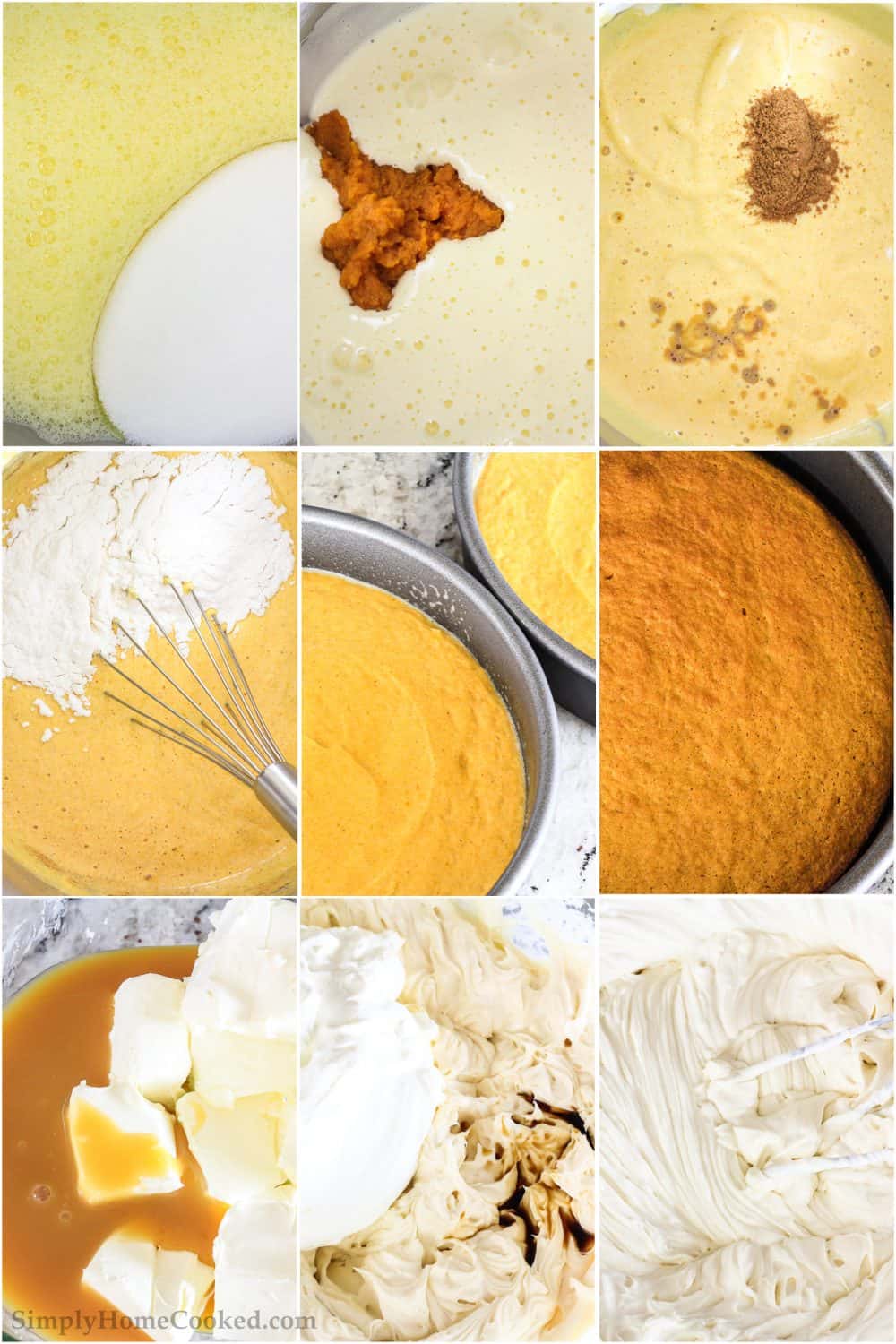 How to assemble pumpkin cake
Since the cake layers are going to have chopped nuts in between, you want to be sure to frost the bottom and top of the cake layers with the cream frosting. (See photo below)
So you want to start off by smothering a generous amount of the frosting on the first cake layer and cover it with the crushed pecans. Then add a thin layer of the homemade frosting on the bottom of the next layer and stack it on top. That way the pecans are sandwiched in between and won't fall off.
Continue doing this until you've reached the top layer. Then coat it with the remaining cream and decorate as you wish.
How to store pumpkin cake
The best way to preserve the texture and taste of this cake is to put it in a cake storage keeper with a snap-on lid and keep it in the fridge until ready to serve.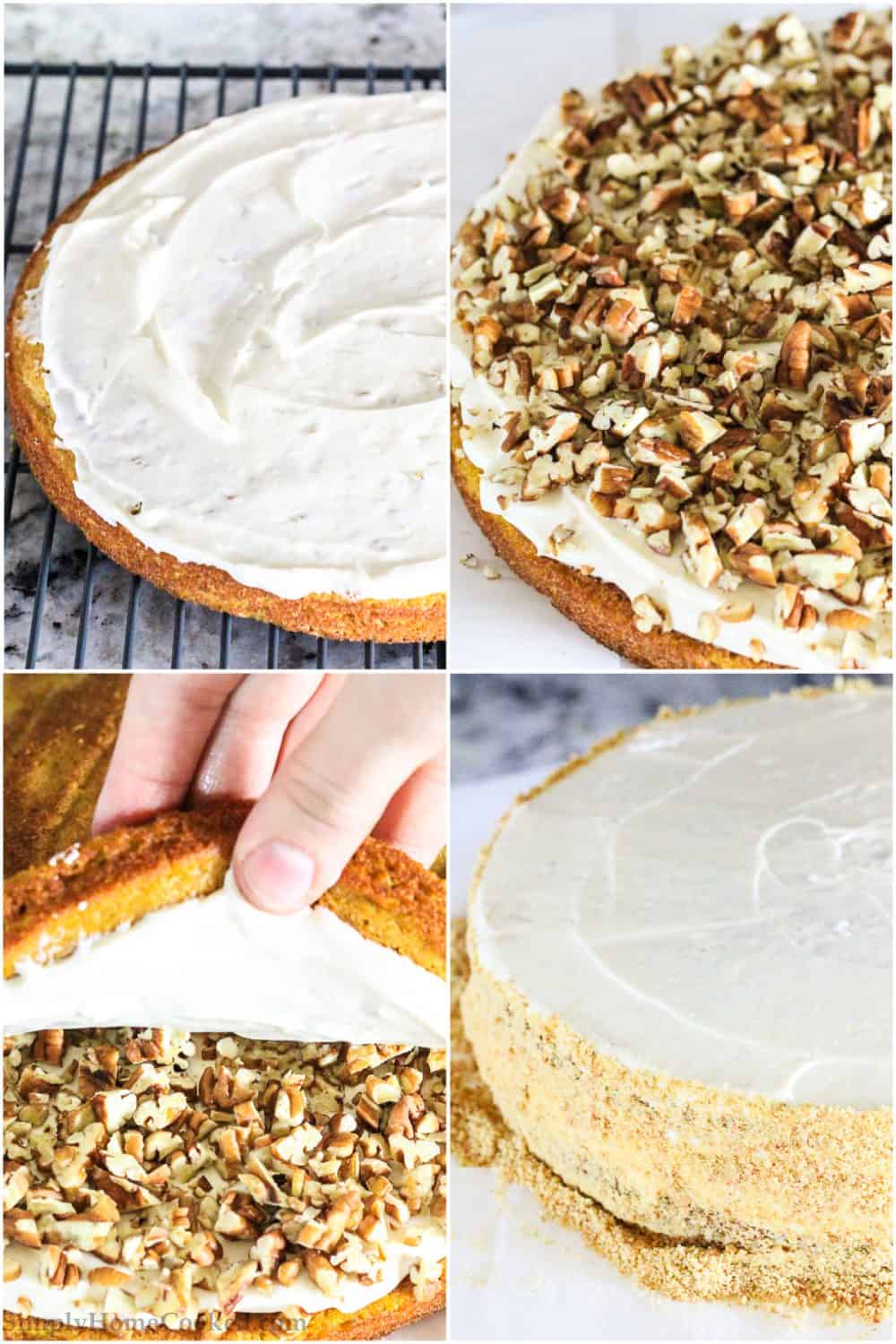 How long does pumpkin cake keep?
After you've assembled your cake, you want to keep it refrigerated in a semi-airtight dish for up to 4 days. On day 5 is when you will taste that the cake isn't as fresh tasting.
Can I freeze pumpkin cake?
Yes, you can! The best way to freeze any cake is by letting it come to a solid frozen state in the freezer. Then wrap the iced cake in plastic wrap and then foil.
How to thaw homemade pumpkin cake
If you want to thaw your frozen cake, remove the foil and plastic wrap and let it defrost at room temperature. This cake should take roughly 2-3 hours to thaw after being frozen solid.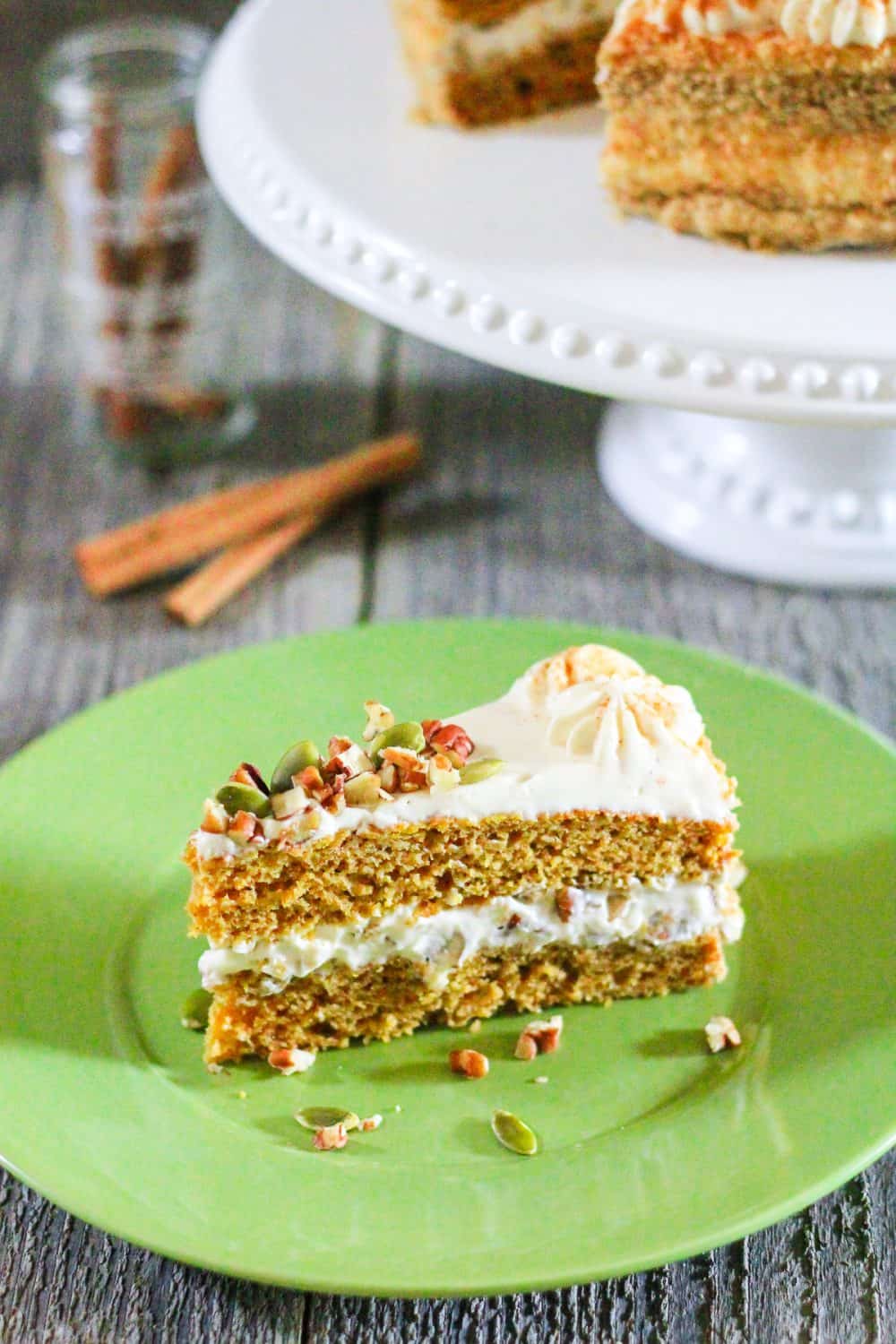 More PUMPKIN recipes for you to enjoy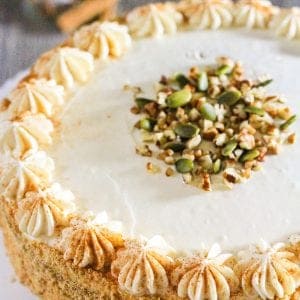 Easy Pumpkin Cake Recipe
Rich, moist, and perfectly spiced pumpkin cake smothered between cream cheese frosting. It's everything you want in a pumpkin roll, but easier and faster!
Print
Pin
Rate
Instructions
Sift the dry ingredients together
Sift the flour, baking soda, and baking powder into a bowl and set it aside.
Beat the eggs
In the bowl of your stand mixer, beat the eggs on high speed until fluffy and pale and (about 3-4 minutes). Then add the sugar and blend using the whisk attachment on high speed again for an additional 3-4 minutes.

Mix in pumpkin purée, then add the pumpkin pie spices and 1 tsp vanilla extract.
Fold in the dry ingredients and bake
Using a separate whisk, gently whisk in flour mixture.

Bake at 350 degrees Fahrenheit for 20 minutes or until a toothpick comes out dry after piercing the middle of the cake. Once it baked, transfer to a cooling rack.
Make the cream cheese frosting
In a separate bowl, blend the cooked sweetened condensed milk with softened cream cheese, then add the sour cream and 1/2 tsp vanilla. Careful not to overbeat, or the cream will become runny.
Assemble the cake
Spread the cream cheese filling on the first cake layer, then add the chopped pecans on top.

Spread a smaller amount of the cream cheese filling on the inner part of the other cake layer before stacking it on top of the nuts. This will ensure that the nuts stay put when the cake is sliced.

Lastly, spread the rest of the cream cheese filling on the top and sides of the entire cake.

From here on, decorate the cake however you want. I coated the sides with graham cracker crumbs and piped out a border around the cake with the extra filling I had left.
Notes
TIP: careful not to overbeat the cream cheese frosting or it will become runny. If you happen to accidentally beat it too much, just refrigerate it for about 30 minutes before assembling
Nutrition
Calories:
579
kcal
|
Carbohydrates:
53
g
|
Protein:
11
g
|
Fat:
38
g
|
Saturated Fat:
16
g
|
Cholesterol:
143
mg
|
Sodium:
302
mg
|
Potassium:
383
mg
|
Fiber:
3
g
|
Sugar:
40
g
|
Vitamin A:
4820
IU
|
Vitamin C:
2
mg
|
Calcium:
202
mg
|
Iron:
2
mg
This recipe was originally posted on Nov 18, 2015, we've tweaked it a bit since then.