Quick and easy no-bake Oreo cake pops! A delicious and effortless chocolatey treat that is perfect for any party or event.
Do you love cake pops?! Try our red velvet cake pops and Starbucks copycat birthday cake pop recipe!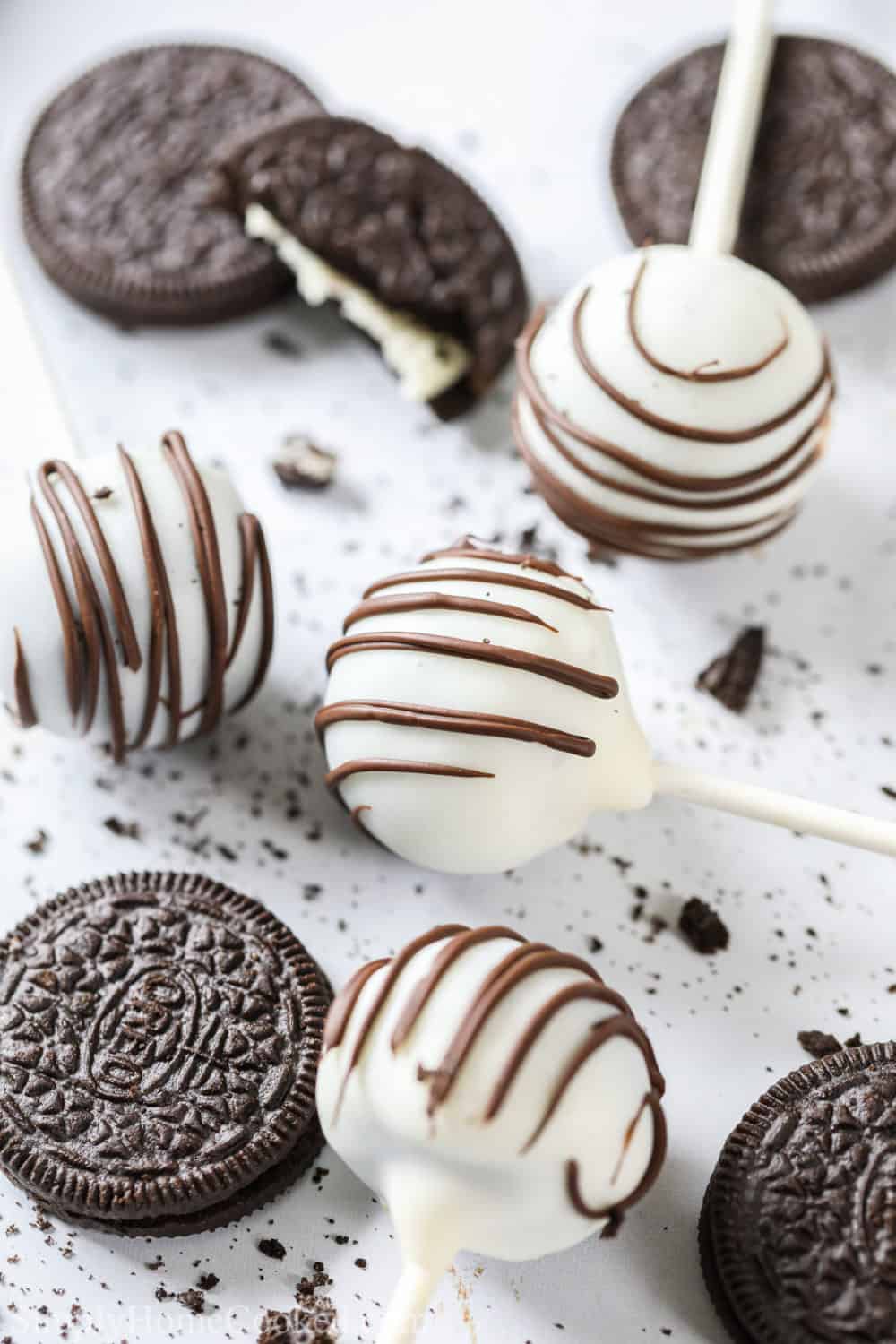 Oreo cake pops
This Oreo cake pop recipe is so simple and easy to make! And the best part, they're no-bake. So they come together really fast! Once you sink your teeth into these delicious chocolate cake pops you'll never have to but them again. Homemade is so much better!
Cake pops ingredients
Typically a cake pop recipe requires a cake to be baked like my vanilla cake pop video. You can always look at my ultimate cake pop guide for more tips. These oreo cake pops are no-bake all you really need is a few simple ingredients and tools. Here is what you need:
Oreo cookies
Cream cheese
styrofoam block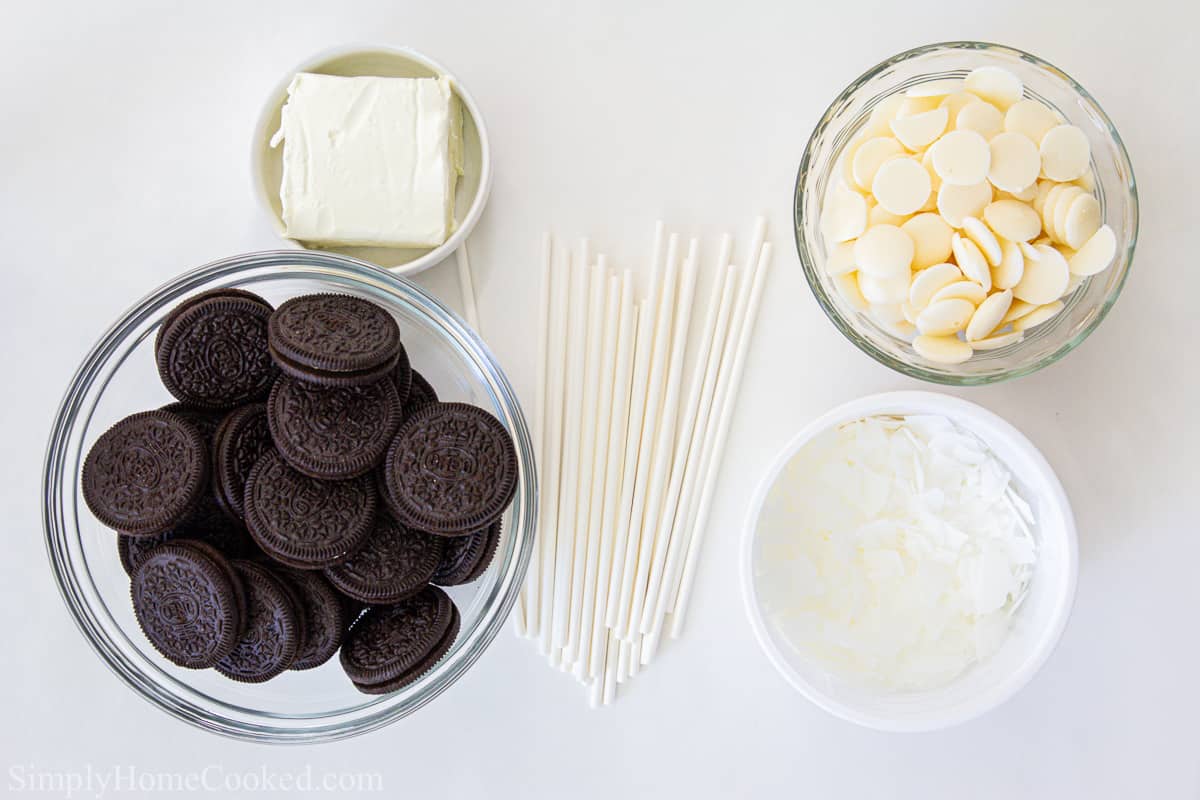 How to make oreo cake pops
Start off by pulsing the Oreos and cream cheese in a food processor. Then shape the cake pops into balls using your hands or this cake pop former.
Then place them in the fridge for a few minutes to stiffen. Then dip the end of each cake pop stick in some melted candy melts and insert it into the chocolate cake pop. Then place the cake balls back into the freezer as instructed in the recipe card below.
Now you can melt your white candy melts in a large bowl and add your dipping aid to thin out the candy melts. Pour the melted candy melts into a glass cup and dip the cake pops in. Then place them into a styrofoam block to set.
How to thin out Candy melts
This part of cake pop making ca be a bit finicky. You can use Crisco shortening or coconut oil to thin out the candy melts, but the BEST way is to use dipping aid. These tiny chips make the candy runnier, smoother, and so much EASIER to dip in.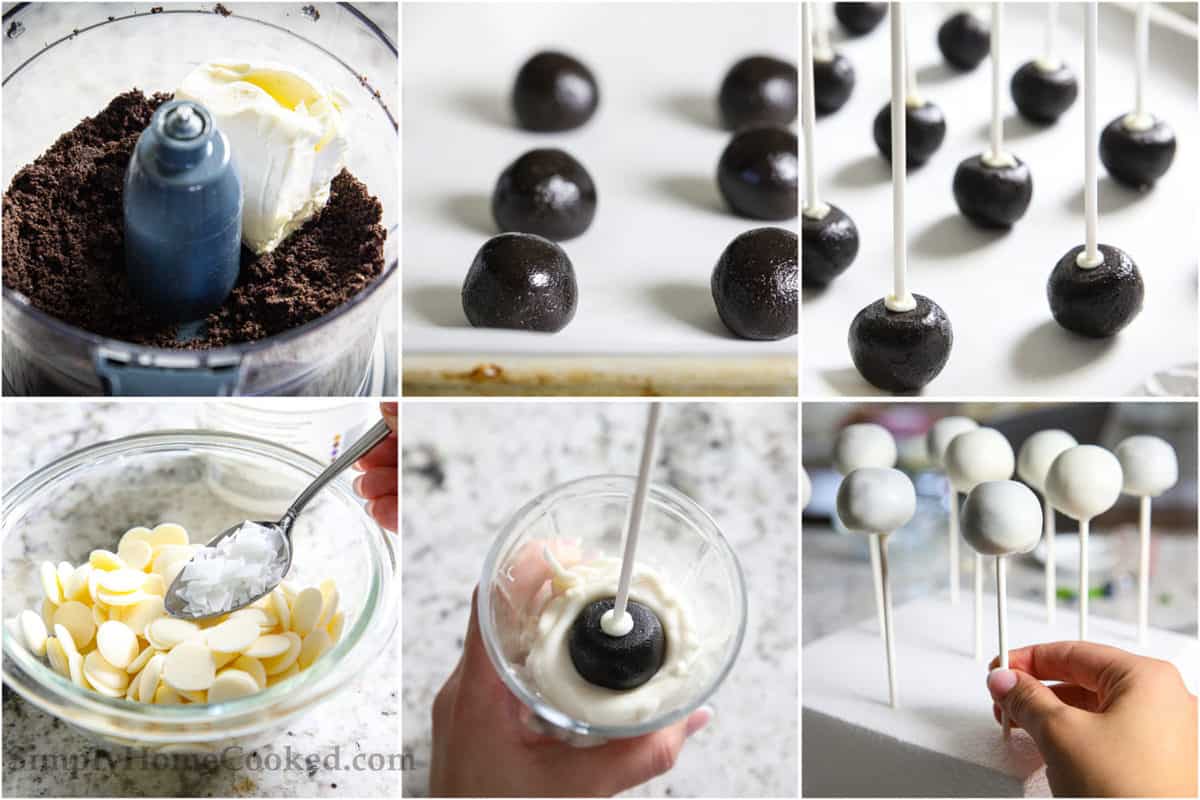 How long do cake pops last
Cake pops can last somewhere between 7-10 days are room temperature if stored in an airtight container.
Do you need to refrigerate cake pops?
Nope, Cake pops can be stored at room temperature since everything is baked. Think of it as a cookie. You don't really need to refrigerate baked cookies, right?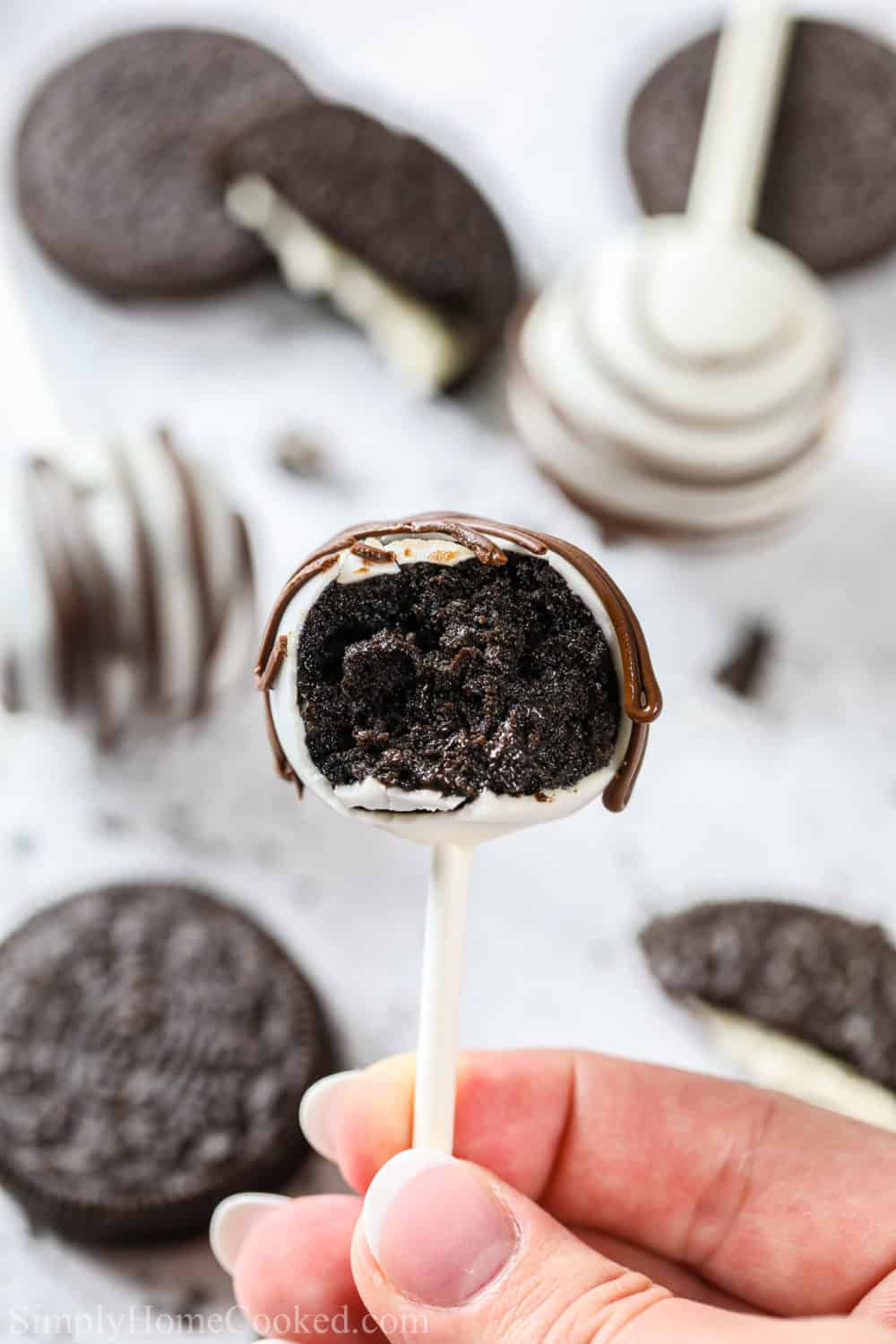 How to fix cracked cake pops
If your cake pops cracked, the most common reason for this is that the cake pops were too cold and the candy melts were too hot. When the two come in contact the sudden temperature change can cause a shock to the candy melts and eventually crack the shell.
Why are my cake pops falling apart
If your cake pops fall off the stick, there could be a few reasons why this happens.
There is not enough frosting or cream cheese in the mixture making it too dry.
There is too much frosting. If the cake balls are to wet, they will fall apart.
Your candy coating is too thick. If you want to know how to thin out candy melts, mix them with dipping aid. That will help a lot!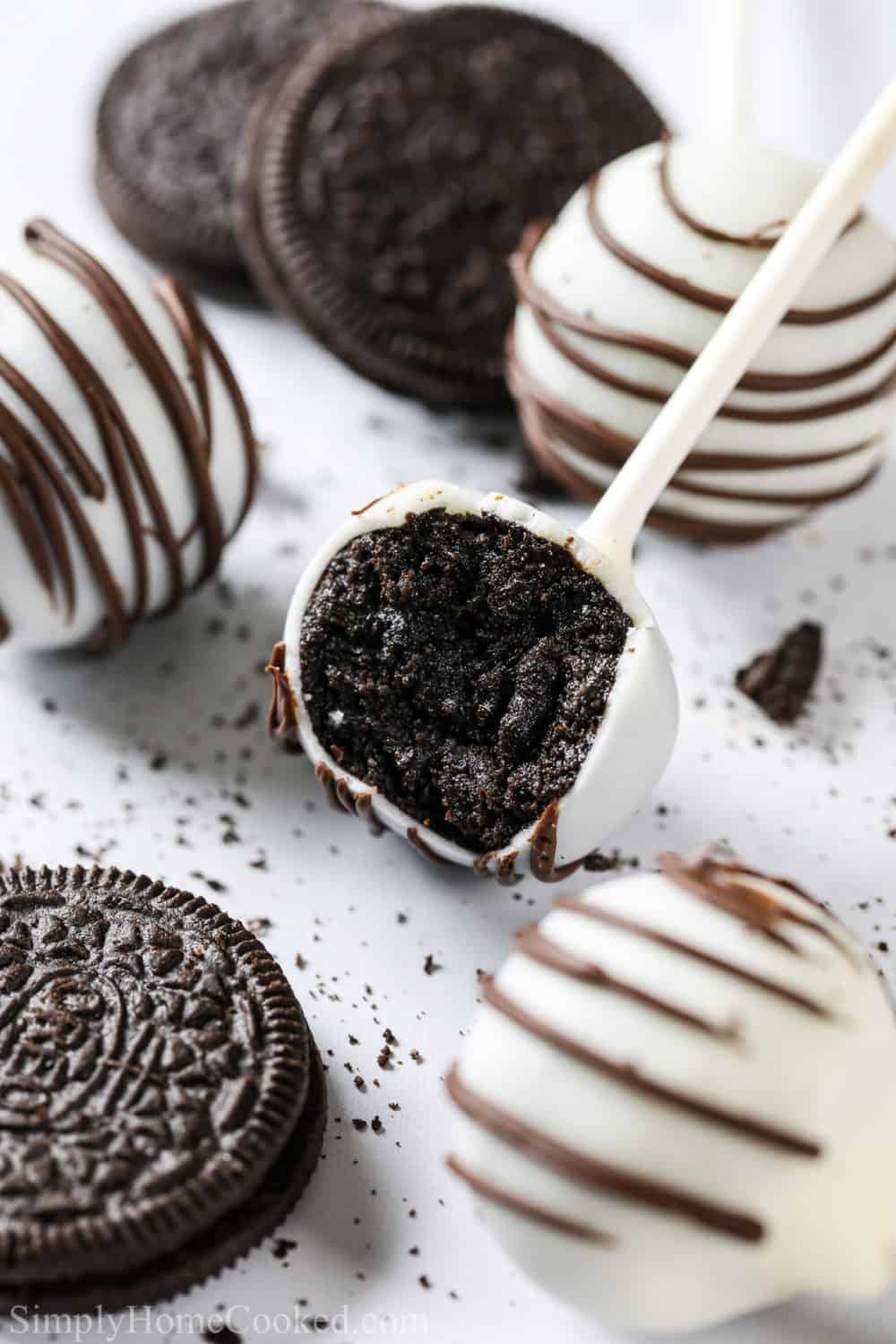 Watch a video how to make Oreo cake pops here:
Full Recipe Instructions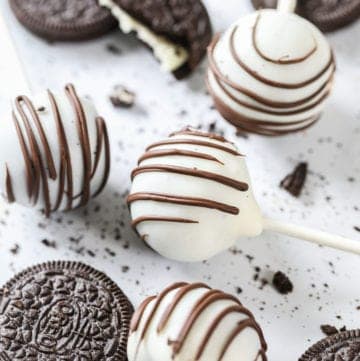 Oreo Cake Pops
Quick and easy no-bake Oreo cake pops! A delicious and effortless chocolatey treat that is perfect for any party or event.
Print
Pin
Rate
Instructions
Place the Oreos into a food processor and pulse them on high speed until they get down to fine crumbs.

Then add in 4 oz of softened cream cheese and pulse it again until it resembles a smooth and fudge-like texture.

Now place the Oreo mixture into a large bowl and begin scooping out cake balls. I like to use a cake pop former for this step.

Once you've got the right size down, place the cake ball into your hands and shape it into a smooth round ball.

You'll want to place the Oreo cake balls onto a baking sheet lined with parchment paper and freeze for about 15 minutes.

In the meantime, place about 1/4 cup of white candy melts into a microwave-safe bowl and melt the candy melts in the microwave.

Now dip the end of a cake pop stick into the melted candy melts and insert it about halfway through each cake pop.

Then place the cake pops back in the freezer for 5 minutes to let the cake pop stick set.

Now place 12 oz of white candy melts into a large bowl and melt it in the microwave in 20-second intervals. Then add 2 tbsp of candy melting aid and mix it in with a whisk. This will help thin out the candy melts.

Pour the thinned candy melts into a narrow cup and begin coating your cake pops. You'll want to do this in one fluid motion. Don't swirl the cake pop around. Once you got your cake pop coated in the candy melts, tap your wrist to let all the extra candy melts drip off.

Now insert the cake pops into a styrofoam block and drizzle some melted semi-sweet chocolate on top.
Nutrition
Calories:
166
kcal
|
Carbohydrates:
20
g
|
Protein:
2
g
|
Fat:
9
g
|
Saturated Fat:
5
g
|
Cholesterol:
8
mg
|
Sodium:
123
mg
|
Potassium:
52
mg
|
Fiber:
1
g
|
Sugar:
14
g
|
Vitamin A:
102
IU
|
Calcium:
12
mg
|
Iron:
2
mg