Learn how to make cake pops right at home! This easy and fool-proof cake pop recipe is guaranteed to come out perfect every time! These delicious candy-coated cake balls make a great party favor for just about any gathering.
Whether you're making my Starbucks copycat vanilla birthday cake pop, red velvet cake pops, or no-bake oreo cake pops, this simple guide will make you a master at cake pop making in no time!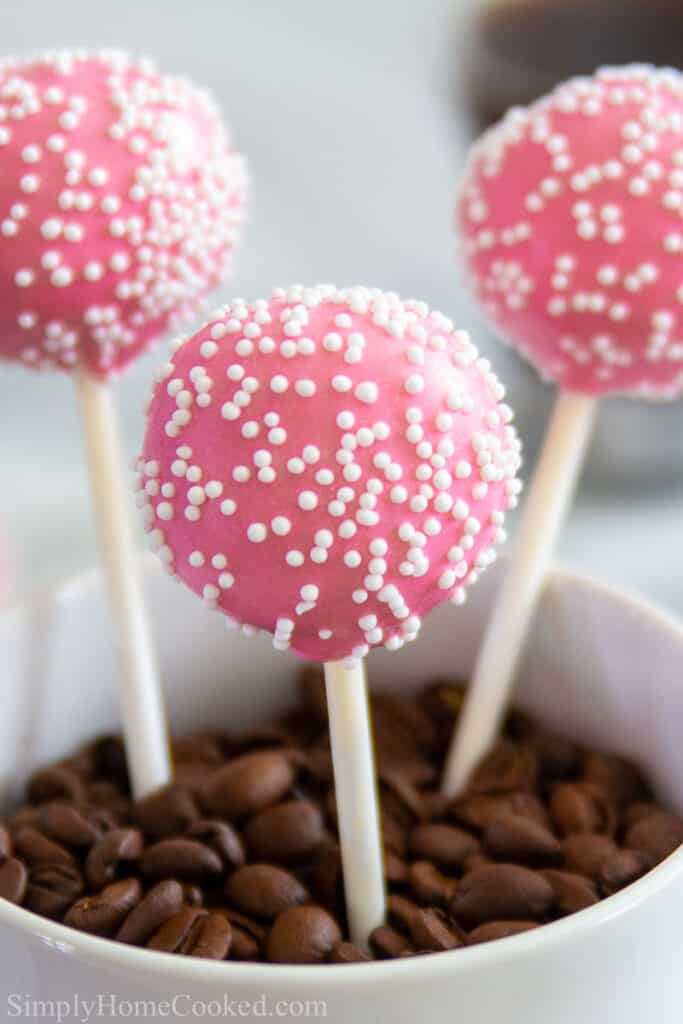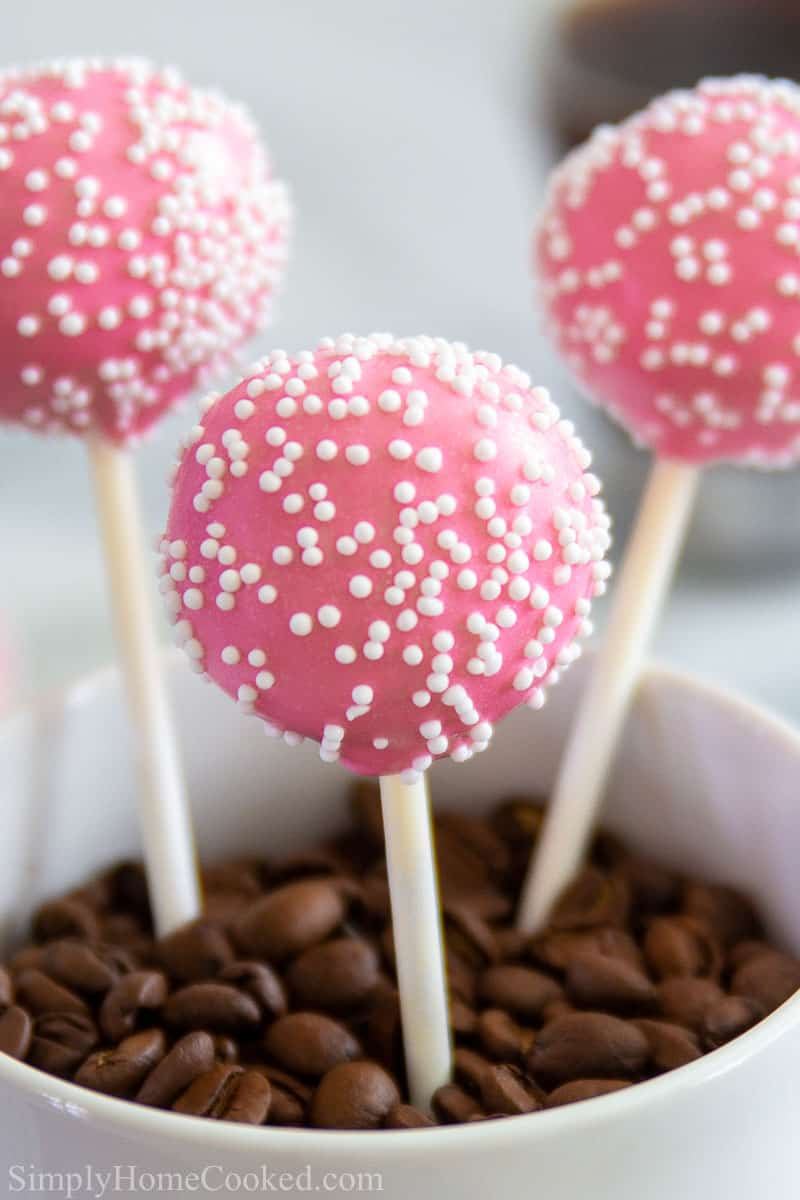 Table Of Contents
What are cake pops made of?
Cake pops are very simple to make because they only require only a few ingredients like baked boxed cake mix, vanilla frosting, and of course they are dipped in melted candy melts (the kind you can pour into molds).
Supplies you need to make cake pops
For cake balls– When making cake balls all you really need is a baked cake made with cake mix, frosting, and candy melts to coat the outside of the balls. You can shape the cake balls with your hands or use a meatballer to get the perfect shape and size each time.
For cake pops– you will need the same ingredients here but you need to add cake pop sticks and a styrofoam block to keep the pops upright until they harden.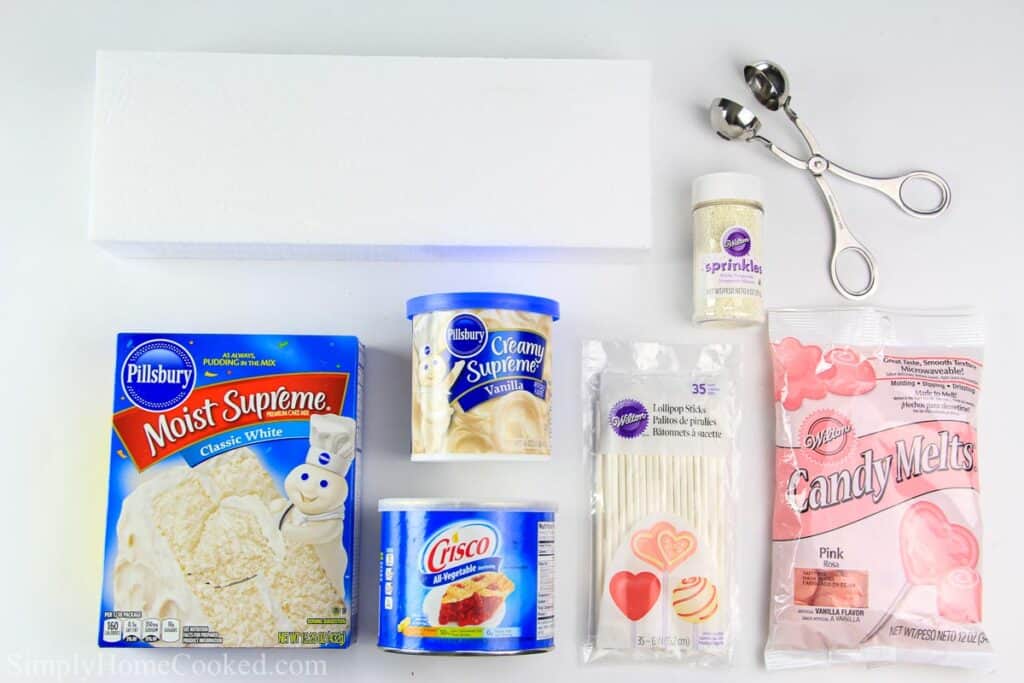 How to make cake pops
Here is a quick rundown on how to make these addictive and delicious treats. You can find the full detailed recipe in the printable recipe card at the bottom of this post.
Bake the boxed cake, let it cool and trim off the dry outer layer. Then discard those pieces or set them aside to munch on later.
Crumble the cake into very fine crumbs and mix it with the vanilla frosting. Then shape the mixture into balls using your hands or a cake pop former.
Insert the cake pop sticks into the cake balls– You'll need to dip the ends of the sticks into some melted candy melts before inserting them. Then freeze for 15 minutes.
Dip the cake balls into the candy melts– Once the candy melts are nicely melted and thinned out with shortening or dipping aid chips, you can dip the cake balls and let them sit upright in a styrofoam block.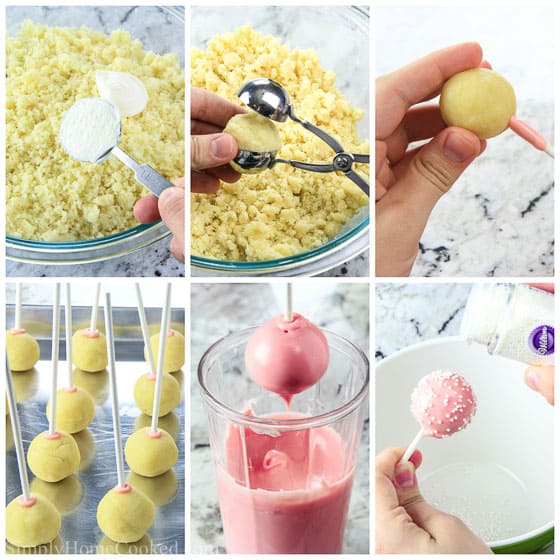 Tips to melt the candy melts
Overheat– When melting candy melts, be careful and make sure you do NOT overheat the candy coating. If this happens it will harden up too much.
Thin it out– In order to get a smooth candy coating that will ensure that your cake balls have a gorgeous outer shell you need to thin it out. You can mix in Crisco shortening, coconut oil, or EZ-thin dipping aid for a runnier consistency.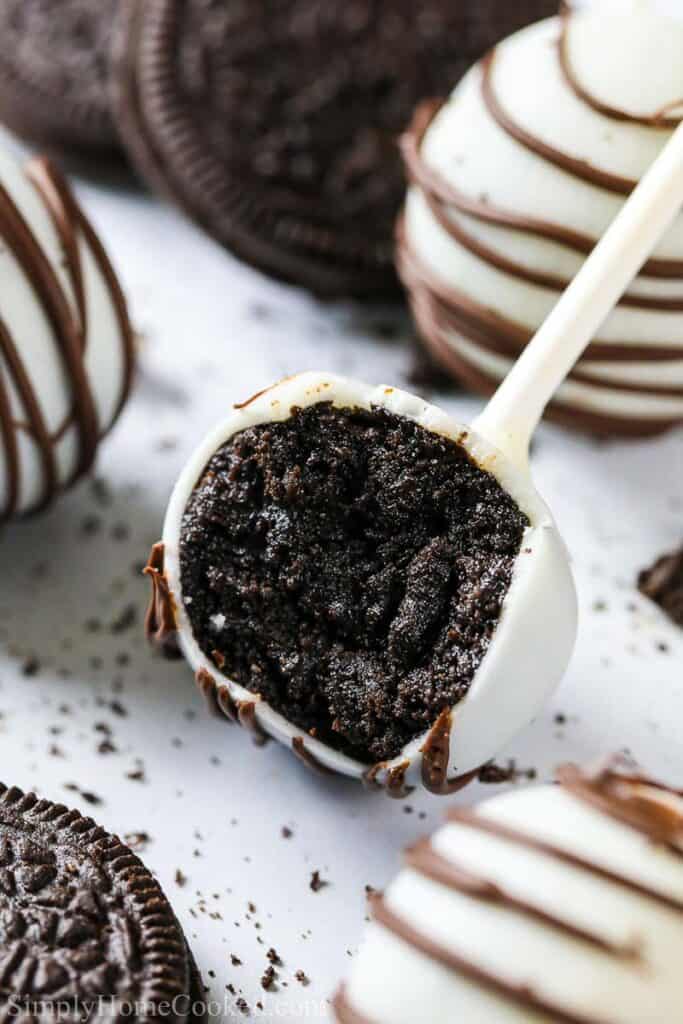 How to Keep the cake balls on the stick
The best way to prevent the cake balls from falling off the stick is by making sure you added enough frosting to the cake balls and thinning out the candy coating. If the chocolate coating is too thick it will be heavy and way down on the cake balls.
TIP: If you want to avoid using the stick, just make cake balls instead! I have an easy recipe for red velvet cake balls and no-bake oreo cake balls right here in my blog.
How to make the EASY version of cake pops
If you're looking into a super fast and easy version of my original vanilla cake pops, you have to try my no-bake oreo cake pops (VIDEO). All you need is Oreos, cream cheese, and candy melts. That's it!
Crush up the Oreos in a food processor with cream cheese.
Roll the dough into cake balls and add the melted candy-dipped stick inside. Then freeze for 15 minutes.
Now dip the cake pops into melted candy melts and gently insert the sticks into a styrofoam block to set. Add dipping aid chips to the candy melts if they are too thick.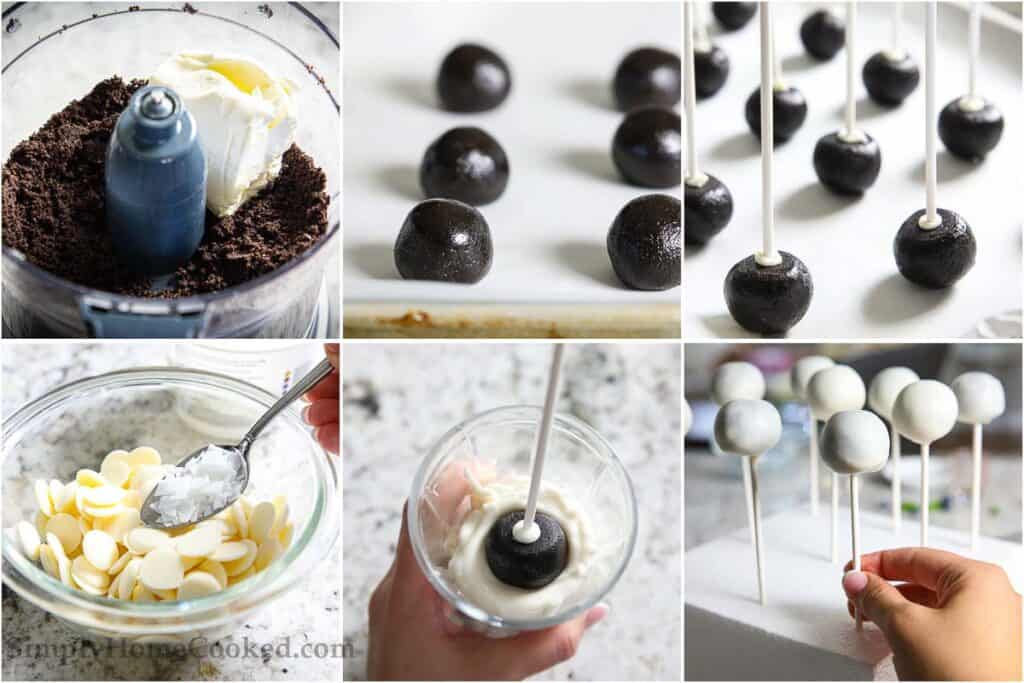 What can I use instead of candy melts?
The only substitute for candy melts would be chocolate. If you set out to make cake balls without candy melts, you will need to mix 1 tbsp vegetable oil for every 1 cup of chocolate chips.
Why are my cake pops cracking?
There are usually two reasons why they can crack. Before dipping the balls you want to set the stick by placing the cake pops in the freezer for 15 minutes. If you dip them and the candy melts are too hot, they will crack because of the sudden temperature change. Or the cake balls were too cold if you kept them in the freezer for over 15 minutes. Again, the drastic temperature change can cause the cracking effect here as well.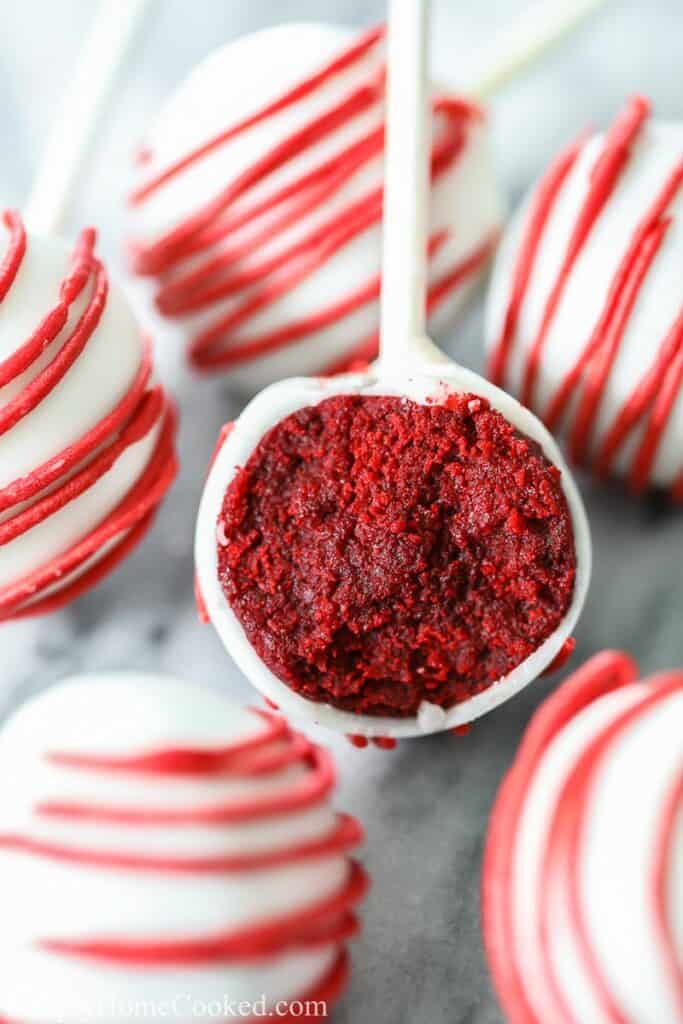 Make them ahead of time
I make them a few days ahead of time and then keep them in an airtight container at room temperature.
Storing cake pops
Room temperature– You can store them already dipped at room temp for up to a week.
Fridge– Keep the undipped cake balls in the fridge in a sealed container for up to 3 days
Freezer– or you can store the undipped cake balls in the freezer for up to 6 weeks. Don't forget to thaw them in the fridge though.
Full Recipe Instructions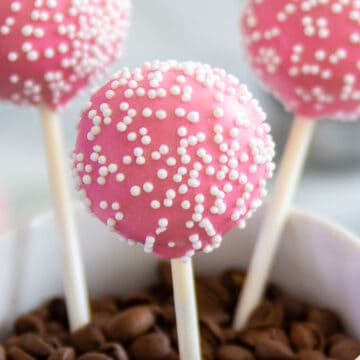 How to Make Cake Pops (easy and fool-proof)
Learn how to make perfect delicious cake pops right at home! This easy and fool-proof cake pop recipe is guaranteed to impress everyone at your next party!
Print
Pin
Rate
Equipment
24 cake pop sticks

cake pop former 11/4 inch in diameter or small cookie scoop

white nonpareils (optional)

Styrofoam block (to set the dipped cake pops)
Ingredients
Instructions
Bake the cake as instructed on the boxed cake mix and allow it to cool down to room temperature.

Now trim off the outer golden layer because it tends to be too dry to form the cake pop.

In a large bowl, crumble the cake into fine crumbs using your hands. Add 2 tbsp of vanilla frosting and mix with a spoon or your hands.

Shape the cake into balls and place them into the cake pop former. Make sure the cake ball is a little bit bigger than the size of the press. Once the cake ball is pressed tightly, remove the extra cake from the sides and roll the ball with your hands to smooth any imperfections. This step is optional. You can always just round it out with your hands alone.

Insert the sticks – Melt 1/4 cup of candy melts in a small bowl. Heat in 30-second intervals to prevent the candy from overheating.

Dip the tip of each cake pop stick into the melted candy and insert it into the cake ball about halfway through. Place each cake pop onto a baking sheet and transfer to the freezer for about 15- 20 minutes. Don't keep them there too long or they will become too cold and cause the hot melted candy to crack after you dip them.

Thin out the candy melts before dipping– Meanwhile, melt the rest of the candy in a bowl. Make sure you melt them in 30-second intervals with mixing in between. Once it's melted well, add 1 1/2 tsp Crisco shortening or melting aid chips (preferably) and mix well with a whisk. Then pour the melted candy into a tall narrow cup.

Dip the cake pops– Now remove the cake balls from the freezer and dip each into the cup and tilt to the sides slowly to make sure the entire cake pop is covered. Then slowly pull up the cake pop. (Don't swirl the cake pop) Hold the cake pop in one hand and tap your wrist so that all the extra melted candy drips off.

Now decorate the dipped cake pops with sprinkles or nonpareils while the candy coating is still wet. That way the sprinkles adhere well.

Place in a Styrofoam block and let it stand for about an hour. Store at room temperature.
Notes
Can I Make them ahead of time?
Yes, I like to make cake pops a few days ahead of time and keep them in an airtight container at room temperature.
Thinning out candy melts
I highly recommend using dipping aid chips to get a smooth and thinner consistency on the melted candy melts.
Nutrition
Calories:
88
kcal
|
Carbohydrates:
19
g
|
Protein:
1
g
|
Fat:
1
g
|
Saturated Fat:
1
g
|
Sodium:
152
mg
|
Potassium:
13
mg
|
Fiber:
1
g
|
Sugar:
10
g
|
Calcium:
47
mg
|
Iron:
1
mg