A simple and delicious homemade chicken broth recipe that will become a staple in your kitchen. The rich flavor will take your soups to the next level!
We love incorporating this easy broth recipe in our chicken gnocchi soup and chicken meatball soup for maximum flavor.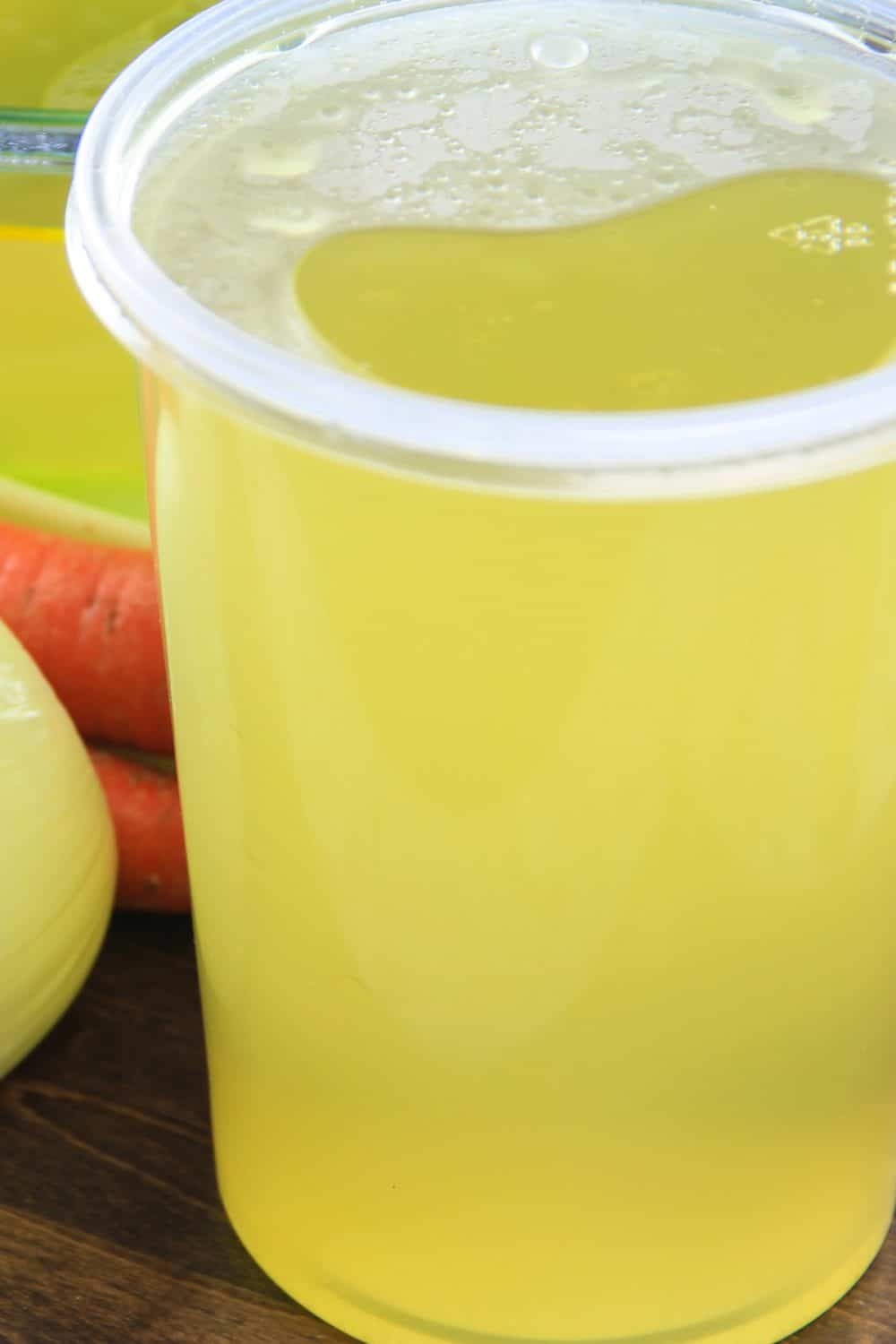 Homemade Chicken broth recipe
Making your own chicken broth is probably the easiest thing you'll ever make. All you do is boil some vegetables and chicken in a pot of water and let time do all the hard work. Not only is it a healthier alternative to the store-bought broth, but it also tastes so much better. The best part about making your own broth is that it can be frozen for up to 6 months. It's so nice having delicious homemade chicken broth ready to use at all times.
How to make homemade chicken broth
Boil the vegetables with chicken– Prior to placing the veggies into the stockpot, make sure to rinse and peel them. Once you've got all your ingredients in the pot, you want to bring it all to a boil, then simmer for a few hours (the longer the better it will taste).
Cool and strain– For a silky clear broth, always skim off the foam with a small fine-mesh sieve. To make it even cleaner, I like to run the liquid through a cheesecloth.
Tips to make the tastiest broth
Use good quality meat– First off, if you're making a homemade broth, go for the organic chicken. It's healthier and it will taste so much better.
Long simmer time– As for all good things, time is essential. The longer this broth simmers, the more flavors it will infuse over time, So be patient and the results will be phenomenal.
Strain for a clear chicken broth– No one wants chunks or pieces in their chicken broth so make sure to strain it with a fine cheesecloth.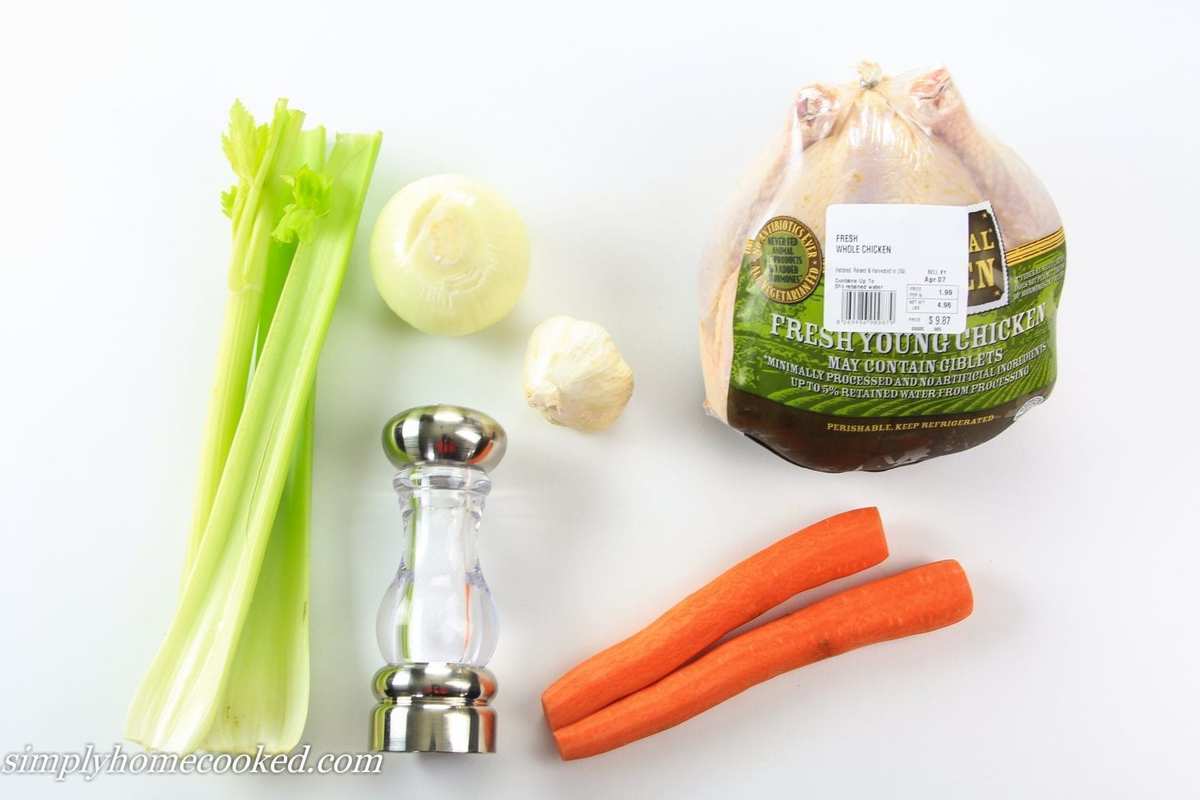 What ingredients go into chicken broth?
water
chicken (with skin and bones)
onions
celery
carrots
garlic
salt
Chicken stock vs broth?
The biggest difference between a broth and stock is really the meat. Stocks are mainly made of chicken bones and a broth is flavored mostly form the chicken meat (breast, thighs, wings, etc.)
How long can I keep chicken broth in the fridge?
For best results, store your broth in the fridge for up to 4 days. Storebought will last longer mainly because of added preservatives. So be careful how long you keep the homemade kind in the fridge as it goes bad faster.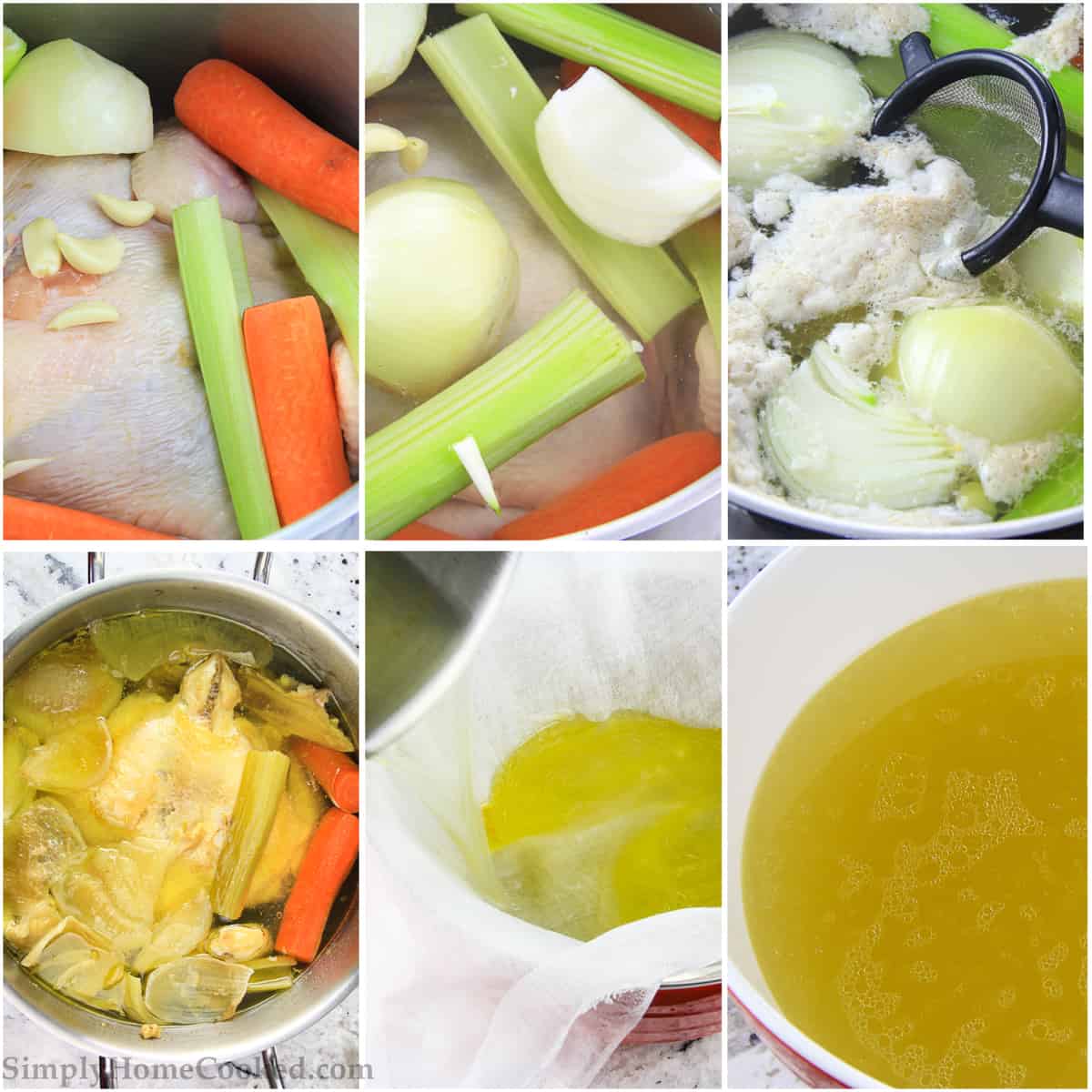 How to freeze a homemade broth
Once the broth is completely cooled to room temperature, pour it into tall plastic soup containers and tightly place the kids on top. Make sure not to fill the tubs to the top since liquid expands when it freezes.
How long does it last in the freezer
If properly sealed in an airtight container or freezer bag, it can stay frozen for up to 6 months.
What are the benefits of drinking chicken bone broth?
Drinking homemade chicken broth can be very beneficial to your health. Here are just a few things it can help you with.
Given your bone broth is lower in sodium than the storebought kinds, it can ait in weightloss
It is high in nutrients
Can serve as a gut healer and reduce inflammation
It can boost immunity, especially during flu season
Bone broth can strengthen your bones and teeth as well.
Full Recipe Instructions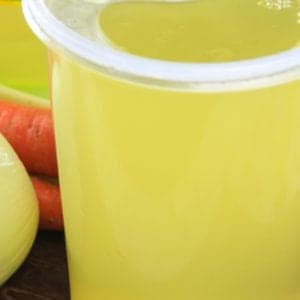 Homemade Chicken Broth Recipe
Homemade chicken broth is so simple to make and the flavors cant compare to the storebought kind. Make a big batch and use it for delicious soups, stews, all kinds of sauces.
Print
Pin
Rate
Ingredients
14

cups

water

1

whole chicken

1 1/2- 2

onions

2

large celery sticks

2

large carrots

4

garlic cloves

1

tbsp

Salt
Instructions
Boil vegetables and chicken
Peel the vegetables and rinse the chicken. Then add them to a large stockpot.

Add about 14 cups of water and 1 tbsp of salt to the pot and bring it to a boil.

After the stock comes to a boil, the chicken scum will rise to the top of the pot. Just skim it using a mesh sieve.

After the chicken scum has been removed, cook the stock over low heat for about 2-3 hours.
Let the broth cool, then strain it
Once the broth has cooled to room temperature, transfer to a large bowl. Make sure to strain it through a cheesecloth. I like to line a strainer under the cheesecloth just in case it slips.
Notes
What to make with chicken broth
Nutrition
Calories:
186
kcal
|
Carbohydrates:
5
g
|
Protein:
15
g
|
Fat:
12
g
|
Saturated Fat:
3
g
|
Cholesterol:
57
mg
|
Sodium:
779
mg
|
Potassium:
244
mg
|
Fiber:
1
g
|
Sugar:
2
g
|
Vitamin A:
2145
IU
|
Vitamin C:
5
mg
|
Calcium:
34
mg
|
Iron:
1
mg
This recipe was originally posted on Apr 13, 2015, we've tweaked it a bit since then.