This creamy Cajun Chicken Pasta is loaded with juicy chicken, tender peppers, and a rich Cajun Alfredo sauce. It's a quick and easy meal that's perfect for weeknights!
Serve this delicious pasta with these cheesy stuffed bread rolls and a crunchy cucumber cabbage salad.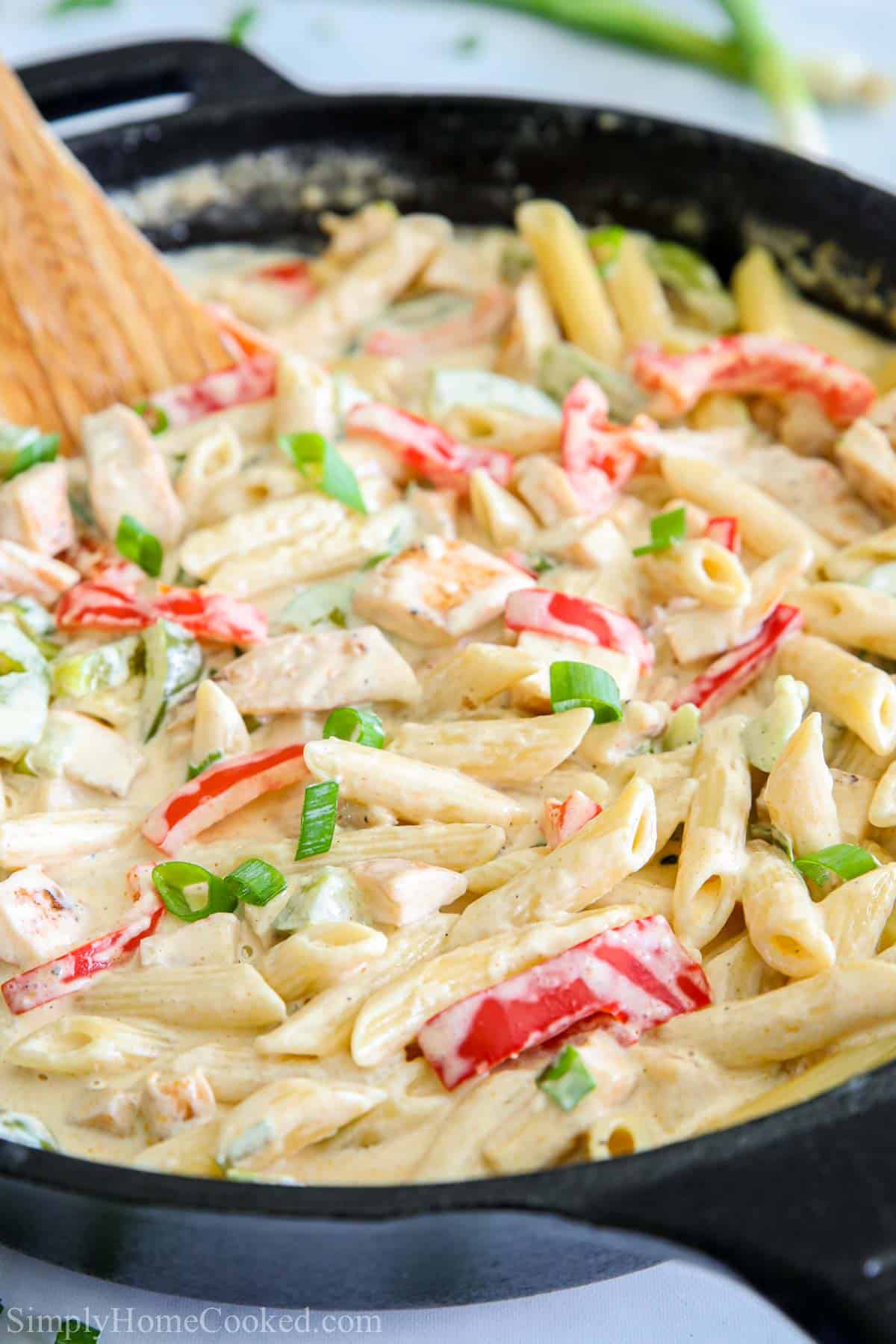 Table Of Contents
Cajun Chicken Pasta Recipe Details
You are going to love this recipe! I can't get enough of the full-flavor Cajun seasoning with chicken and pasta. And that vegetable-filled Alfredo sauce… yum!
TASTE: Rich savory flavors mixed with the spicy Cajun seasoning make this pasta so good.
TEXTURE: This Cajun Chicken Pasta is full of juicy chicken, tender veggies, and a creamy sauce.
TIME: It is so easy to make this recipe. You can even prep it ahead to save time.
EASE: This tasty dish will only take 20 minutes to make.
What you'll need
Chicken- boneless, skinless chicken breasts
Vegetables– Green onions, Red bell pepper, and Green bell pepper
Penne pasta
Seasonings- Cajun seasoning, Salt, and Pepper
For the sauce– Butter, Heavy cream, and Parmesan cheese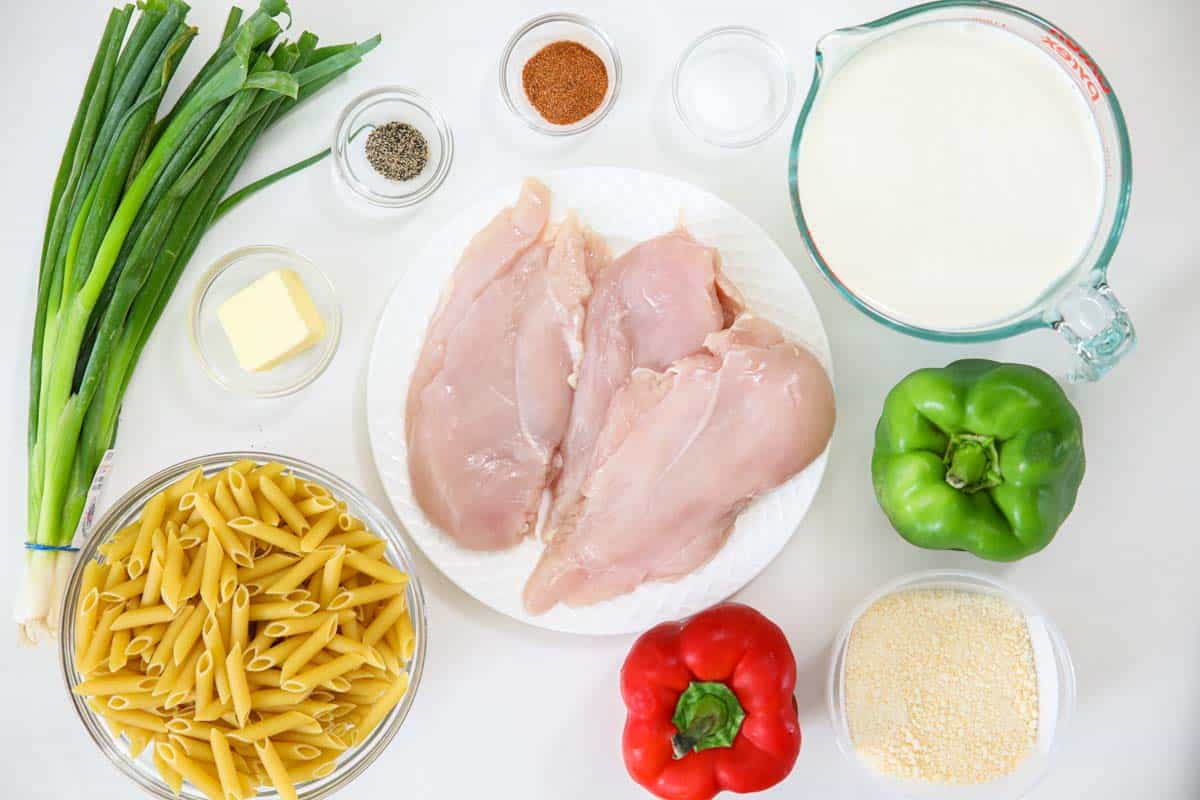 How to Make Cajun Chicken Pasta
Prepare the chicken. Slice the chicken breasts into thin cutlets and season both sides with salt, pepper, and Cajun seasoning.
Cook and cut the chicken. Cook the cutlets thoroughly in a pan and then allow them to cool. Cut them up into small cubes and set aside.
Cook the vegetables. In a large skillet, add the butter. Then add the green onions, bell peppers, salt, pepper, and Cajun seasoning. Stir everything together until the bell peppers become tender.
Pro Tip: You can cook the chicken by pan frying, grilling, or even baking in the oven!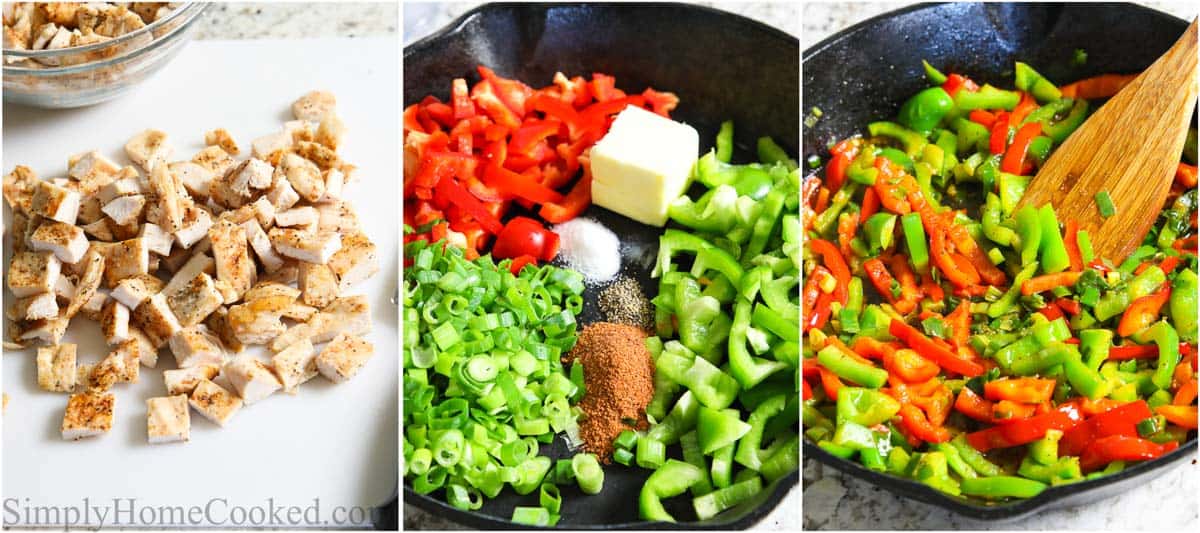 Add the cream. Pour the heavy cream into the skillet with the seasoned vegetables and let it come to a simmer.
Add the Parmesan cheese. Take the Cajun pasta sauce off the heat and add the grated Parmesan cheese in. Stir and allow the cheese to melt.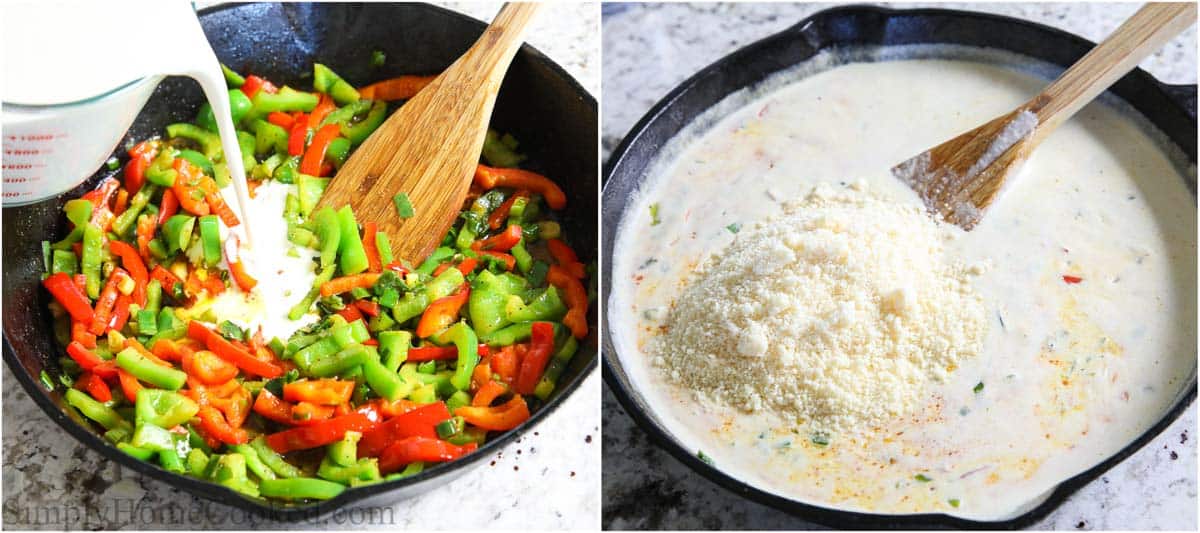 Combine with the chicken and penne. Finally, add the chicken and cooked penne to the sauce and stir together. Serve hot.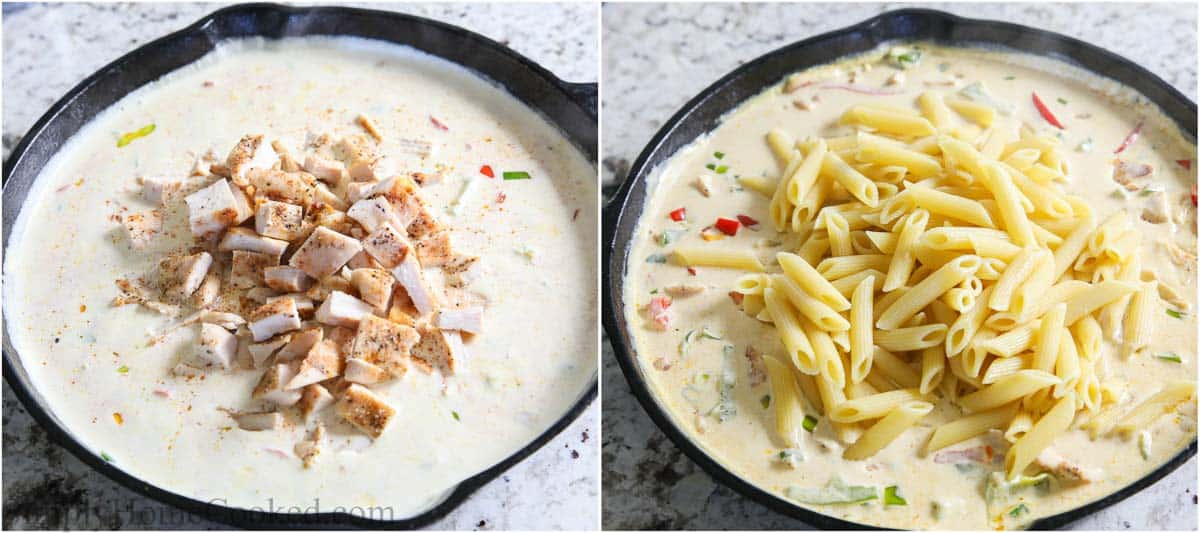 Recipe Tips
Use a meat thermometer to check doneness- It's easy to overcook chicken cutlets, so use a thermometer to make sure they have reached an internal temperature of 165 degrees Fahrenheit. Then take them off the heat to avoid them getting dry.
Allow the chicken to rest– By letting the chicken rest and cool, the juices are reabsorbed so the chicken stays moist. Otherwise, it will leak out as you begin to cut it.
Prep the sauce ingredients beforehand- This will save you time and stress. Pre-cut the vegetables and measure out the seasonings so you can add and stir without having to leave the stove to prep the next sauce ingredient.
Let the dish sit before serving- To allow the best flavor, let the pasta and chicken sit in the hot sauce for a few minutes before serving so they can absorb all that delicious flavor.
Add-ins and Substitutions
Change the way you cook the chicken- You can cook the chicken on a skillet, on the grill, or even in the oven. Use whichever method you like the best.
Add other vegetables- You can vary the vegetables in this Cajun Chicken Pasta by adding other favorites, like broccoli, cherry tomatoes, or asparagus.
Try other meats. I love this dish with chicken, but you could also use sliced sausage, shrimp, pork, or meatballs.
Make it allergen friendly- If you have guests avoiding gluten, just substitute gluten-free pasta. And for those who can't have dairy, just use plant-based butter and vegan alternatives for Parmesan cheese and heavy cream.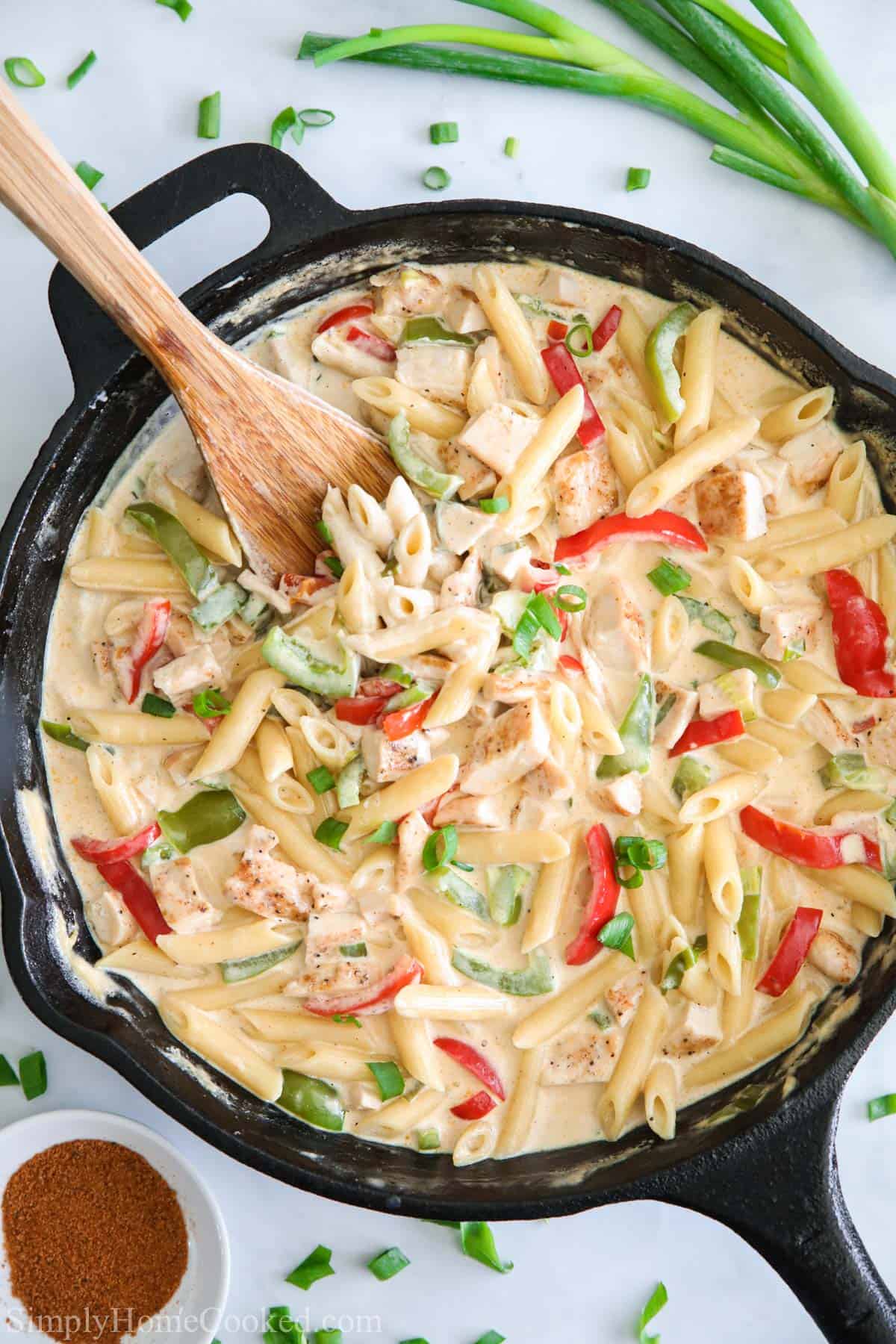 FAQs
What's in Cajun seasoning?
Cajun seasoning is a mixture of several different spices that you probably have in your pantry. It's a combination of black pepper, onion powder, salt, paprika, oregano, thyme, garlic powder, cayenne pepper, and some red pepper flakes. The cayenne gives it that reddish-orange color. You can make your own Cajun seasoning to your preference, or buy it.
What pasta is best for this Cajun Chicken Pasta?
Most people make this dish with penne pasta. However, if you don't have penne on hand then any pasta will work as a substitute, including rotini, spaghetti, or rigatoni.
Serving Suggestions
This delicious pasta goes great with sides, veggies, and other main dishes. Here are some great ways to serve Cajun Chicken Pasta: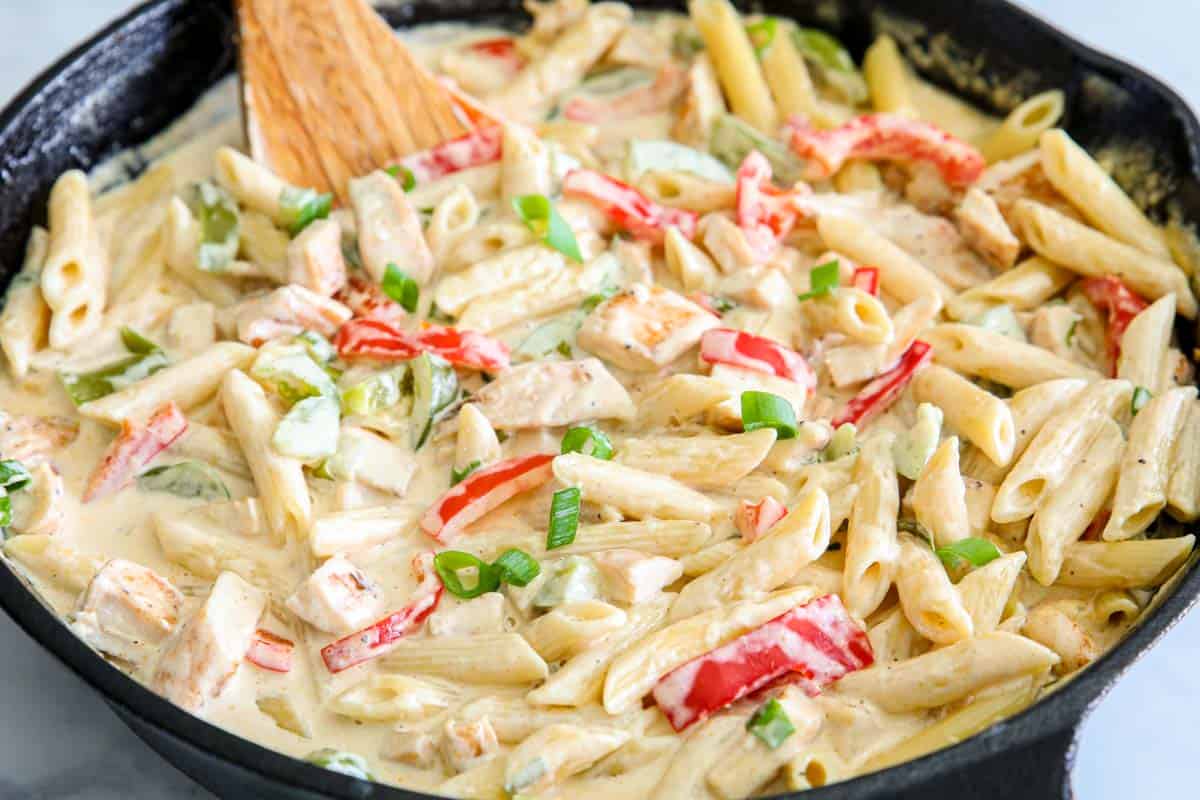 Make This Cajun Chicken Pasta in Advance
Make ahead: You can prepare this dish ahead of time and store it in the fridge. The flavors will actually develop really nicely, but the Alfredo sauce will get absorbed and become less creamy. Another option is to pre-cook the pasta, chicken, and sauce, and just warm them up together on the stove.
Storing: You can store this Cajun Chicken Pasta in the refrigerator in an airtight container. It will last for 4-5 days.
Freeze: You can store this pasta in the freezer in an airtight container for 3-6 months. Thaw overnight in the fridge and then reheat it in the oven, microwave, or on the stove. You may need to add some more cream and stir to get the sauce back to its original creamy consistency.
More Delicious Pasta Dishes!
Full Recipe Instructions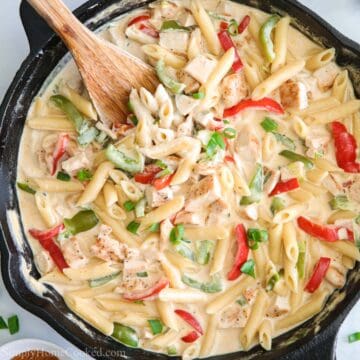 Cajun Chicken Pasta
This creamy cajun chicken pasta is loaded with juicy chicken, tender peppers, and a rich cajun Alfredo sauce. A quick and easy dish that is perfect for any meal!
Print
Pin
Rate
Instructions
Now you cake cook the chicken or a skillet, on the grill, or even in the oven.

Once the cooked chicken is cooled, cut it up into small cubes and set is aside.

Then cook 1 pound of penne pasta until al dente. Then drain the water out and keep the pasta warm by placing it back in the pot with the lid on.

Now begin making your pasta sauce by adding 4 tablespoons of unsalted butter, 1 bunch of chopped green onion, 1 sliced red bell pepper, 1 sliced green bell pepper, 1/2 tsp salt, 1/4 tsp black pepper, and 2 tbsp Cajun seasoning in a large skillet.

Stir all the ingredients together until the bell peppers become tender.

Now pour in 1 quart of heavy cream into the skillet and let it come to a simmer.

Remove the Cajun pasta sauce from the stove top and add in 1 1/2 cups of grated Parmesan cheese.

Let the cheese melt, then all the chicken back in, along with 1 pound of cooked penne pasta. Stir together and enjoy!
Notes
FAQs answered in the post:
Add-ins and substitutes
How to make ahead of time
How to store and freeze
Nutrition
Calories:
828
kcal
|
Carbohydrates:
49
g
|
Protein:
30
g
|
Fat:
58
g
|
Saturated Fat:
35
g
|
Cholesterol:
230
mg
|
Sodium:
599
mg
|
Potassium:
545
mg
|
Fiber:
3
g
|
Sugar:
3
g
|
Vitamin A:
3469
IU
|
Vitamin C:
33
mg
|
Calcium:
307
mg
|
Iron:
2
mg