The best copycat recipe for restaurant-style garlicky herbed bread dipping oil. This dip is so yummy, you'll want to dip your bread in it over and over again!
If you make this dip, be sure to serve it with my crusty rustic bread or seeded harvest bread. It's truly a match made in heaven!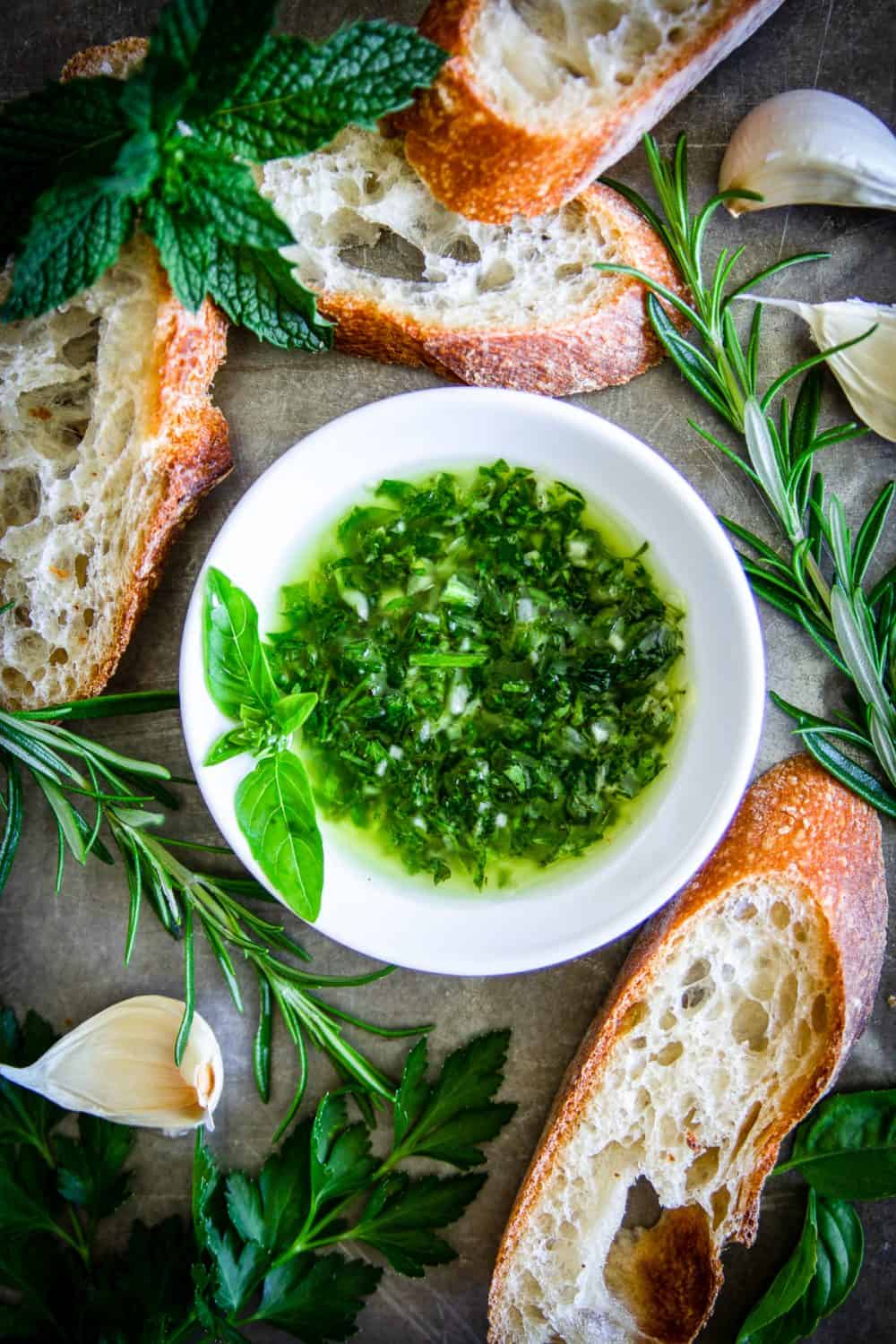 Bread dipping oil
This restaurant-style herbed dipping oil is pretty much always on the menu when we have company over for dinner. When my guests leave they already know I'm sending them home with leftover herb dip.
Why this dipping oil is so amazing
It's bursting with garlic and fresh herbs– The fresh garlic and herbs paired with warm rustic bread is just to die for!
It's a restaurant-style copycat recipe! I actually discovered this herbed oil at one of our favorite waterfront restaurants (Lobster Shop, on Ruston Way, Tacoma). Which also has amazing steaks. Not going to lie I was shocked at how close I got to the real deal. It only took about 5 tries to nail it!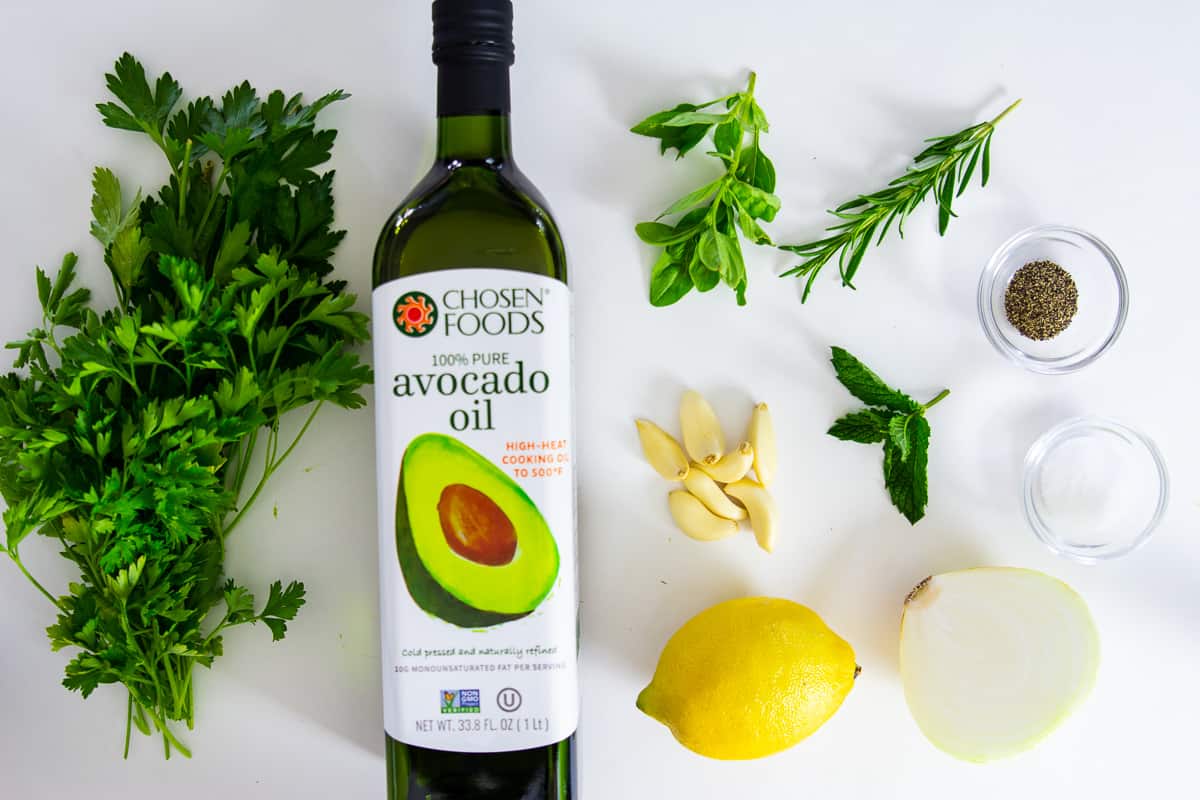 What you need to make this herbed bread dipping oil
For the herbs– You want to use flat-leaf parsley here (so not the curly one), along with that you need FRESH rosemary, mint, basil. I know there are such small amounts here but please don't skip or substitute any herbs (not even for the dried version).
Liquids– Here I used avocado oil since its mild in flavor and very nutritious. I've tried it with olive oil and it just didn't taste that good. Be sure to use fresh lemon juice and not the concentrated store-bought stuff. This little hint of citrus is a must here.
Garlic, onion, and spices– Yes I know it looks like a lot of garlic but believe me, this is where the flavors come from. And make sure to season this with salt and pepper. Ultimately, salt is what gives everything flavor.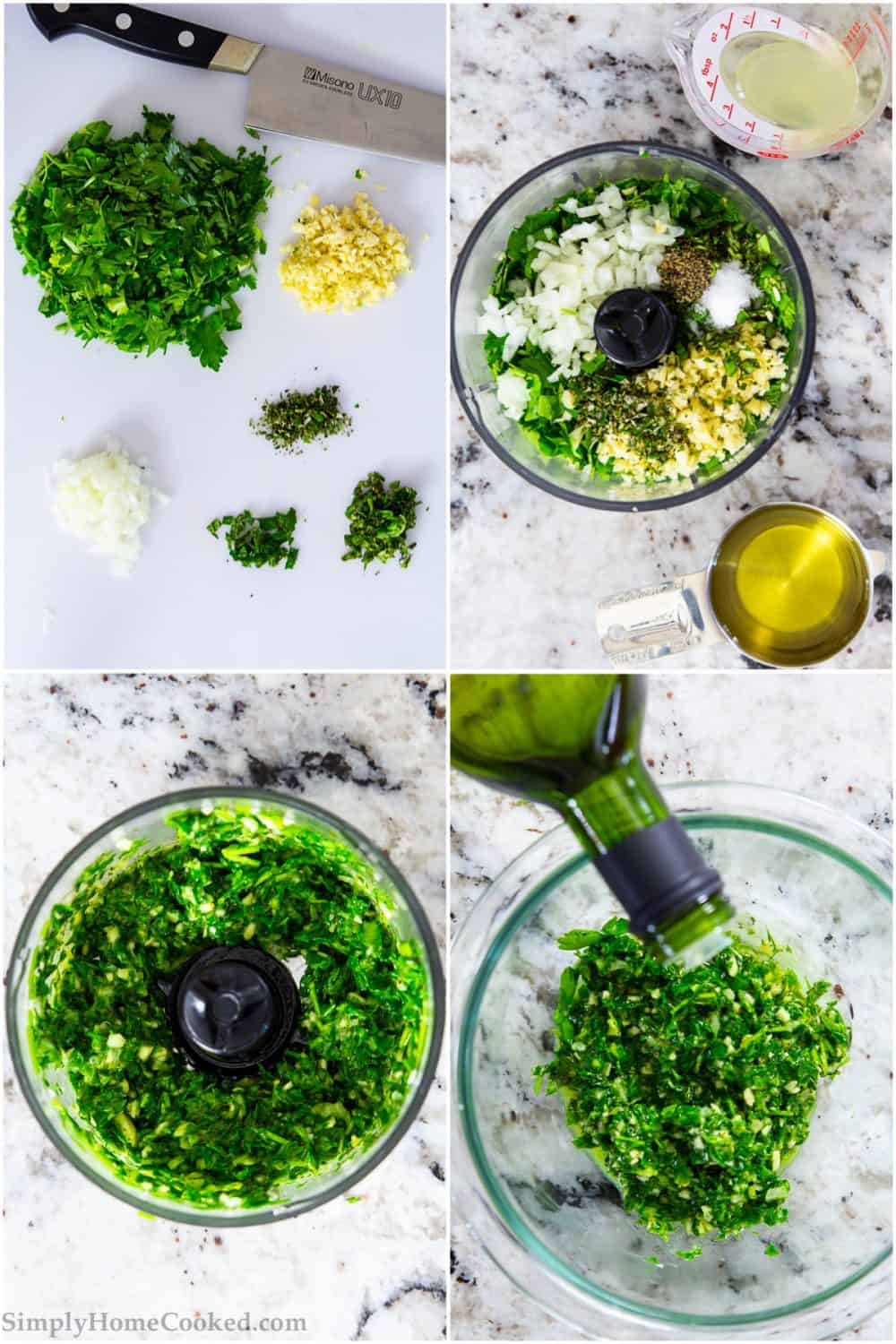 How to make the best restaurant-style bread dipping oil
Start off by finely chopping all the herbs with a very sharp knife, especially the rosemary. Be sure to remove the actual herbs from each sprig. I have a great tutorial on how to do this in my crown roast of pork recipe.
Now place them in a small food processor. Here is when you can add in the crushed garlic and minced onion as well. You only want to pulse it a few times until the herbs are crushed down to a grainy texture.
Next, you can add the remaining ingredients. So this is where the freshly squeezed lemon juice, pepper, salt, and avocado oil come in. Don't add all the oil in though, just a quarter cup.
Now emulsify it with the remaining oil. This part can be tricky since you want the oil to blend in with the herbs but you dint want to overdo it. If you blend too much it will become too thick (like mayonnaise). So be sure to do little pulses at a time.
Tips on making dipping oil
Use fresh herbs only
In a dipping oil recipe like this, you never want to switch the fresh herbs for the dried ones. The only time dried herbs work is when they get cooked and reinfuse. This recipe isn't cooked so keep it all fresh for better taste. For more tips about cooking with herbs, check out this article.
Careful when emulsifying the herbs with oil
Not blended enough
If you don't blend the ingredients with the oil enough, the bread dipping oil will be very separated and you will most likely only be dipping the oil instead of the herbs since the will sink.
Too blended
If you accidentally over-blend it, it will become one thick and creamy consistency. Believe me, this has happened to me and its not a pleasant look or texture.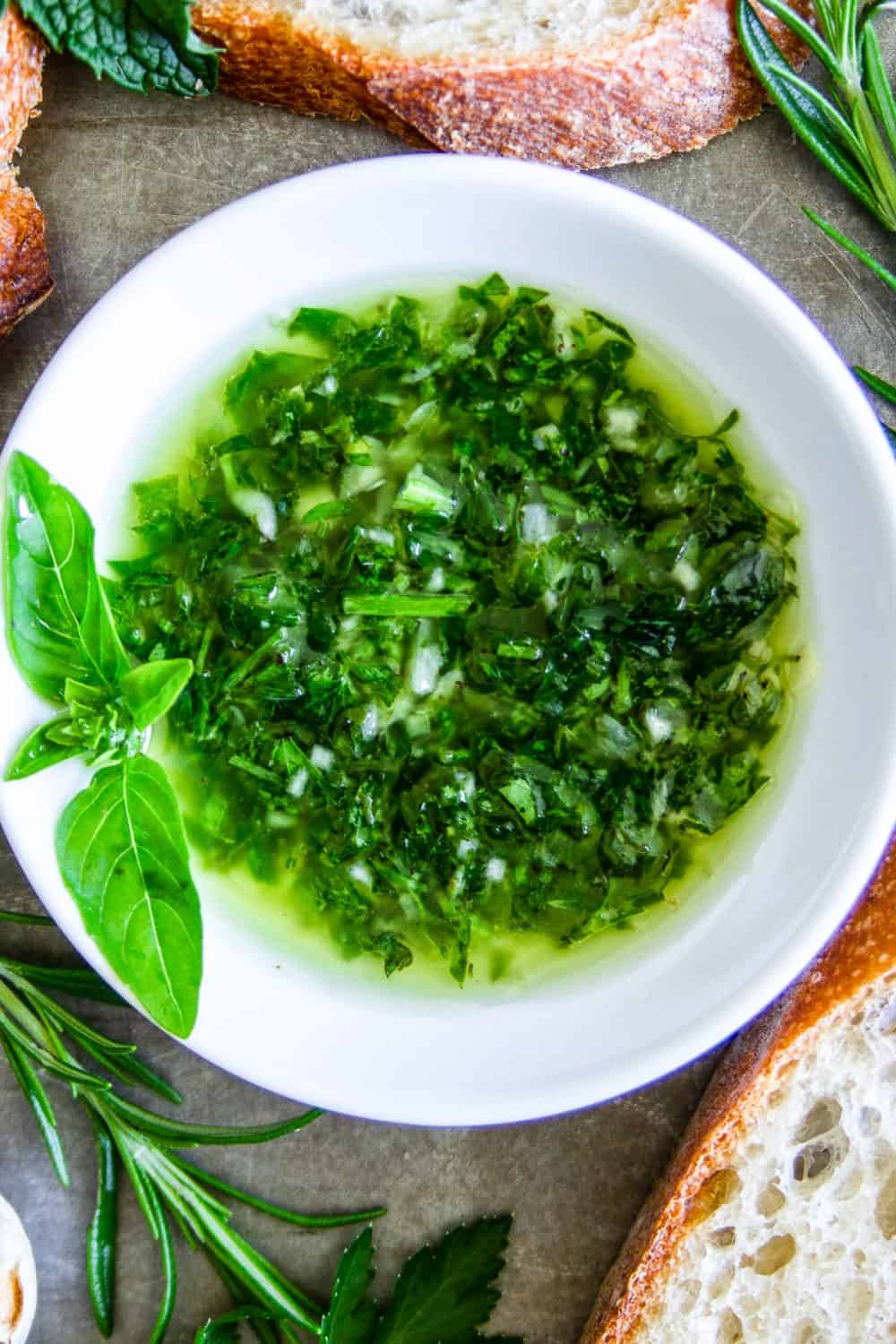 How to store this dipping oil?
Make sure its placed in a jar with a lid and kept refrigerated for up to a week
What to serve with this dip?
Breads-
Meals-
Watch Recipe Video Here
Full Recipe Instructions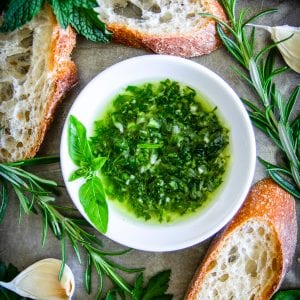 Herbed Bread Dipping Oil
The best copycat recipe for restaurant-style garlicky herbed bread dipping oil. This dip is so yummy, you'll want to dip your bread in it over and over again!
Print
Pin
Rate
Ingredients
1

packed cup flat leaf parsley

1

tsp

fresh basil

2

medium mint leaves

1/2

tsp

fresh rosemary

finely chopped

7

medium garlic cloves

1

tbsp

finely chopped onion

1

tbsp

freshly pressed lemon juice

1/2

tsp

salt

1/4

tsp

Black pepper

3/4

cup

avocado oil

divided
Instructions
Finely chop each herb, especially the rosemary. Then chop the onion and garlic.

Place the finely chops herbs, garlic, and onion into a small food processor, then add the freshly pressed lemon juice, salt, black pepper, and 1/4 cup avocado oil. Pulse it a few times until the mixture becomes finer.

Transfer the herb mixture into a small bowl and whisk in the remaining 1/2 cup avocado oil. Serve with warm bread. Store in an airtight container in the refrigerator.
Notes
How to store bread dipping oil?
Since this dipping oil has fresh herbs and garlic, store it in the refrigerator for up to 1 week in an airtight jar like a mason jar.
Can I substitute the fresh herbs for dried ones?
Unfortunately, no. This dip is meant to have maximum herb flavor to complement bread, so swapping the main ingredients for the dried version will cause the dipping oil to lose a ton of flavor.
Nutrition
Calories:
74
kcal
|
Carbohydrates:
1
g
|
Protein:
1
g
|
Fat:
8
g
|
Saturated Fat:
1
g
|
Sodium:
58
mg
|
Potassium:
4
mg
|
Fiber:
1
g
|
Sugar:
1
g
|
Vitamin A:
4
IU
|
Vitamin C:
1
mg
|
Calcium:
2
mg
|
Iron:
1
mg
This recipe was originally posted on Jul 11, 2018, we've tweaked it a bit since then.