This garlic shrimp scampi pasta is so simple and delicious, you won't believe it only takes 25 minutes to make! The garlicky shrimp and lemon wine sauce are just to die for!
Make this easy pasta dish a complete meal by serving it with some homemade focaccia bread and dip it in my amazing herbed bread dipping oil!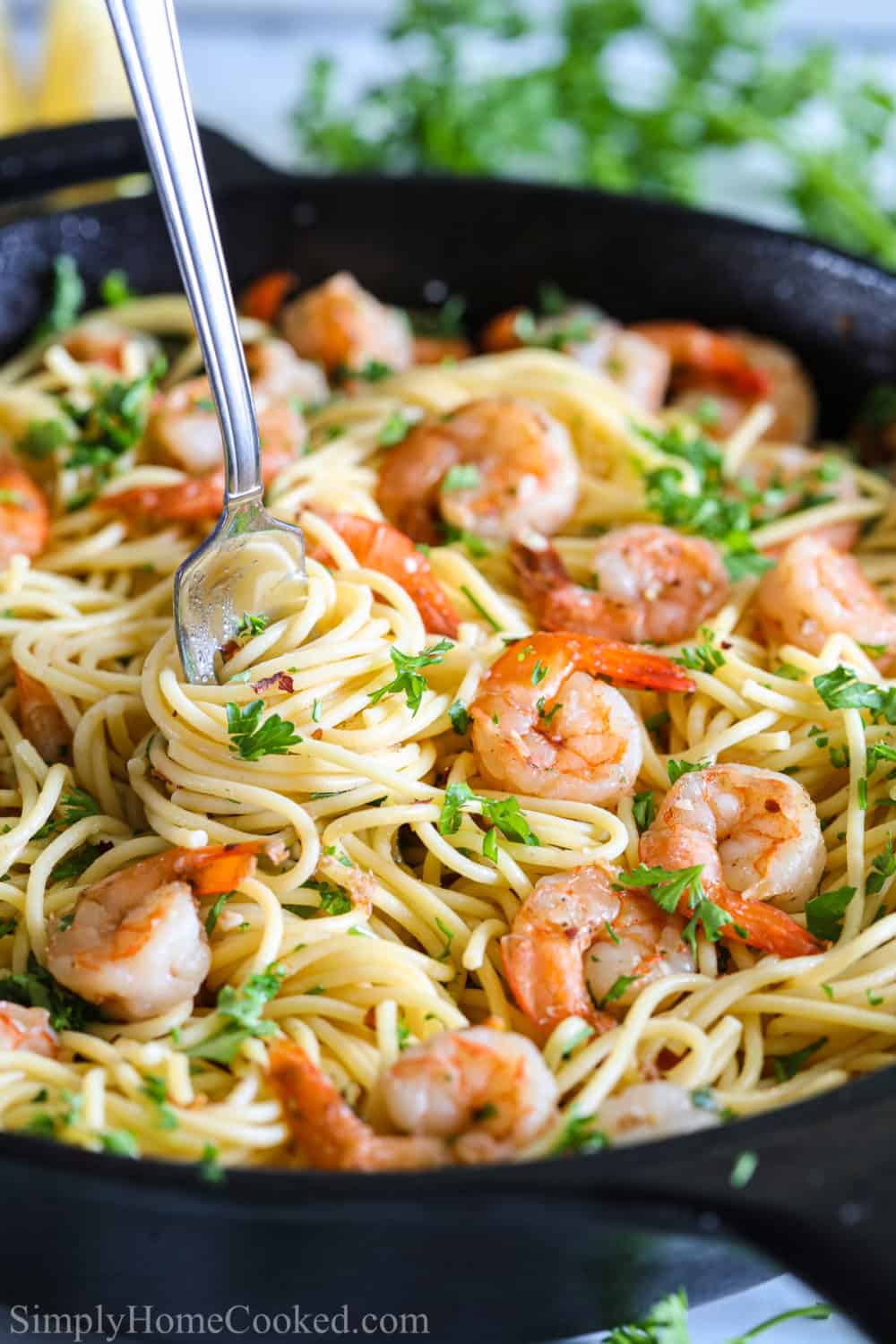 Shrimp Scampi Pasta
This amazing shrimp pasta dish is made of a garlicky butter sauce and infused with white wine. And the best part is those red pepper flakes that give it a little heat and the garnish of fresh parsley. Like seriously, what's not to love? If you want something creamier, try my creamy chicken scampi recipe too!
What is scampi sauce made of?
The ingredients needed for a good scampi sauce are quite basic here but you don't want to substitute anything. Here is what you'll need to make the best scampi sauce ever!
BUTTER– make sure to use unsalted butter so you can season with salt later (because everyone's tastebuds are different. Some people mix the butter with olive oil too.
GARLIC– It seems like there is a ton of it in the recipe, but believe me this dish comes to life because of that amazing flavor the sauteed garlic gives.
WINE– the best wine for shrimp scampi is a dry white wine like Sauvignon Blanc, Pinot Blanc, and Pinot Grigio. So make sure the wine is NOT sweet.
LEMON JUICE– I know you can buy lemon juice in a bottle at the store, but this is not where you want to use that stuff. Only use freshly squeezed lemon juice for best taste.
SPICES and GARNISH– all you really need is some salt, pepper, and red pepper flakes! Then top it with chopped parsley and that's it!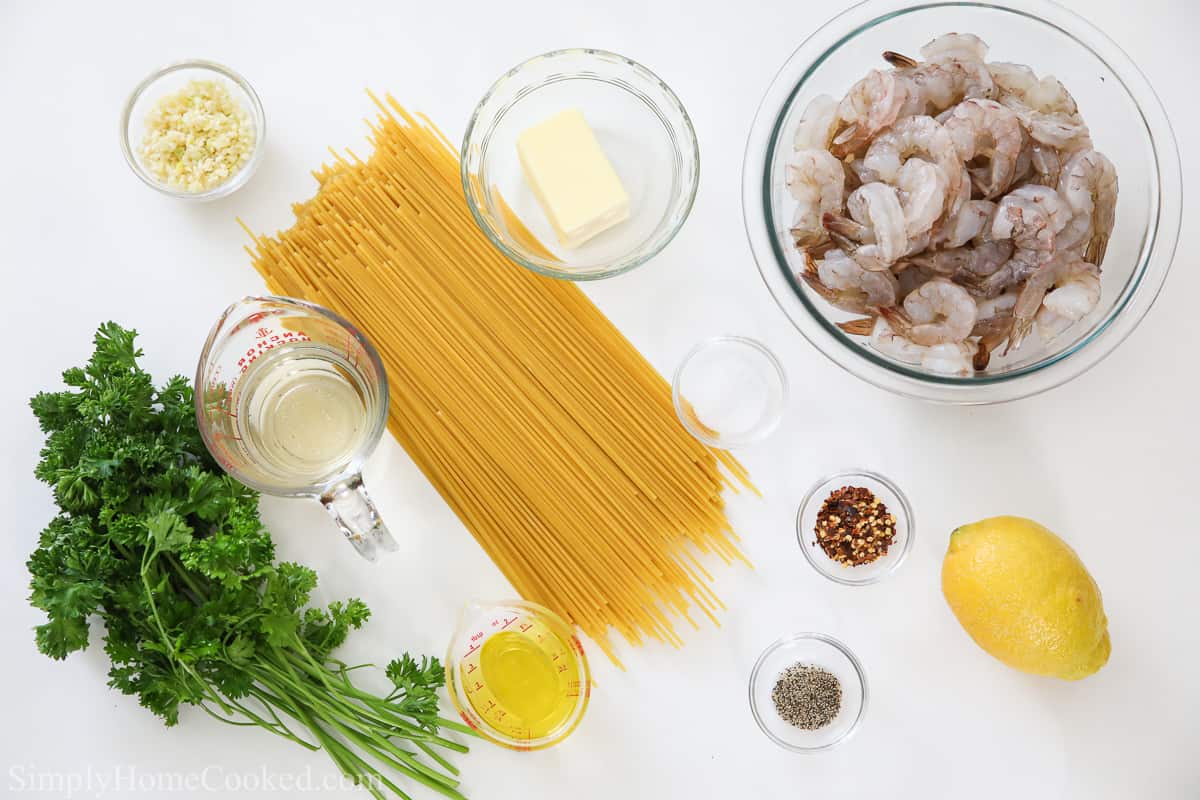 How to cook shrimp for shrimp scampi
Thaw the shrimp– You can either do this by leaving them in the fridge for 1-2 days or just submerge them in some room temperature water for a few hours.
Peel and devein– Given your shrimp are raw, they will still have the shell on. Make sure to peel them after they have completely thawed out. You can leave the tail on if you want.
Now cook the shrimp in a hot skillet– with melted butter and make the scampi as instructed in the recipe card below.
How do you thicken shrimp scampi sauce
Normally shrimp scampi sauce isn't supposed to be thick, but if you want to get a creamier consistency, you can mix 1 teaspoon of cornstarch with a tablespoon of water and add it in the last step of cooking when the sauce comes to a simmer.
How to make this shrimp scampi pasta low carb
Since the pasta in this recipe is high in carbs you can substitute it with zucchini noodles, baked spaghetti squash or some pan-seared vegetables.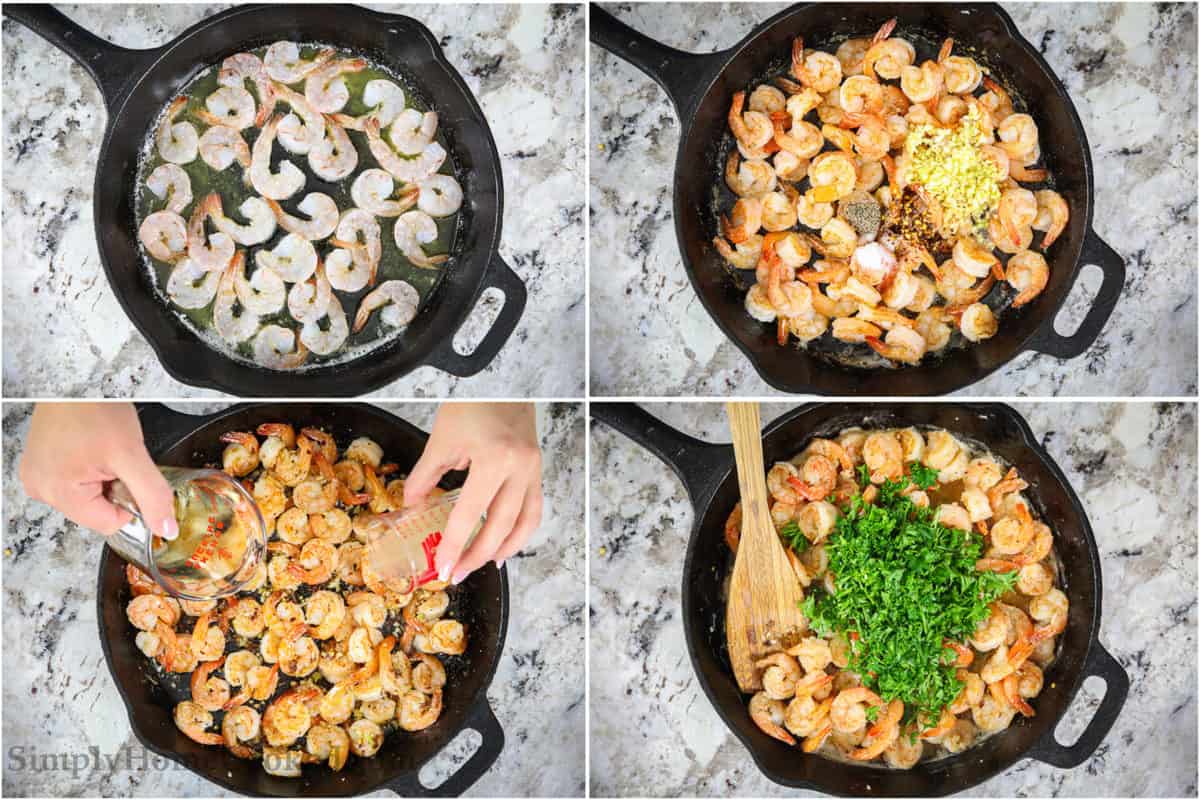 Tips to make the best shrimp scampi pasta
What is the best wine to use for shrimp scampi
The optimal wine for shrimp scampi is a dry white wine so in other words, its not sweet. Some great examples of wines to use would be Sauvignon Blanc, Pinot Grigio, and Pinot Blanc.
What is the best shrimp for scampi
I found that the best type of shrimp to use in a scampi like this is large raw shrimp. They're not too large like prawns and not too small so they serve well with pasta.
Can I use cooked shrimp?
Technically you can reheat the pre-cooked shrimp in the skillet and mix it with the garlic butter sauce. But I wouldn't recommend it. It will taste totally different and not as good.
More PASTA recipes to try!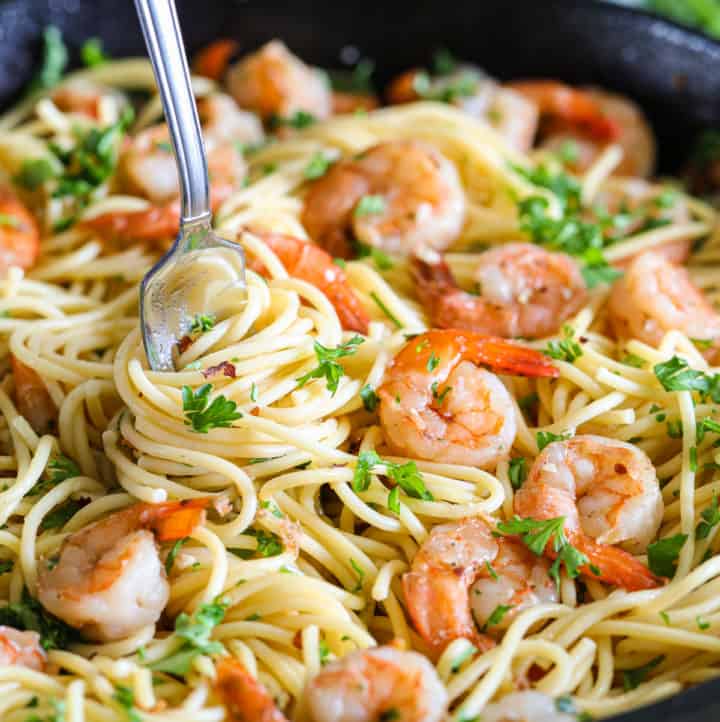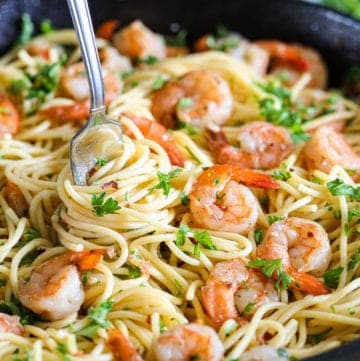 Garlic Shrimp Scampi Pasta
This garlic shrimp scampi pasta is so simple and delicious, you won't believe it only takes 25 minutes to make! It's an amazing weeknight meal!
Print
Pin
Rate
Instructions
Cook your pasta first
Bring a pot of water to a boil and cook 1 lb of pasta al dente.
Cook the shrimp
In a large skillet melt 6 tablespoons of unsalted butter, and 4 tablespoons of olive oil over medium-high heat and add the 2 pounds of raw shrimps peeled and deveined. Cook the shrimp until pink and opaque with stirring occasionally.
Add in the garlic and spices
Now add 8 minced garlic cloves, 3/4 tsp salt, 1/4 black pepper, and 1 tsp red pepper flakes. Stir that all together is until the garlic becomes fragrant (about 1-2 minutes).
Bring wine and lemon juice to a boil
Bring the heat to high and pour in 3/4 cup white wine and 3 tablespoons of fresh lemon juice. Let it come to a quick boil (to cook out the wine).

Lastly, garnish the shrimp scampi with 1 cup of freshly chopped parsley. Serve over hot buttered pasta.
Nutrition
Calories:
488.56
kcal
|
Carbohydrates:
44.93
g
|
Protein:
31.13
g
|
Fat:
18.04
g
|
Saturated Fat:
6.75
g
|
Cholesterol:
308.34
mg
|
Sodium:
1113.81
mg
|
Potassium:
297.38
mg
|
Fiber:
2.21
g
|
Sugar:
1.99
g
|
Vitamin A:
968.32
IU
|
Vitamin C:
17.74
mg
|
Calcium:
196.66
mg
|
Iron:
3.81
mg

Latest posts by simplyhomecooked
(see all)