This easy Pork Fried Rice Recipe is so simple yet so delicious! You won't believe how quickly it comes together. It's a perfect weeknight meal your family will love.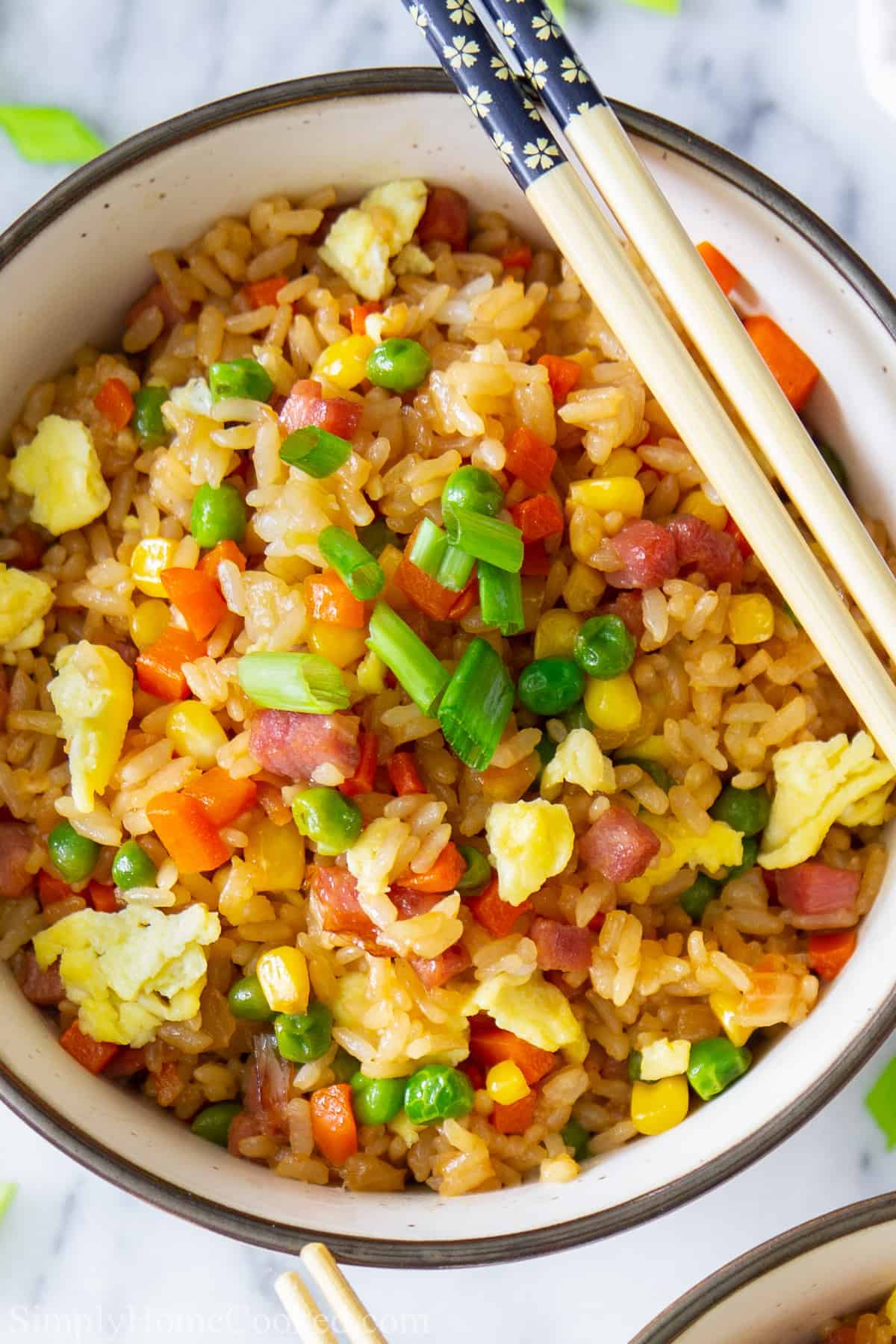 Pork Fried Rice Recipe
For as long as I can remember, fried rice has always been one of my favorite meals. The best part about this recipe is that it can easily be modified to your liking. I used to make it with chicken, but I prefer it with ham (pork) because it has more flavor.
You can easily
substitute the meat
and veggies or even add in some
shrimp
. I recommend using a
rice cooker
when making fried rice because it doesn't make the rice too mushy, as would make it in a saucepan.
Pork fried rice ingredients
The ingredients here are very basic and simple. But can easily be modified to your liking!
Rice– I recommend using a long grain like jasmine or Calrose rice.
Vegetables– The most popular ones are onion, garlic, carrot, corn, and peas.
Meat– Use whichever type of pork you like. I find that diced ham is the best way to go.
Fried rice sauce– low sodium soy sauce, oil, and sugar
Eggs– This is my favorite part of the fried rice recipe. The eggs are scrambled with milk for a yummy topping.
What rice is best for fried rice
When making fried rice you want to stick with rice that holds its shape well so it doesn't get mushy. I found that medium to long grain rice works best. My favorite is jasmine and Calrose.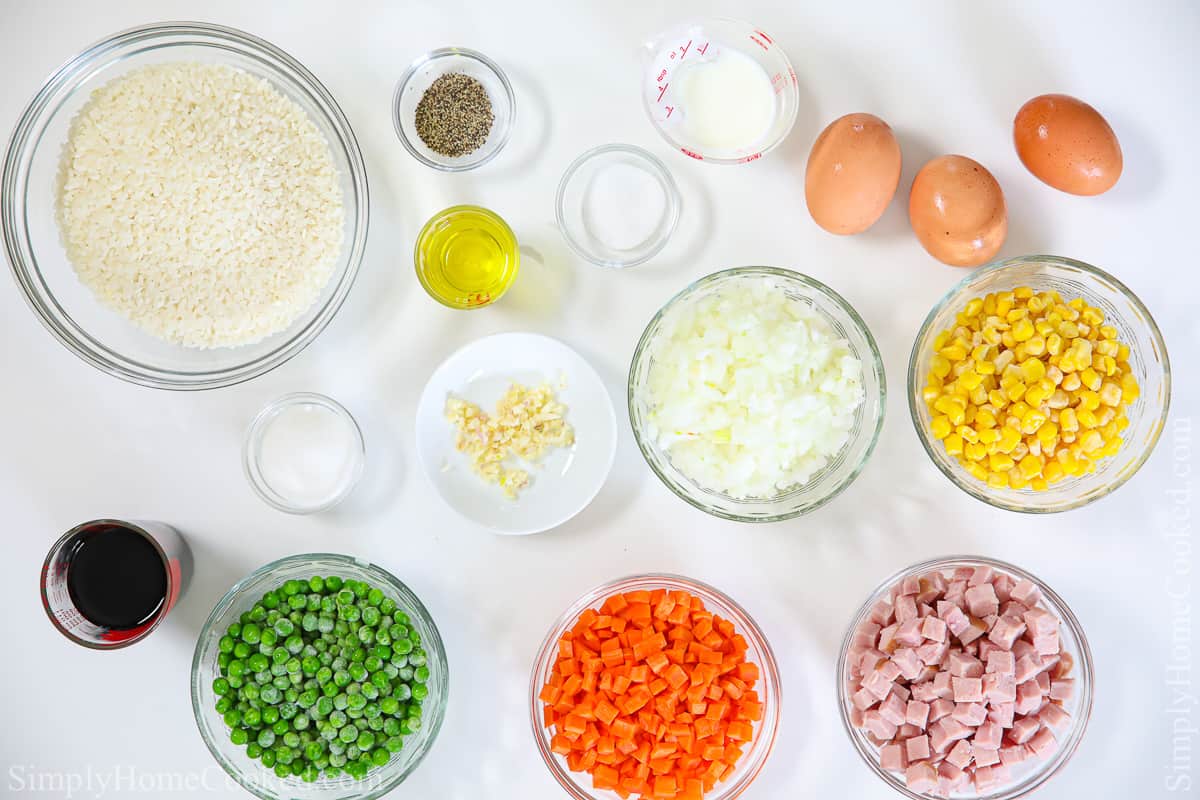 How to make pork fried rice
This is a quick rundown of how to make it. For the full recipe, scroll down to the printable recipe card.
Cook the rice– I love to make my rice in a rice cooker since it does an amazing job of cooking it without making it too mushy. You can always cook the rice on the stove too. Just make sure to dry it on a baking sheet afterwords.

2. Begin cooking the vegetables– Start with heating the olive oil in a 14-inch wok then add the minced garlic and chopped pork. Then cook the chopped onion, and carrots, along with peas, and corn.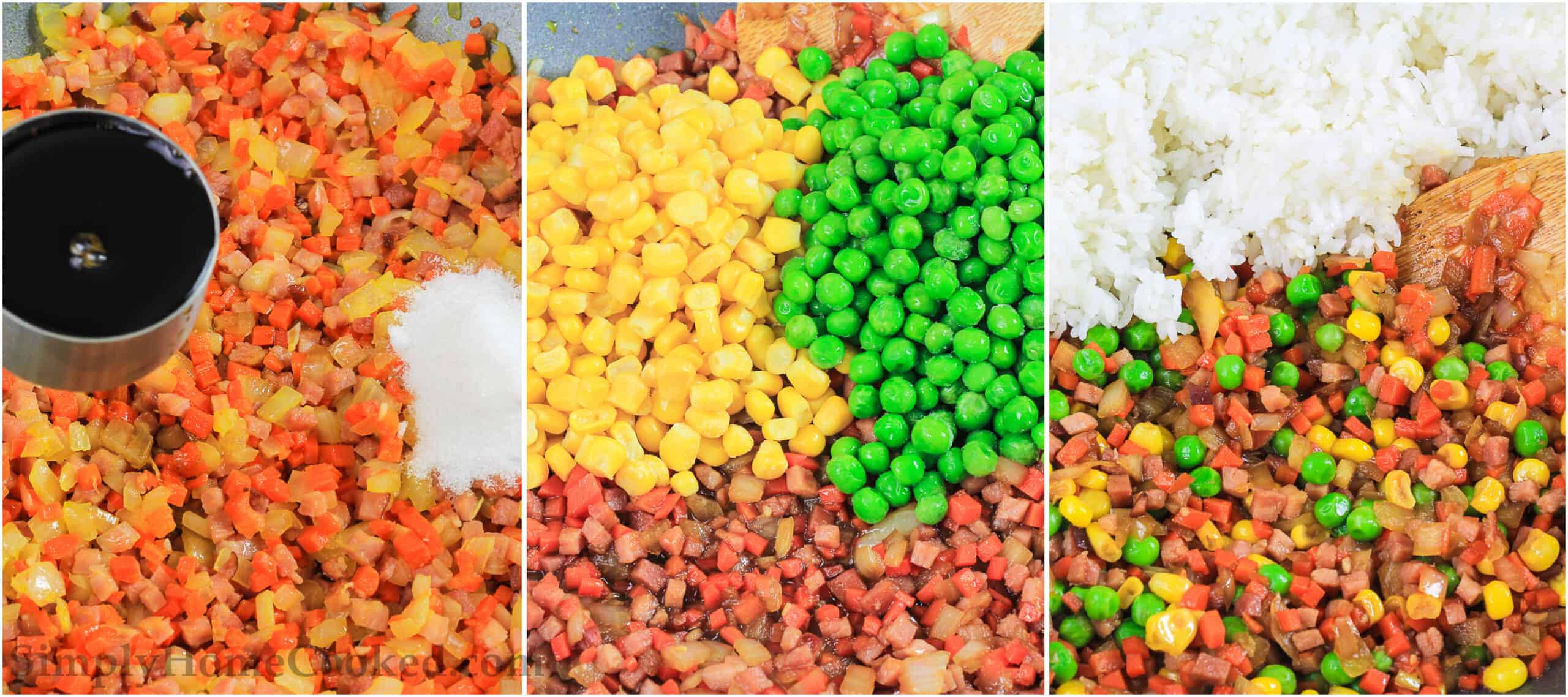 3. The sauce– The fried rice sauce is a simple as adding in some sugar for sweetness and soy sauce for flavor. That's it!
4. Scamble the eggs- Now just make a simple egg scramble with some eggs, milk, salt, and pepper. Then top it over your fried rice after you've added the cooked rice in.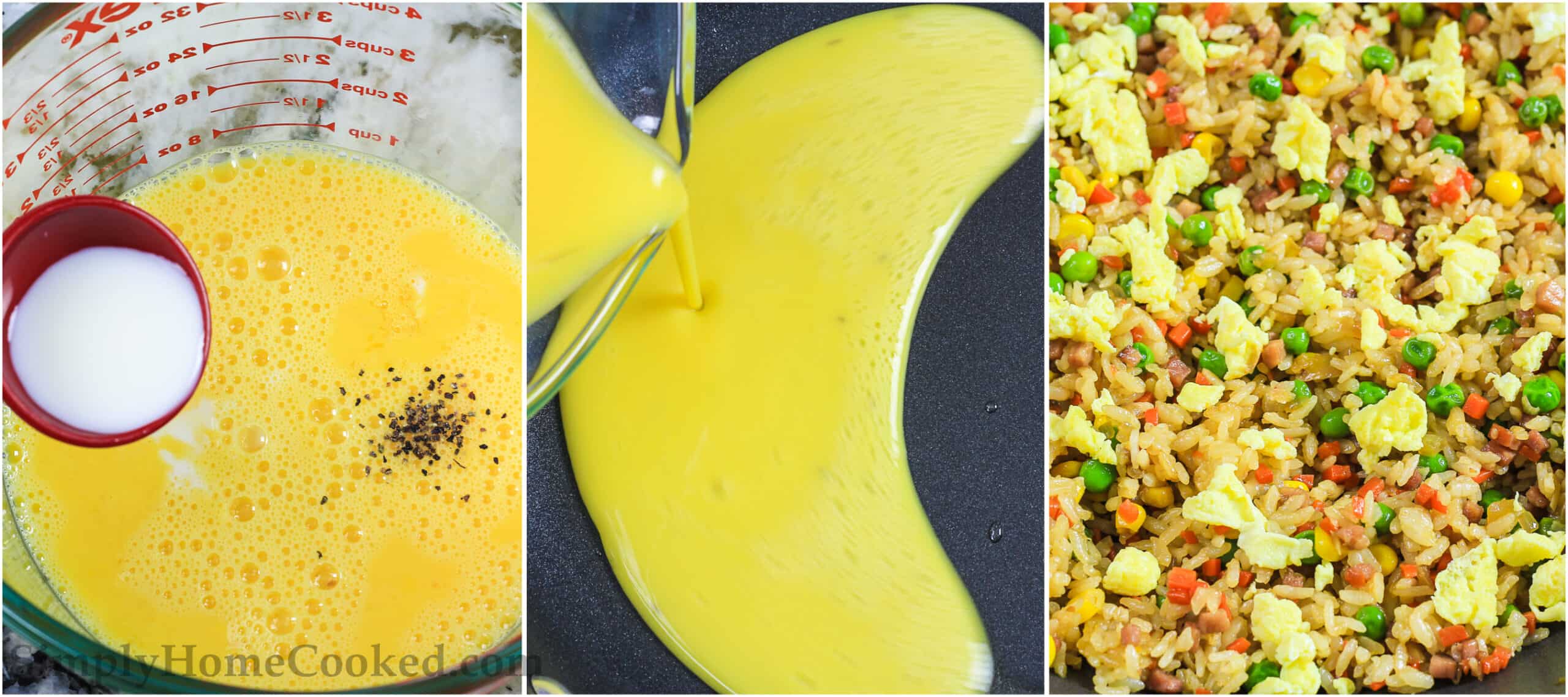 Do you boil rice before you fry it?
When adding rice to your fried rice recipe, you can either add it in already boiled or fry it up in hot oil. This method takes longer to cook so I prefer to boil it before adding it in.
How to prevent rice from getting mushy?
There are two methods to get "dried fried rice". Here is how to do it.
Rice cooker method– When using a good quality rice cooker, you are guaranteed dried rice that is perfect for fried rice. So it's an easy way to avoid the mushy clumpy mess.
Drying rice method– So if you were to make your rice on the stovetop, make sure to rinse it well before cooking it. Once it is cooked, spread it out onto a baking sheet to while it's hot and let some of the extra moisture evaporate.
Best Rice Cooker
We have been using this Tiger Rice cooker for more years than we can remember. It does a wonderful job of cooking rice! The rice comes out perfectly cooked, and easy to fluff. No mushy mess, nor draining needed.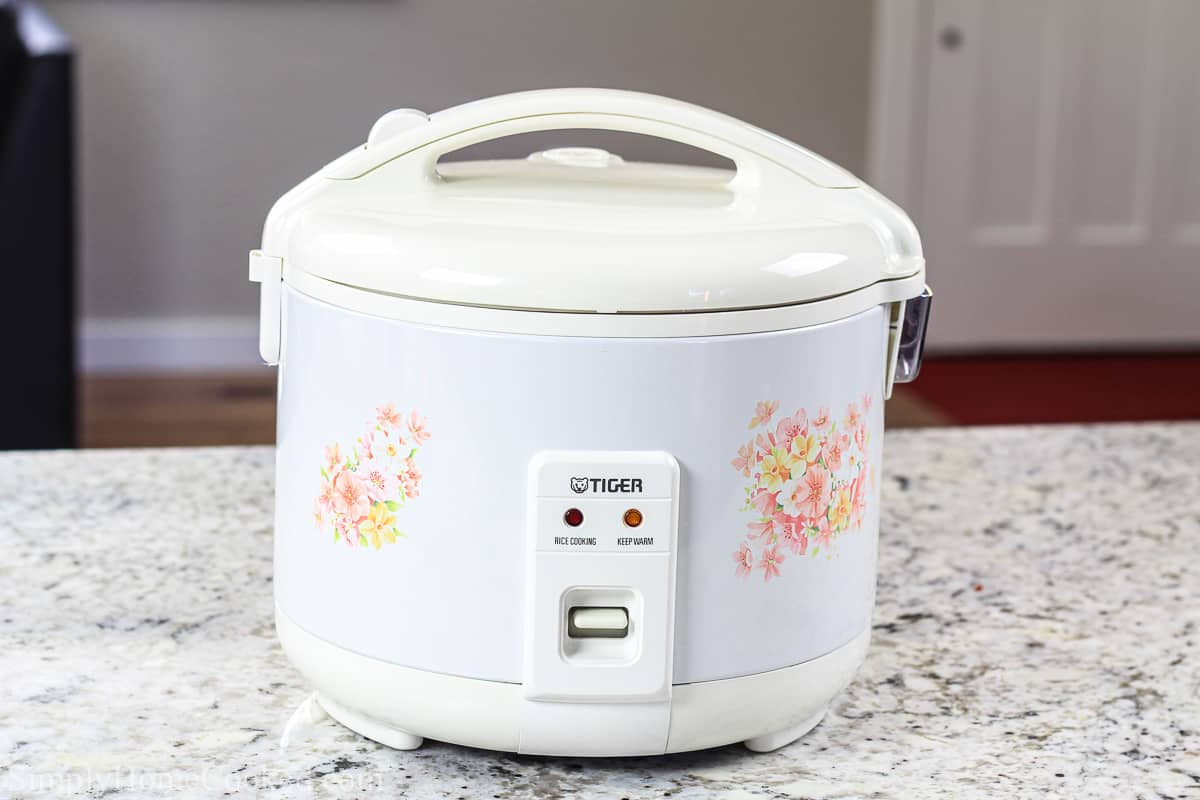 How long will it keep?
You Can keep homemade or storebought fried rice in the fridge for up to 5 days as long as its properly stored in an airtight container or covered with plastic wrap.
Best way to reheat it
You can simply microwave it or reheat it in a skillet that's been set to medium-high heat with a few tablespoons of olive oil so it will taste as if it were just fried up fresh.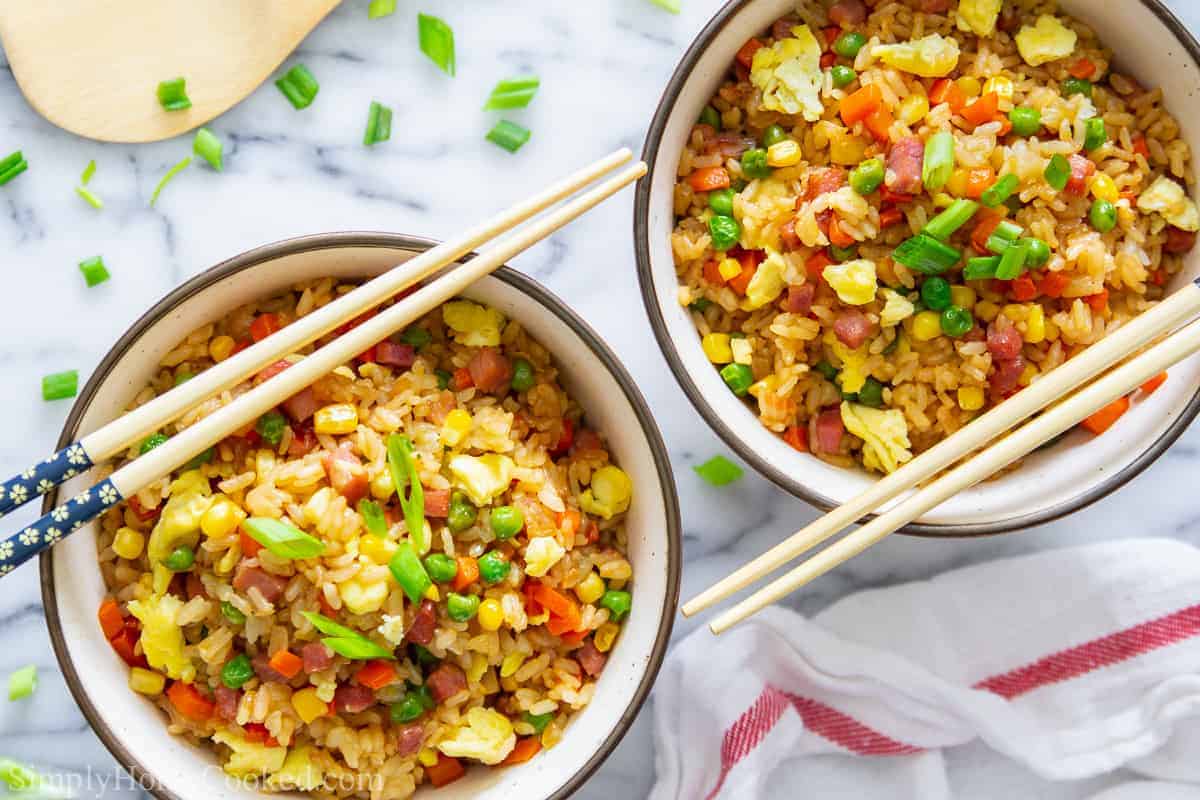 We love making Asian takeout at home, well because homemade is ALWAYS better! Try some of our favorites!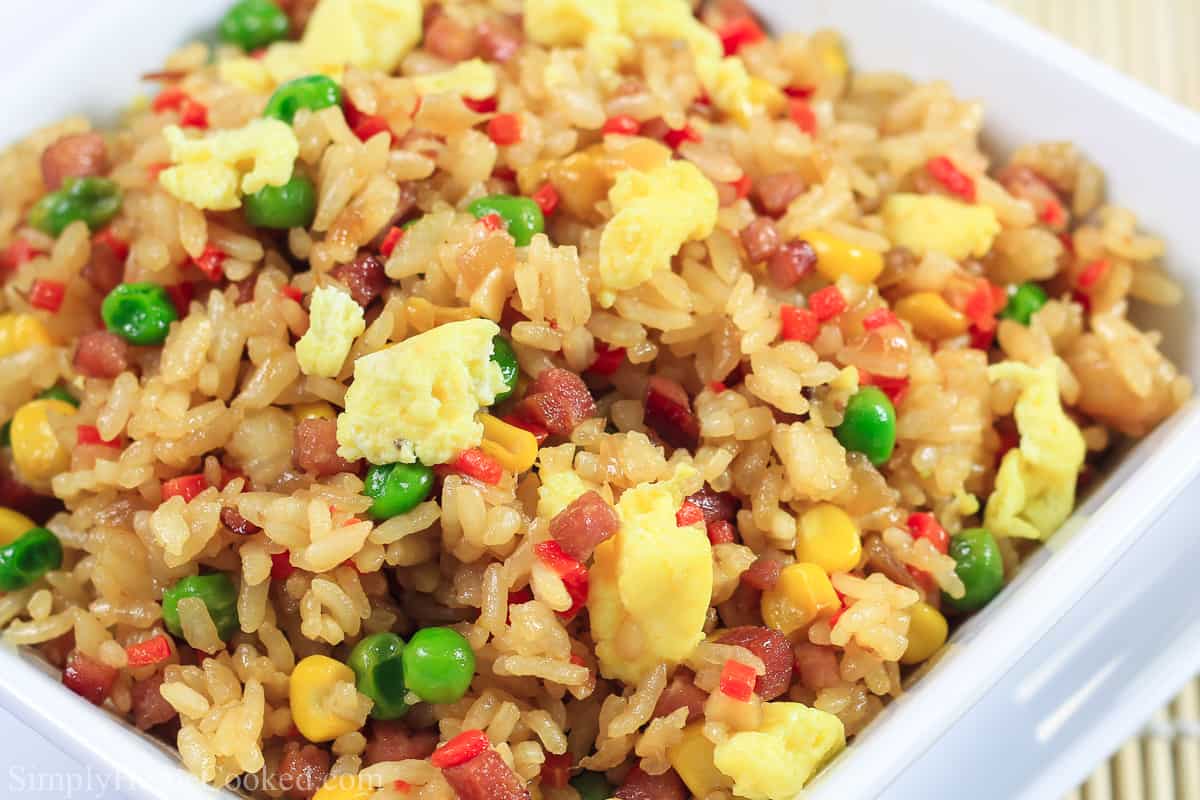 Full Recipe Instructions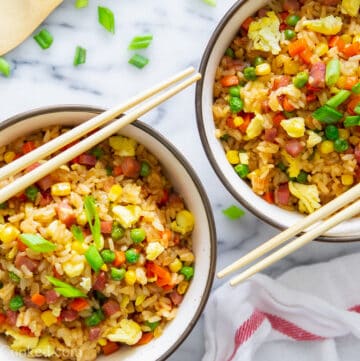 Pork Fried Rice
This easy Pork Fried Rice Recipe is a delicious and perfect family meal! This fried rice is made with an addition of egg for extra flavor.
Print
Pin
Rate
Ingredients
2

cups

uncooked Calrose rice

2

cups

water

2

tbsp

olive oil

2

cloves

garlic

minced

1 1/2

cups

onion

diced (about 1 medium onion)

1 1/2

cups

ham

diced

1

cup

carrot

diced (about 2 medium carrots)

1 1/2

tbsp

granulated sugar

1

cups

frozen peas

1

cup

frozen sweet corn

1/2

cup + 2 tbsp

low sodium soy sauce

2

tbsp

milk

3

eggs

pinch

of salt and pepper to taste
Instructions
Cook the rice
Rinse 2 cups of rice with water about 2-3 times. Rinsing the rice will remove some of the starch that causes the rice to be sticky. Place the rinsed rice in a rice cooker and add 2 cups of water. Once the rice is cooked, remove from the rice cooker and set aside.
Cook the garlic and pork
Heat olive oil in a large wok over medium-high heat. Add minced garlic and stir for about 20 seconds. Add in the diced ham and keep stirring until it begins to caramelize. (about 3 minutes)
Stir fry the vegetables
Add in the diced onion and carrots and stir until the carrot softens and onion is translucent. Stir in the soy sauce, sugar, peas, corn, and mix just until evenly distributed. Then stir in the rice.
Add the scrambled eggs and rice
In a bowl or large measuring cup whisk the eggs, milk and a pinch of salt and pepper. Pour the eggs in a small greased frying pan and cook it into a scramble.

Using a wooden spoon, break up the scrambled eggs into smaller pieces and stir it into the fried rice.
Notes
Make fried rice ahead of time
You can chop the vegetables the night before to save you some time when making the fried rice the next day. That way all you have to do is toss everything into the wok!
How to freeze pork fried rice
Spread the cooked and cooled rice on as many baking sheets you have on hand. You want ti make it a very thin layer and freeze it for about 4 hours, then break it up and place it into freezer-friendly plastic bags.
Nutrition
Calories:
239.78
kcal
|
Carbohydrates:
34.38
g
|
Protein:
9.89
g
|
Fat:
6.9
g
|
Saturated Fat:
1.86
g
|
Cholesterol:
52.02
mg
|
Sodium:
777.06
mg
|
Potassium:
245.27
mg
|
Fiber:
2.04
g
|
Sugar:
4.49
g
|
Vitamin A:
1967.56
IU
|
Vitamin C:
7.8
mg
|
Calcium:
34.07
mg
|
Iron:
1.13
mg
This post was originally posted on Feb 27, 2015, we have made some adjustments since then.