This delicious Chow Mein is loaded with stir-fried vegetables, thick yakisoba noodles, and an easy Asian sauce that take this dish to the next level. Skip the takeout to enjoy this tasty dish at home.
If you love stir-fry, you should try this chicken chow mein or this healthy, gluten-free shrimp and rice noodle stir fry.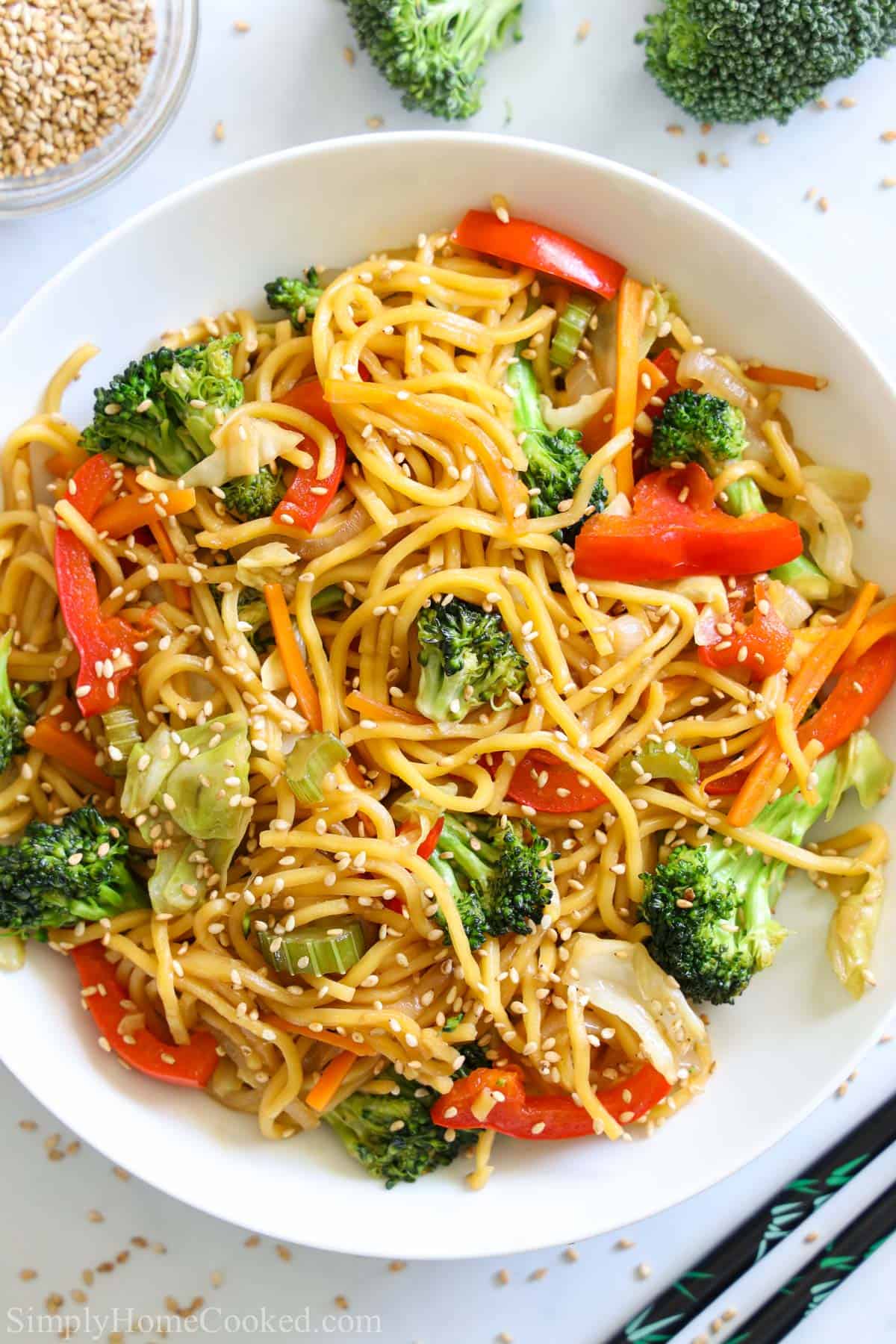 Table Of Contents
Chow Mein Recipe Details
This Chow Mein recipe is easy, flavorful, and a great way to enjoy your vegetables. I love serving this to my family as a healthier version of our favorite takeout dish.
Taste- Salty and tangy, this dish is flavored by the sauce and the variety of vegetables sauteed in it.
Texture- A mix of crunchy and tender veggies with thick slurpy noodles makes a nice contrast.
Ease- This Chow Mein recipe is simple and easy to make. You can even prep it ahead of time!
Time- Prepping takes more time than cooking, but this recipe is ready to serve in just 45 minutes.
What You'll Need
Vegetables- Garlic cloves, Celery, Carrots, Onion, Cabbage, Broccoli, and Red bell pepper
Sauce- Rice vinegar, Low-sodium soy sauce, and Granulated sugar
Yakisoba noodles– These can be found at most Asian food markets or wholesale food stores and sometimes groery stores.
Olive oil– for frying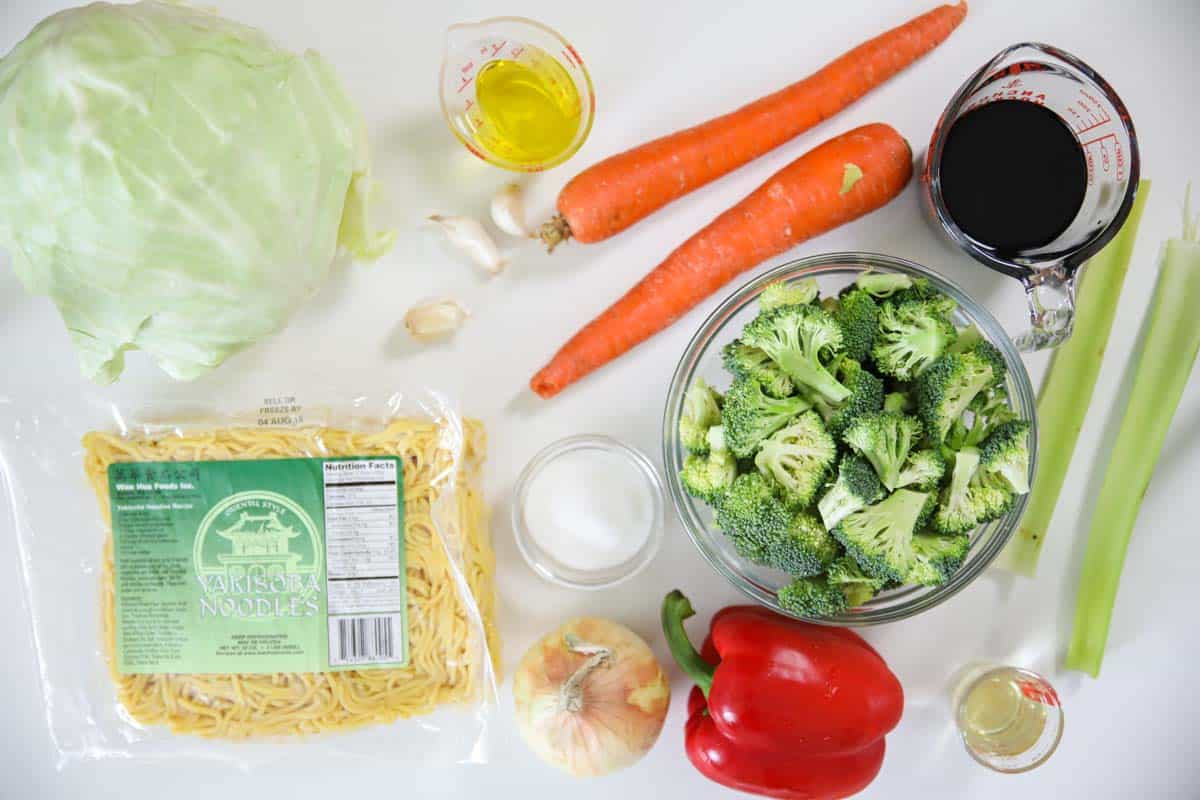 How to Make Chow Mein
Saute the garlic and onion. Heat the oil in a large wok over medium-high heat. Saute the minced garlic and chopped onion until translucent.
Add the other vegetables. Now add the julienned carrots and chopped celery, and cook until softened (but still slightly crisp). Then add in the chopped cabbage, sliced pepper, and broccoli. Stir the full wok for about 4 minutes using wooden spoons.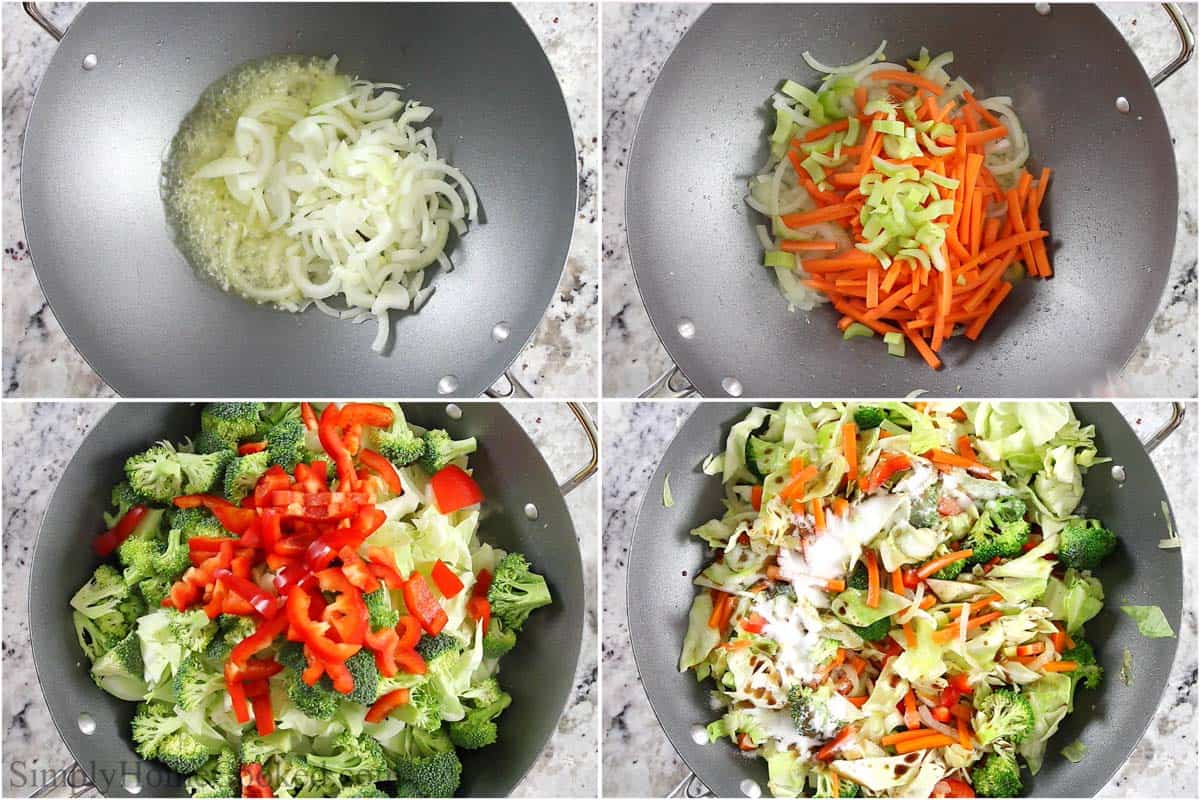 Add the sauce ingredients. Pour the rice vinegar, soy sauce, and sugar into the wok and stir to combine.
Then add the Yakisoba noodles. Add in the noodles. Stir for 3-5 minutes, allowing the heat of the wok to help them separate. Remove from the heat and serve warm.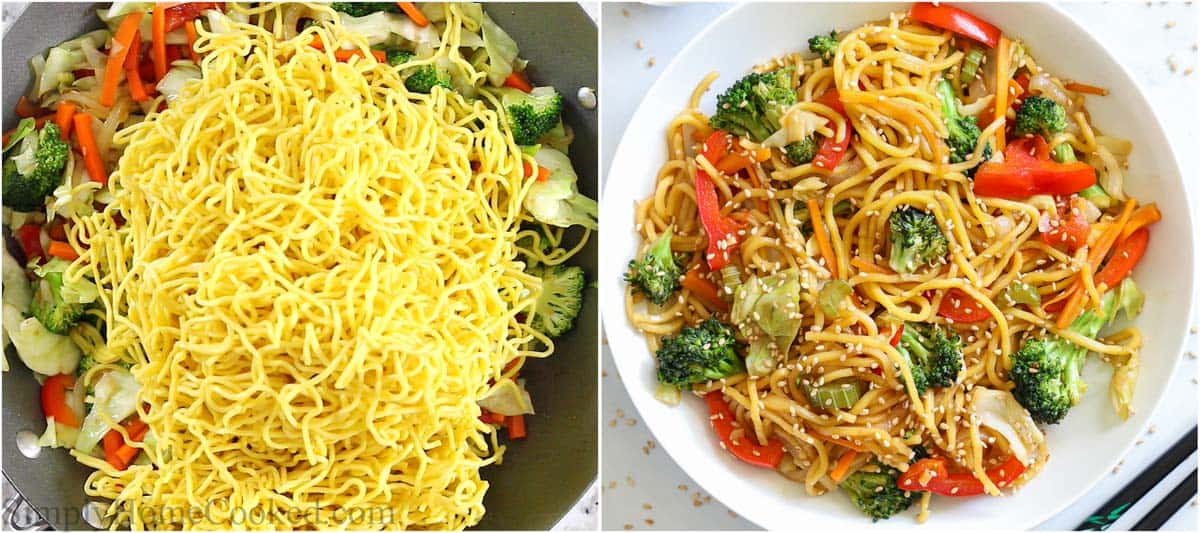 Recipe Tips
Don't overcook the vegetables- You don't want to overcook the vegetables or they will become mushy. You still want the vegetables to have a slight crunch to them once they're cooked.
Add soy sauce to taste- Depending on how salty you like your chow mein, you may want to add a little more soy sauce, or a little less than recommended here.
Use wooden spoons for stirring- The wok gets really full until the vegetables cook and shrink down. I found it really helpful to mix everything together using 2 wooden spoons.
Add-ins and Substitutions
Make it gluten-free- Choosing rice noodles and gluten-free soy sauce can easily make this dish safe for those avoiding gluten.
Add a protein- This Chow Mein is vegetarian, but you can easily add in chicken, beef, pork, shrimp, or tofu. Just cook the meats before adding them to the vegetables.
Substitute other vegetables- If you prefer other veggies, such as bean sprouts, spinach, or asparagus, go ahead and add them in, or take out anything you don't like.
Add some sesame- Adding sesame oil to the sauce or garnishing with sesame seeds is a delicious addition.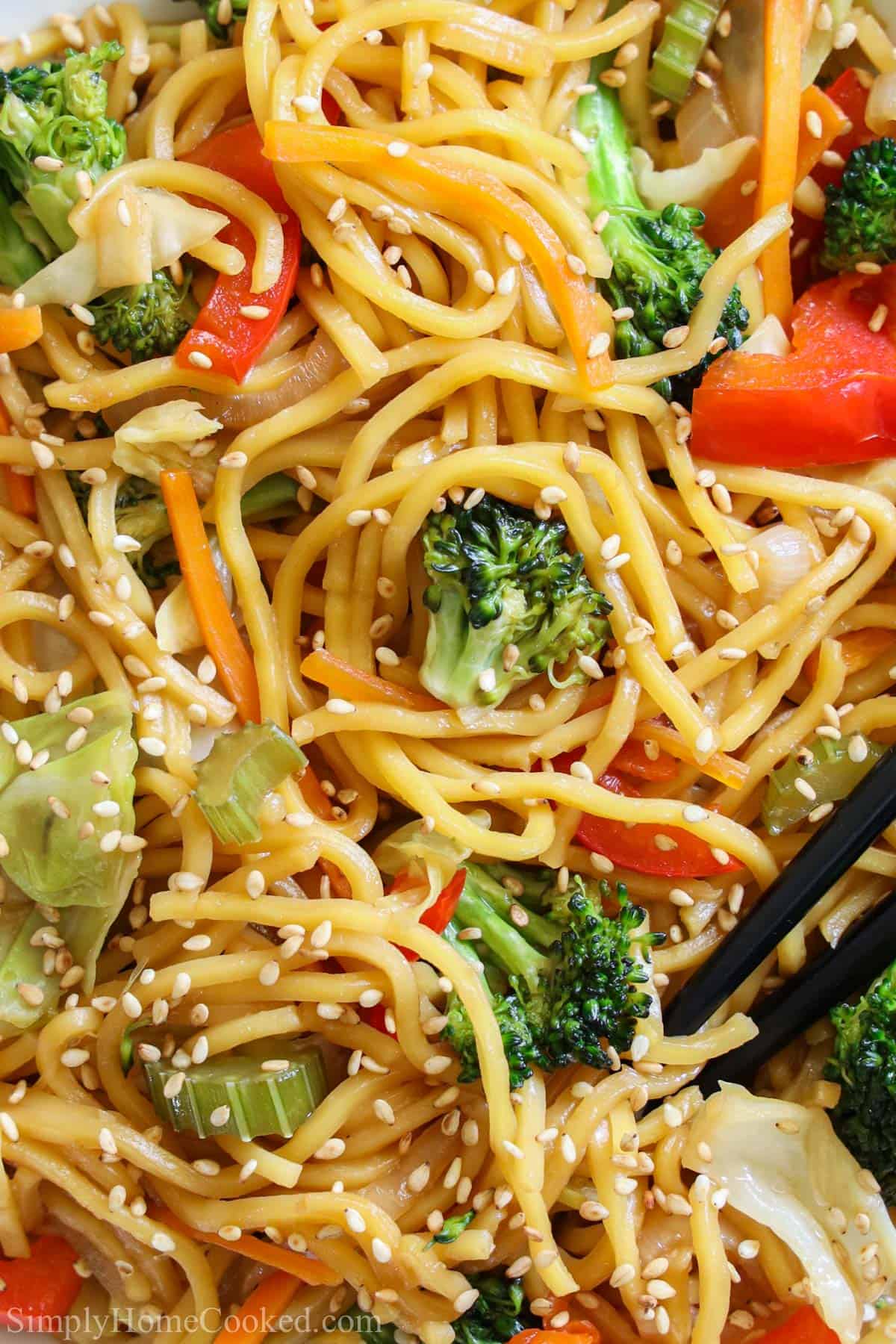 FAQs
What is chow mein?
Chow mein is the combination of stir-fried noodles (often crispy) along with a variety of vegetables, meats, and sometimes tofu. This Chinese-inspired noodle dish has become very popular in the US, and its flavors and texture differ from city to city.
What is the difference between chow mein and lo mein?
The biggest difference between these two types of noodles is the texture of the noodles and cooking methods used. Chow mein noodles are usually deep-fried and crispy. Lo mein noodles are stir-fried to a softer, more traditional noodle-like texture.
Are chow mein noodles gluten-free?
No, they are not gluten-free since they are made with wheat, which contains gluten. Rice noodles, on the other hand, are gluten-free and a great substitute for chow mein.
Serving Suggestions
Since this is a meatless Chow Mein recipe, you can serve it with many Asian-inspired dishes that add protein and extra flavor to your table. Here are a few suggestions: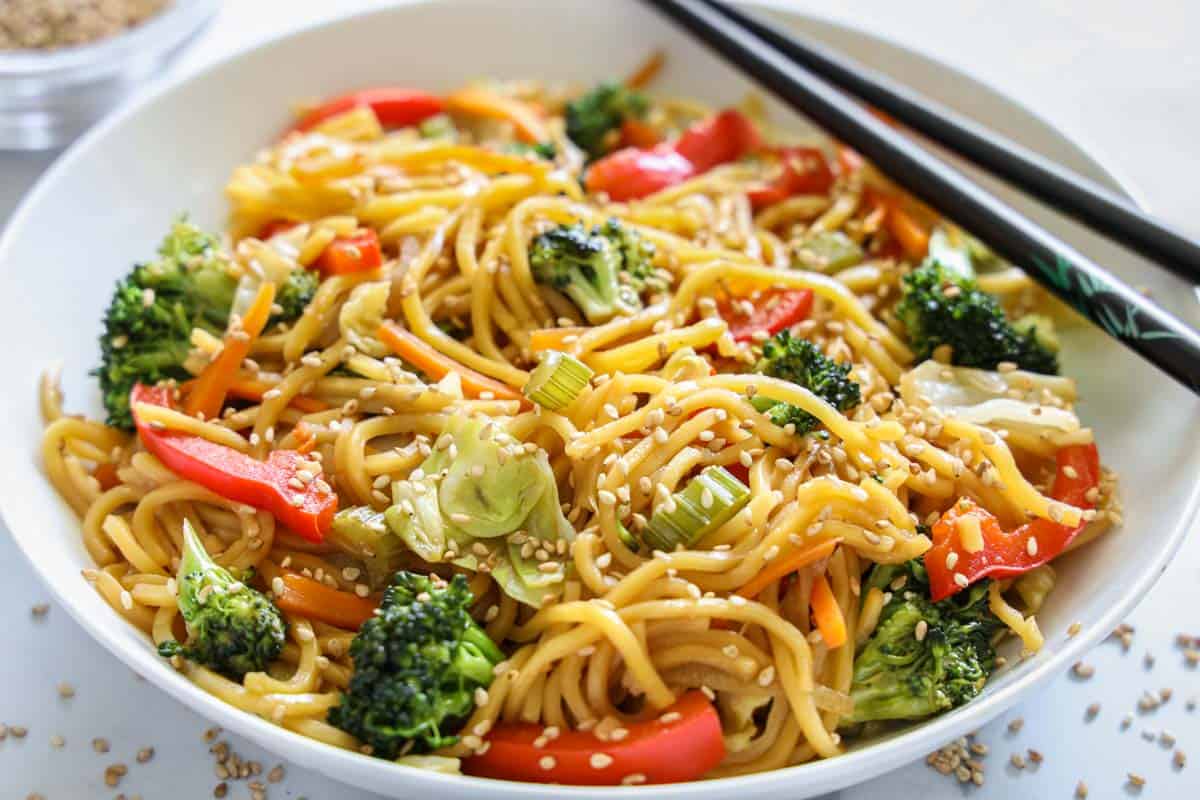 Make This Chow Mein in Advance
Make ahead: You can prep and chop all the veggies in advance (like the day before). When you stir fry the noodles, all you need to do is toss all the chow mein ingredients into the wok.
Storing: Chow Mein will last in the refrigerator in an airtight container for 3-4 days.
Freeze: To extend its shelf life, place the chow mein in a freezer ziplock bag and keep it in the freezer for 2-3 months. To reheat it, defrost overnight (or in the microwave for 5 minutes) and then heat it through on the stovetop.
More Tasty Asian-inspired Dishes!
Watch a video on how to make this easy vegetable chow mein recipe!
Full Recipe Instructions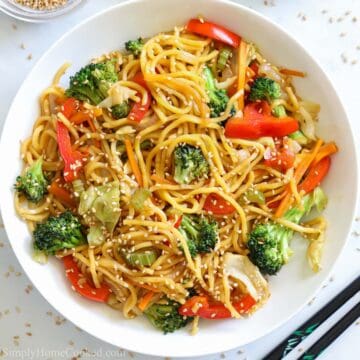 Chow Mein
This yummy vegetable chow mein is loaded with stir-fried vegetables, thick yakisoba noodles, and an easy Asian sauce that takes this dish to the next level.
Print
Pin
Rate
Ingredients
3

tbsp

olive oil

3

cloves

minced garlic

3/4

cup

celery

sliced

2 1/2

cups

carrot

julienned (about 2 medium carrots)

2 1/2

cups

onion

thinly sliced (about 1 medium onion)

2

lb

Yakisoba noodles

1

medium cabbage

chopped

14

oz

fresh broccoli florets

1

red bell pepper

sliced

2

tbsp

rice vinegar

3/4

cup

low sodium soy sauce

3

tbsp

granulated sugar
Instructions
Heat 3 tbsp olive oil in a large 14-inch wok over medium-high heat. Add 3 cloves of minced garlic and 2 1/2 cups chopped onions, and sauté them until they become translucent.

Toss in 2 1/2 cups julienned carrots & 3/4 cup chopped celery and stir until softened. Then add in the 1 medium chopped cabbage, 1 sliced bell pepper, and 14 oz broccoli Florets and stir for about 4 minutes. The pan will be very full, but don't worry, the veggies get smaller as they cook. Also, I found it helpful to mix everything together with 2 wooden spoons.

Pour in 2 tbsp rice vinegar and 3/4 cup low sodium soy sauce and sprinkle 3 tbsp sugar. You may want to add a little more soy sauce depending on how salty you prefer your food.

Add in 2 lb Yakisoba noodles. The noodles might seem like they won't want to come apart but once they sit in the hot wok for a few minutes they will begin to separate.

Stir the noodles for about another 3-5 minutes or until they've all separated. Remove from heat and serve warm.
Notes
FAQs answered in the post above
Chow mein vs Lo meain
Add-ins and substitutes
How to make this recipe ahead of time
Nutrition
Calories:
457
kcal
|
Carbohydrates:
84
g
|
Protein:
17
g
|
Fat:
6
g
|
Saturated Fat:
1
g
|
Sodium:
1264
mg
|
Potassium:
523
mg
|
Fiber:
10
g
|
Sugar:
13
g
|
Vitamin A:
6089
IU
|
Vitamin C:
89
mg
|
Calcium:
83
mg
|
Iron:
4
mg