This chicken chow mein is a quick and easy way to enjoy Asian takeout at home. Delicious yakisoba noodles loaded with stir-fried vegetables and a simple Asian sauce.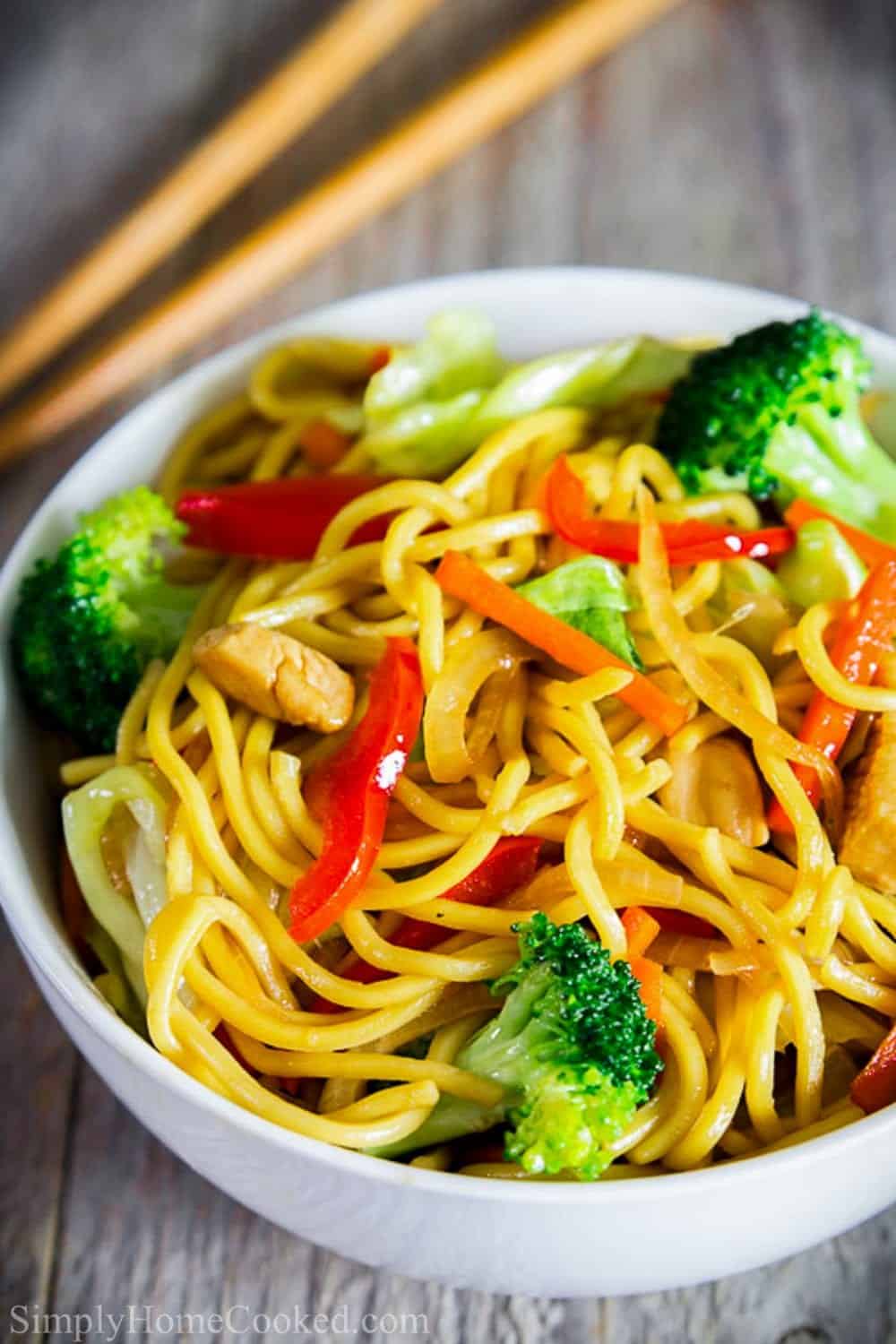 This recipe was originally posted on Mar 30, 2015, we've tweaked it a bit since then.
This post has Amazon affiliate links for tools we used to make this recipe.
I can't even begin to explain how amazing this stuff is. It's so addicting, I can guarantee you'll be running back for seconds! What I love most about this recipe is that it can easily be modified to your liking. We usually add shrimp to give it a little more meatiness, but you can add whatever you want 🙂 If you prefer a lighter (gluten-free) version of chicken chow mein, try our rice noodle stir-fry recipe.
If you plan to make the full recipe, be sure to use a large wok or skillet. And by large I mean the biggest skillet you have. I used a 14-inch wok. It will seem like a lot of vegetables at first, but they decrease in size as they cook.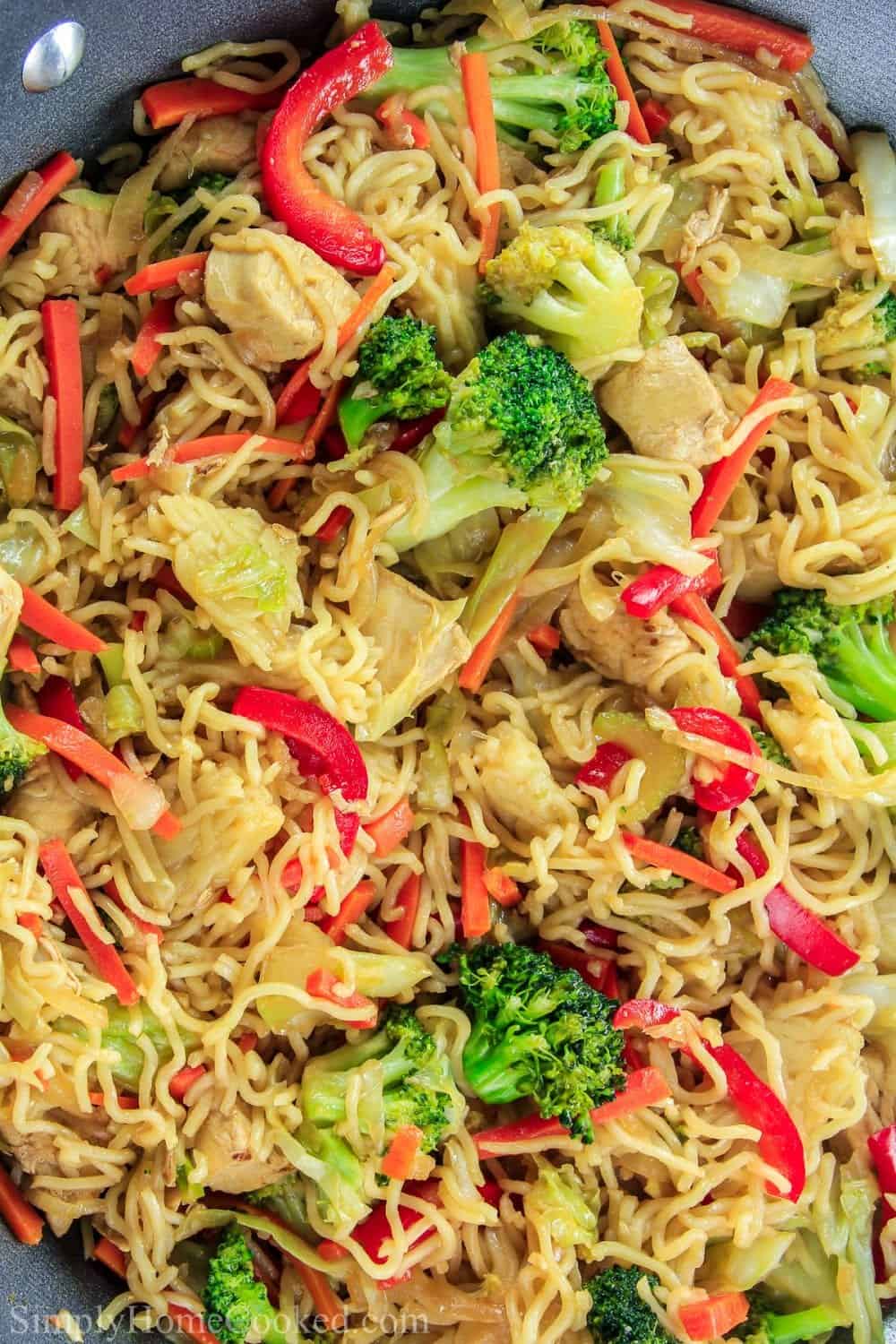 Chicken chow mein recipe
How to make chicken chow mein
In a wok, heat olive oil over medium-high heat. Add the minced garlic and stir for a minutes or so. Then place the cubed chicken and cook through completely.
Add the sliced onion, and sauté it until it becomes tender.
Toss in the carrots, celery, cabbage, bell pepper, and broccoli and stir for about 4 minutes.
Pour in rice vinegar and soy sauce and sprinkle in the sugar. Lastly, break up the yakisoba noodles and toss them into the chicken chow mein.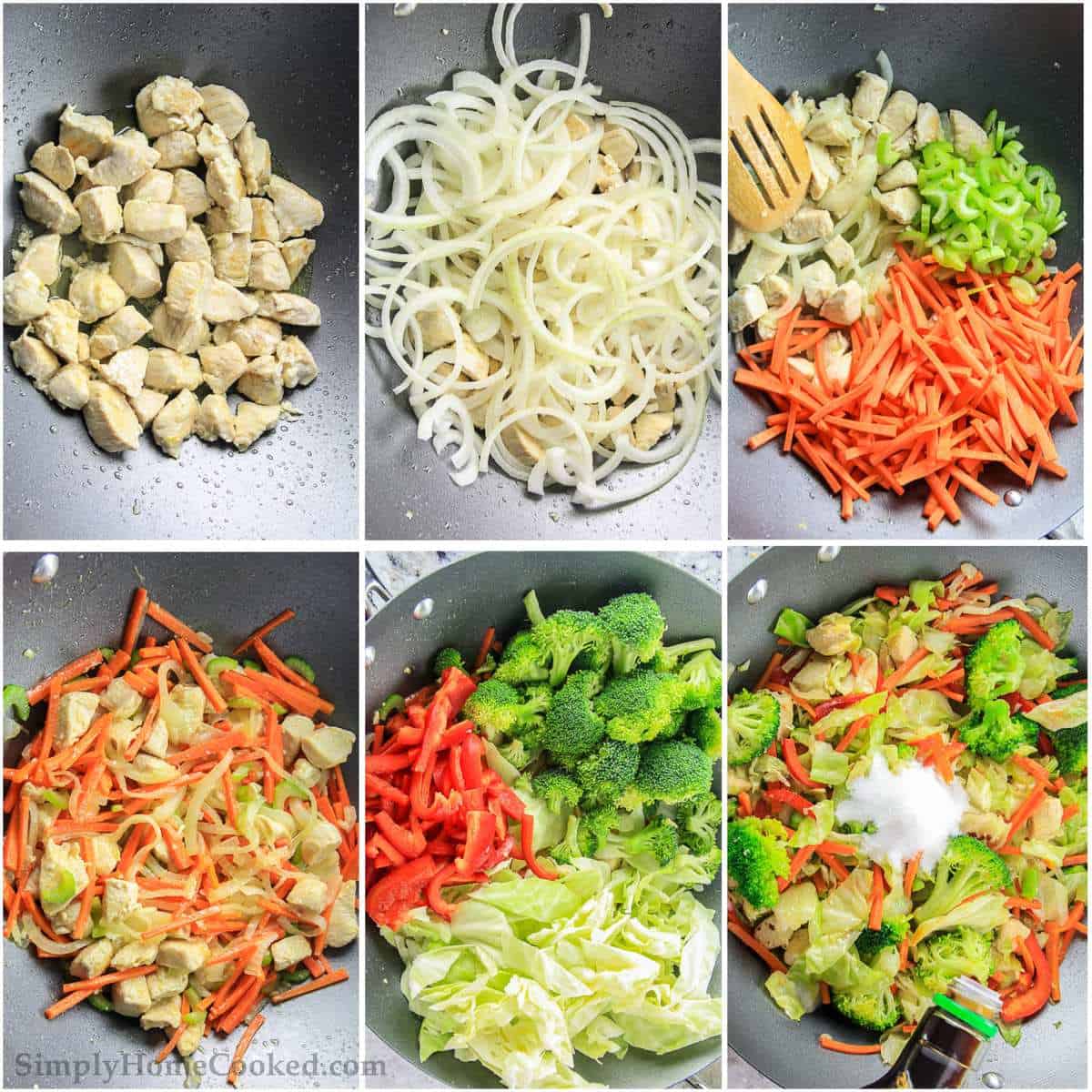 what ingredients are in chicken chow mein
Chicken– You'll need to cut them small pieces and cook them in some olive oil.
Vegetables– The veggie options here are so versatile. I like to use cabbage, celery, carrot, onion, broccoli, red bell pepper, and garlic.
Chow mein noodles– also similar to yakisoba noodles or low mein noodles. All will work great here.
Sauce– this is a simple one made with soy sauce, rice vinegar, and a little sugar.
What to serve with chow mein noodles?
Well usually when we order this out, it comes with white rice, egg drop soup, and salad. but at home, we like to serve it with
Teriyaki chicken– marinated in a simple Asian dressing and grilled to smoky deliciousness.
Asian chicken salad– loaded with crunchy cabbage, sesame seeds, and carrots.
Fried spring rolls– made with ground chicken, cabbage, and bean threads.
Quick chow mein noodles
Heres a pro tip: Chop all of your ingredients a few hours ahead or the night before. That way when it comes time to cook the chow mein, all you have to do is toss everything in.
If you love Asian food as much as I do, these easy recipes are a MUST!
Garlic ginger shrimp– all you need is 7 ingredients for this quick Asian dinner.
Mongolian beef– a quick 30 minutes meal.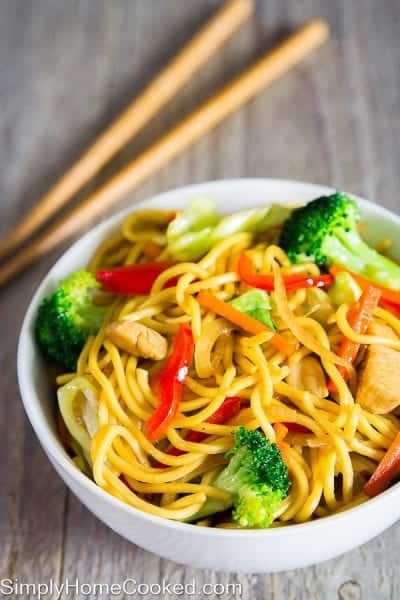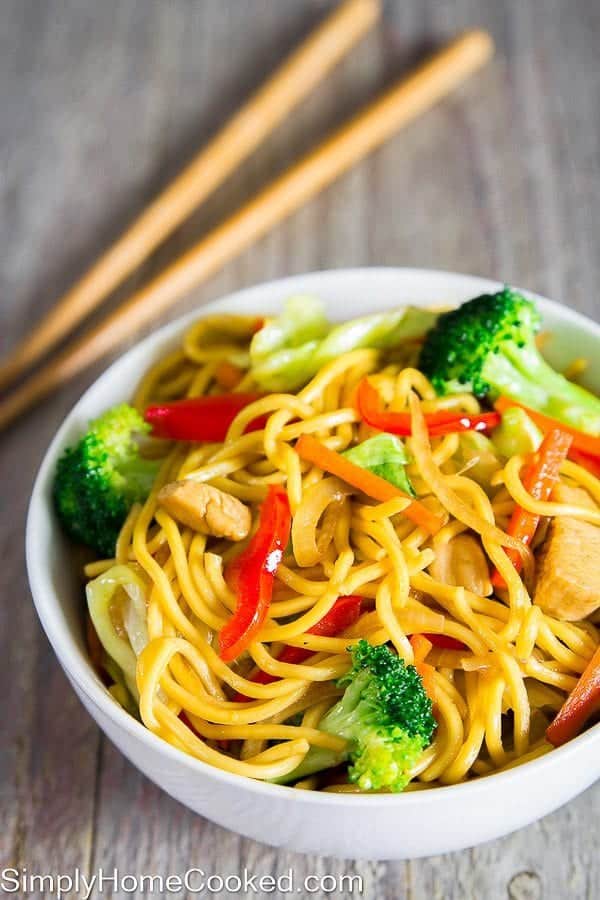 Chicken Chow Mein
Why go out when you can make your own chicken chow mein right at home! Mom's famous recipe is guaranteed to please your taste buds.
Ingredients
3

tbsp

olive oil

3

cloves

minced garlic

2

chicken breasts

cut 1 inch pieces 16.8 oz

3/4

cup

celery

sliced (1.5 sticks)

3

cups

carrot

julienned (about 2 medium carrots)

2 1/2

cups

onion

thinly sliced (about 1 medium onion)

2

lb

Yakisoba noodles

1

medium cabbage

chopped

12

oz

fresh broccoli florets

1

red bell pepper

sliced

2

tbsp

rice vinegar

1/2

cup

soy sauce

3

tbsp

white sugar
Instructions
Chop up the vegetables and chicken. Whenever I know I'm making a dish that requires a good amount of chopping, I chop my veggies the night before, cover them in plastic warp and refrigerate them. This really speeds up the cooking processes.

Heat olive oil in a large wok over medium high heat. Add the minced garlic and stir for about 1 minute.

Place the diced chicken into the wok and stir until light brown and most of the liquid is absorbed.

Add the chopped onions, and sauté them until they become translucent.

Toss in the carrots and celery and stir until softened. Then add in the cabbage, bell pepper, and broccoli and stir for about 4 minutes.

Pour in rice vinegar and soy sauce and sprinkle in the sugar. You may want to add a little more soy sauce depending on how salty you prefer your food.

Add in the Yakisoba noodles. The noodles might be very compact at first, but they will separate after they sit in the hot wok for a few minutes.

Stir the noodles for another 3-5 minutes or until they've all separated. Remove from heat and serve warm.
Nutrition Facts
Chicken Chow Mein
Amount Per Serving
Calories 421
Calories from Fat 54
% Daily Value*
Total Fat 6g 9%
Cholesterol 24mg 8%
Sodium 1108mg 46%
Potassium 569mg 16%
Total Carbohydrates 69g 23%
Protein 22g 44%
* Percent Daily Values are based on a 2000 calorie diet.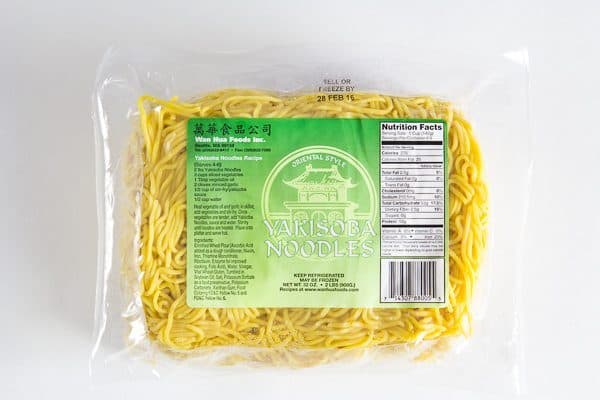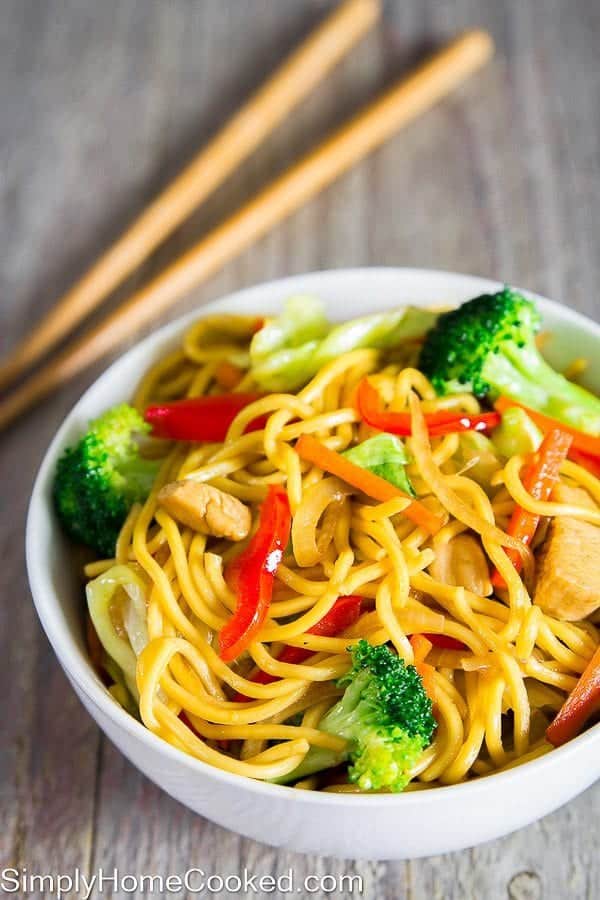 This post contains affiliate links. Meaning we make a small percentage when you click & shop. Your cost is the same. We only recommend things we use and truly love.