If you love crispy, crunchy, and easy to make spring rolls, then this fried spring roll recipe is right up your alley. And the best part…they're freezer friendly!
When making an Asian themed dinner, these spring rolls, shrimp tempura sushi roll, shrimp tempura, and Asian chicken salad are always on the menu for appetizers.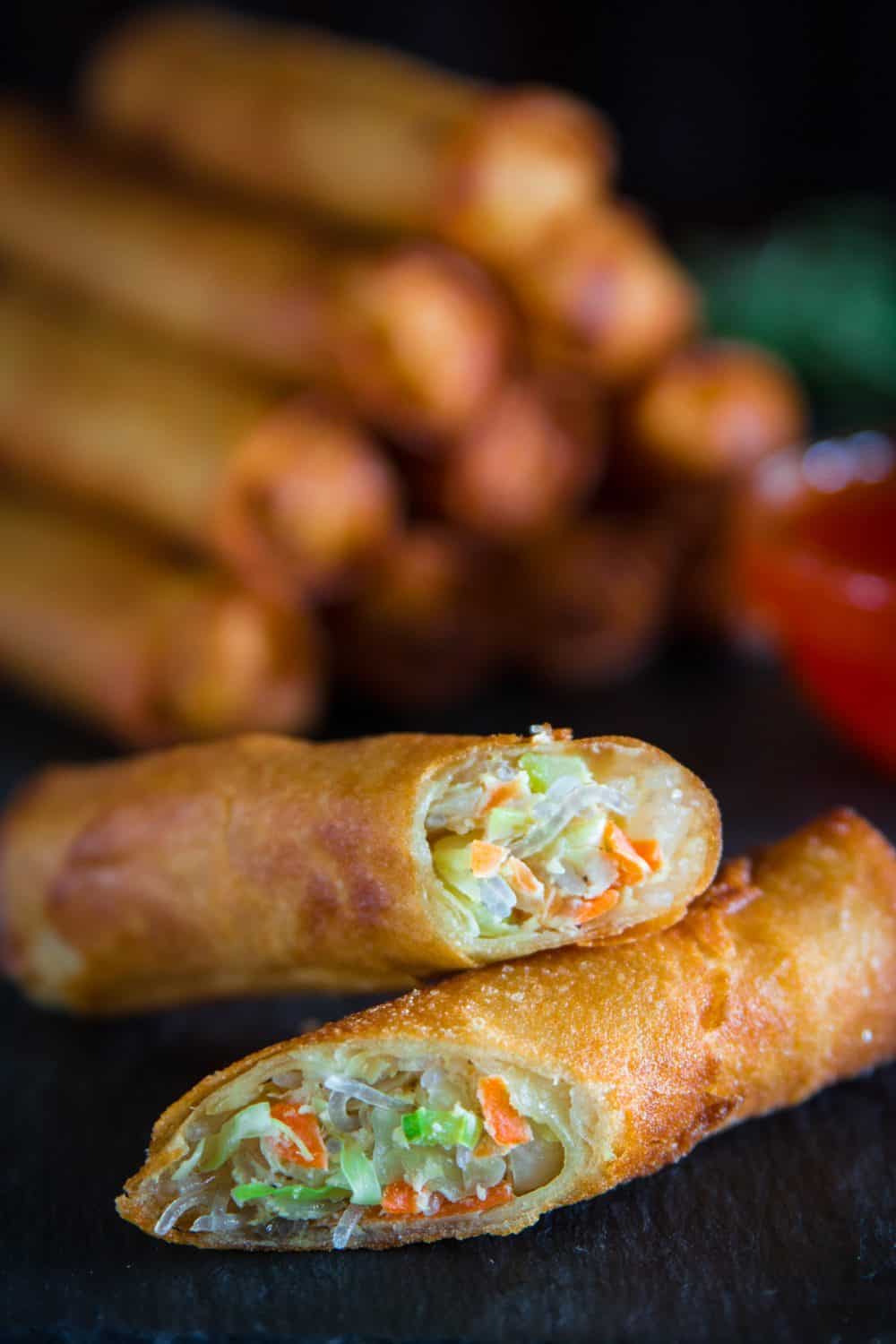 How to make spring rolls
Saute the chopped onion and celery in a skillet filled with olive oil over medium-high heat. Then set aside
In two separate heatproof bowls, submerge the shredded cabbage and bean threads in boiling water for about 5 minutes and drain the water out.
Then cut through the bean threads about 30-40 times using kitchen shears or scissors.
Now combine the ground chicken, shredded cabbage, bean threads, shredded carrot, sauteed vegetables, salt, and pepper.
Fill the spring roll wrappers with the chicken filling, bush the edges tightly and roll them up tightly.
Now fry each spring roll in a heavy bottomed skillet filled with canola oil over high heat.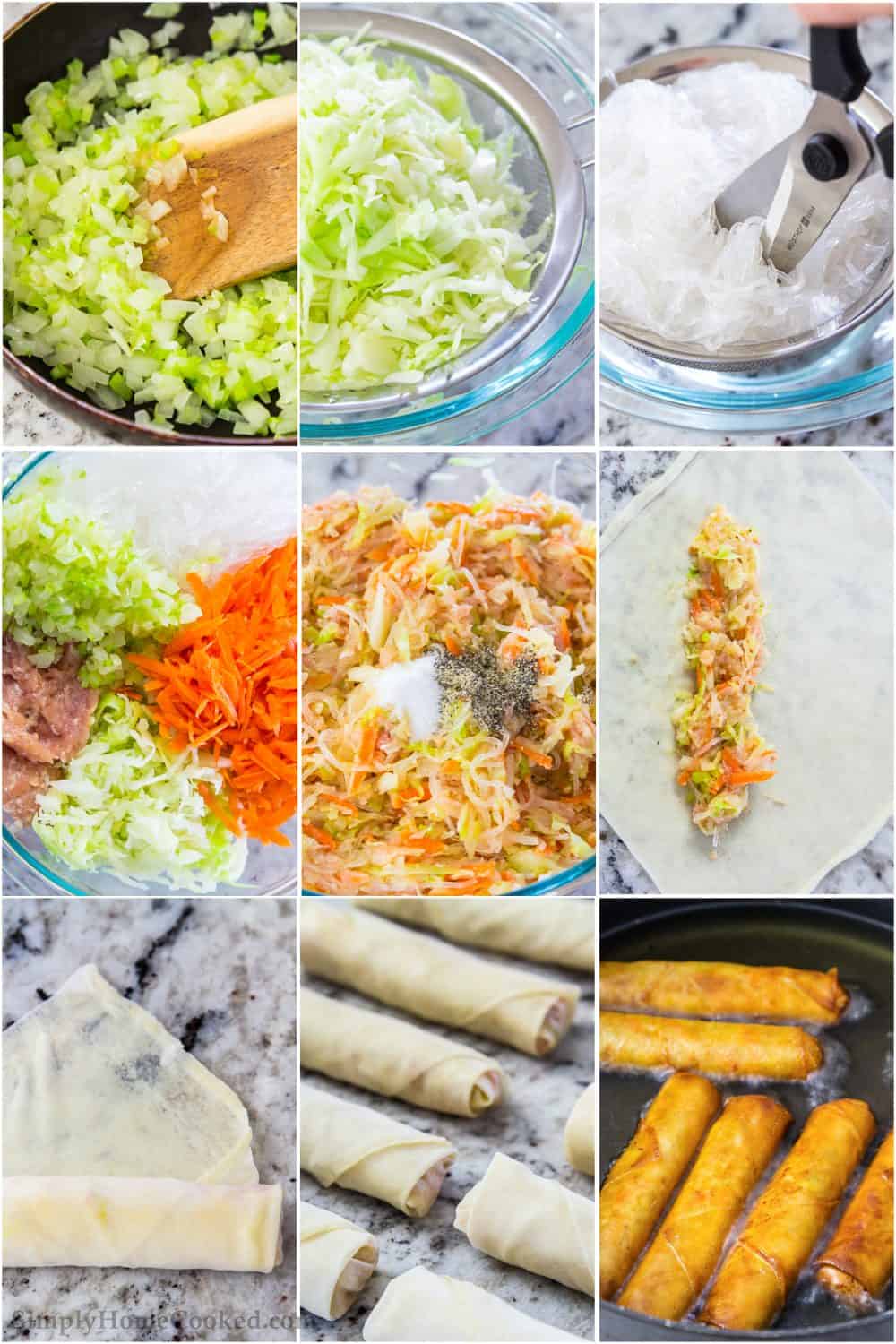 What are fried spring rolls?
Fried spring rolls are made with a thin paper-like wrap (not rice wrap) and are usually filled with a combination of meat and vegetables. They are then deep-fried or pan-fried. They also sometimes referred to as lumpia. You can find spring roll wraps at most Asian food markets.
What are egg rolls?
Egg rolls are also filled with meat and vegetables but are wrapped in a thicker dough-like wrap. Egg rolls can either be baked or fried.
What are fresh spring rolls?
Fresh spring rolls are cold Vietnamese rolls (obviously not cooked). They are made with rice paper wraps and are typically filled with cooked prawns, lettuce, carrot, Thai basil, mint, and cilantro. They are commonly dipped in peanut sauce.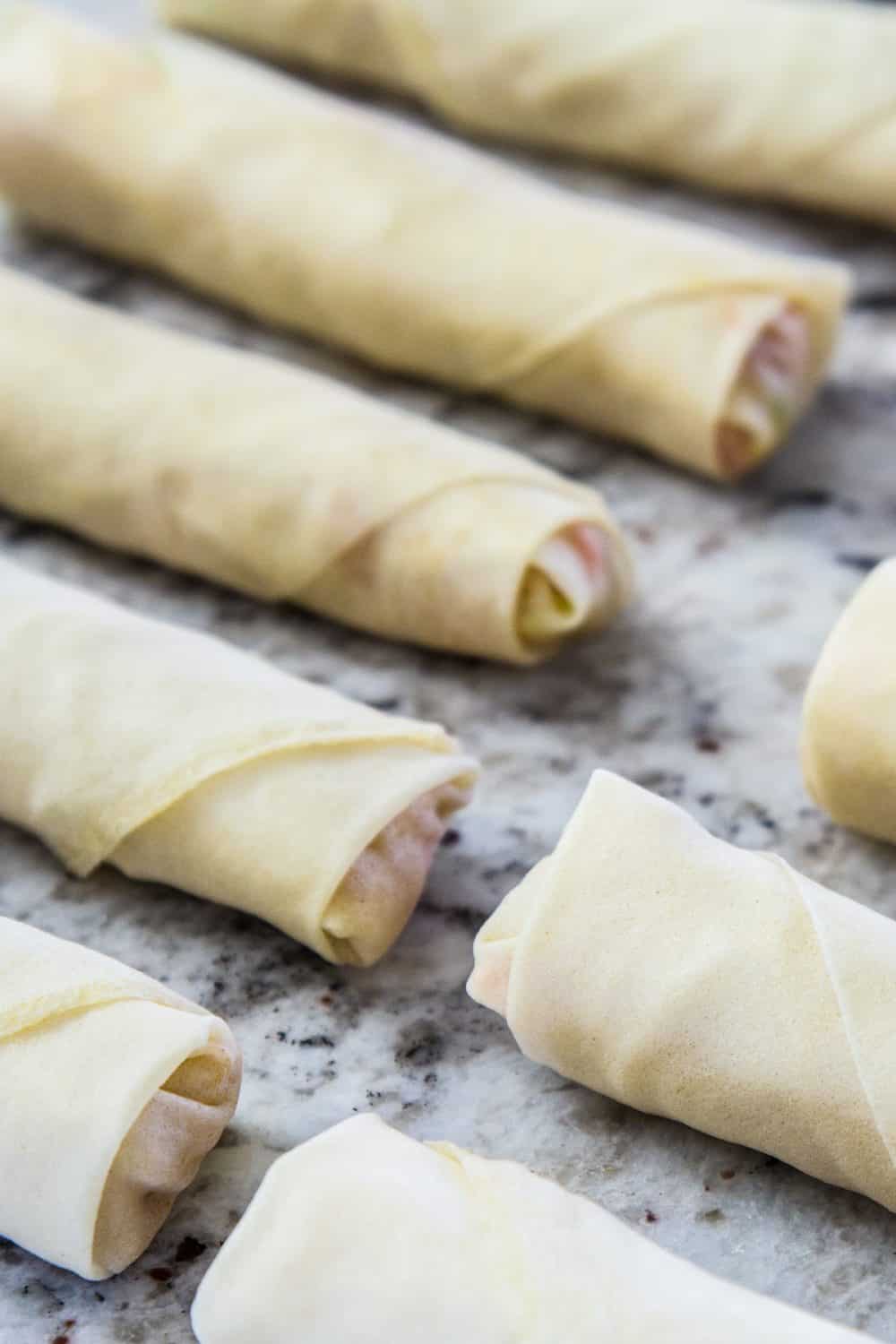 Can I bake spring rolls?
If you prefer not to fry spring rolls, you can bake them instead. Place them on a baking sheet and spray them with non-stick spray. Bake at 435 degrees Fahrenheit for 30 minutes, turning them halfway through baking.
Can I freeze spring rolls?
Yes, you can freeze spring rolls. Roll them up and place the uncooked spring rolls in a single layer on a baking sheet. Freeze until solid (about 4 hours) then place them into a ziplock bag and freeze for up to 3 months.
How to cook frozen spring rolls
Place the frozen (uncooked) spring rolls into a heavy bottomed pot filled with about 2 inches of hot canola oil and cook over high heat until golden brown.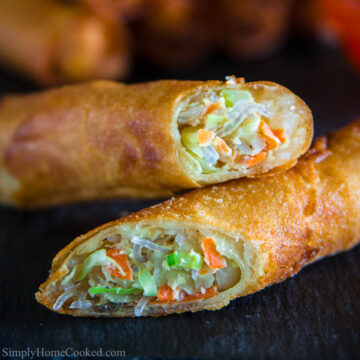 Fried Spring Roll Recipe
These fried spring rolls are the ultimate Asian appetizer. They are sure to impress even the pickiest eaters.
Print
Pin
Rate
Servings:
35
spring rolls
Ingredients
1

lb

ground chicken thighs

1/2

medium cabbage

about 32 oz

1/3

cup

celery

diced

1

carrot

shredded (about 1 cup)

3/4

cup

onion

3

oz

uncooked bean threads

or rice noodles work too

35

spring roll wraps

1/2

tsp

black pepper

1

tsp

salt

Canola oil for frying

corn oil worls too
Instructions
Finely chop the cabbage and submerge it in hot water for 5 minutes as well. Drain the cabbage of all water and set it aside to cool. I recommend using a fine-mesh sieve to get all the water out.

Place the bean threads or rice noodles in a heatproof bowl and submerge them in boiling water for about 4-5 minutes. Drain the water out using a mesh strainer and roughly cut through the noodles with kitchen shears.

Heat 2 tbsp oil in a small pan and sauté the chopped onion until translucent.

Add the chopped celery to the onion and sauté for another 2-3 minutes.

In a large bowl, combine the cooked bean threads, cabbage, shredded carrot, ground chicken thighs, and the sautéed onion and celery.

Season with salt and pepper. As mentioned in the ingredient list, use less salt if you plan to dip the rolls in soy sauce.

Begin assembling your spring rolls by laying out one spring roll wrap with a corner pointed toward you. Spread about 2 tbsp of the chicken and cabbage mixture in the middle and fold the bottom corner up over the mixture. Fold the left and right corners toward the center and continue to roll. Brush a little water on the top corner to help seal the spring roll.

Fill a skillet with about 2 inches of canola or corn oil. Bring the oil to medium-high heat and fry each spring roll for 2-3 minutes per side. Place the fried spring rolls on a plate lined with paper towels to absorb excess oil. Serve hot with soy sauce or sweet chili sauce.
Nutrition
Calories:
42
kcal
|
Carbohydrates:
3
g
|
Protein:
2
g
|
Fat:
2
g
|
Cholesterol:
12
mg
|
Sodium:
85
mg
|
Potassium:
61
mg
|
Vitamin A:
320
IU
|
Vitamin C:
5.1
mg
|
Calcium:
8
mg
|
Iron:
0.2
mg
This recipe was originally published on Mar 22, 2017, it has been updated since.