This 30-minute Shrimp Chow Mein is a delicious mix of chewy noodles and tender vegetables and shrimp. You'll love the salty and savory flavors of this easy to prepare dish.
If you love chow mein, you have to try our vegetable chow mein (video) and chicken chow mein.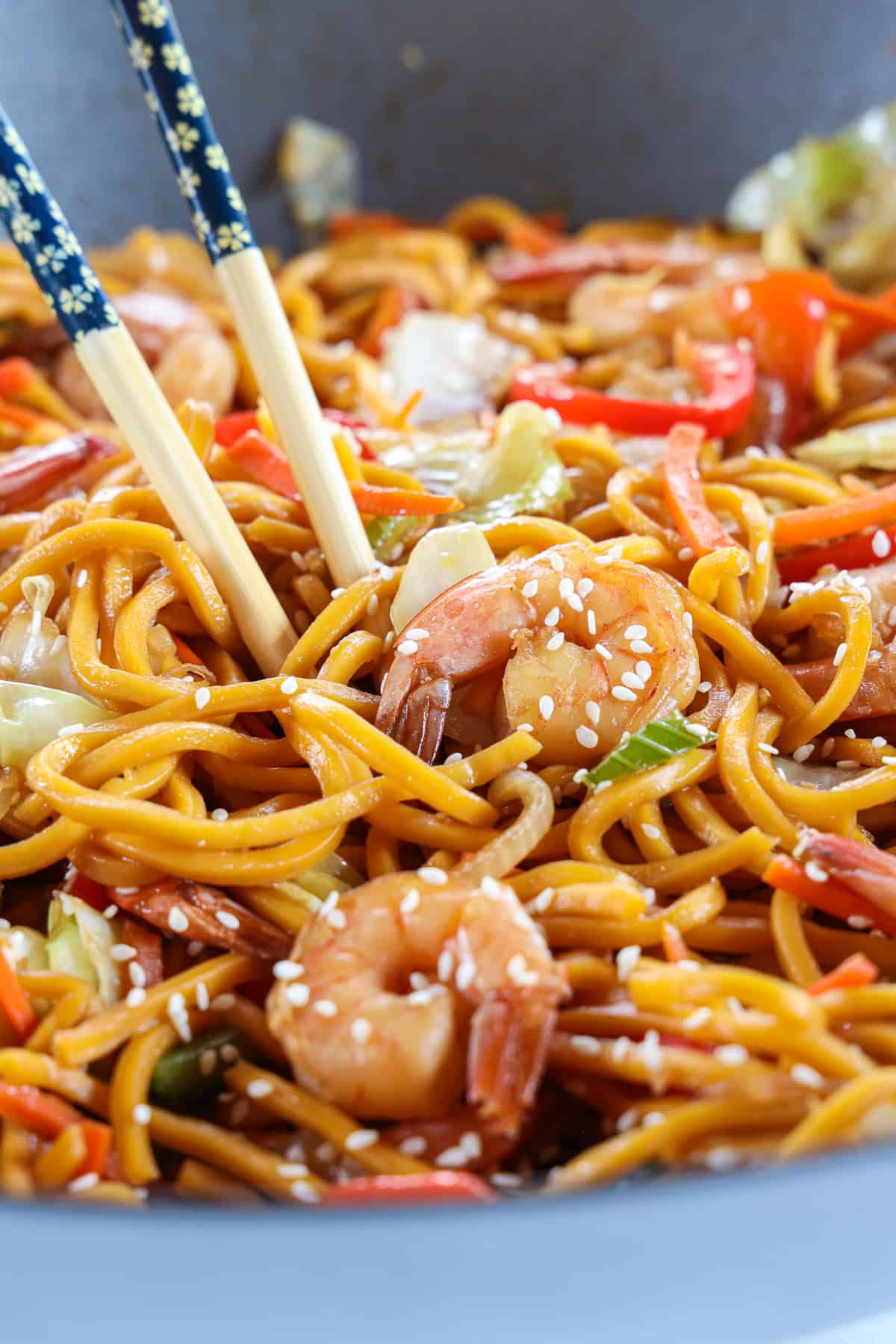 Easy Shrimp Chow Mein in 30 minutes
This Shrimp Chow Mein dish has so much flavor and texture. The mix of thin noodles with wok-fried vegetables and perfectly-cooked shrimp makes it so delicious. This stir-fried noodle dish is also really easy to make and only takes half an hour. You'll only need one "pot" (the wok) for all the cooking, so it's really convenient, too. If you love Asian food, especially chow mein, then this is the perfect one to make at home. It looks as good as it tastes.
What you'll need for this recipe
To make Shrimp Chow Mein, you will use Large shrimp (deveined and peeled), Avocado oil, minced garlic, Onion, Celery, Carrots, Cabbage, Red bell pepper, Seasoned rice vinegar, Teriyaki marinade, Low-sodium soy sauce, and Yakisoba noodles.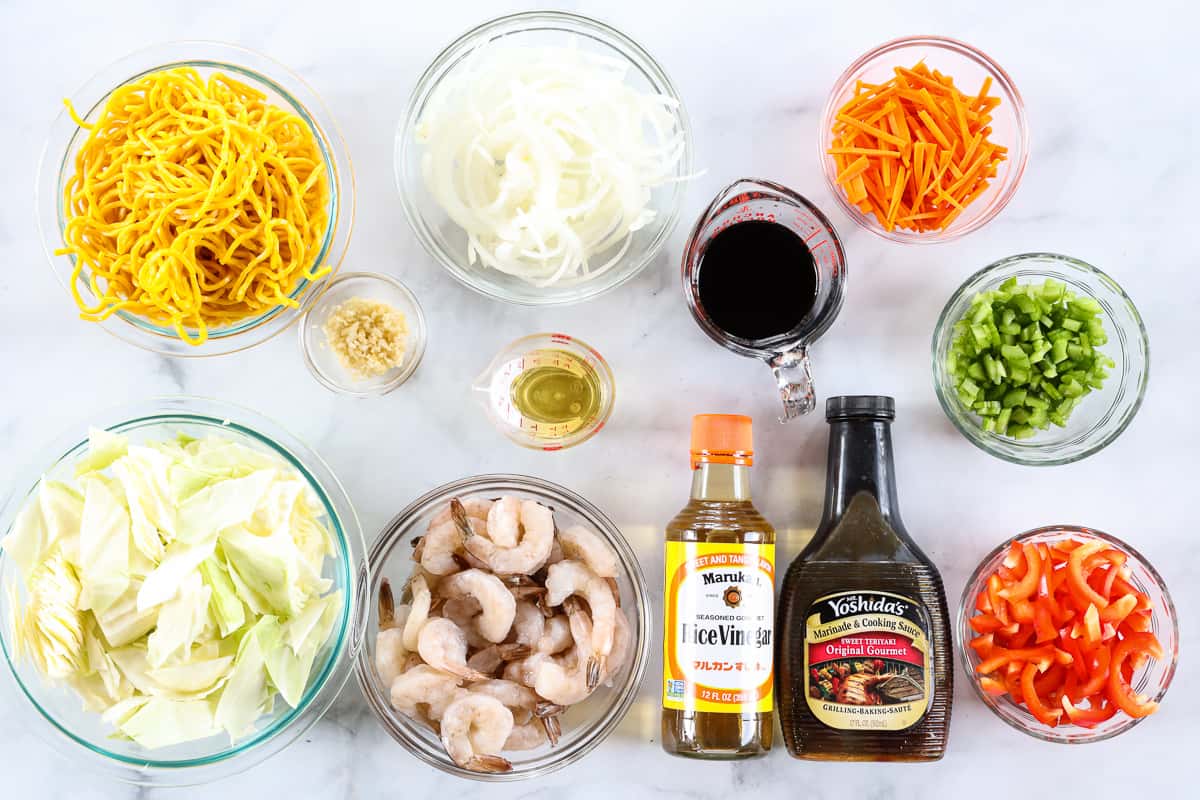 How to Make this Shrimp Chow Mein
Cook the vegetables. Place a large (14-inch) wok over medium heat and add the avocado oil. Then add in the minced garlic and thinly-sliced onion, stirring until the onion becomes translucent.
Raise the heat. Bring the heat up to high and add the chopped celery, julienned carrots, chopped cabbage, and sliced pepper. Stir for 3-4 minutes.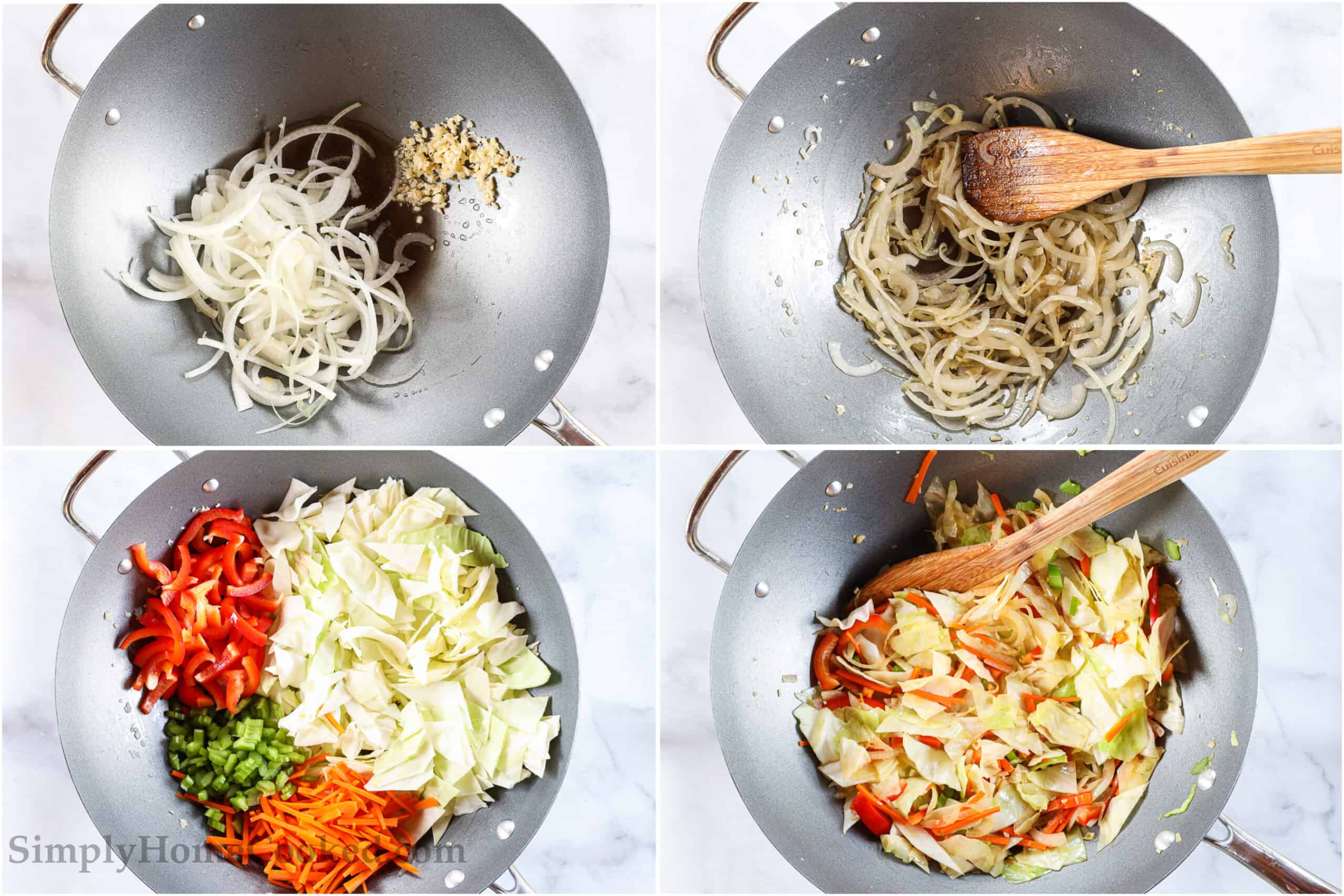 Cook the shrimp. Empty the wok and add the large thawed shrimp. Cook them for about 4-5 minutes, or until they turn pink and opaque.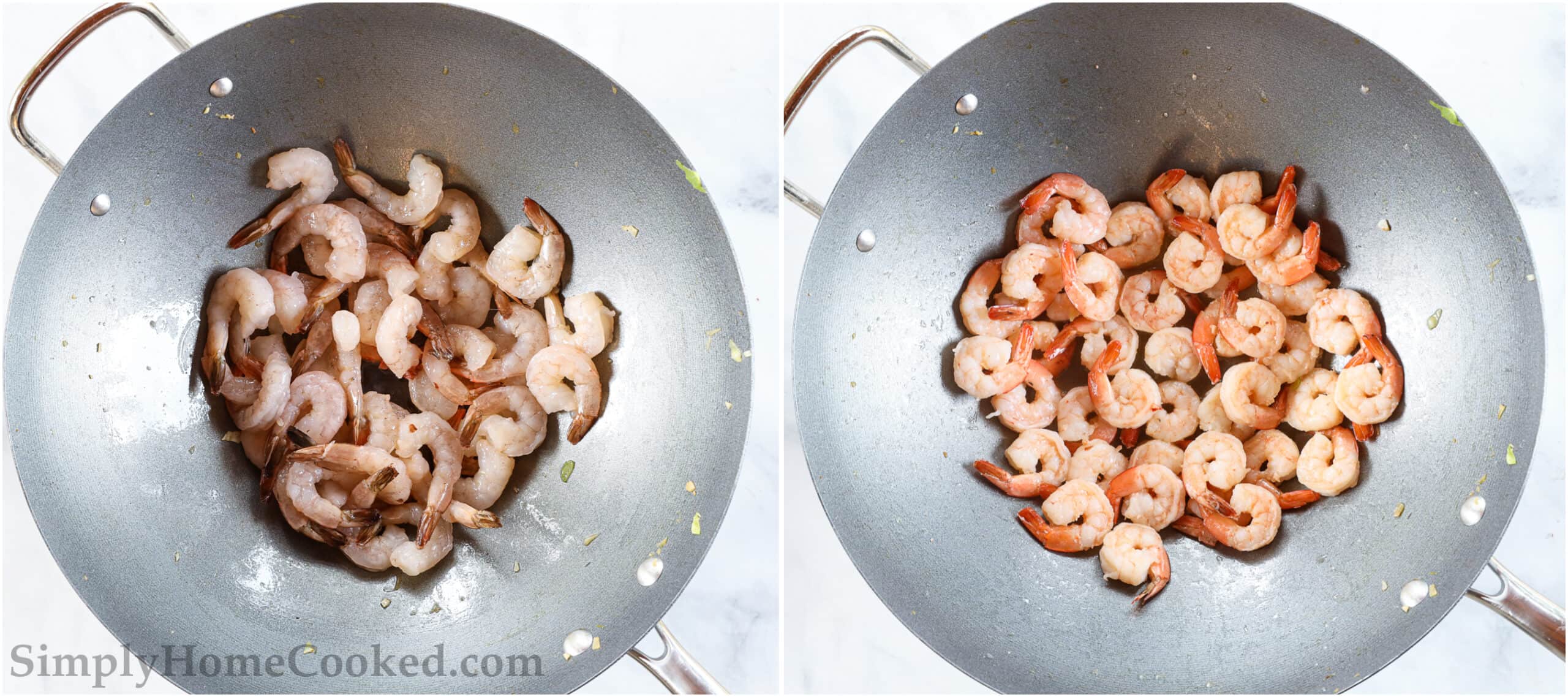 Add the noodles. Gently separate the yakisoba noodles with your hands and place them in the wok, giving the shrimp chow mein a quick stir.
Pour in the sauce. Now add the rice vinegar, teriyaki marinade, and soy sauce. Stir for another 5 minutes, adding more soy sauce as needed. Then serve hot.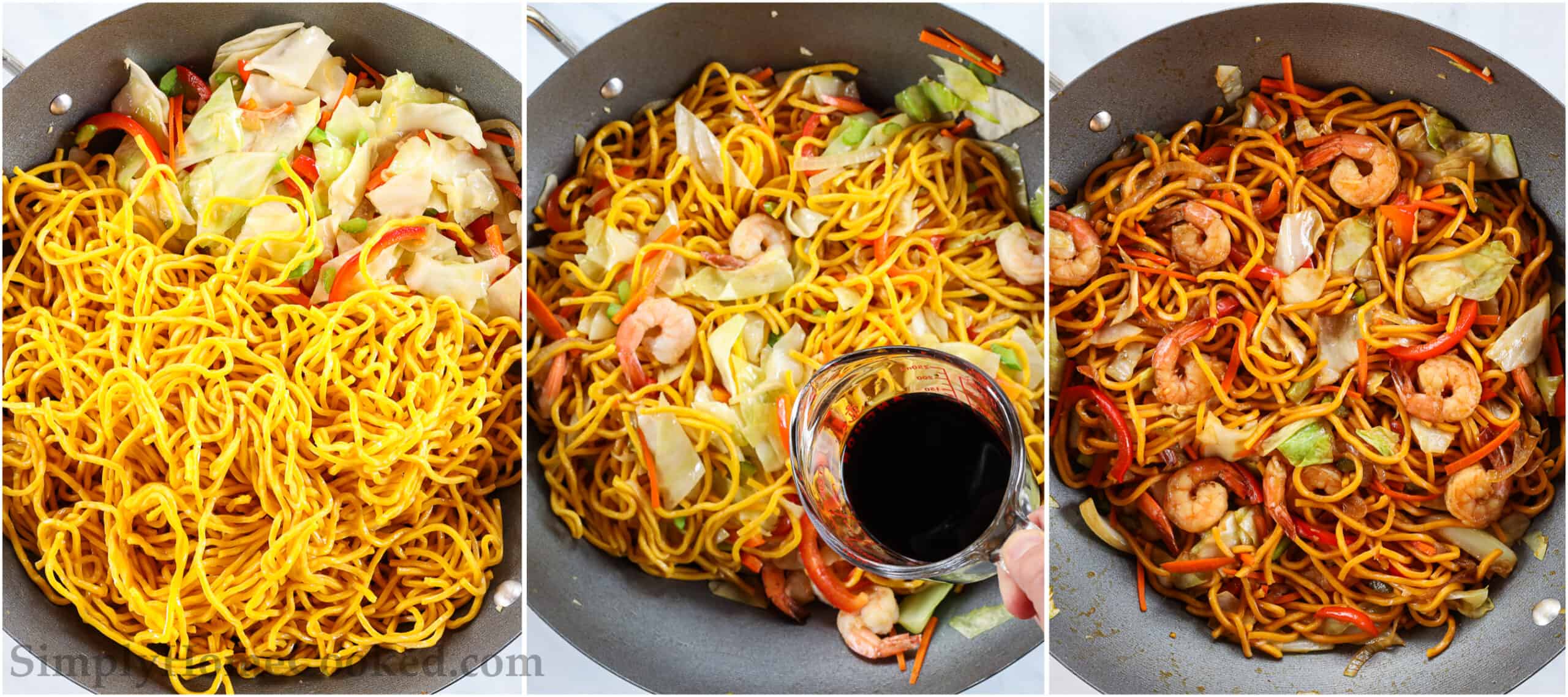 Tips for making the Best Chow Mein
Don't cook all the vegetables at once- It can seem like a time-saver to just toss all the veggies in at once, but don't. The garlic and onion need more time to cook, soften, and release their aromas and flavors. So allow them to cook a little before you add the rest.
Get the right shrimp- It will save you a lot of time and work if you purchase shrimp that have already been deveined and peeled. If you prefer them with the tail off, that is also fine. Frozen shrimp should just be defrosted before use.
Be careful with the noodles- Gently separate the yakisoba noodles using your hands to put them into the wok. They are soft and a little sticky, so they easily catch and tear if you use utensils to separate them.
How to Store Leftovers
The best way to store Shrimp Chow Mein leftovers is by placing them in an airtight container and keeping them in the fridge. They will stay fresh for 3-4 days. You can also freeze them in a ziplock freezer bag for up to 3 months. Just defrost overnight in the fridge and then warm them in the microwave or wok.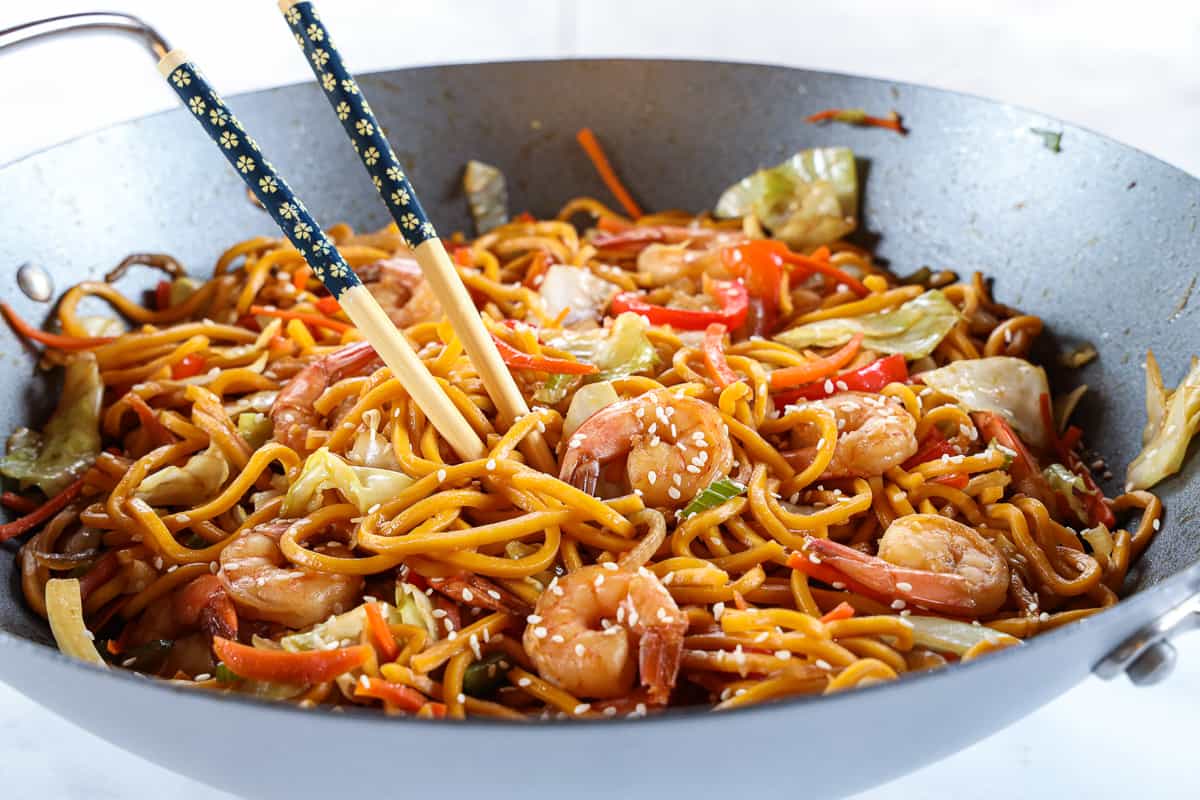 More Delicious Asian Dishes to Try!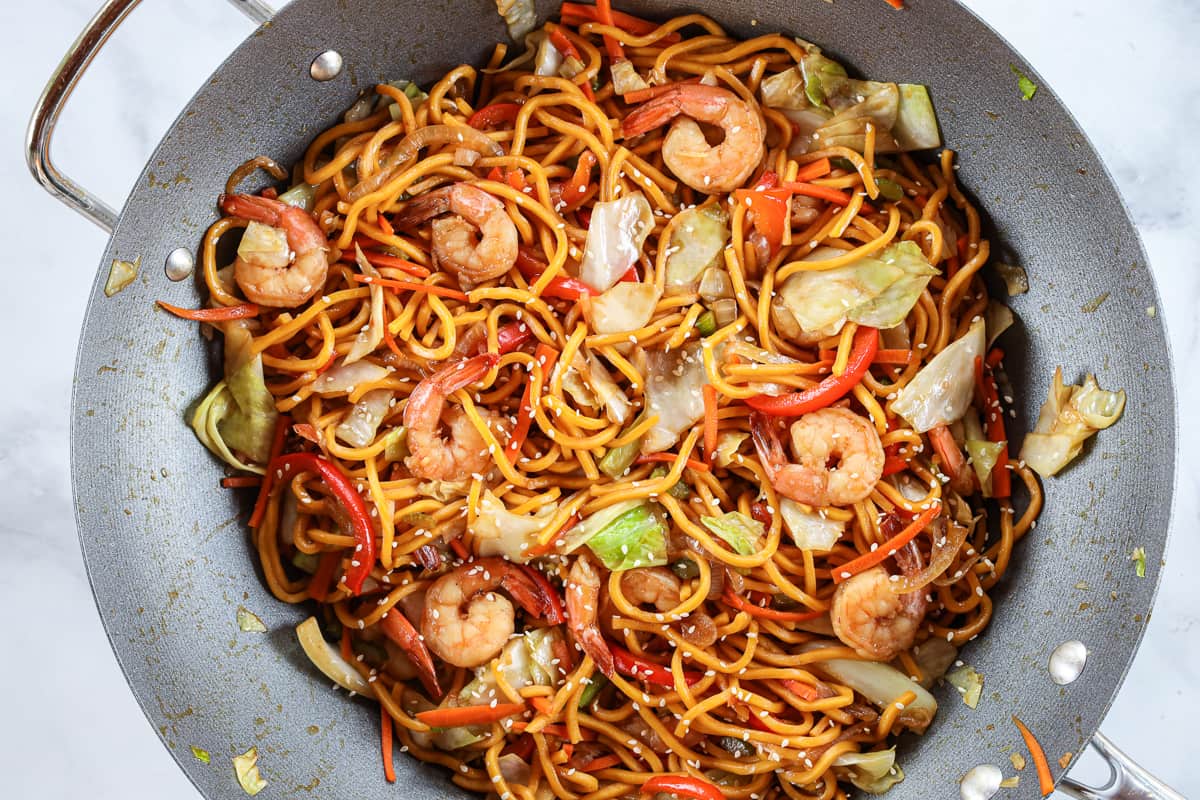 Full Recipe Instructions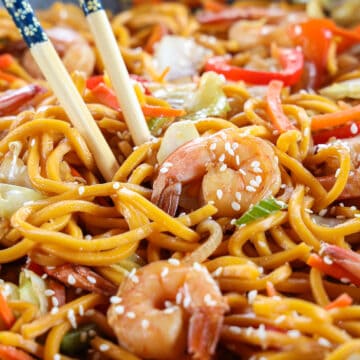 30-Minute Shrimp Chow Mein
This 30-Minute Shrimp Chow Mein is a delicious Asian dish to try at home. Easy and fast, it's bursting with flavor and has the best texture.
Print
Pin
Rate
Instructions
Cook the vegetables
Then stir in 3 minced garlic cloves and 2 cups yellow onion, thinly sliced (about 1 medium onion). Stir until the onion becomes translucent.

Pick the heat up to high and add 1/2 cup chopped celery, 1 cup of julienned carrots, 1/2 chopped medium cabbage, and 1 sliced red bell pepper. Stir that for about 3-4 minutes on high heat.
Cook the shrimp
Then remove all the vegetables from the wok and add 16 oz of large shrimp that are thawed, peeled, and deveined. Cook them for about 4-5 minutes or until they are pink and opaque.
Notes
More Asian-inspired recipes to try!
Nutrition
Calories:
449
kcal
|
Carbohydrates:
72
g
|
Protein:
24
g
|
Fat:
7
g
|
Saturated Fat:
1
g
|
Cholesterol:
114
mg
|
Sodium:
1367
mg
|
Potassium:
266
mg
|
Fiber:
7
g
|
Sugar:
6
g
|
Vitamin A:
2578
IU
|
Vitamin C:
37
mg
|
Calcium:
101
mg
|
Iron:
5
mg