This Pepper Steak Recipe is easy to make and a great weeknight dinner. Full of savory meat and tasty vegetables, you'll love this quick and satisfying meal.
If you are looking for other great steak dishes, be sure to check out these Delicious Flank Steak Tacos and this mouthwatering Ribeye Steak.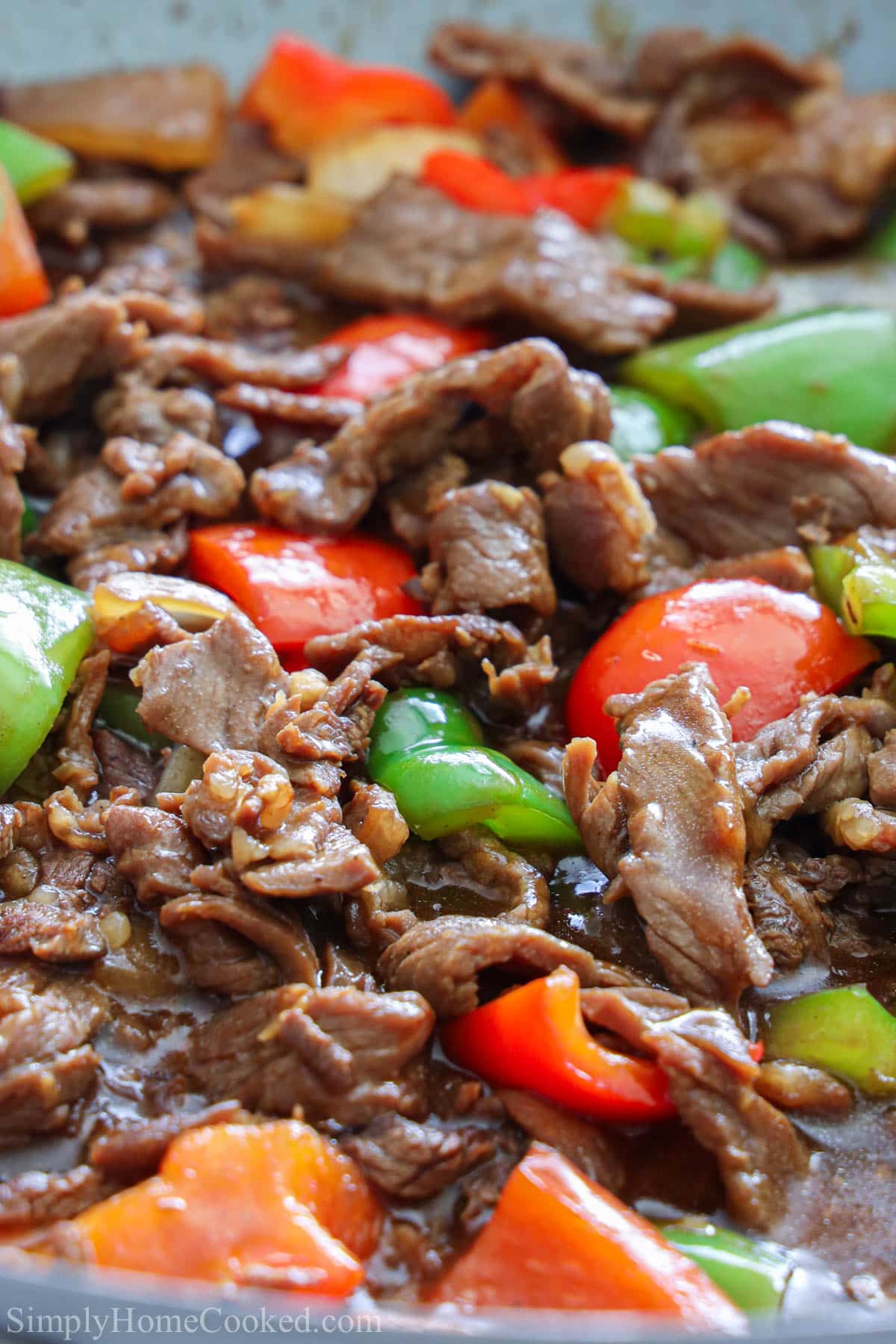 Table Of Contents
Pepper Steak Recipe Details
Pepper Steak is a delicious mix of thinly-sliced and marinated sirloin and vegetables. You'll love how flavorful and easy this dish is.
TASTE: Savory and infused with garlic and ginger, the flavors in this Pepper Steak are just so good.
TEXTURE: Juicy sirloin with tender sauteed vegetables, every bite is delicious.
TIME: This Pepper Steak recipe will take you less than an hour, including prep time.
EASE: This is an easy meal to make and you can even prepare some of it ahead of time for those busy weeknights.
What You'll Need
Ribeye steak– sirloin, skirt or flank steak will work too.
Marinade ingredients- Soy sauce, Garlic, Ginger, and Brown sugar
Vegetables- Green and Red bell Peppers, Yellow Onion.
Sauce ingredients- Soy sauce, Garlic, Cornstarch, Beef broth, Brown sugar, and Ginger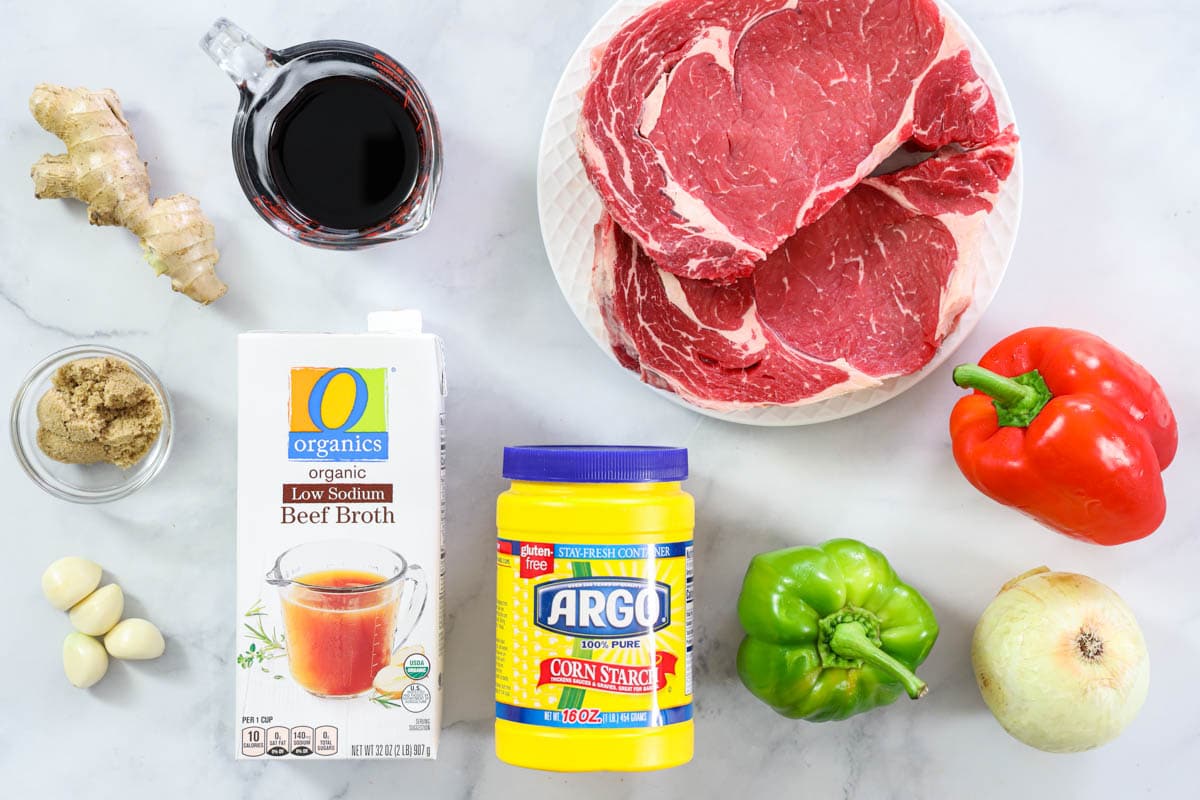 How to Make Pepper Steak
This is a quick breakdown of the recipe with step-by-step photos. For the full detailed recipe, scroll down to the printabel recipe card.
Marinate the steak. Slice the steak into 2-inch slices and place them in a bowl. Then add all the marinade ingredients right over the sliced steak. Toss everything together making sure the beef is fully submerged. Cover. Let it marinate for 2 hours or overnight in the fridge (covered).
Pro Tip: To get the super thin slices needed for this steak recipe, partially freeze the meat. Then, using a sharp knife, cut thin slices. Since the meat is frozen, it won't slide around and is easier to slice cleanly.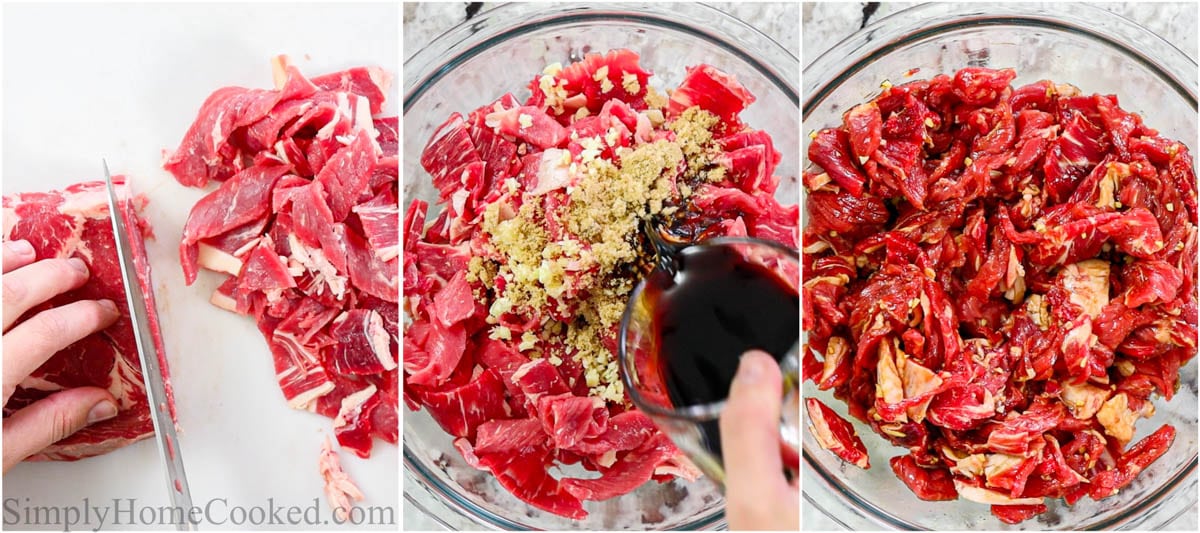 Make the sauce. In another bowl, combine ginger, garlic, brown sugar, low sodium soy sauce, and chicken broth. Add 1 extra Tbsp of beef broth and mix it with the cornstarch before adding it to the rest of the sauce ingredients.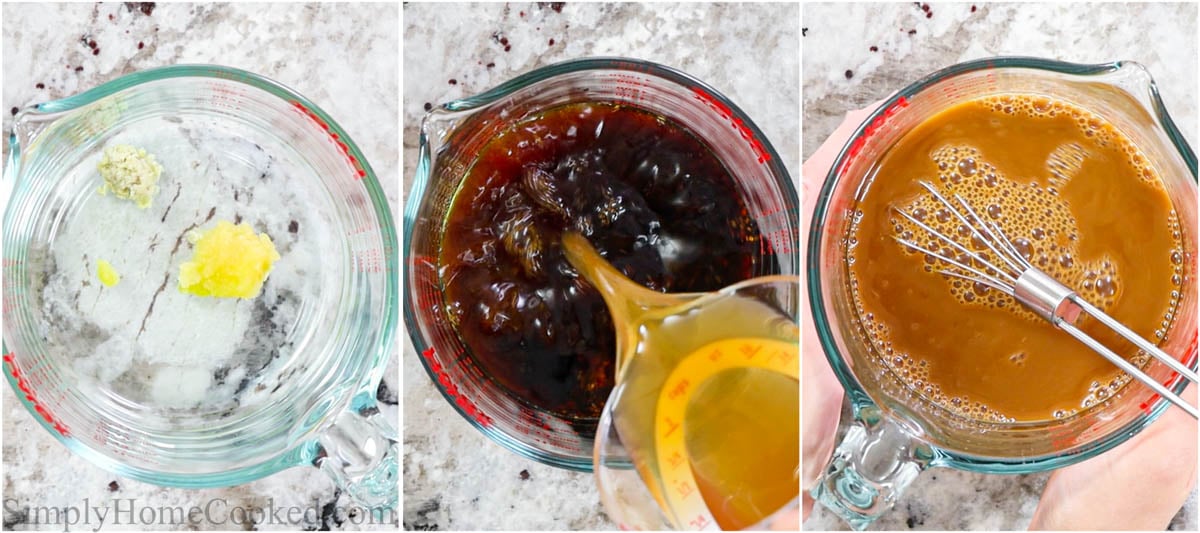 Cook the steak. Over high heat, heat some oil in a large wok and cook the steak in batches so that it has enough space to cook properly. Set aside the meat when it's done and stir fry the garlic and onion in the same wok.
Stir fry the vegetables. Then, add the chopped peppers and cook. Allow them to remain slightly crisp.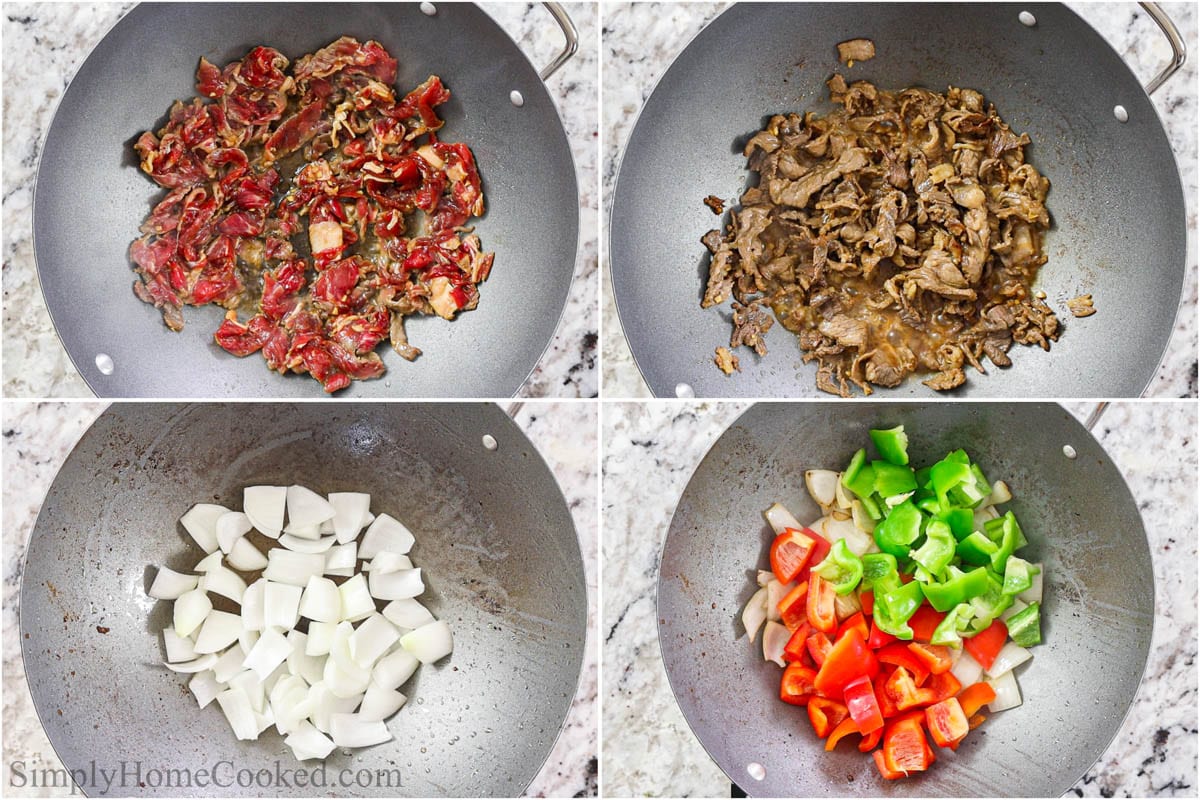 Add in the steak and sauce. Pour the sauce and meat on top of the veggies in the wok and cook it all together for five minutes. Serve.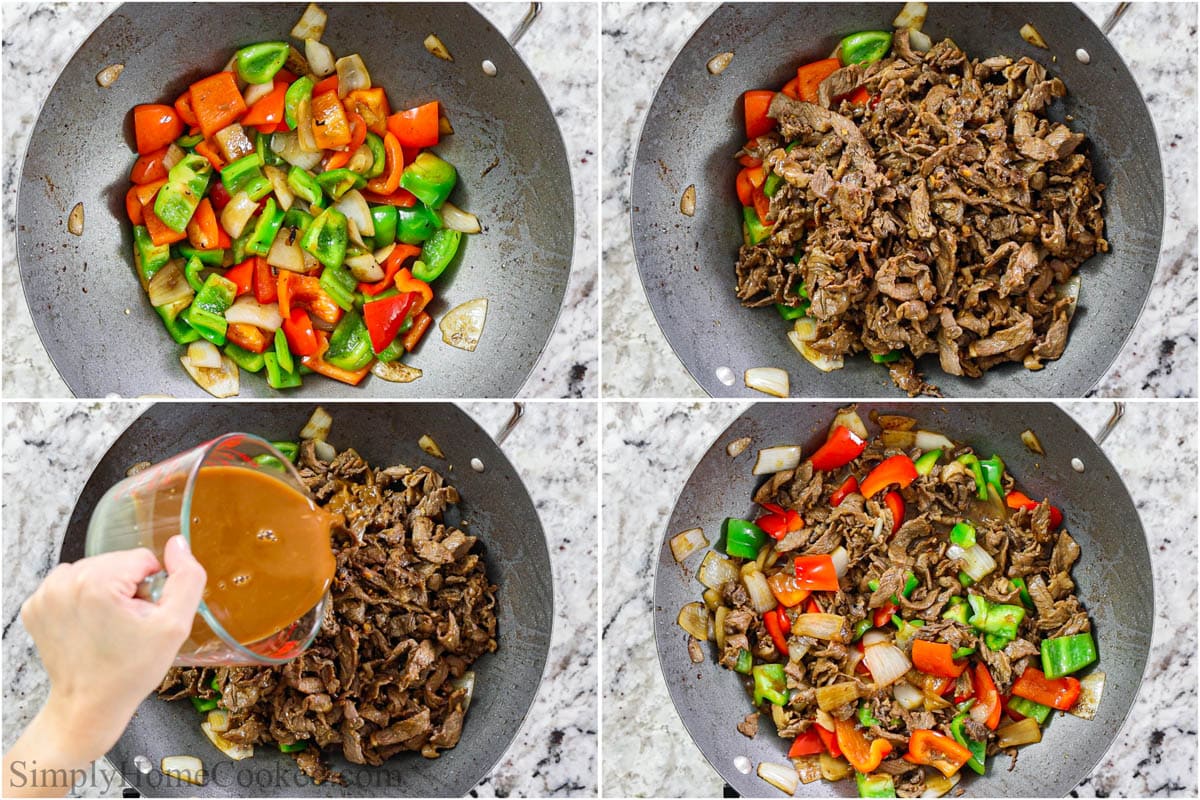 Recipe Tips
Slice the steak super thin- This step will allow the meat to take on more flavor and become more tender as it marinates and then cooks. Remember to partially freeze the sirloin to make this easier.
Cut the onions and peppers the same size- For more even cooking and so they combine well the steak, cut the vegetables about the same size and just a little smaller than the sirloin slices.
Use the same pan for the steak and vegetables- Save yourself the dishes and infuse your vegetables with extra flavor by sauteeing them in the same pan as the steak was cooked in.
Add a corn starch slurry to the sauce- This will give the sauce a little thickness so it sticks to the pepper steak. Mix it separately so you can work out any clumps before adding it to the sauce.
Add-ins and Substitutions
Add more vegetables- You can enjoy this Pepper Steak with more vegetables if you like. Try sliced mushrooms, asparagus tips, bok choy, or any of your favorites.
Substitute different beef cuts- Besides sirloin, you can also use flank, round, skirt, or any cut that you have on hand. The better the beef, the more delicious your Pepper Steak will be.
Cook the steak in the oven– If you would like to do this in the oven, you can. Make sure to cook it just enough so the meat doesn't get tough and then toss it with the sauteed veggies and sauce.
Add some sesame oil– A dash of this oil will impart a lot of great flavor to your Pepper Steak.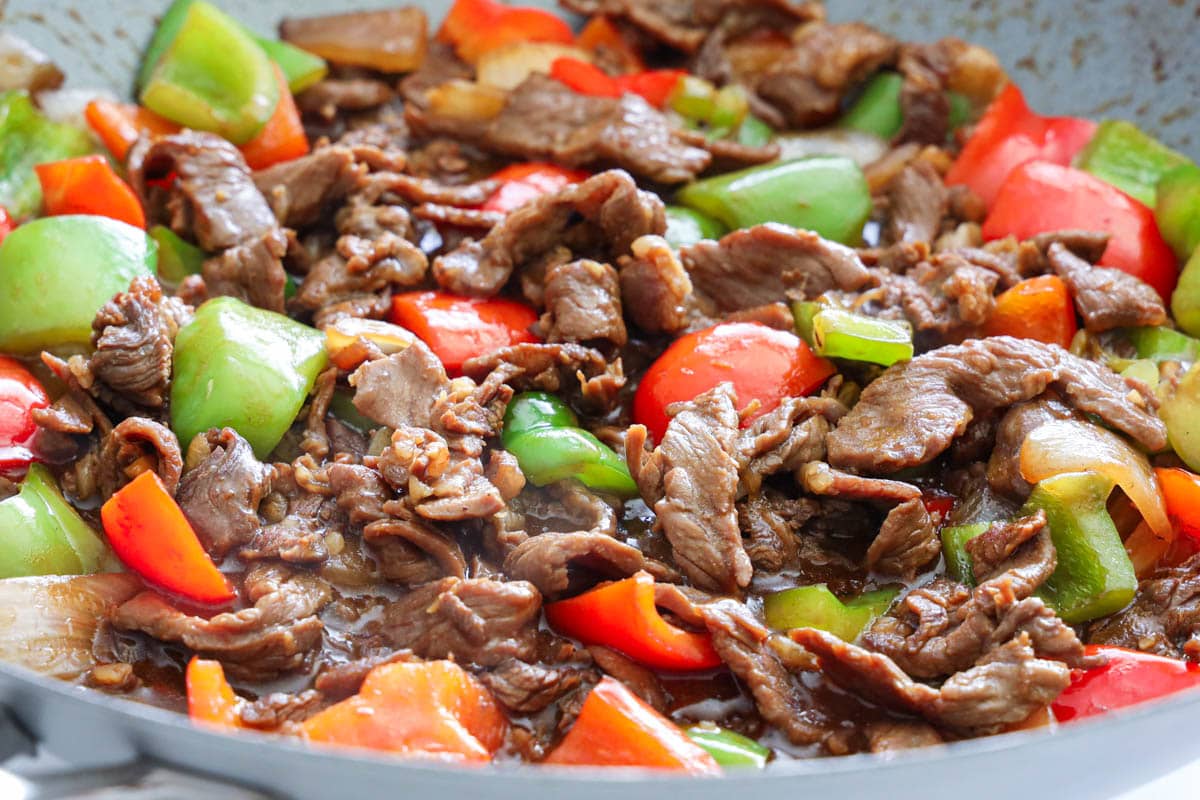 FAQs
What is the best beef for pepper steak?
The best beef to use when preparing Pepper Steak is Ribeye, Sirloin, or Flank. In this Pepper Steak recipe, I like to use sirloin, but you can use whichever one you prefer.
What kinds of vegetables taste best with Pepper Steak?
You can use any veggie you like in this dish, including onions, peppers, asparagus, spinach, cabbage, carrots, mushrooms, and more.
Serving Suggestions
Pepper Steak is so versatile and tastes great with lots of dishes. Here are a few tasty ways to serve it.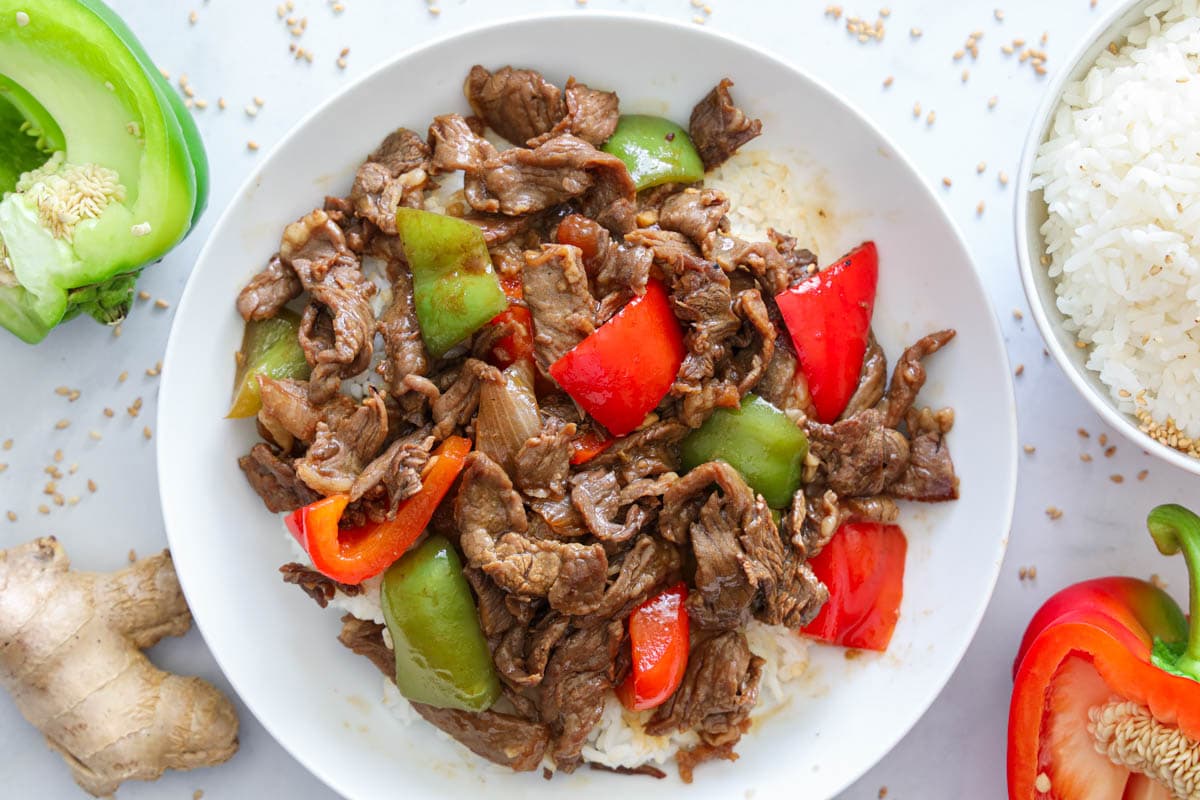 Make This Pepper Steak in Advance
Make ahead: You can marinate the meat the night before to save yourself time. Just slice the steak and place it in a bowl, add the marinade, and then refrigerate until you're ready to cook.
Storing: Pepper Steak can last for 3-4 days in the refrigerator. Just make sure that it is stored in an airtight container to keep it fresh. To reheat it, you can either warm it in the microwave or on the stovetop.
Freeze: Allow the Pepper Steak to cool completely before placing it in an airtight container or ziplock freezer bag. You can freeze it for 2-3 months. If you are making this Pepper Steak as a freezer meal, undercook the vegetables a little so that they do not turn to mush when defrosted and reheated.
More Tasty Steak Dishes!
Watch Recipe Video Here
Full Recipe Instructions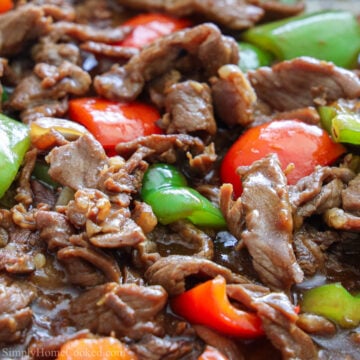 Pepper Steak Recipe
This Pepper Steak Recipe is easy to make and a great weeknight dinner. You'll love the savory mix of marinated steak and tasty vegetables.


Print
Pin
Rate
Ingredients
Ingredients for the Marinade
2

lb

steak

Ribeye, sirloin, or NY

2

garlic cloves

minced

1

tbsp

brown sugar

1/2

tsp

fresh ginger

minced

1/2

cup

soy sauce
Ingredients for the Sauce
Remaining Ingredients
1

red bell peppers

1

green bell pepper

1

medium onion

avocado oil

for frying
Instructions
Slice the beef into thin 2 inch slices. Try to slice the beef after placing it in the freezer for about 1 hour.

Place the sliced beef into a bowl then add 1/2 cup soy sauce, 2 minced garlic cloves, 1 tbsp brown sugar, and 1/2 tsp fresh ginger over the beef. This will be the marinade. Give it a quick stir to ensure that the beef is fully submerged in the marinade. Cover and let it sit for at least 2 hours in the refrigerator.

In a separate bowl combine 1/3 cup soy sauce, 1 cup beef broth, and 2 tbsp brown sugar, 2 pressed garlic cloves, and 1/2 tsp grated ginger.

Dissolve 2 tbsp beef broth with 2 tbsp cornstarch and whisk it into the rest of the sauce ingredients.

Heat about 2 Tbsp avocado or canola oil in a large 14-inch wok to high heat and cook the marinated beef in two separate batches. Cooking in separate batches will help prevent the meat from overcrowding and improperly cooking. Add a tablespoon of oil in between each batch.

Once the beef is fully cooked, remove from the wok and set aside.

In the same wok, stir fry the chopped onion and garlic for about 1-2 minutes on medium-high heat.

Then stir fry the chopped bell peppers. Don't overcook the vegetables. You want them to stay slightly crisp.

Add the beef back into the wok and pour the sauce over. Cook over medium-high heat for 3-5 minutes or until the sauce thickens. Serve over hot rice.
Notes
FAQs answered in the post above:
How to freeze pepper steak
How to make ahead of time
Add-ins and substitutes
Nutrition
Calories:
390
kcal
|
Carbohydrates:
15
g
|
Protein:
35
g
|
Fat:
22
g
|
Saturated Fat:
10
g
|
Polyunsaturated Fat:
1
g
|
Monounsaturated Fat:
10
g
|
Cholesterol:
92
mg
|
Sodium:
2032
mg
|
Potassium:
616
mg
|
Fiber:
1
g
|
Sugar:
8
g
|
Vitamin A:
718
IU
|
Vitamin C:
43
mg
|
Calcium:
36
mg
|
Iron:
4
mg
This recipe was originally published on September 5, 2016, but we have tweaked it a bit since then.