This Shrimp Tempura Roll recipe is just like the kind you would eat at a fancy sushi restaurant or Japanese steakhouse. It's loaded with crispy fried shrimp tempura and tons of delicious fillings.
Be sure to follow my easy shrimp tempura recipe and sushi rice recipe for the best homemade shrimp tempura roll ever!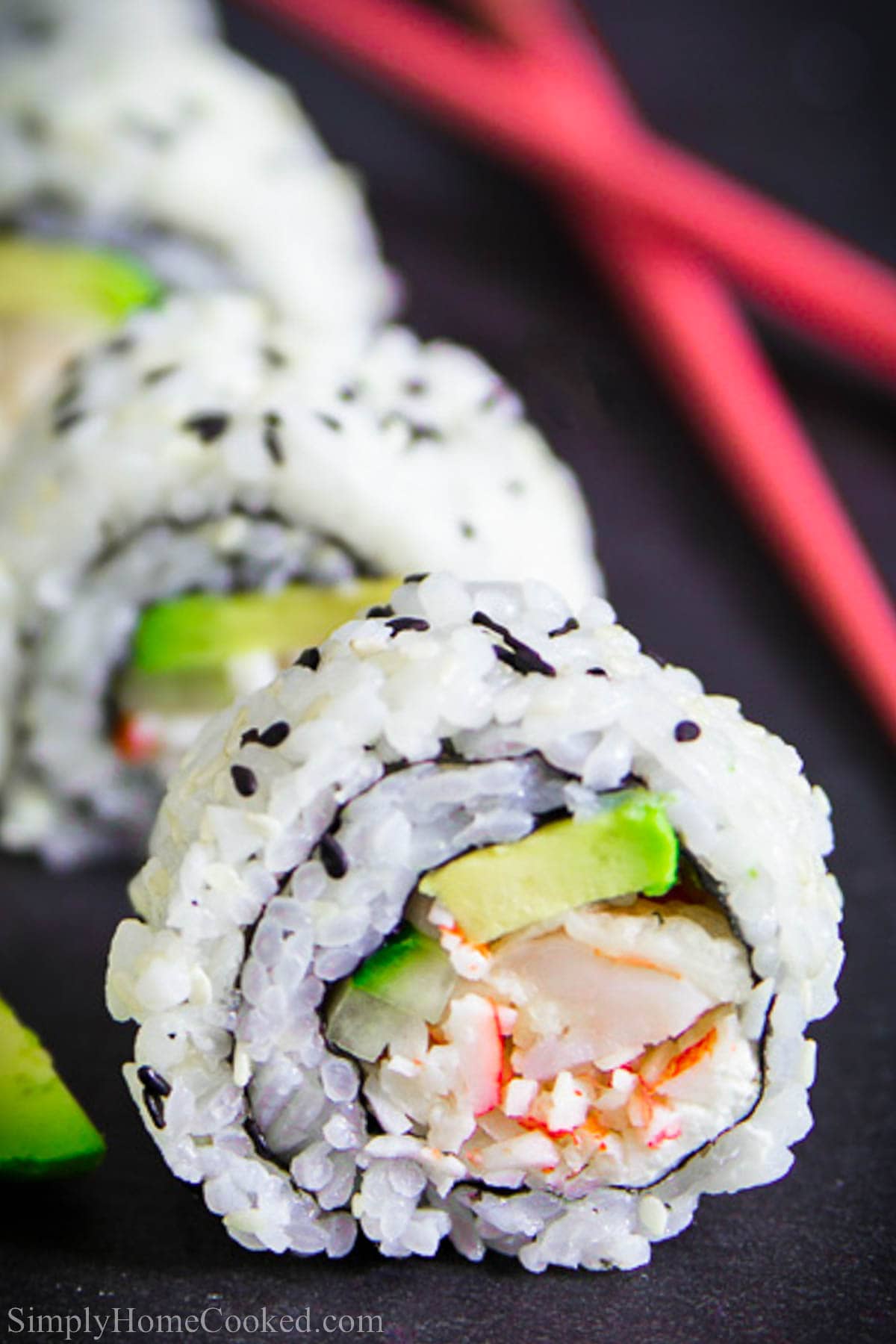 Table Of Contents
Recipe Details
We always order Shrimp Tempura Roll when eating out at our favorite Japanese restaurant. Now, this copycat recipe has become a family favorite.
TASTE: Savory shrimp, fresh vegetables, and a rich crab mixture give this roll lots of flavor.
TEXTURE: The crunchy outside of the tempura shrimp is a delicious contrast to the creamy crab and avocado and crisp cucumber.
TIME: This takes just under an hour to make.
EASE: Sushi can be a little intimidating, but this recipe is really easy to follow. Follow my lead and you'll be wowing your friends with homemade rolls in no time!
What You'll Need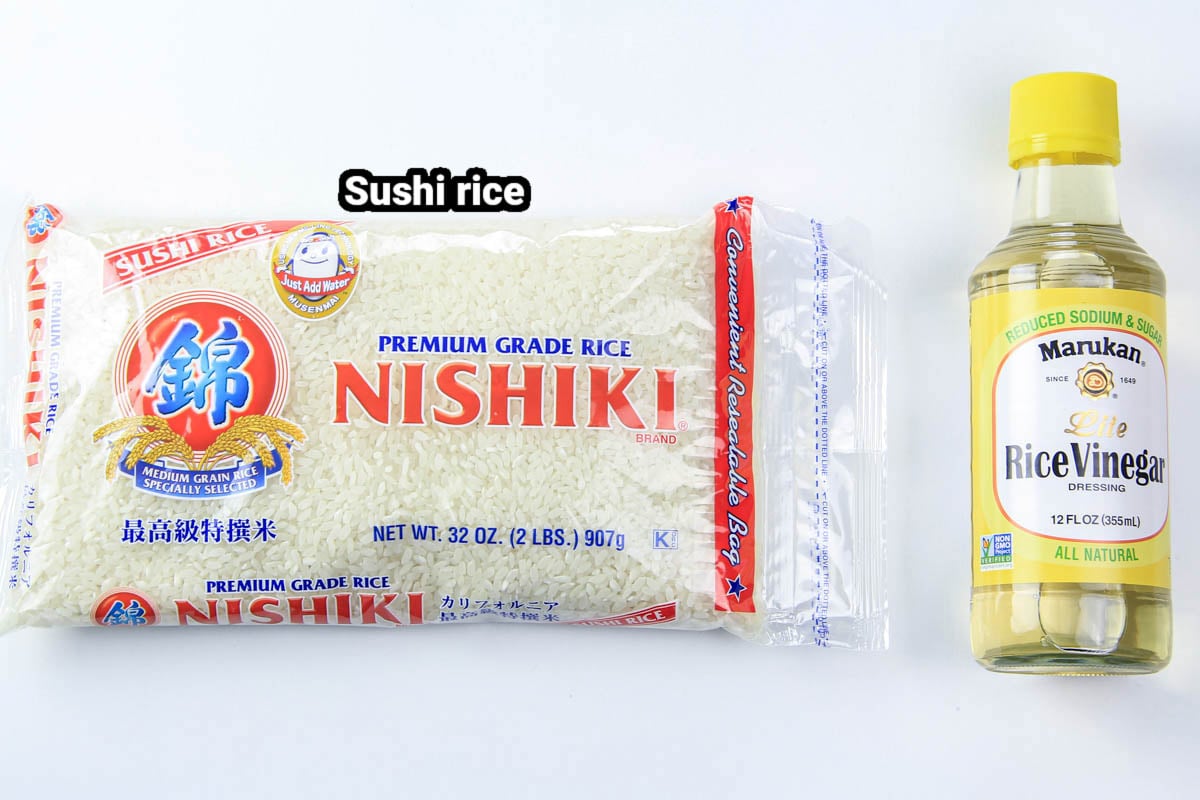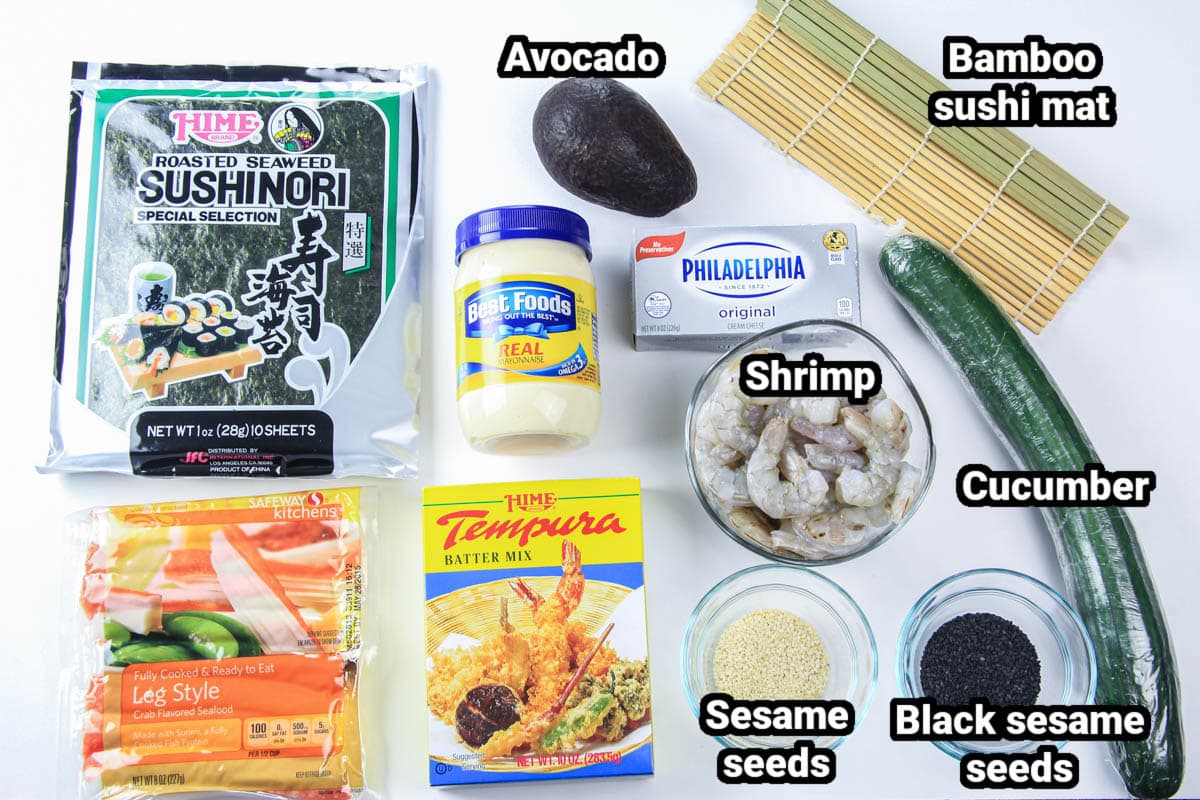 Ingredient Notes
Sushi rice– This is a combination of seasoned rice vinegar and short-grain rice. The starch helps hold the roll together and it has a tangy flavor.
Tempura batter mix– This gives the shrimp a light and crusty layer.
Shrimp- You'll want the large ones, peeled and deveined.
Imitation crab sticks– This ingredient has the best texture for a sushi roll, so don't substitute fresh crab.
English cucumber– These are slightly sweeter and have thinner skins that regular slicing cucumbers.
Cream cheese– Use full-fat for extra creaminess.
Toasted nori seaweed sheets– These are used to roll the shrimp and fillings up.
Black and white sesame seeds– These both have variations of a nutty flavor.
Bamboo sushi mat– This is what we use to roll everything up tight.
Add-ins and Substitutions
Use a different wrap- You can make this Shrimp Tempura Roll with soy paper or wrapped in finely sliced cucumber in place of the nori seaweed.
Add sauces- Make this roll with teriyaki sauce, ponzu sauce, Unagi eel Sauce, Yum Yum Sauce, or Spicy Mayo.
Substitute another seafood- Instead of shrimp, you can make this with salmon, yellowtail, tuna, or spicy crab.
Add different vegetables- Besides cucumber and avocado, try this roll with radish, celery, or carrots.
How to Make Shrimp Tempura Roll
Make rice. Rinse the rice about 2-3 times and cook it in a rice cooker.
Separate the rice. Spread the rice onto a baking sheet and cut through it using a rice paddle.
Add rice vinegar. Evenly drizzle seasoned rice vinegar over the rice and cut and scoop through the rice some more to mix it.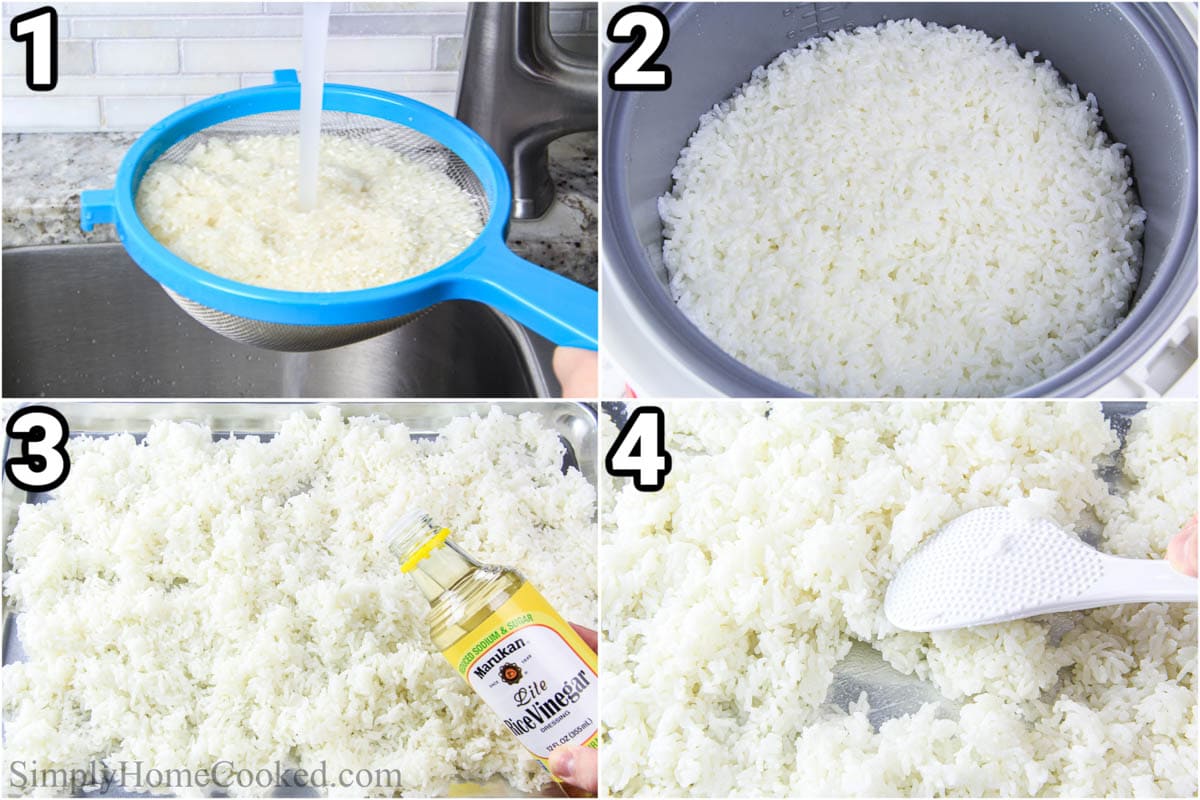 Prepare the shrimp. Make shallow slits into the inner part of each shrimp. I usually make 5 slits for each shrimp. Then mix the dry tempura mix with ice cold water. Pat the shrimp dry and dip them into the batter.
Fry them. Fry the battered shrimp in the hot oil until golden brown.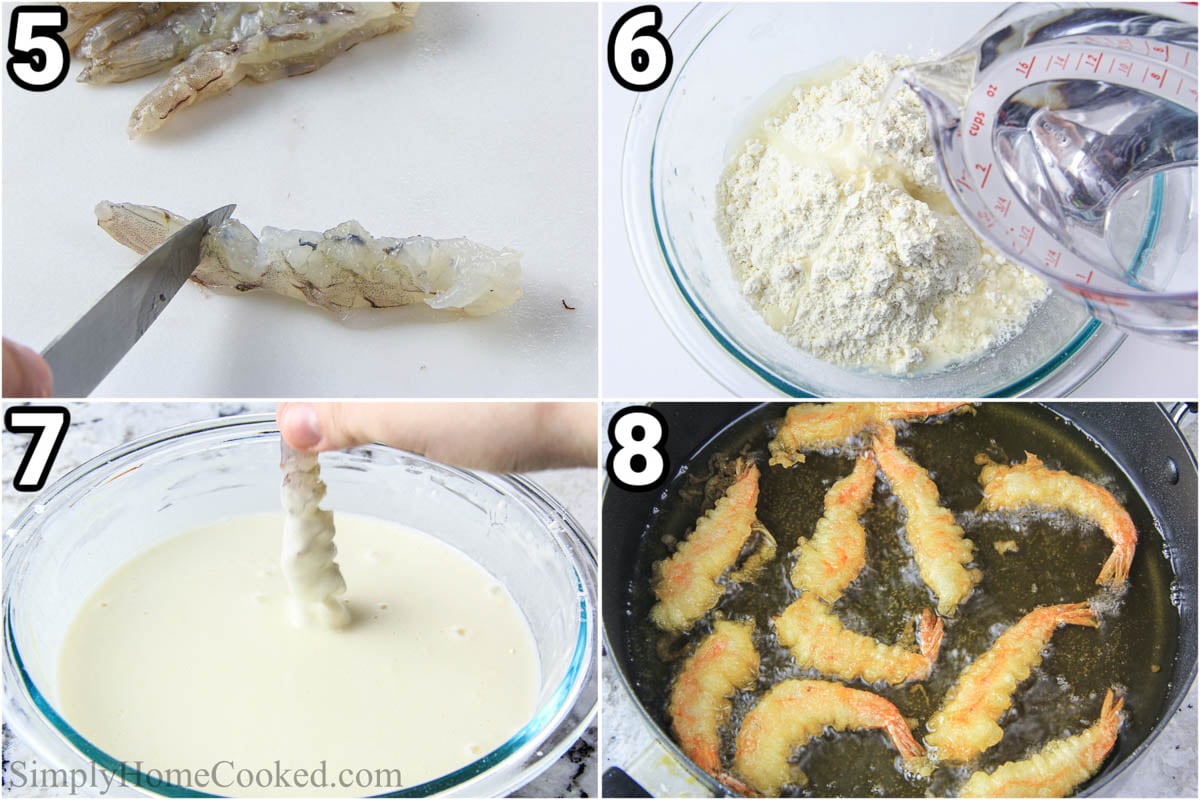 Mix the crab. Combine the finely chopped imitation crab with mayonnaise.
Prep the fillings. Slice the cucumber, avocado, cream cheese, and fried shrimp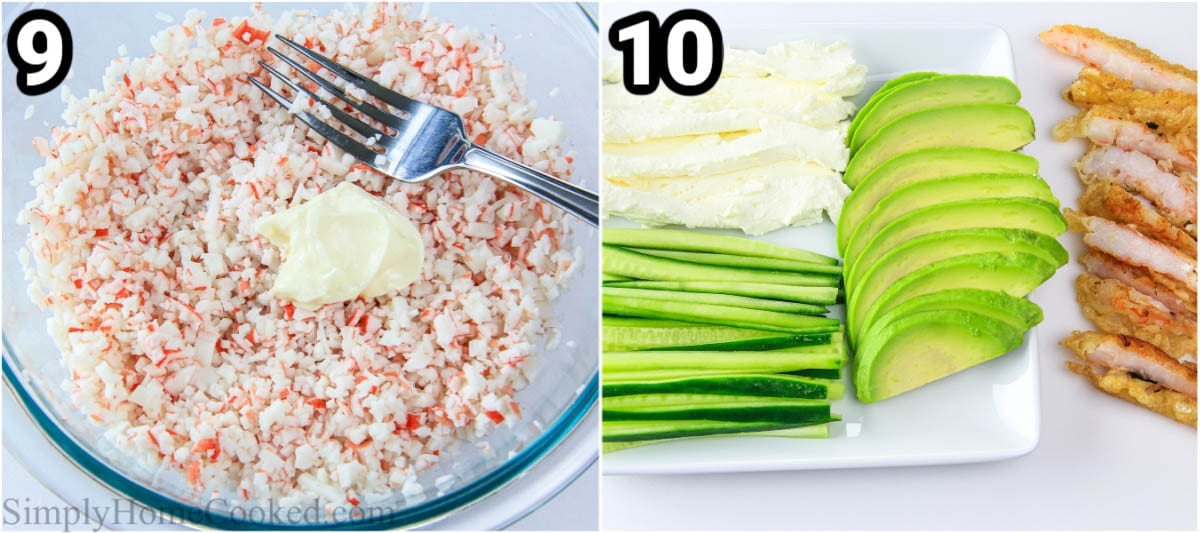 Add the rice to the nori. Using wet hands, evenly spread the sushi rice over the sheet of nori, and then add black and white sesame seeds.
Assemble the shrimp tempura roll. Flip the rice-covered nori onto a sushi mat lined with plastic wrap. Then add all the sliced fillings and roll the sushi up tightly. Now you know how to make a shrimp tempura roll!
Pro Tip: Save yourself clean up time by lining the bamboo mat with plastic wrap. This keeps sticky rice from getting squished into it as you roll.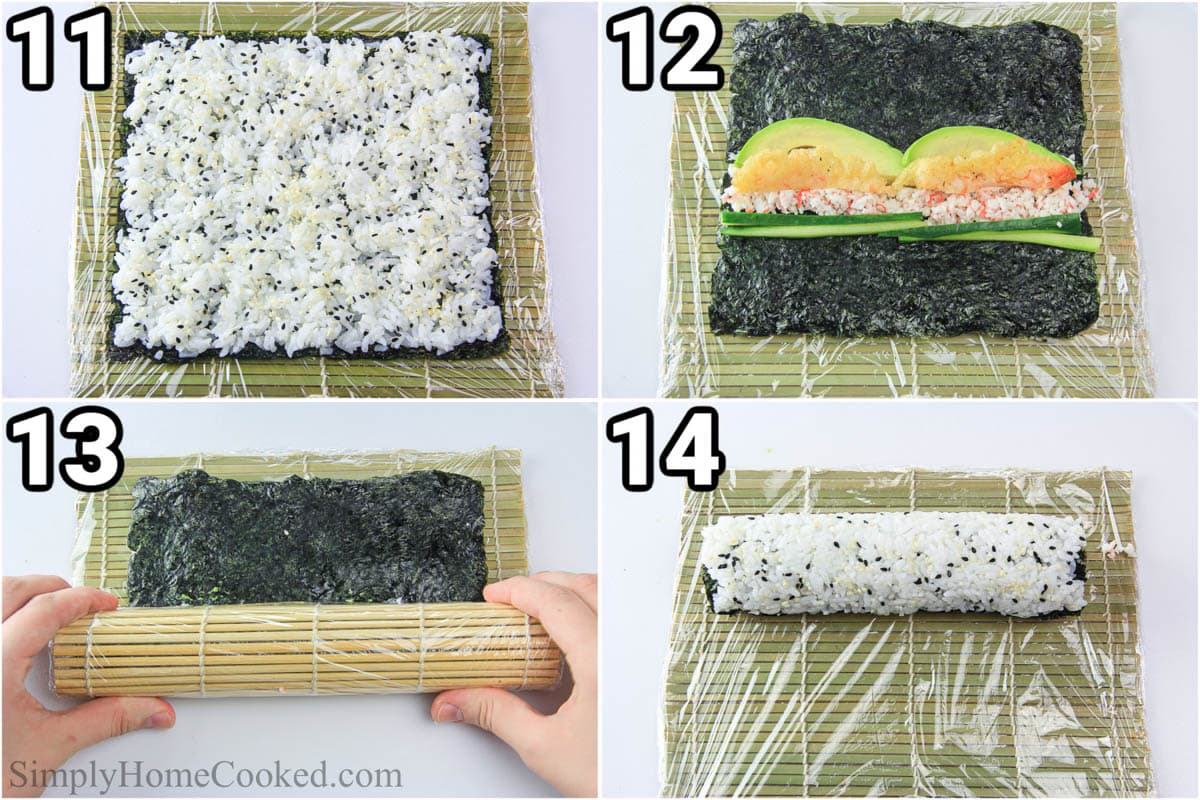 Recipe Tips
Wash the rice- Doing this removes some of the surface starch so the rice doesn't become gooey when it cooks.
Slit the shrimp- Don't forget to do this because it will prevent them from curling during the frying process. You need them straight in order to add them to the roll.
Use ice cold water for the tempura- Very cold water keeps gluten from forming, which would keep the tempura batter from getting really crispy.
Use wet hands- When you're spreading the rice, make sure your hands are wet to avoid it sticking to your hands instead of the nori.
FAQs
Is shrimp tempura roll cooked or raw?
The shrimp and crab in a shrimp tempura roll are fully cooked. Only the vegetables are raw.
Why isn't my tempura crispy?
If your tempura isn't crispy, it is probably because gluten has formed. If your tempura batter contains corn starch or potato starch already (these help it get crispy) then make sure you are mixing it with ice cold water to keep gluten from forming.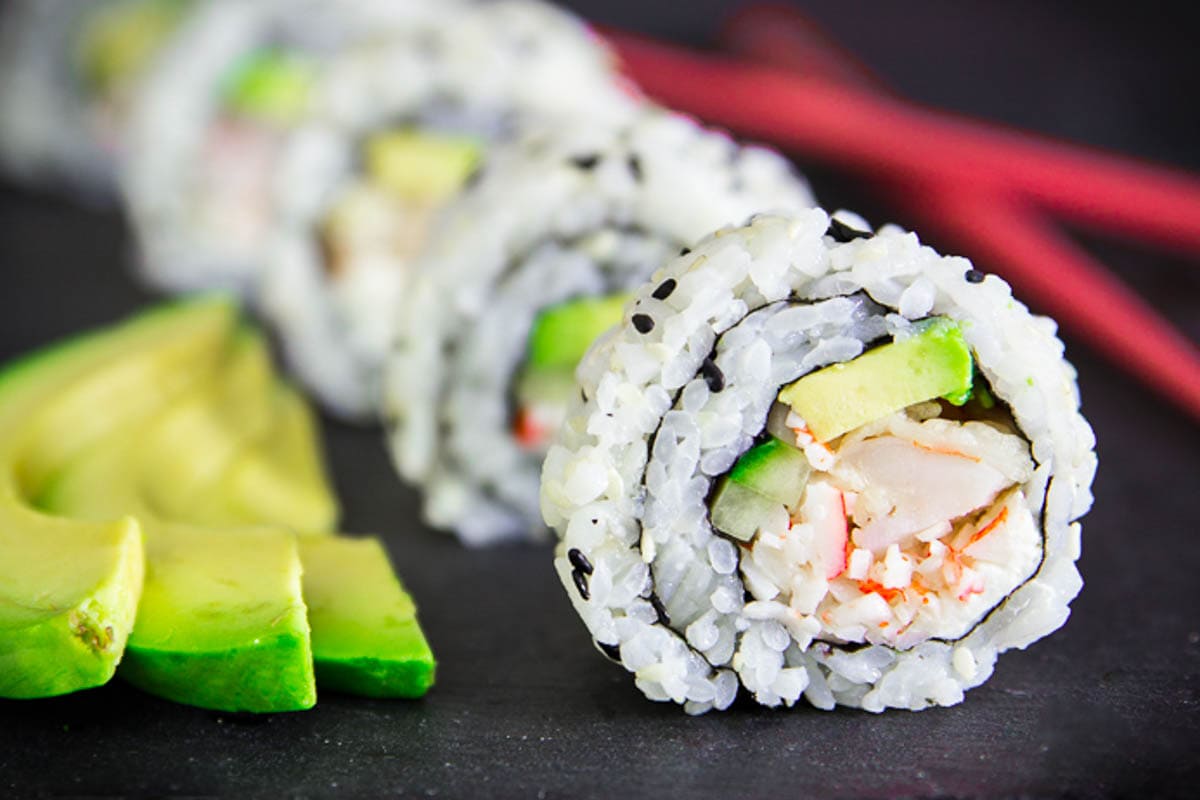 Serving Suggestions
This Shrimp Tempura Roll is a delicious appetizer or meal that can be served with other sushi, sides, or dessert. It has great versatility so you have lots of options.
Make This Recipe in Advance
Make ahead: You can fry the shrimp tempura, chop the fillings, and make the sushi rice ahead of time. Just store everything covered in the fridge. You can flash fry the shrimp to get it crispy again.
Storing: Store this Shrimp Tempura Roll in the refrigerator in an airtight container for up to 2 days. After that, the rice starts to harden and isn't as good.
Freeze: I don't recommend freezing this because the texture will thaw in an unappealing way. And if the shrimp was previously frozen, it can't be frozen again once thawed.
More Yummy Japanese Dishes!
This recipe was originally posted on May 18, 2015, we've tweaked it a bit since then.
This post has Amazon affiliate links for tools we used to make this recipe.
Full Recipe Instructions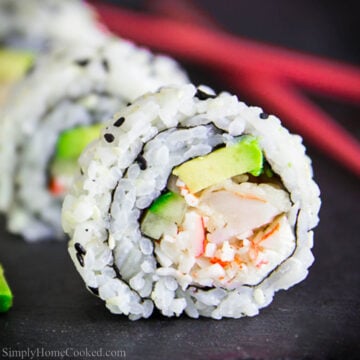 Shrimp Tempura Roll
This shrimp tempura roll recipe is just like the kind you would eat a fancy sushi restaurant or Japanese steak house. Its loaded with crispy fried shrimp tempura and tons of delicious fillings.
Print
Pin
Rate
Ingredients
1 1/2

cup

sushi rice

2

cups

water

1/4

cup

seasoned rice vinegar

Marukan

1

lb

large shrimp

peeled and deveined

8

oz

imitation crab sticks

2

Tbsp

mayonnaise

1

avocado

ripened but not brown

1

English cucumber

4

oz

cream cheese

black and white sesame seeds

corn oil for deep frying
Instructions
Rinse the sushi rice about 2-3 times and place it in a rice cooker. Cook the 1 1/2 cups sushi rice with 2 cups of water. Once it's done, transfer it onto a large baking sheet. Using a rice paddle gently cut through the rice. Scoop the rice up and flip it over. Evenly drizzle the rice vinegar into the cooked rice and continue cutting and scooping the rice with the rice paddle until it cools down.

While the rice is cooling, make the tempura batter according to the package. In a large skillet pour oil to a depth of 2 inches. Dip each shrimp in the tempura batter and cook the shrimp over medium-high heat. Make sure not to overcook the shrimp. Fry the shrimp in batches for 2-3 minutes per batch.

Once the shrimps are done set them aside to cool.

Finely chop up the imitation crab and combine it with mayonnaise. Slice the avocado, and cut the cucumber into thin julienned pieces. I buy the cream cheese in the packaged form. Using a sharp knife to cut the cream cheese into long strips.

Next, slice each tempura battered shrimp in half so that you have two identical pieces.

Cover the sushi mat with plastic wrap and place one sheet of toasted nori in the middle. Drench your hands with water and grab a handful of rice. Begin spreading the rice over the nori, making sure to cover the entire sheet with a thin layer. Be careful not to press on the rice too hard, or you'll end up with a mashed-up mess. It really helps to constantly rewet your hands because the rice can be very sticky. I just pour water into a bowl and dip my hands in there as needed.

Once the rice is evenly spread, sprinkle black and white sesame seeds and flip the nori over. In the middle of the nori sheet, place about 2 tbsp of imitation crab, 2 slices of cucumber, 2 slices of avocado, 1 strip of cream cheese, and 2 tempura shrimp halves.

Now this is the tricky part. While turning in the front of the nori with the sushi mat, slightly compress the inner ingredients. Keep rolling the sushi with the sushi mat, making sure to keep the roll tight.

Using a sharp wet knife, cut each sushi roll into 8 equal pieces.
Nutrition
Calories:
419
kcal
|
Carbohydrates:
52
g
|
Protein:
11
g
|
Fat:
18
g
|
Saturated Fat:
6
g
|
Cholesterol:
84
mg
|
Sodium:
299
mg
|
Potassium:
384
mg
|
Fiber:
4
g
|
Sugar:
2
g
|
Vitamin A:
555
IU
|
Vitamin C:
7.6
mg
|
Calcium:
79
mg
|
Iron:
1.9
mg