This Hibachi Fried Rice is savory and delicious. With lightly browned rice, flavorful sauces, and rich butter, it's a versatile recipe that makes a tasty side or main dish.
Serve this hibachi fried rice with some homemade yum yum sauce and crispy shrimp tempura.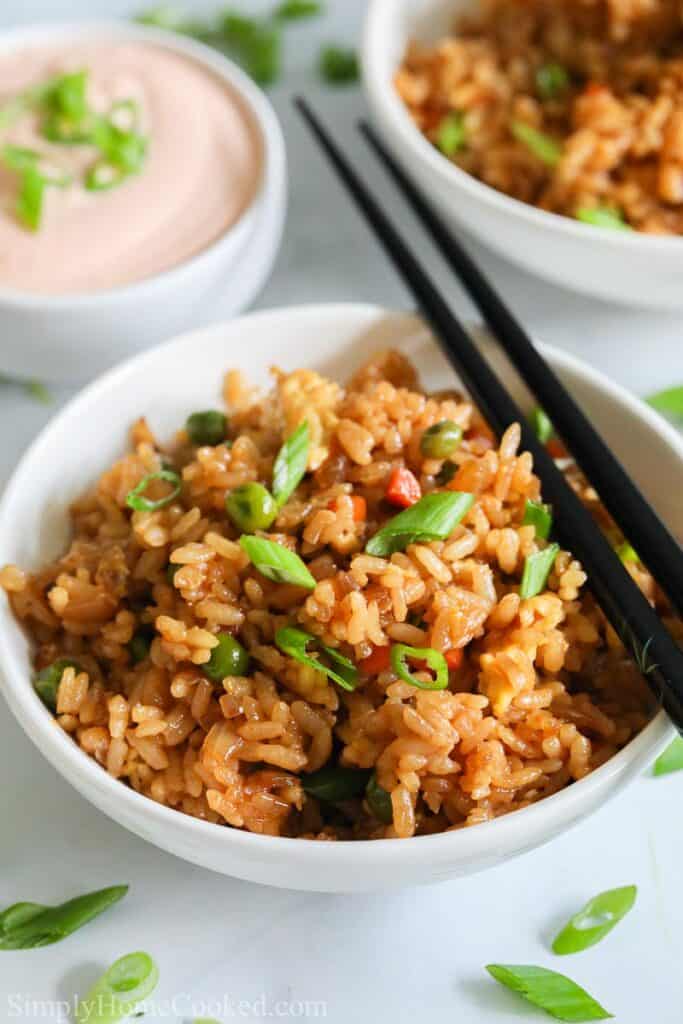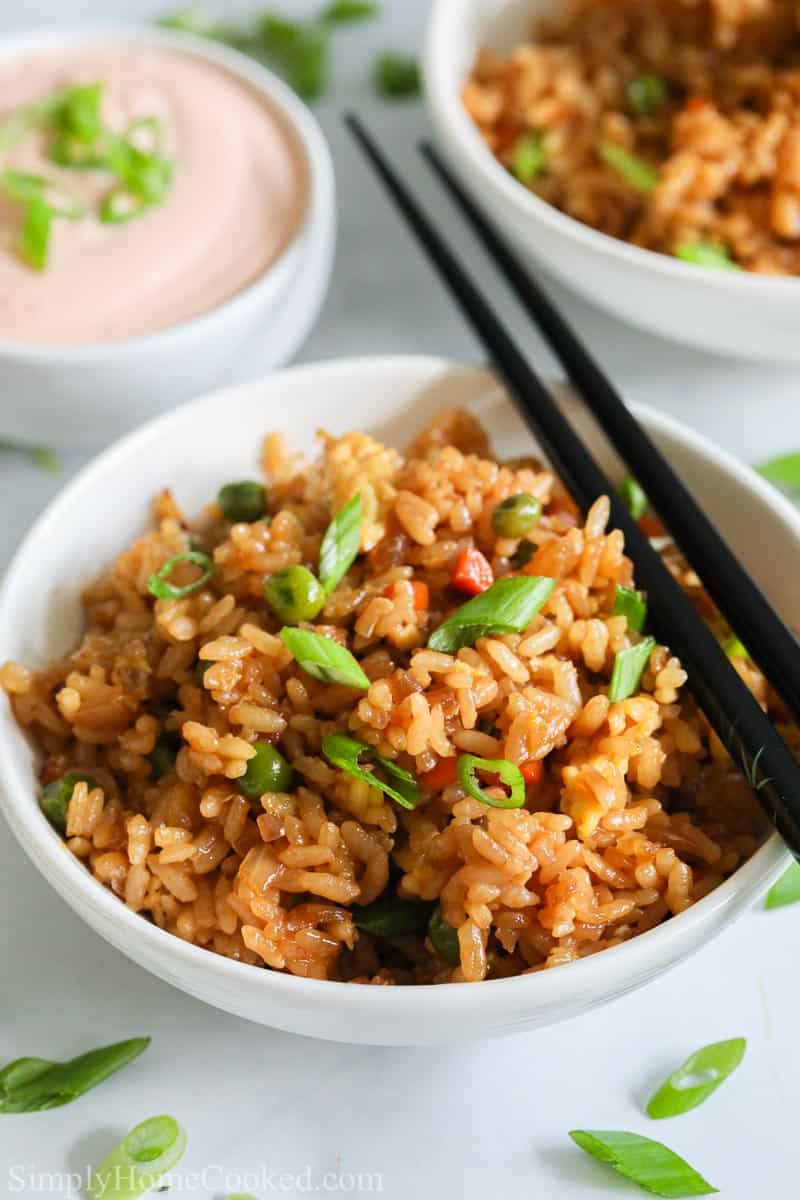 Table Of Contents
Why This Is The Best Hibachi Fried Rice
Hibachi Fried Rice is a tasty mix of Calrose rice, butter, and soy sauce, along with other flavorful ingredients, that are cooked over high heat in a wok. This Japanese fried rice is a little different from Chinese fried rice as it uses butter and a different type of rice. If you haven't tried it before, you're going to love the savory flavors, textured rice, and umami sauces that make this dish so delicious. This recipe is easy to make and very versatile, so you can make it just right for you and your family.
What You'll Need
This Hibachi Fried Rice recipe will use Calrose rice (uncooked), Water, Avocado oil, Garlic (minced), Onion (diced), Carrot (diced), Frozen peas, Eggs, and Salt and Pepper to taste. For the sauce, you'll need Unsalted butter, Soy sauce, Toasted sesame oil, and Teriyakihttps://amzn.to/3r6CemZ sauce. Chopped Green onion is for garnish.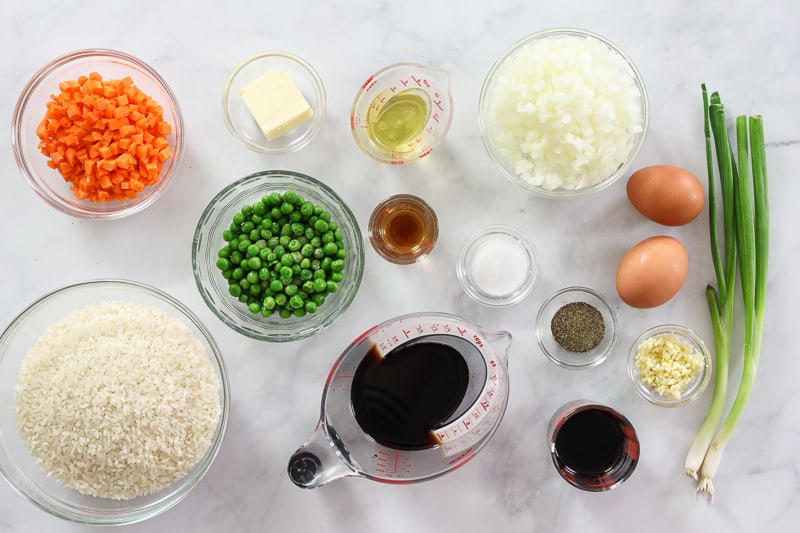 How To Make Hibachi Fried Rice
Cook the rice FIRST. Cook the rice with 2 cups of water in a rice cooker. When it's done, take it out and let it cool completely.
Cook the vegetables. While the rice cooks, add the avocado oil to a large 14-inch wok over high heat. Add the minced garlic, diced onion, and diced carrot. Stir with a wooden spoon for 2-3 minutes until the onion becomes translucent. Then add the frozen peas and stir for 1-2 minutes.
Add the sauce ingredients. To the wok, add the butter, sesame oil, soy sauce, and teriyaki sauce. Stir quickly to combine the sauce with the vegetables.
Add the rice. Once the sauce is simmering, add in the cooled rice and stir it in over high heat until it's well-coated with sauce.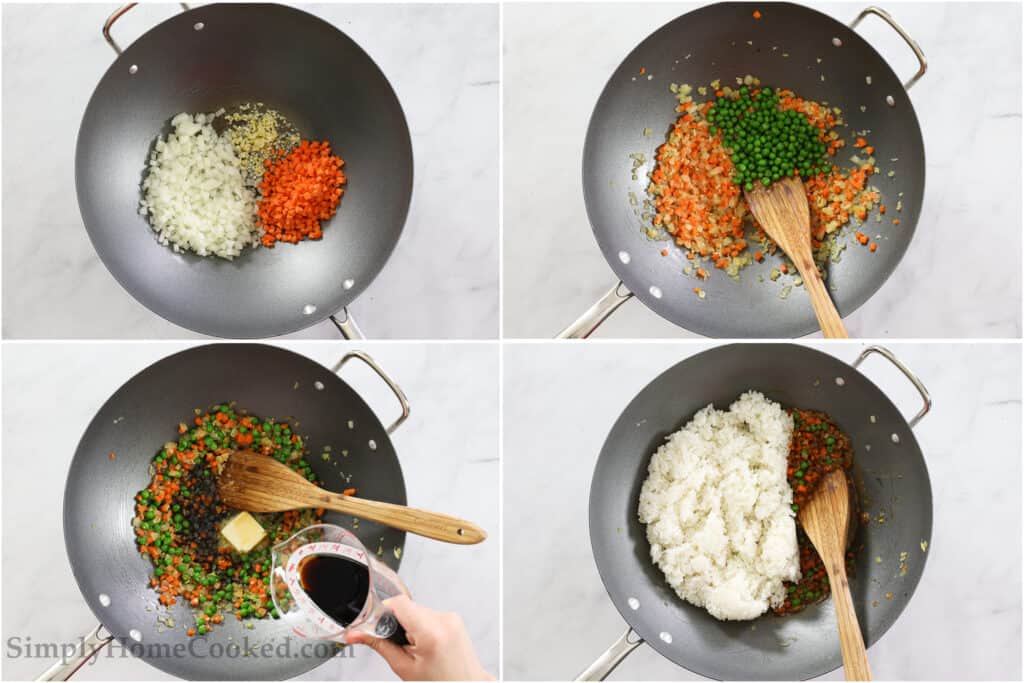 Add the egg mixture. In a small bowl, whisk up the eggs with a pinch of salt and pepper. Then push the hibachi fried rice to the sides of the wok and expose the center. Pour the egg mixture in the middle.
Stir, garnish, and serve. Stir until the eggs are scrambled and cooked, then mix them with the rest of the fried rice. Garnish with chopped green onions and serve warm with some yum yum sauce.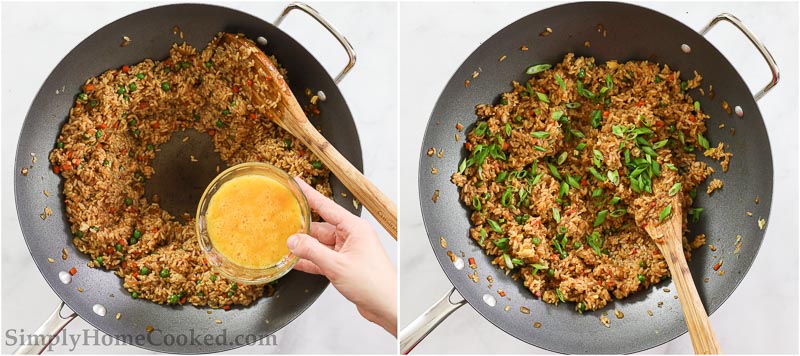 Tips For The Making Great Hibachi Fried Rice
Your rice should be fully cooked and cooled before using– You want to make sure that the rice is fully cooled once you've cooked it. Otherwise, your hibachi fried rice will be mushy when it's put together with the other ingredients.
Chop up vegetables ahead of time. When making fried rice, you need to work quickly. So having your ingredients prepped in advance is really important.
Use high heat. This helps brown the rice and vegetables in the wok and also keeps the hibachi fried rice from steaming as it would at a lower temperature.
Cook the eggs right in the wok. Making the scrambled eggs right in the middle of the fried rice allows it to take on the flavors of the dish as well as keep the rice from getting dry.
Add-ins And Substitutes
Substitute other vegetables– There are so many variations on hibachi fried rice, so you can make substitutions to your taste. Try bok choy, spinach, broccoli, or even kimchi in this recipe.
Add meat– You can add meat to this rice if you'd like, such as diced sausage, shrimp, pork, or chicken.
Try another sauce– Oyster sauce, Sriracha, and Mirin (or rice wine vinegar) are all popular options.
How To Store And Reheat Fried Rice
To store leftover Hibachi fried rice, place it in an airtight container in the refrigerator. It will stay fresh for 5-7 days. When you are ready to reheat it, you can do this either in the microwave, or you can add some butter to a wok on the stove top or a pan in a 350-degree oven. Heat until warmed through.
More Asian-inspired recipes!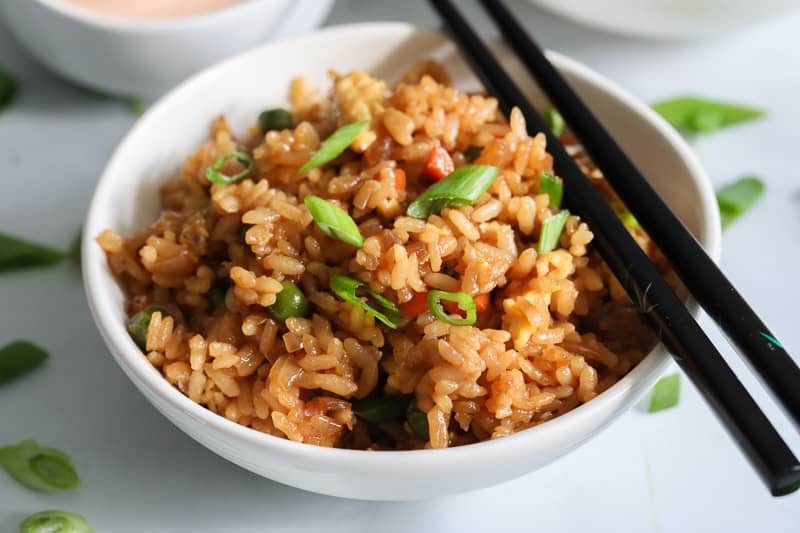 Full Recipe Instructions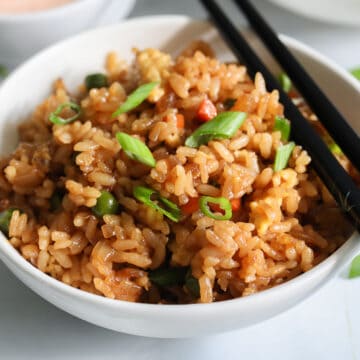 Hibachi Fried Rice Recipe
This Hibachi Fried Rice recipe is easy, savory, and delicious. You'll love how versatile it is and the amazing flavors of this satisfying dish.
Print
Pin
Rate
Instructions
Notes
Tips To Make Great Fried Rice
Your rice should be fully cooked and cooled before using– You want to make sure that the rice is fully cooled once you've cooked it. Otherwise, your hibachi fried rice will be mushy when it's put together with the other ingredients.
Chop up vegetables ahead of time. When making fried rice, you need to work quickly. So having your ingredients prepped in advance is really important.
Use high heat. This helps brown the rice and vegetables in the wok and also keeps the hibachi fried rice from steaming as it would at a lower temperature.
Cook the eggs right in the wok. Making the scrambled eggs right in the middle of the fried rice allows it to take on the flavors of the dish as well as keep the rice from getting dry
Nutrition
Calories:
283
kcal
|
Carbohydrates:
43
g
|
Protein:
7
g
|
Fat:
9
g
|
Saturated Fat:
3
g
|
Cholesterol:
48
mg
|
Sodium:
993
mg
|
Potassium:
189
mg
|
Fiber:
2
g
|
Sugar:
3
g
|
Vitamin A:
1553
IU
|
Vitamin C:
6
mg
|
Calcium:
36
mg
|
Iron:
1
mg