This Easy Pasta Primavera is a tasty vegetarian meal that's so satisfying. Made with fresh vegetables, al dente pasta, and salty Parmesan, this pasta dish is light and delicious.
If you're looking for more pasta inspiration, you should try this chicken bacon ranch pasta and garlic shrimp alfredo.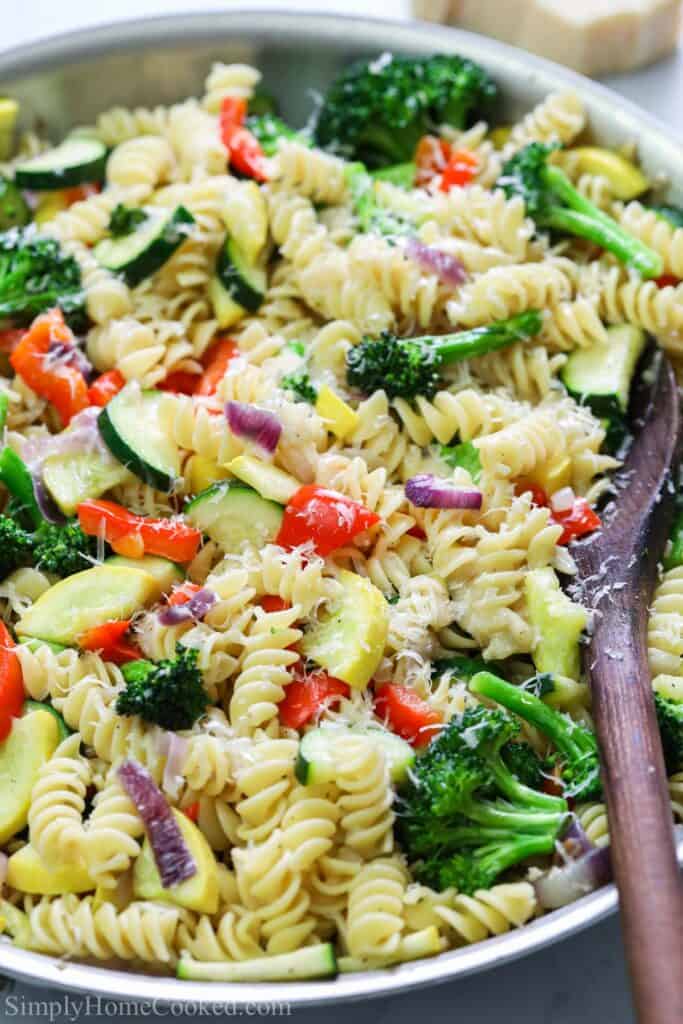 Table Of Contents
Pasta Primavera Recipe Details
This easy Pasta Primavera is a vegetarian pasta that is as colorful and delicious as it is healthy. I love the way all the ingredients work together to make this dish a family favorite.
Taste- Bright and bursting with different flavors, the variety in this Pasta Primavera is delicious.
Texture- Al dente pasta tossed with various vegetables and melted Parmesan gives this dish so many layers of texture.
Ease- This Pasta Primavera recipe is easy to follow and uses simple ingredients for the best flavor.
Time- Besides being easy to make, this meatless pasta dish only takes about 20 minutes to prepare – perfect for busy nights!
What you'll need
Pasta- Rotini
Vegetables- Garlic cloves, Red onion, Broccoli florets, Red bell pepper, Zucchini, and Yellow squash
Sauce- Olive oil, Salt (to taste), Black pepper, Parmesan cheese (grated), and reserved pasta water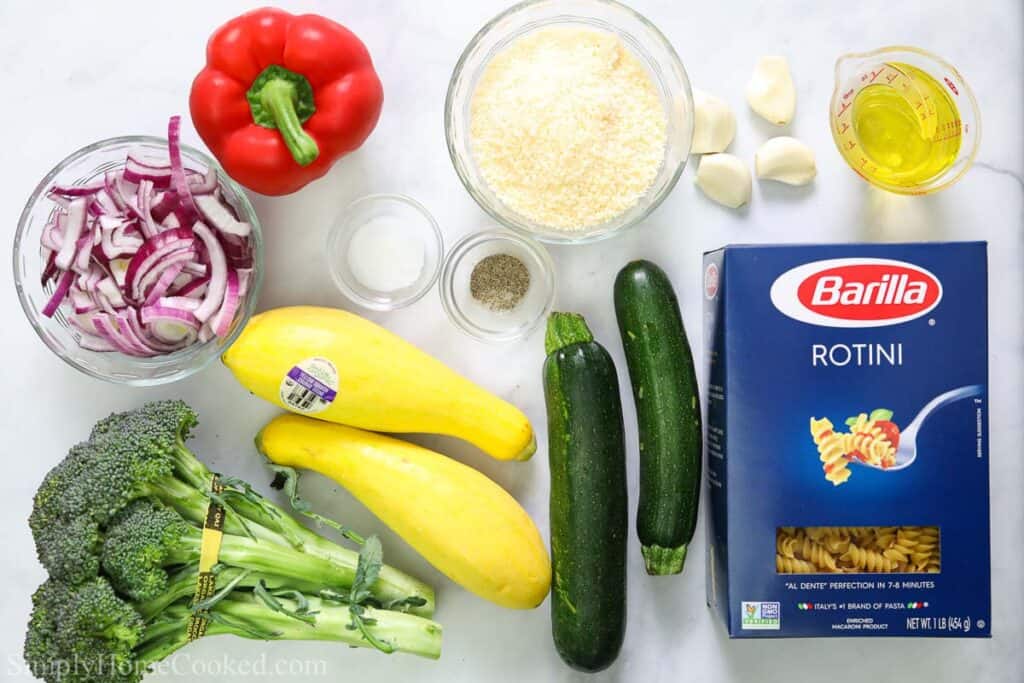 How to Make Pasta Primavera
Cook the pasta. Cook the rotini pasta in a pot of salted boiling water until al dente. Make sure to reserve at least 1/2 cup of pasta water for later.
Saute the garlic. Add olive oil to a pan over medium-high heat. Once it's warm, add the minced garlic cloves and let them sizzle for a few seconds while stirring.
Add the onion. Now add the chopped onion and stir until the onion becomes tender.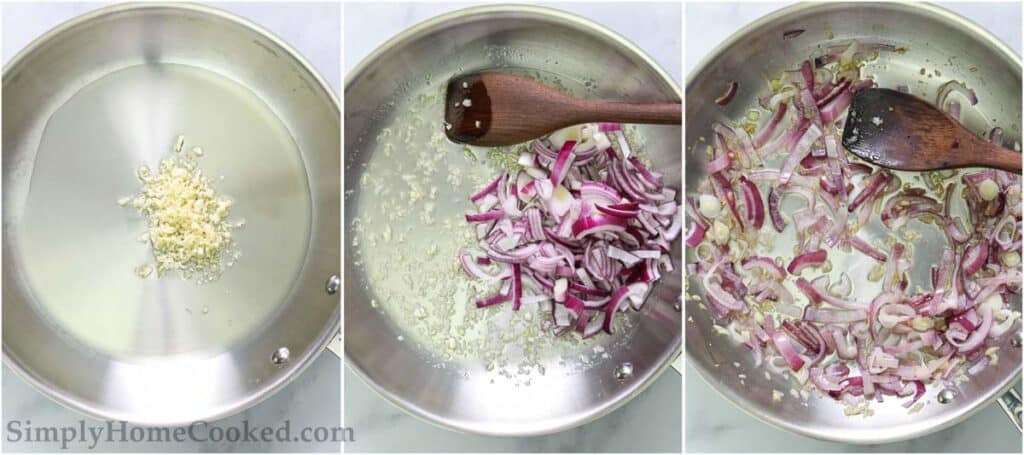 Add in the broccoli and red pepper. Then add the broccoli florets and sliced red bell pepper. Saute them for a few minutes, until they become tender as well.
Now add the zucchini, squash, and seasonings. Saute the sliced zucchini and yellow squash with salt and pepper for about 2 minutes.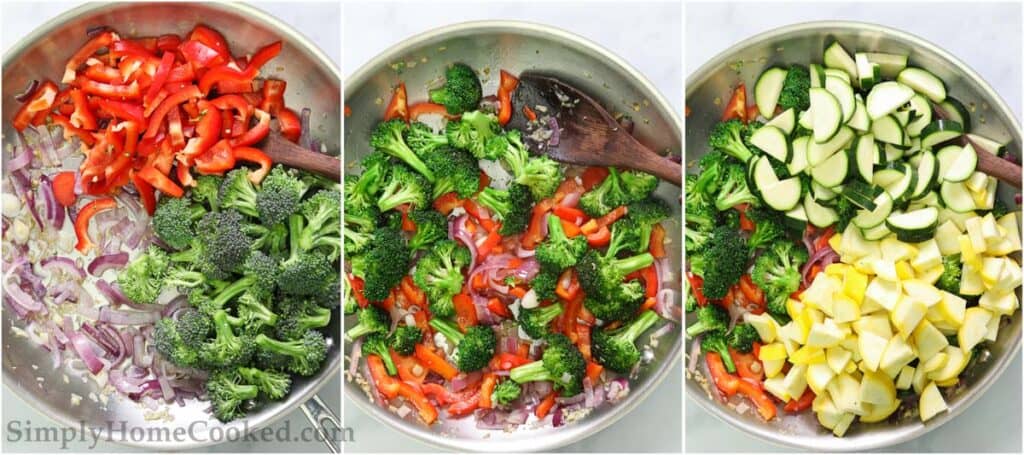 Combine with pasta, cheese, and water. With the vegetables done, add the cooked rotini, grated Parmesan cheese, and reserved hot pasta water. Stir everything together until the cheese melts. Serve.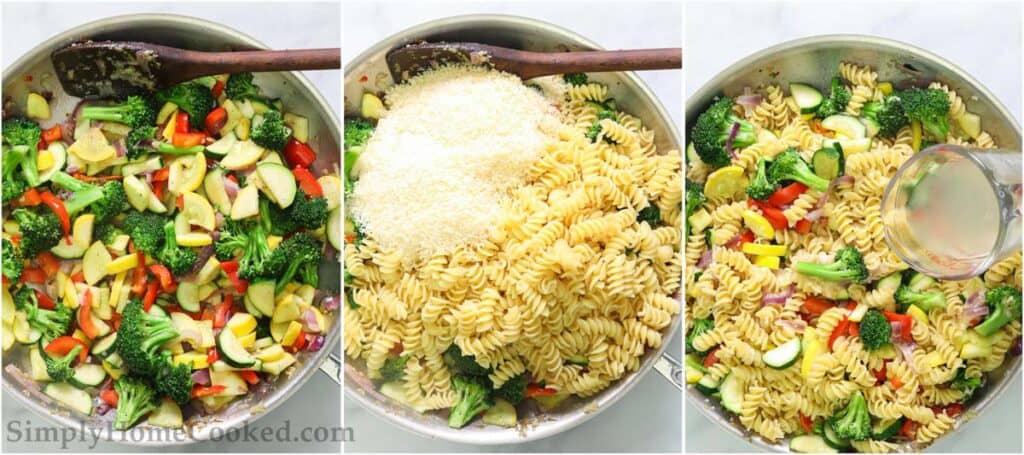 Recipe Tips
Pre-cut the vegetables– Because you will be sauteing your veggies one after another, there won't be time to cut as you go. Prep them ahead so you can focus on stirring and tenderizing what's in the pan.
Don't skip the pasta water- Olive oil will slide right off your pasta without something to make it stick. That's what the pasta water does, so don't forget to reserve some after cooking.
Stir well when the Parmesan is added- Parmesan cheese is a dry cheese so it won't melt as quickly as others. Keep stirring until it has melted and all the ingredients have been well combined.
Add-ins and Substitutions
Add meat- If you want to make this pasta with meat, you can add cubed chicken, steak, or chopped bacon. Just cook and cut the meat and add it in at the end of the cooking process.
Substitute different veggies- Use your favorite vegetables, including asparagus, Brussels sprouts, olives, etc. This dish is very versatile and works well with most veggies.
Use a different sauce- If you prefer a sauce with a tomato base, or maybe one that uses lemons and capers, then go ahead and substitute it.
Change up the pasta- If rotini isn't your favorite or you have none on hand, you could also use other pasta types, like penne, linguine, or spaghetti.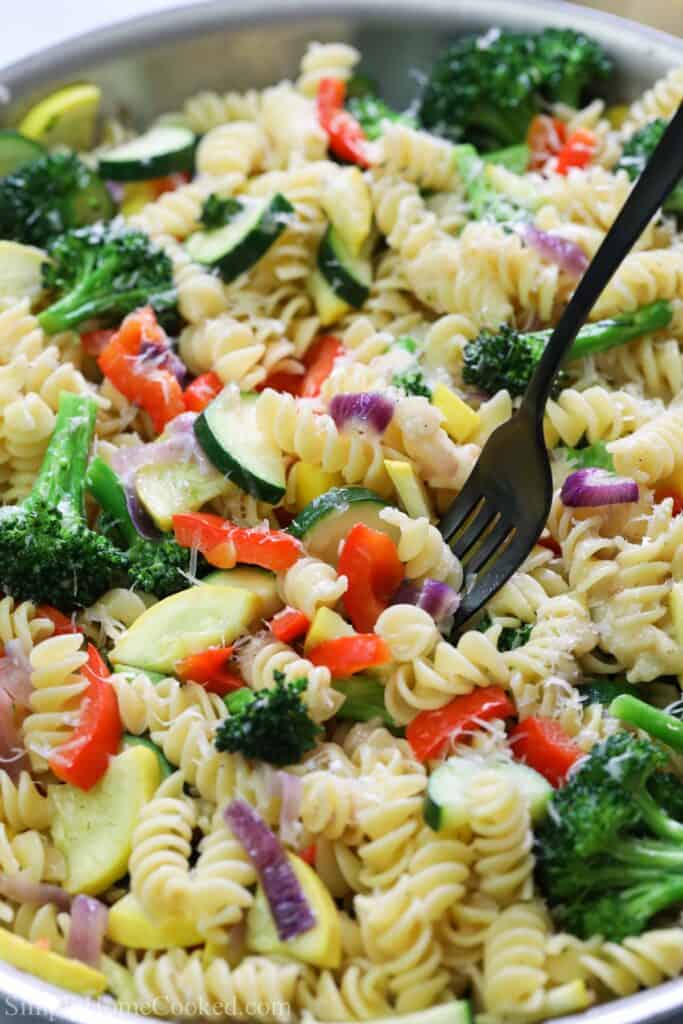 FAQs
What type of vegetables goes best in pasta primavera?
Red bell pepper, Zucchini, Yellow squash, Red onion, Garlic cloves, and Broccoli florets are what I use in my pasta primavera, but you could also add asparagus, cherry tomatoes, Olives, and more.
Why add pasta water to sauce?
Adding leftover water from cooking your pasta not only adds some salty flavor, but the starch in it also thickens your sauce and helps it stick to the pasta.
Serving Suggestions
This Pasta Primavera is so flavorful and goes well with lots of other dishes. Here are a few tasty serving ideas to try: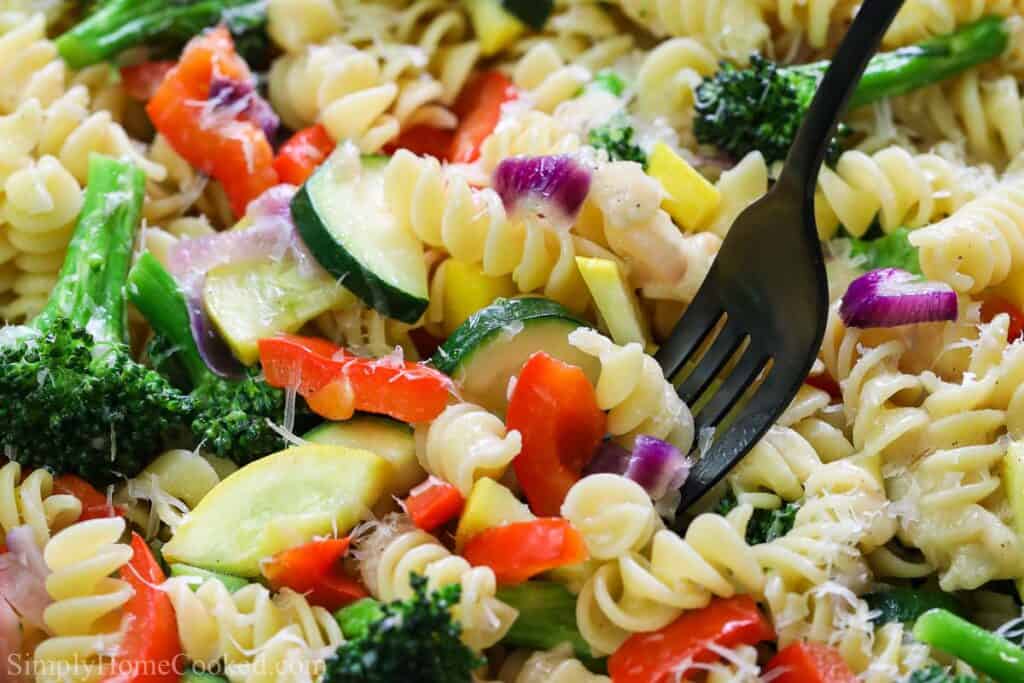 Make This Pasta Primavera in Advance
Make ahead: To prep this dish ahead, chop, grate, and mince the vegetables and cheese and store in the fridge until you are ready to saute. You can also cook the pasta and then store it as well.
Storing: Store this pasta in an airtight container in the refrigerator for 3-5 days.
Freeze: Transfer any leftovers to an airtight container and lay it flat in the freezer. Once frozen, store it vertically to save space. It will last for up to 3 months. To reheat, you can use the microwave or warm it in a pan on the stove top.
More Perfect Pasta Dishes!
Full Recipe Instructions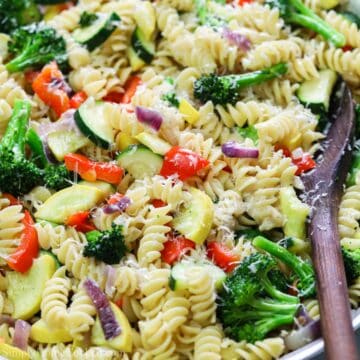 Easy Pasta Primavera
This Easy Pasta Primavera is a delicious vegetarian dish that is full of flavor. Melted Parmesan and lots of fresh vegetables make for a tasty pasta dinner.
Print
Pin
Rate
Ingredients
1

lb

rotini pasta

4

tbsp

olive oil

4

large garlic cloves

1/2

red onion

1 1/2

cup

broccoli florets

1

red bell pepper

1

zucchini

1

yellow squash

1/2

tsp

salt

Or to taste

1/8

tsp

black pepper

1

cup

grated Parmesan

1/2

cup

pasta water
Instructions
 Cook 1 pound of rotini pasta in a pot of salted boiling water until al dente. Make sure to reserve at least 1/2 cup of pasta water. 

Add 4 tablespoons of olive oil into a pan, and let it heat up to medium-high heat. Then add for minced garlic cloves let them sizzle for a few seconds while stirring.

Then add half of a red chopped onion and stir until the onion becomes tender.

No add in 1 1/2 cups of broccoli florets and with 1 sliced red bell pepper and sauté few minutes until the vegetables become tender. 

Now add one sliced zucchini along with one sliced yellow zucchini squash, 1/2 teaspoon salt, and 1/8 teaspoon black pepper. Sauté for about 2 minutes.

Once you've cooked the vegetables cooked, you can add your cooked rotini pasta, 1 cup grated Parmesan cheese, and half a cup of hot pasta water.

Stir everything together until the cheese is melted. Serve hot.
Notes
FAQs answered in above post
How to store
How to make in advance
Serving suggestions
Nutrition
Calories:
463
kcal
|
Carbohydrates:
63
g
|
Protein:
18
g
|
Fat:
16
g
|
Saturated Fat:
4
g
|
Cholesterol:
15
mg
|
Sodium:
466
mg
|
Potassium:
487
mg
|
Fiber:
4
g
|
Sugar:
5
g
|
Vitamin A:
1038
IU
|
Vitamin C:
58
mg
|
Calcium:
224
mg
|
Iron:
2
mg