This past week has been one of the most memorable weeks I've had in a while. Most of my husband's family live in Florida so we don't see them very often. And when we do, they come for specially occasions. In this case it was my husband's cousins wedding. Congrats to Mark and Diana 🙂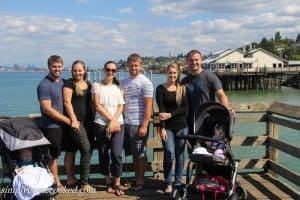 This year I had the privilege of taking in my husband's sister, Anna and her husband Igor, along with their 3 older sons. I must say I was a bit nervous taking in 5 people. My biggest concern was that I won't have enough food. (Typical me) no wonder I always have so much extra food lol.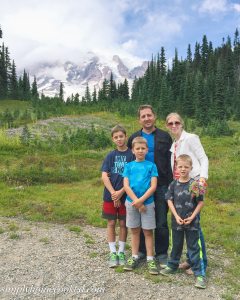 Everyday consisted of something new. We went from house to house to piers to mountains. I feel like I've seen more of Washington in 1 week than I did my entire life. It made me realize how much I really need to get out lol.
I've lived in Washington my entire life and I've never been to Pikes Place Market, or at least I don't remember going there. We definitely made sure to stop by Piroshky Piroshky. My favorite was the potato and mushroom. Yum!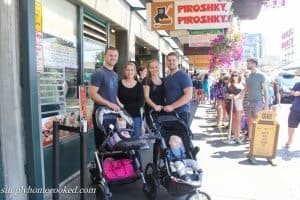 Although walking up Mt. Rainier with a stroller was quite challenging, I would do it again. I never paid attention to how beautiful Washington state was. On our way back from the mountain my husband and I decided we would explore the outdoors more. Often times we take God's creation for granted. We get caught up in our busy lives and forget to take time to thank God for what we have and where we live. This hike made me really appreciate the beautiful world God has created for us.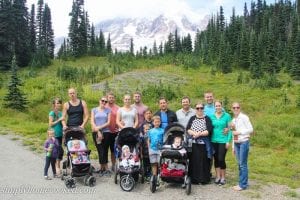 Jeremiah 51:15 "He hath made the earth by His power, He hath established the world by His wisdom, and hath stretched out the heaven by His understanding"
After our hike, we all got together at our house for dinner. I tried keeping the dinner pretty simple. Most of the things I made can be found here on the blog. Although, khachapuri seem more like brunch food to me. I decided to make it for dinner and boy was it a hit! I usually always include some kind of pasta dish when I host dinner so I made chicken and mushroom cannelloni. This cannelloni recipe is perfect for those who like Alfredo pasta. I mentioned these beef kebobs in one of my previous posts. I buy the meat pre-marinated from costco, which saves me so much time and hassle. Unfortunately not all Costcos have this beef. Sorry the picture of the food is not the most appealing. After that long hike we were all too hungry to to wait for the food to be photographed.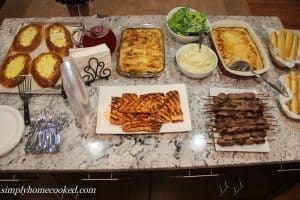 Whenever your time is spent with good company and laughter, time seems to fly so fast. I couldn't believe how quickly this last week flew by. I am so grateful for my husband's family. I remember as a little girl I always prayed for God to bless me with Christian in-laws. Not only are they close to God, they also love me as their own daughter. I can't thank God enough for blessing me with my husband's family.

Latest posts by simplyhomecooked
(see all)