This rice pudding with squash recipe is a traditional Ukrainian delight. its also known гарбузова Каша (pumpkin porridge). It's so warm and comforting making it the perfect treat for a chilly fall day.
If you enjoy squash recipes, you would love our baked acorn squash with brown sugar and butter!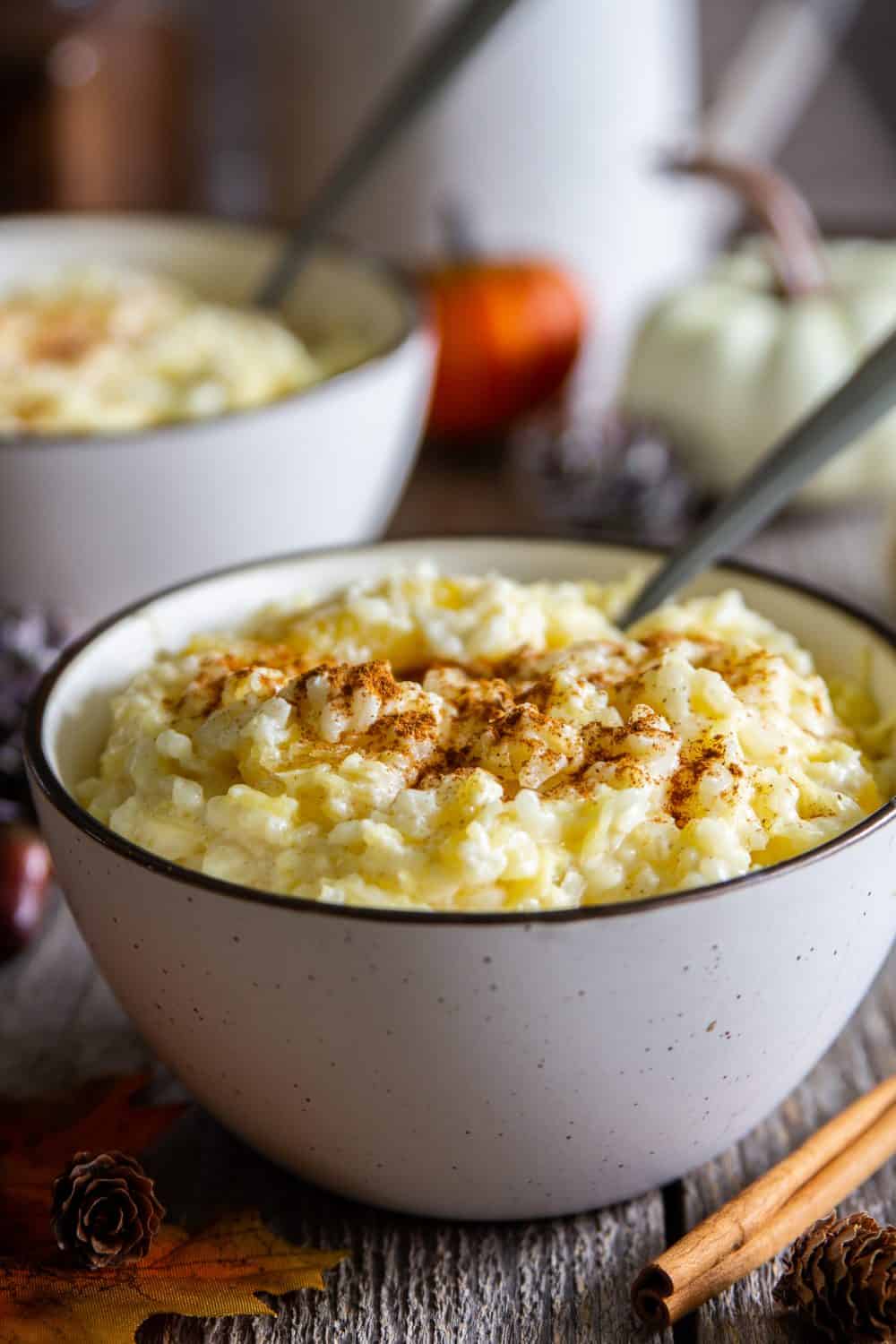 This rice pudding with squash recipe is a traditional Ukrainian delight. its also known гарбузова Каша (pumpkin porridge).
Traditional Ukrainian Porridge
Its usually made with millet and pumpkin, but I decided to put a little spin on it and substitute the millet for rice. I also subbed the pumpkin for squash. I personally like to use spaghetti squash because it's sweeter than pumpkin. If you prefer to keep the recipe the more traditional version, go ahead and use millet. I grew up eating this "kasha" with rice, so I prefer it over millet. Since its the season for all things pumpkin spice, I added some cinnamon on top to give it the extra fall flavor. Hope you all enjoy this super easy and delicious dish.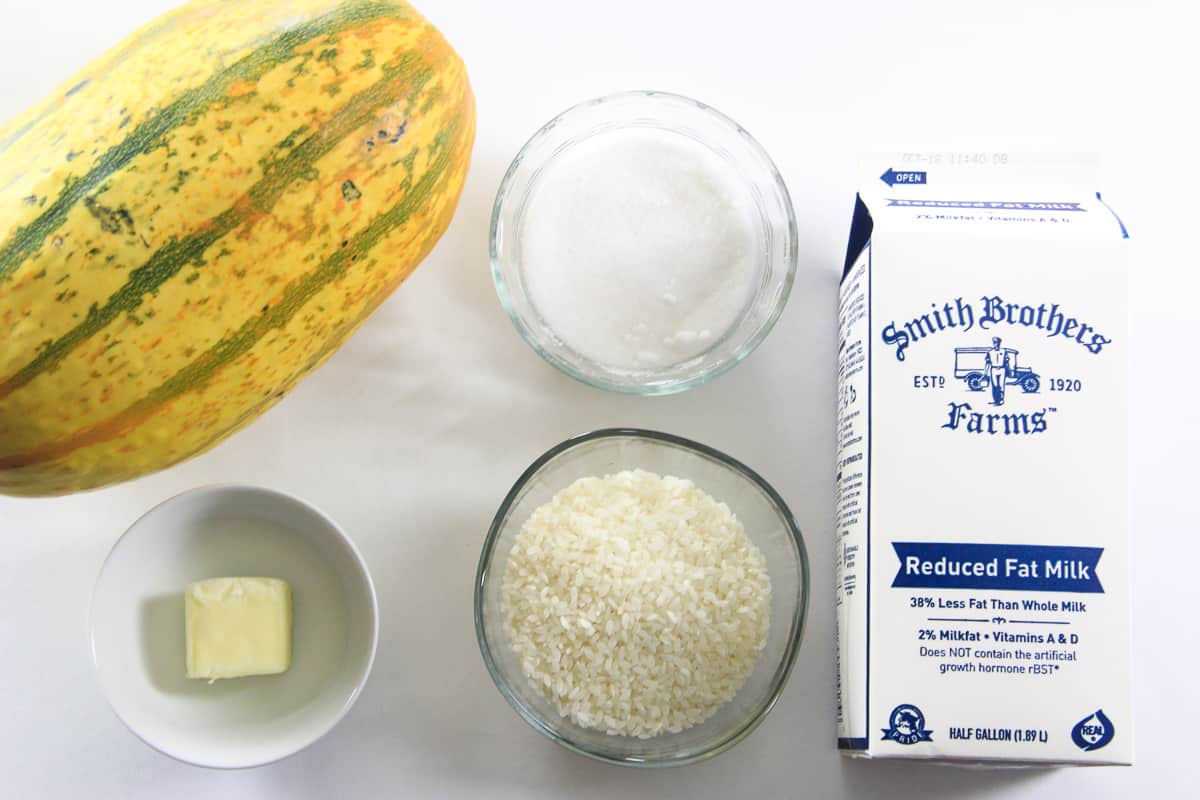 Ingredients for rice pudding with squash
spaghetti squash
whole milk
Short grain rice
granulated sugar
unsalted  Butter
salt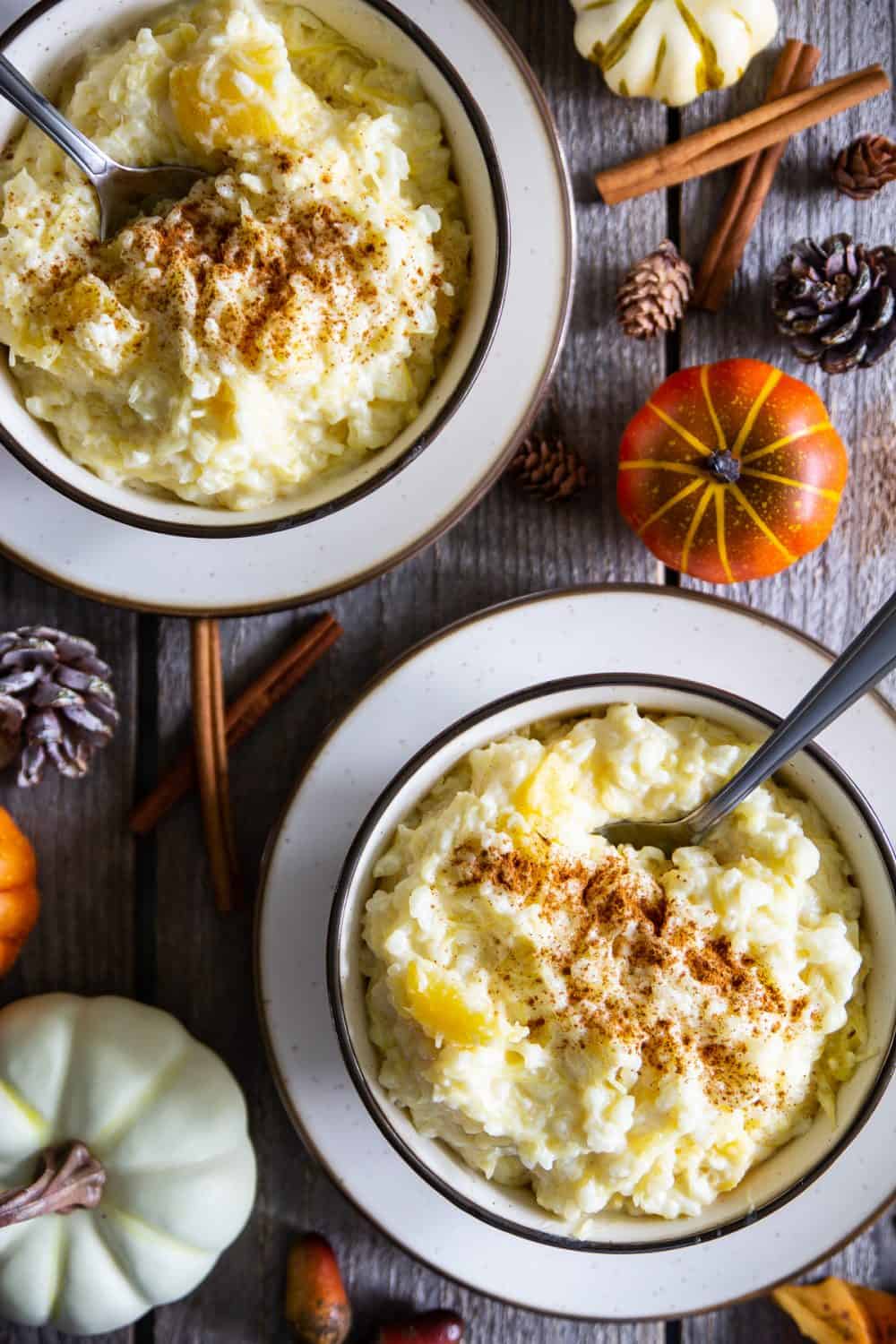 How to make rice pudding with squash
The key to getting the perfect rice pudding is to make sure you have the right rice to milk ratio and keeping a close eye on it so it doesn't overcook and become mushy.
How to cut the squash
How to make the best rice pudding
You'll want to add the squash and milk into the pot before the rice goes in. Once it's simmered to a slight boil you can toss in the sugar and continue simmering as instructed in the recipe card below.
After the squash chunks are softened, that's when you can add in the rice.
Once the rice is cooked you can add in the butter.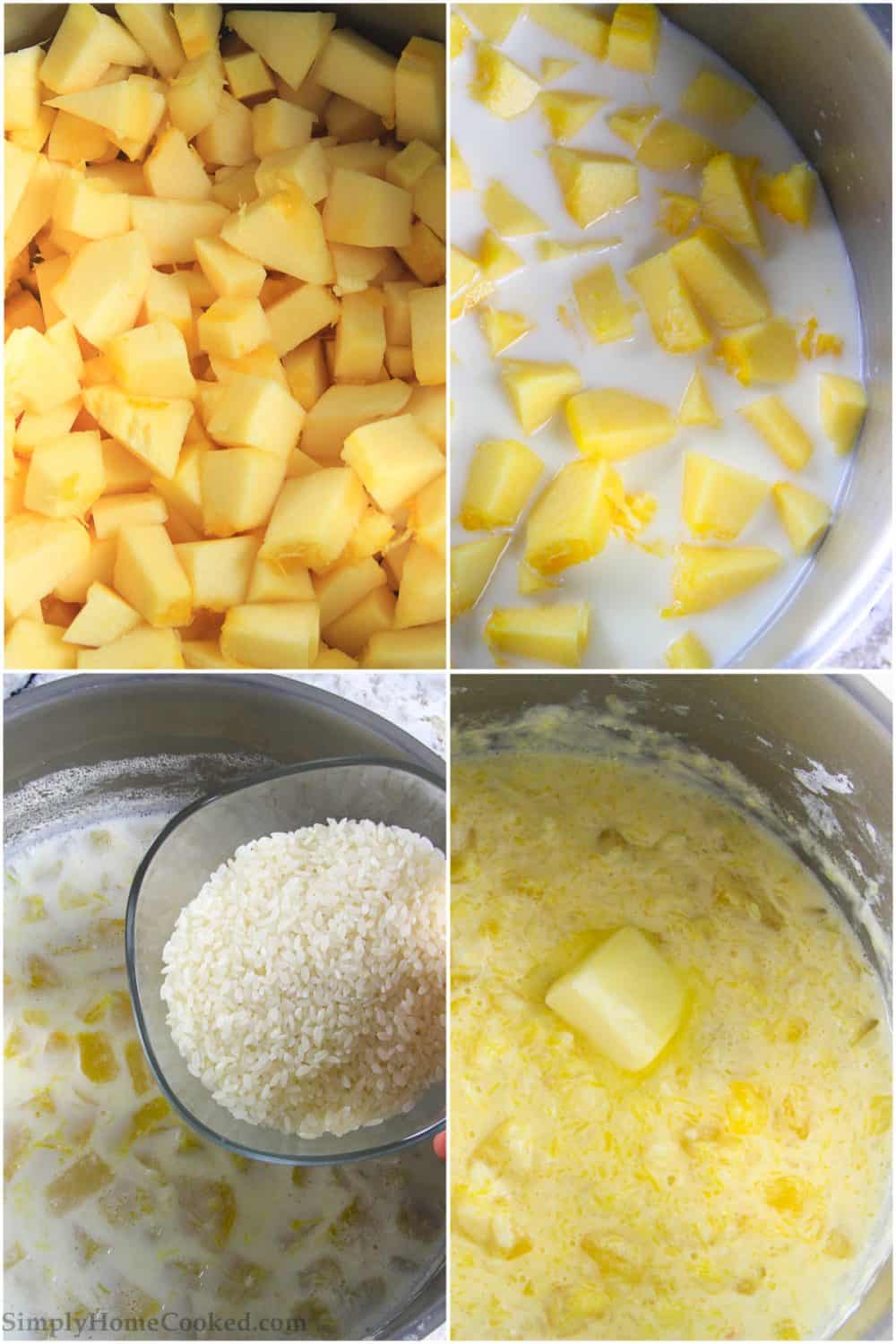 Tips for making rice pudding
Although rice pudding sounds like a simple dessert or breakfast dish that you just can't mess up, there are still tips that can make a good rice puffing into a great one.
Keep an eye on the rice
You want to constantly check up on the rice as it cooks in the hot milk. If you overcook the rice it will be too mushy! Not good. Always remember if your rice is undercooked, you can always cook it a bit more. But once the rice is overcooked, you can't undo that.
Stir Constantly
Stirring the rice pudding ingredients constatnly will ensure even cooking and can even prevent the bottom of your pot from burning the rice and milk.
Add a little sugar at a time
Like any dish, don't be too quick to dump it all the salt or sugar at once. Sometimes it may seem like its not sweet enough at first. Give it some time to cook further and you won't believe how the flavors could change. So if you want it sweeter, add more sugar at the end.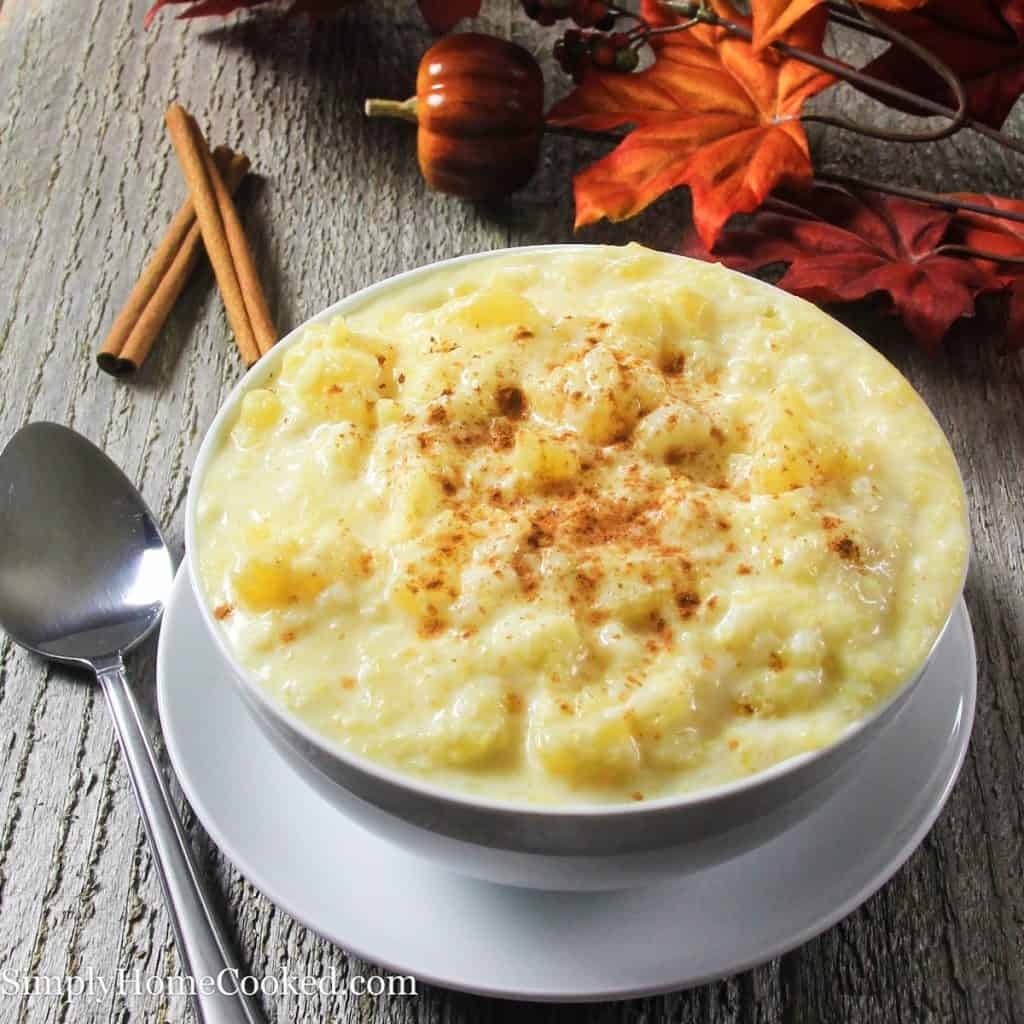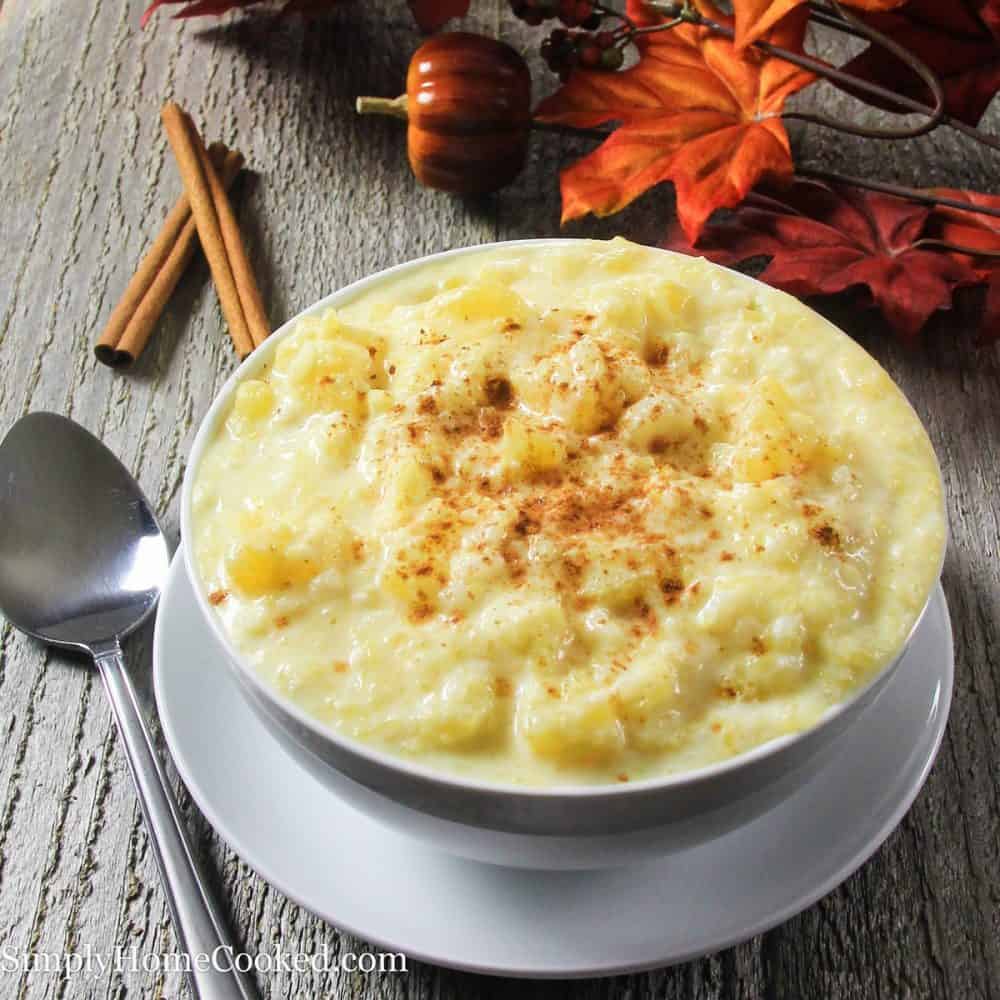 How to prevent milk from burning or sticking to the pot
One of the most annoying things about boiling milk is running the risk of it scorching and burning in the bottom of a stainless steel pan or pot. Believe me, I've been there!
Rinse your pot with cold water and leave about 1 tablespoon of water inside, then pour in your milk. This will serve as a protectant layer.
Stirring constantly is a great way to avoid the milk from sticking to your pot. If you stir it often enough it won't have enough time to burn.
Lowering the heat will also prevent the unfortunate event as well. The higher the heat, the higher the chance that the milk will burn.
How to clean a scorched pan
We all know that one of the worst things to clean off of a stainless steel pan is scorched milk. Here are some ways to get that burnt brown gunk off.
Take your scorched pan or pot and place it on the burner. Fill it with warm water to cover the entire pan and add about 1-2 tablespoons of dishwashing detergent (not dish soap).
Le the contents simmer over medium heat for about 10 minutes. Then turn odd the heat and let it cool down.
Now scrub it down with a wooden spoon and the rough side of a sponge. You may need to scrub it down with a magic eraser as well.
Looking for more fall-inspired desserts, check these out!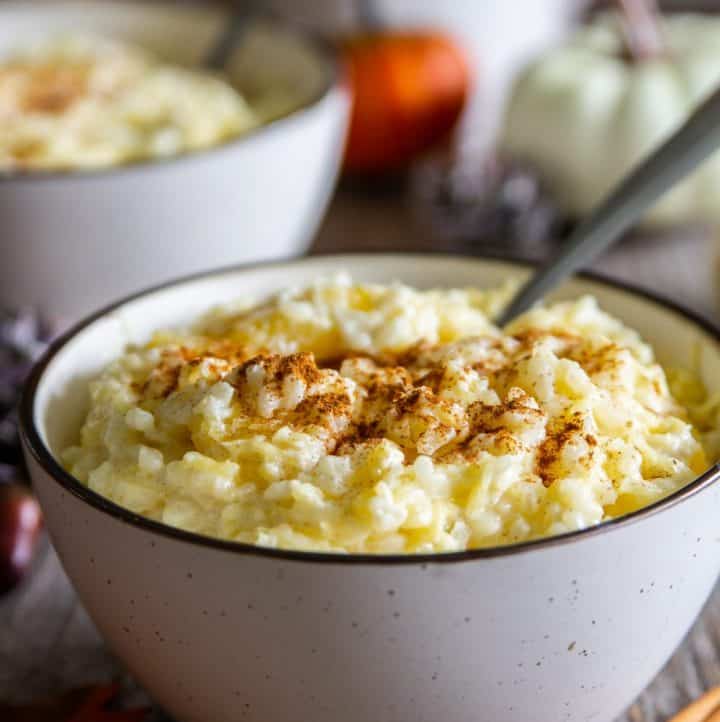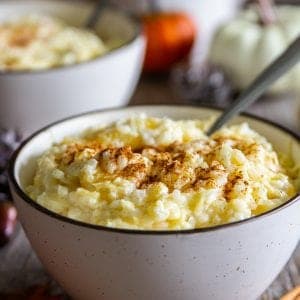 Rice Pudding Recipe With Squash
This easy rice pudding recipe is the perfect comfort dish for fall since it's loaded with chunks of spaghetti squash. The flavors and textures are truly outstanding!
Print
Pin
Rate
Ingredients
1 1/2

lb.

spaghetti squash

6

cups

milk

1

cup

rice

1/2

granulated sugar

2

tbsp

unsalted butter

1/4

tsp

salt

cinnamon for garnish

optional
Instructions
Chop the squash into 2-inch chunks and place them into a pot. Remove the skins and seeds before adding them to the pot.

Add the milk to the chopped squash and let it sit over medium heat until it comes to a slight boil.

Add the sugar and salt to the pot and stir it in well. Let it cook for another 15 minutes.

Once the squash has softened, add the rice and keep over medium heat until the rice is cooked. About 20-25 minutes.

Once the rice is cooked, add in the butter and enjoy. You can either mash it up or leave it as it. I personally like it chunkier. I also garnish it with some cinnamon, but that's totally optional.
This recipe was originally posted on Oct 5, 2015, we've tweaked it a bit since then.

Latest posts by simplyhomecooked (see all)