This easy Blueberry Muffin recipe is to die for! They are super moist and fluffy. Topped with a crumbly streusel topping that is made from scratch.
Make the most of blueberry season and make my blueberry pie, and blueberry crepe recipe!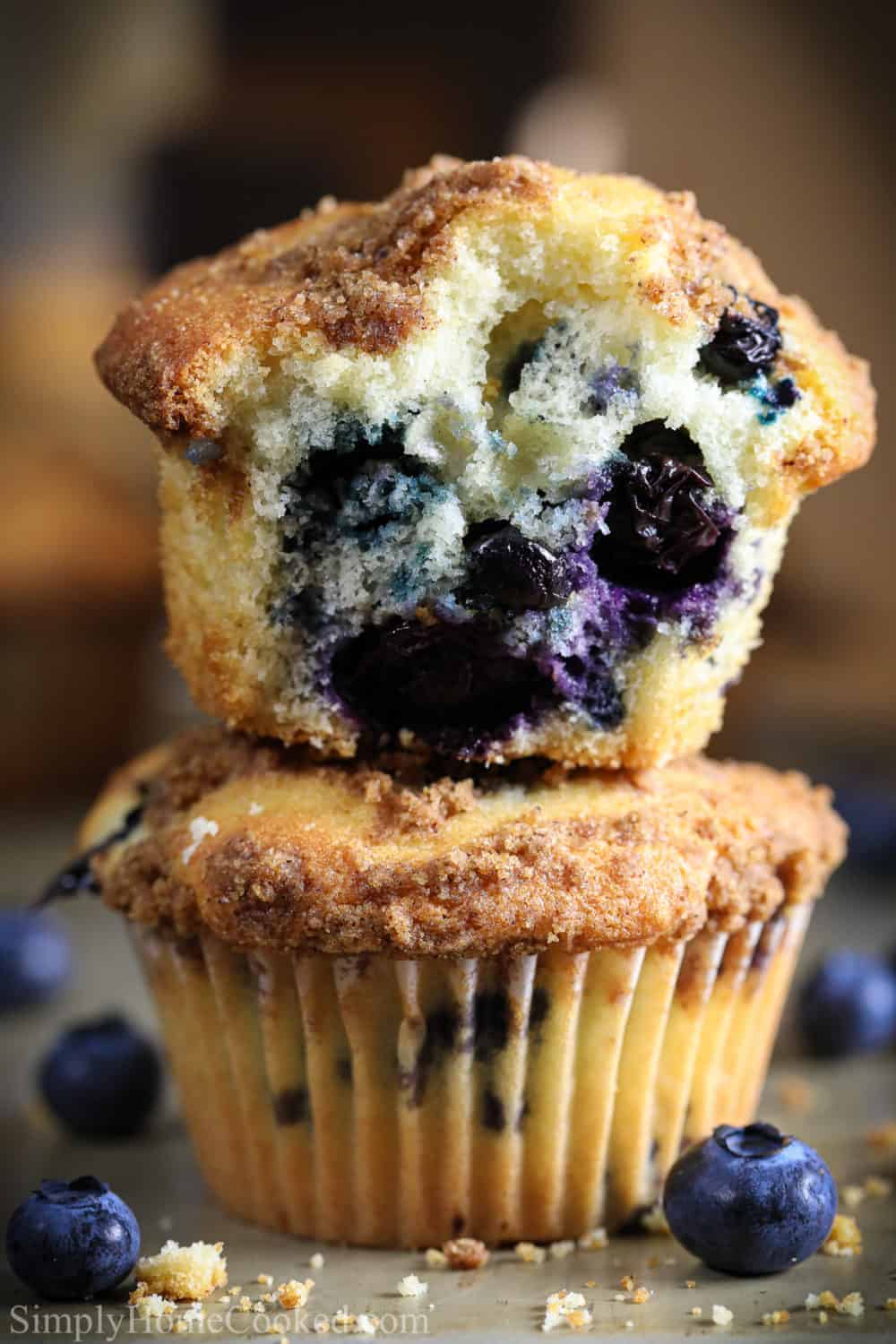 Ingredients for this blueberry muffin recipe
Like any muffins recipe, the ingredients are pretty basic. Here is what you will need:
Dry Ingredients: flour, baking powder, baking soda, sugar, and salt
Wet Ingredients: eggs, vanilla, heavy cream, lemon juice, and melted butter
Streusel topping: cold butter, brown sugar, flour, cinnamon, and salt
Can you use frozen blueberries
Yes, most definitely! Frozen blueberries work just as well as fresh when making muffins.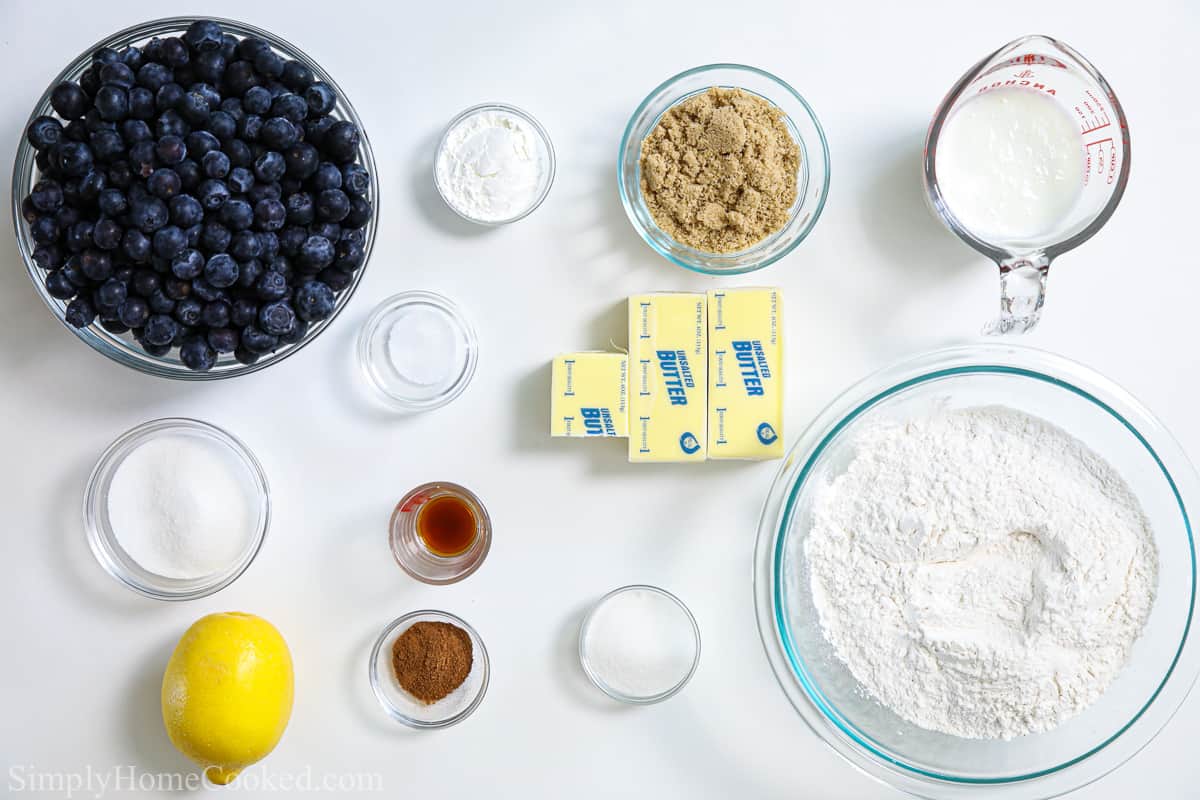 How to make these homemade blueberry muffins
The muffin batter
Make the muffin batter by combining the dry ingredients first and coating a reserved amount into the blueberries. This will help prevent the blueberries from sinking too much. Once you've done this set it aside.
Now using an electric hand mixer, mix the eggs with sugar, lemon juice, cream, and the dry ingredients as instructed in the recipe card below.
Now mix in the melted butter and blueberries. Line your muffins tin with cupcake liners and scoop out the batter using a large cookie scoop.
The streusel topping (the crumb topping)
This is the best part of the muffins! It's so easy and so delicious. Just combine cold cubed butter with flour, salt, cinnamon, and brown sugar. That's it! Now sprinkle the streusel topping on top of each unbaked muffins and pop it in the oven for 35 minutes at 350 degrees Fahrenheit.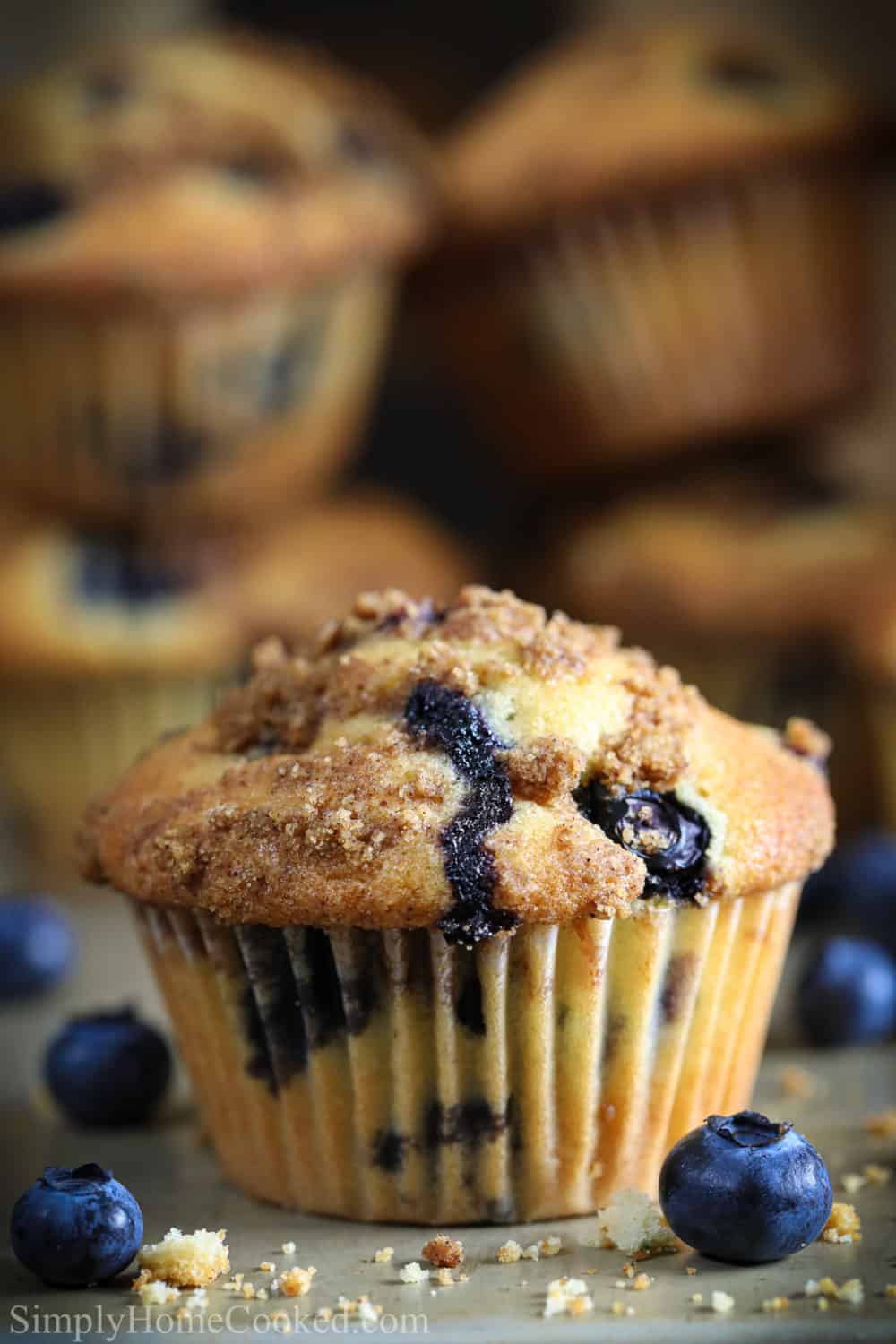 How to make these muffins healthier
Whole wheat flour. You can substitute the all-purpose flour for whole-wheat flour. It still tastes delicious but now these muffins provide more whole-grain nutrients and fiber.
Honey. Swapping the sugar with honey decreases the overall sugar in the muffins. It also adds a little honey flavor to your blueberry muffins.
Greek yogurt. Another great way to decrease the fat content while increasing your protein is to incorporate greek yogurt instead of sour cream.
Blueberry muffin calories
Most bakery or cafe muffins can have up to 480 calories. These homemade muffins, on the other hand, have roughly 280 calories per muffin. Making homemade muffins is a way better option!
–Disclaimer: Please note that the values calculated are only as accurate as the weight, ingredient and nutrition information provided.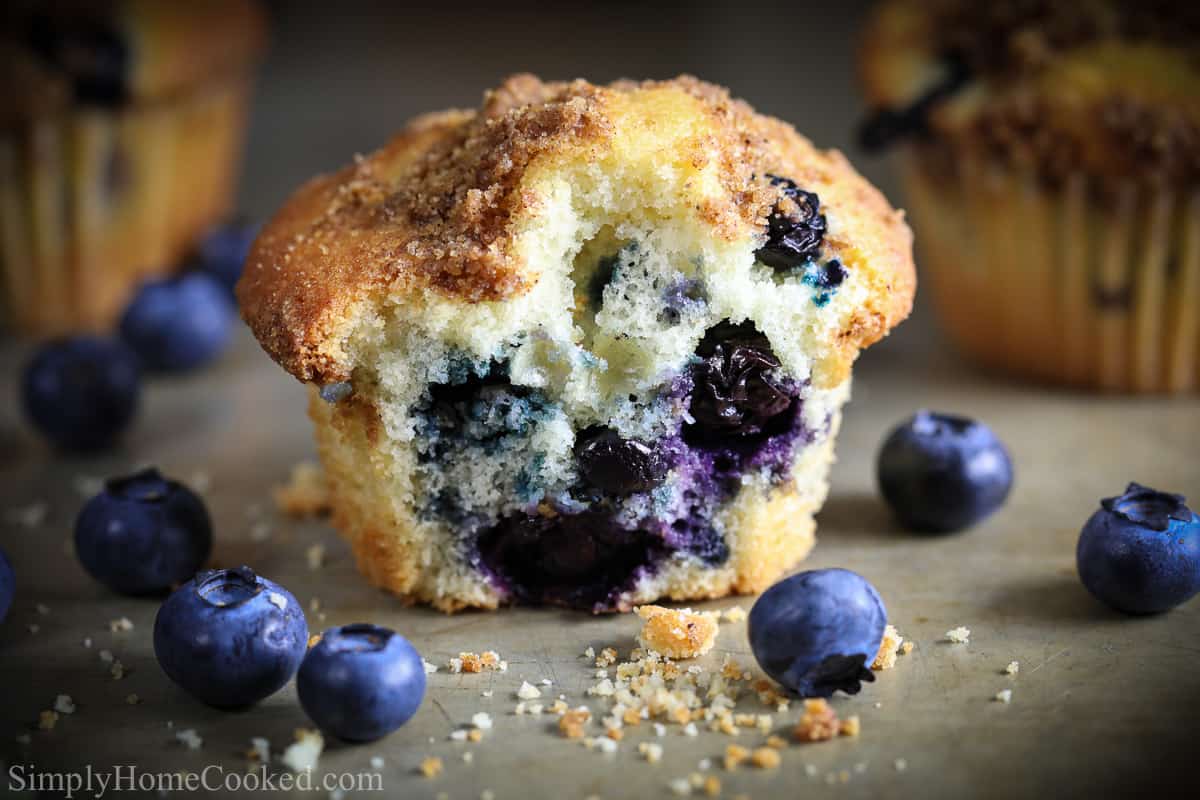 Blueberry muffin Tips and FAQs
How to prevent blueberries from sinking in muffins
The easy solution to this is to coat the blueberries with 1-2 tablespoons of flour. Then prior to baking, you will add in the flour-dusted blueberries into your batter mix.
Can you freeze blueberry muffins
Yes, freezing these muffins allows you to enjoy them throughout the year. Allow the muffins to cool completely prior to freezing. They can freeze up to 3 months in an airtight container.
How long do homemade muffins stay fresh
Enjoying blueberry muffins fresh is the best possible way! However, they will still taste great for 2 days at room temperature. They will also last about 1 week if properly stored in a refrigerator.
Watch this video on how to make these blueberry muffins

More Scrumptious Blueberry Recipes: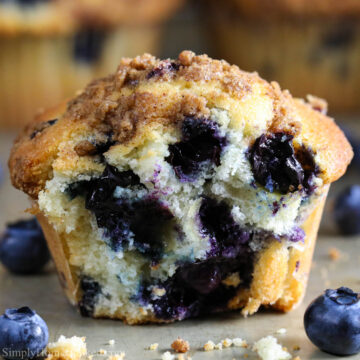 Blueberry Muffins
This easy Blueberry Muffin recipe is to die for! They are super moist and fluffy. It's topped with a crumbly streusel topping that is made from scratch.
Print
Pin
Rate
Instructions
Start off by combining all of your dry ingredients in a bowl. Add 2 cups of all-purpose flour, 1 tsp baking powder, 1/2 tsp baking soda, and 1/4 tsp salt, then whisk it together.

Reserve about 1 tbsp of the flour mixture and mix it with 1 1/2 cups of blueberries. Then set it aside.

Now add 3 eggs into a large bowl and whisk them on high speed with an electric hand mixer. You want to whisk them for a few minutes until the eggs become pale and fluffy.

Then continue beating the eggs as you add in 1 cup of granulated sugar. Keep beating for about 3 more minutes. The key to super fluffy muffins is well-beaten eggs.

Beat the eggs on high speed again and this time slowly add in 3/4 cup heavy cream.

Now you can begin sifting in your dry ingredients. But don't add it in all at once. You'll want to add about 1/3 of the dry ingredients at a time with mixing in between.

Once you've got all your dry ingredients well Incorporated continue mixing as you add in 4 tbsp of unsalted melted butter.

Now add the blueberries to the blueberry muffin batter.

Fold the blueberries into the batter using a spatula. Now Line your muffin tin with cupcake liners and begin scooping the batter out using a large cookie scoop.

Make the streusel topping by combing 1 tbsp unsalted cold cubed butter, 2 tbsp all-purpose flour, Pinch of salt, 1 tsp cinnamon, and 3 tbsp brown sugar in a small bowl.

Mash it all together using a fork until all the ingredients are well combined and have a crumbly dry texture to them.

Now top the blueberry muffins with the streusel topping and bake them in the oven at 350 degrees Fahrenheit for about 35 minutes.
Nutrition
Calories:
280
kcal
|
Carbohydrates:
40
g
|
Protein:
4
g
|
Fat:
12
g
|
Saturated Fat:
7
g
|
Cholesterol:
74
mg
|
Sodium:
125
mg
|
Potassium:
109
mg
|
Fiber:
1
g
|
Sugar:
22
g
|
Vitamin A:
436
IU
|
Vitamin C:
2
mg
|
Calcium:
44
mg
|
Iron:
1
mg

Latest posts by simplyhomecooked
(see all)