This easy opera cake is made with a simple almond sponge cake, coffee-infused cream, and topped with a rich chocolate ganache.
This delightful dessert is guaranteed to please any chocolate lover. So be sure to try our Nutella fudge cake and chocolate raspberry mousse cake next!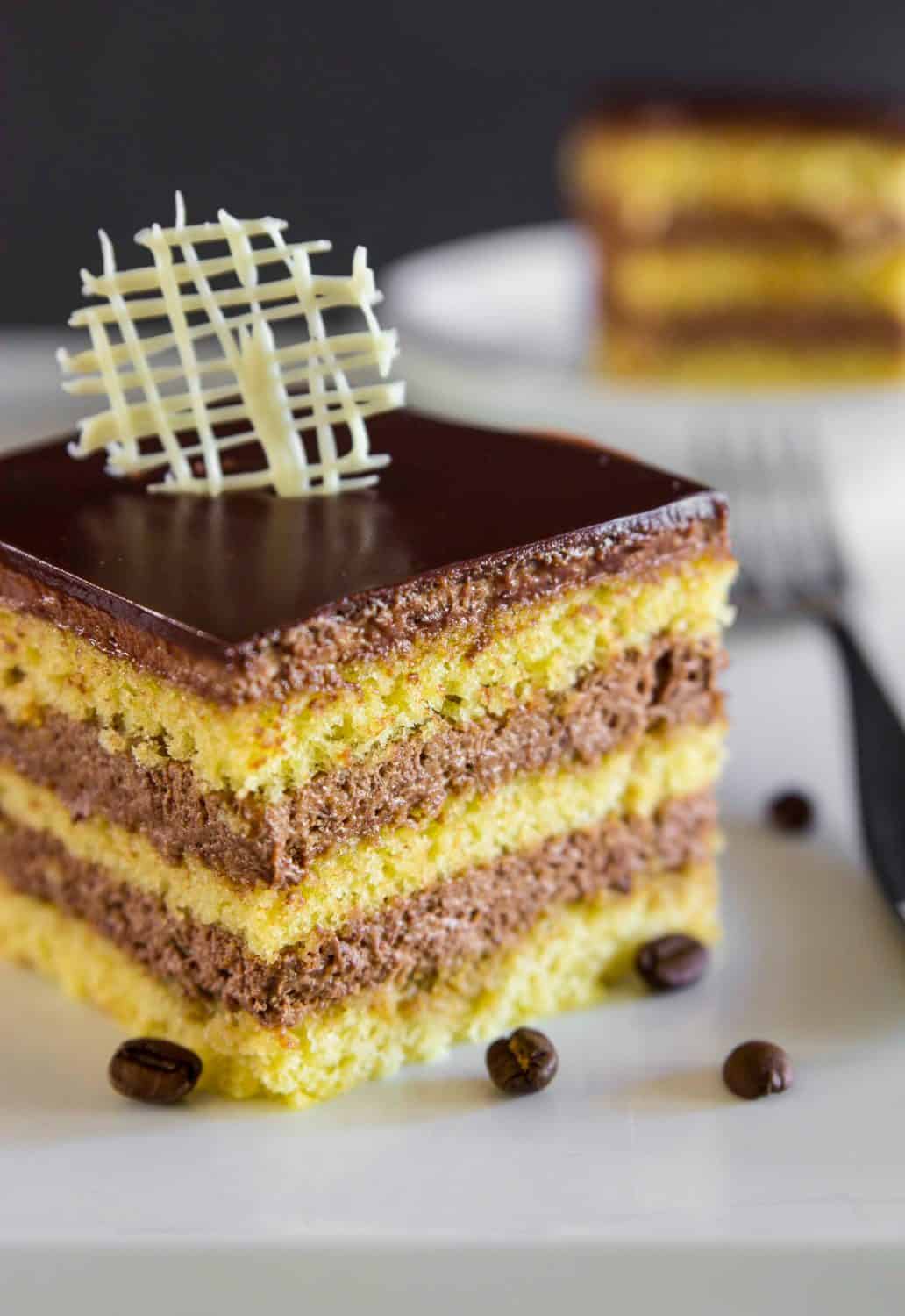 What is an opera cake?
Opera cake is a classic French dessert that is notorious for its decadent layers of almond sponge cake, chocolate-coffee cream, and gorgeous ganache glaze. It is truly a masterpiece of a cake!
More French desserts to try!
How to make Easy Opera cake
Sift the dry ingredients– Before making any kind of cake batter, make sure to use a mesh sieve to sift everything in order to avoid any clumps. This is especially important since almond flour tends to clump up.
Beat the eggs– This is where you need to use a fast speed mixer, preferably a stand mixer. And beat the eggs on the highest speed for at least 4-5 minutes before adding the sugar and 4-5 more minutes after adding it in.
Add butter and flour mixture– these ingredients will need to be gently folded in with a spatula. Over mixing the opera cake batter will cause it to lose its volume.
Bake the cake– in a 21 x 15 inch rimmed baking sheet in the oven as instructed in the recipe card below.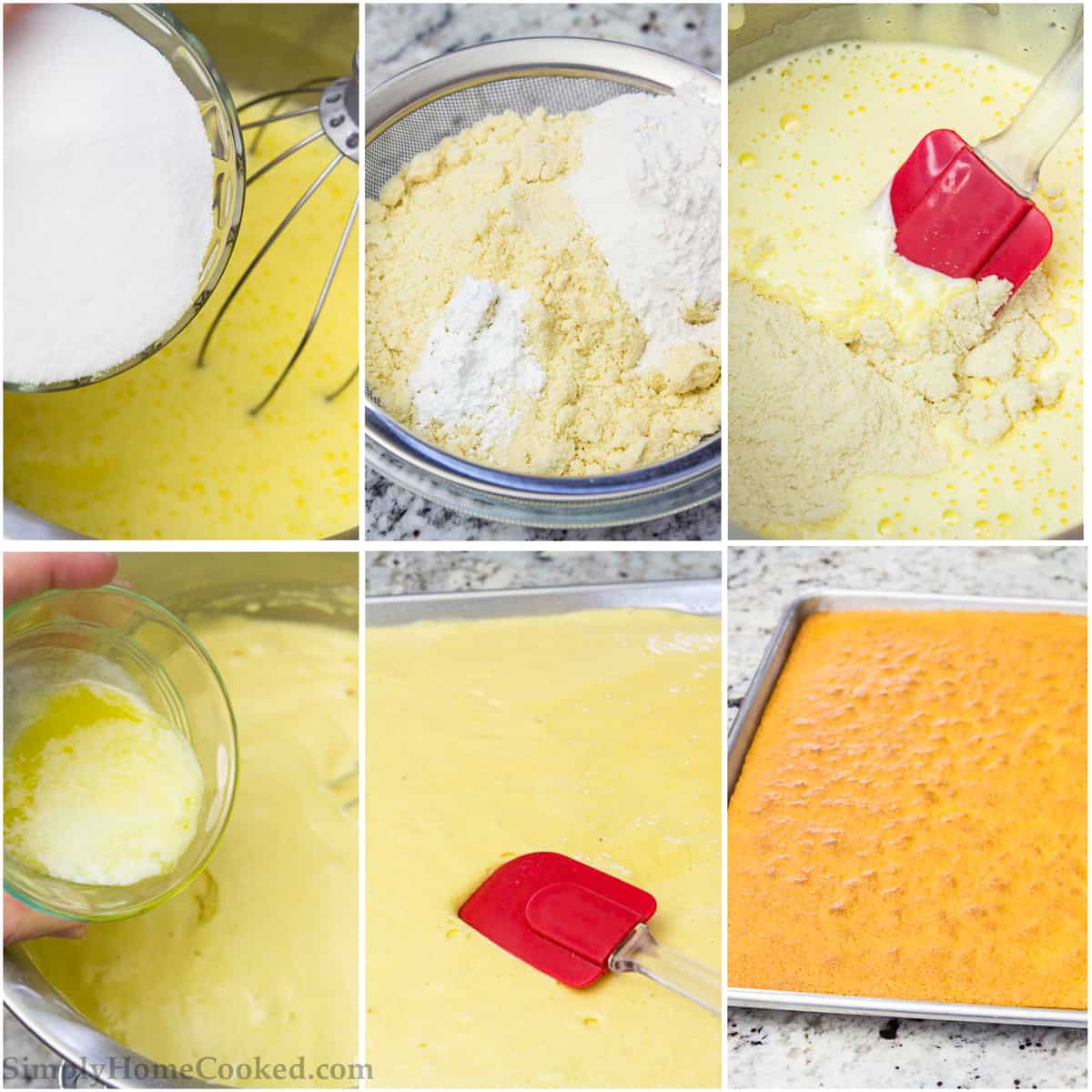 How to make the cream
Beat the COLD heavy cream in the beater bowl at high speed while gradually adding the instant espresso and sugar.
Once you see the stiff peaks forming, start pouring in the melted chocolate.
Continue mixing using the whisk attachment until you have a thick and smooth cream. Careful not to overmix.
How to assemble an opera cake
Start off by slicing the sponge cake into 3 equal rectangles. Then brush them with the coffee syrup (see recipe card for details).
Now spread a layer of the coffee cream and place another piece of soaked sponge cake on top.
Repeat this until you have your final cake layer on. Then evenly coat the opera cake with the chocolate ganache. Refrigerate for at least 2 hours before serving.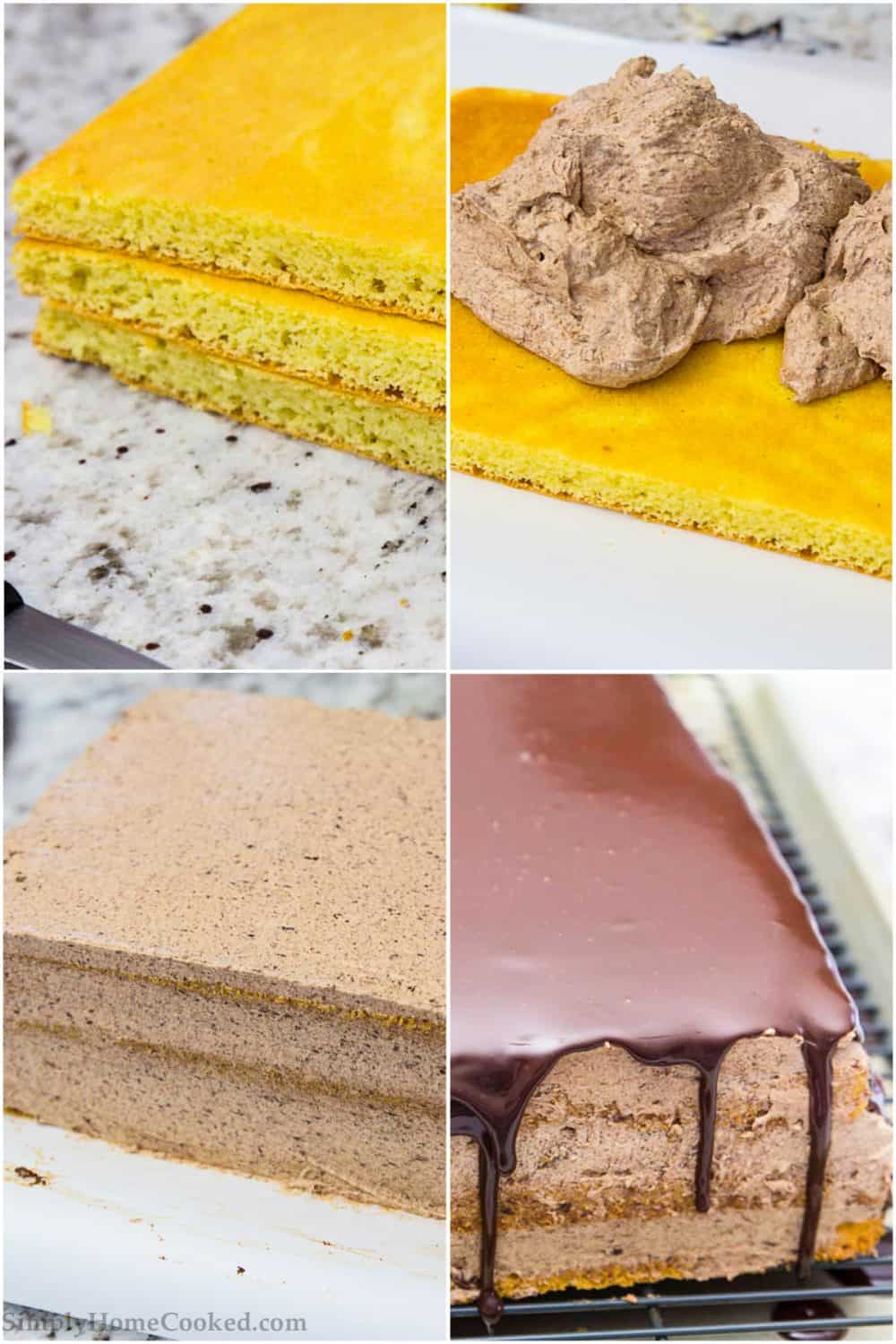 How to glaze a cake with Ganache
Once your ganache is made(scroll to printable recipe card for details), you'll want to strain it through a mesh sieve to catch and pieces of chocolate that may have not fully melted.
Now pour the ganache into a loaf pan and pour it over the finished cake in one fluid motion. You don't want to go over the cake multiple times or it will cause it to have weird-looking streaks.
Is opera cake Tiramisu?
Tiramisu is also a cake that consists of coffee and cream, but it is very different since its origin is Italian and it is often made with ladyfingers instead. It is a very delicious and indulgent cake that I happen to have a recipe video for!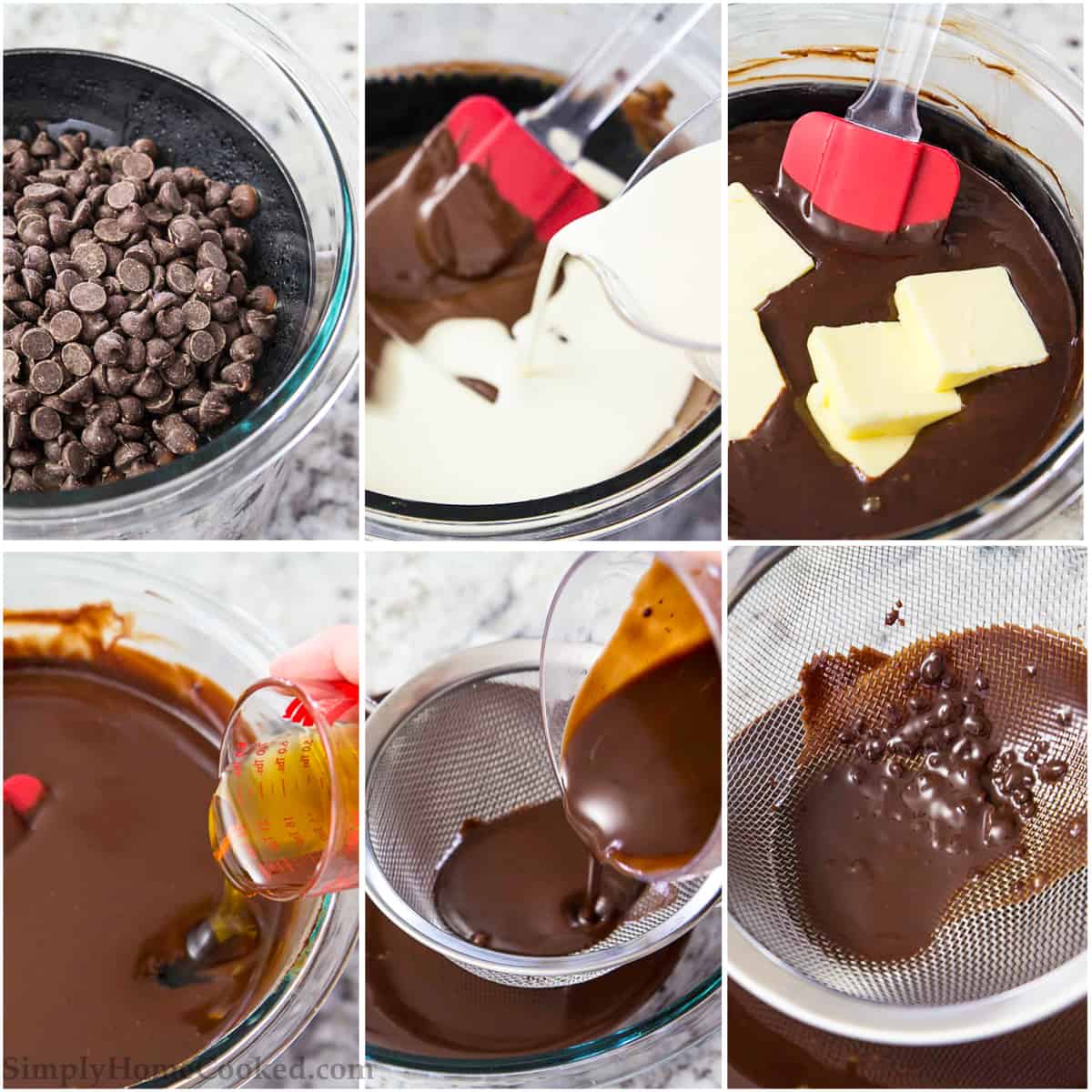 Can I make this cake ahead of time?
Yes, you can make the cake layers, coffee syrup, and chocolate cream an entire day in advance! That way, the next day all you need to make is the ganache and assemble the cake.
How long does an opera cake keep?
Whether is storebought or homemade, it will taste best for up to 5 days if stored properly in the fridge.
Full Recipe Instructions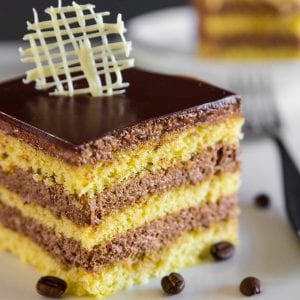 Easy Opera Cake Recipe
This easy opera cake is made with a simple almond sponge cake, coffee-infused cream, and topped with a rich chocolate ganache.
Print
Pin
Rate
Ingredients
Instructions
Make the sponge cake
Sift almond flour, baking powder, and all-purpose flour into a bowl and set aside.

In the bowl of a stand mixer, beat 10 eggs on high speed for about 4-5 minutes or until the eggs are light and fluffy. Mixing time may vary according to your mixer.

Continue beating at high speed as you add the sugar to the eggs. Mix for an additional 4-5 minutes.

Gently fold 1/3 of the flour mixture into the eggs using a spatula. Once it's mixed in well, repeat this 2 more times (1/3 mixture each time). Careful not to over mix.

Using a whisk, gently mix the melted butter into the eggs. Make sure to scrape the bottom of the bowl as you mix.

Bake at 350 degrees Fahrenheit for 25-30 minutes or until the cake becomes golden in color.

Let the cake cool completely on a cooling rack. Then cut it into 3 equal pieces. So you're left with 3 ( 6 1/2 x 13-inch pieces).
Make the chocolate cream
Melt 2 cups semisweet chocolate chips until smooth.

In the bowl of a stand mixer beat 3 cups heavy whipping cream, espresso powder, and sugar on high speed until stiff peaks form. Make sure not over-beat or you'll end up with coffee butter.

Gradually add the melted chocolate chips while the mixer continues to beat the heavy cream. Mix until the chocolate is well incorporated.
Mix the coffee syrup together
Assemble the opera cake
Begin assembling the cake by placing 1 of the 3 cake pieces on parchment paper. Using a pastry brush lightly brush the sponge cake with coffee syrup.

Spread about 1/3 of the chocolate filling on top of the first sponge cake layer.

Place the second spongecake on top and repeat steps 13 & 14.

Place the third spongecake layer on top and repeat steps 13 & 14. This time the entire outside of the cake will be covered with the chocolate filling. Place the cake into the refrigerator for at least 2 hours.
Make the chocolate ganache and pour it over the cake
Meanwhile, prepare the ganache. Add 2 cups of semisweet chocolate chips into a heatproof glass bowl. Then pour in 1 1/4 cup boiled heavy cream on top. Then quickly stir with a whisk. Try to use heavy cream that is at least 36% fat or higher.

Once the heavy whipping cream is mixed in well, add 6 tbsp sliced unsalted butter. Once the butter is melted, mix in 6 tbsp of honey. If you end up with small bits of chocolate strain the chocolate through a mesh strainer to ensure a smooth ganache.

Transfer the refrigerated cake onto a wire rack with a rimmed baking sheet under (to catch all the leftover ganache). Pour the chocolate ganache into a loaf pan before pouring over the cold cake. Make sure to pour it in one fluid motion. Then give the baking sheet a gentle shake to smooth out any imperfections. Let it set in the refrigerator for an additional 4 hours before serving.
Notes
How to store a homemade opera cake?
Keep the cake in the fridge for up to 5 days. If you have a cake keeper it will stay fresher that way. But I would not recommend covering it with plastic wrap since it will ruin the top layer of the cake.
Nutrition
Calories:
701
kcal
|
Carbohydrates:
52
g
|
Protein:
10
g
|
Fat:
52
g
|
Saturated Fat:
27
g
|
Cholesterol:
185
mg
|
Sodium:
62
mg
|
Potassium:
347
mg
|
Fiber:
5
g
|
Sugar:
38
g
|
Vitamin A:
1153
IU
|
Vitamin C:
1
mg
|
Calcium:
119
mg
|
Iron:
4
mg