A classic Baked Eggplant Parmesan with breaded eggplants, marinara sauce, and hot bubbling mozzarella and parmesan. It's the ultimate Italian comfort food.
Make sure to serve this with another classic like my Caprese salad or Italian pasta salad for the perfect meal!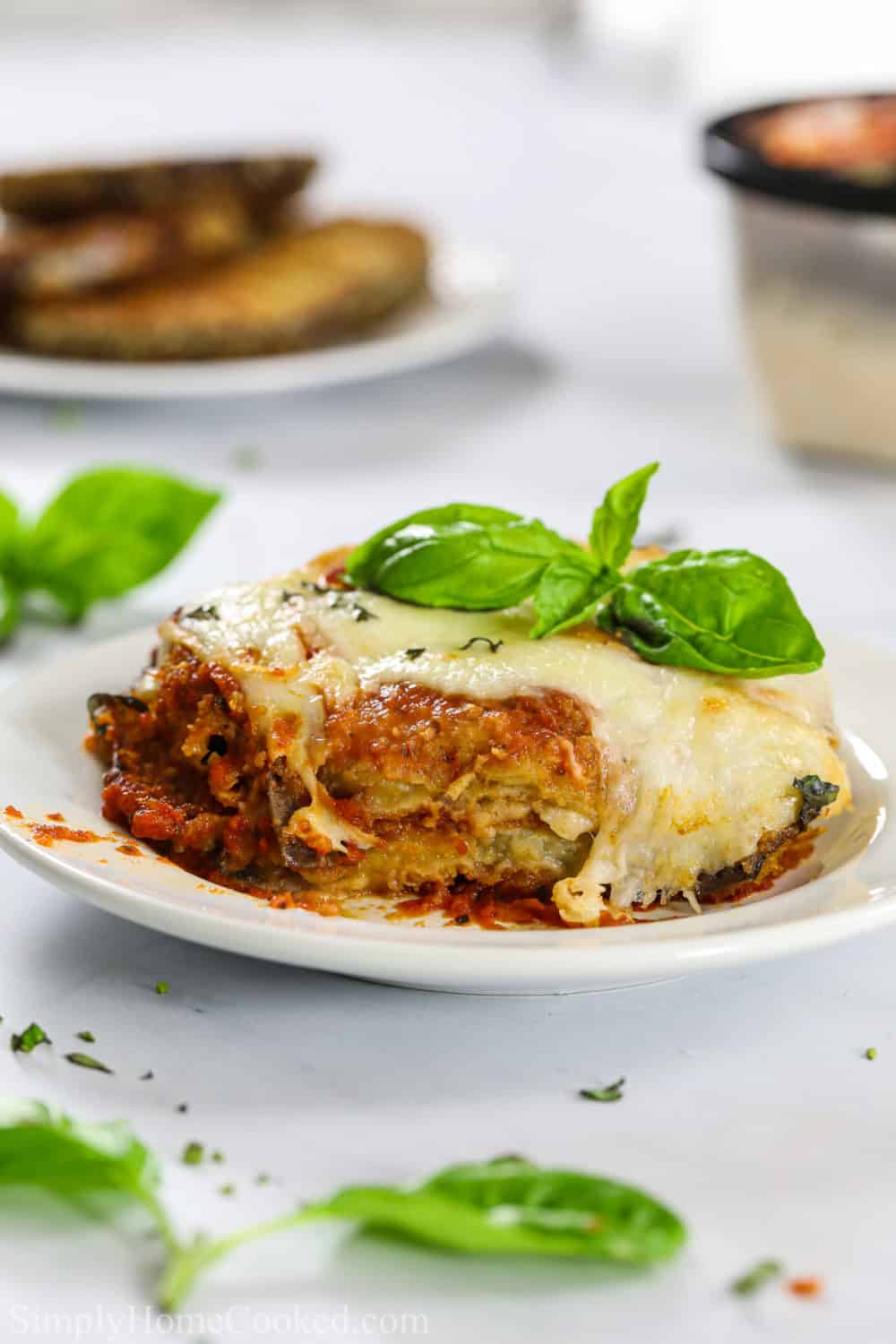 What is eggplant parmesan
Eggplant Parmesan is a classic Italian casserole consisting of breaded and fried eggplants, marinara, and lots of mozzarella cheese and parmesan, obviously. It's like the vegetarian version of chicken parmesan.
What does eggplant parmesan taste like
Eggplant parmesan actually tastes really similar to chicken parmesan. The eggplant itself has a mild flavor so it doesn't present itself too much in this dish.
Ingredients for to make the best Eggplant Parmesan
Breading: You will need a combination of flour and spices, egg dipping mixture, Italian bread crumbs, and Panko breadcrumbs
For the eggplant casserole: Once you've got your eggplants all fried up, you will want to layer it between marinara sauce, fresh mozzarella, and parmesan.
For the garnish: Basil is optional but recommended.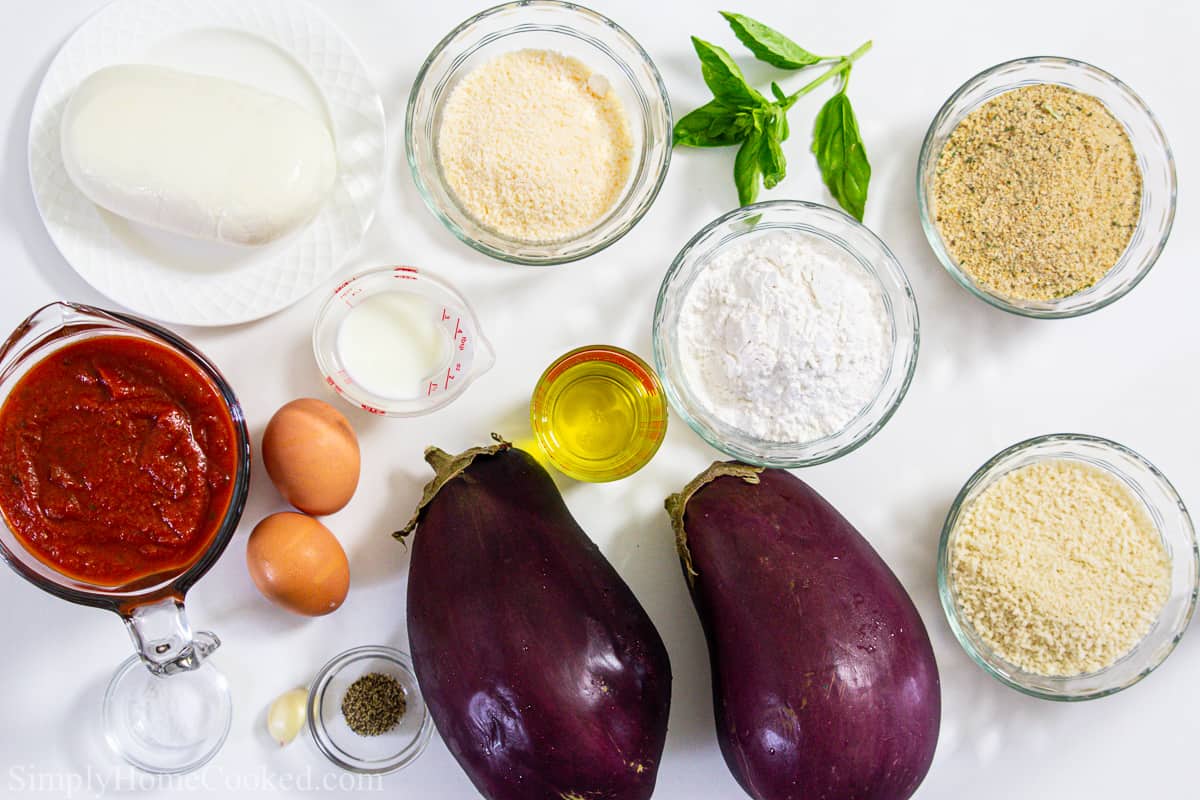 Do you have to peel eggplant
This is a personal preference. The peel is edible and carries nutrients, but can sometimes be a little bit bitter.
How to make the best baked eggplant parmesan recipe
Before you get started on this dish, you want to season the eggplants with salt and set them aside so they have time to release their bitter juices. Do not skip this step.
In the meantime prepare you dredging flour, egg dip, and breadcrumb mixture as instructed in the recipe card below.
Once your eggplant slices are coated, fry them up in a skillet with hot olive oil. Then place them in a casserole dish. Make sure to coat the bottom of your dish with some marinara or spaghetti sauce.
Now you can layer on some marinara, mozzarella, and parmesan. Then repeat this step and bake the eggplant parm in the oven as instructed below.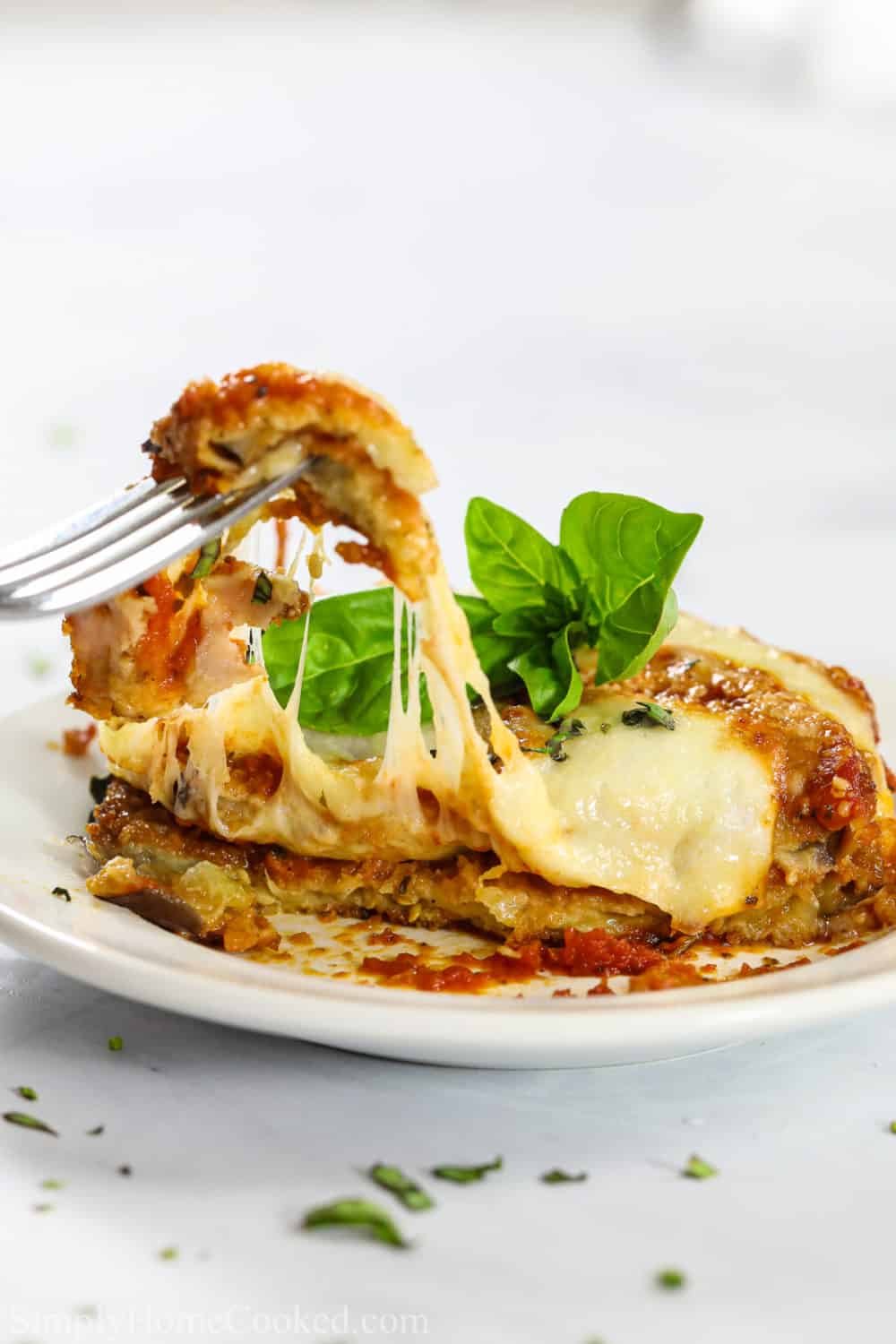 How thick to cut eggplant
Your eggplant should be cut into 1/4 inch slices for you eggplant parmesan. You want to cut and dispose of the ends of the eggplant.
How to pull moisture out of an eggplant
Just sprinkle some salt on the eggplant slices. The salt pulls moisture out of the eggplant. So now when you fry the slices with your breadcrumbs it will be crispier and not soggy. Pat the water dry on your slices and remove the excess salt.
Tips and frequently asked questions
Can you make eggplant parmesan in advance
Yes, you can! Here are some ways you can make it in advance:
Prep ahead method
Mix your flour mixture, breadcrumbs, and eggs in advance. You can even fry your eggplants beforehand, just make sure to let them sit on a wire rack so they stay crispy. That way all you have left to do is layer the sauce and cheeses and bake it.
Freezing method:
You will want to assemble this easy eggplant parmesan in an aluminum tray, then freeze it. If you use a ceramic or casserole dish, it may crack if placed in the oven when it is frozen. This eggplant parmesan may become a little soggy from the marinara and eggplant. So make sure to remove the moisture from the eggplant using the salt.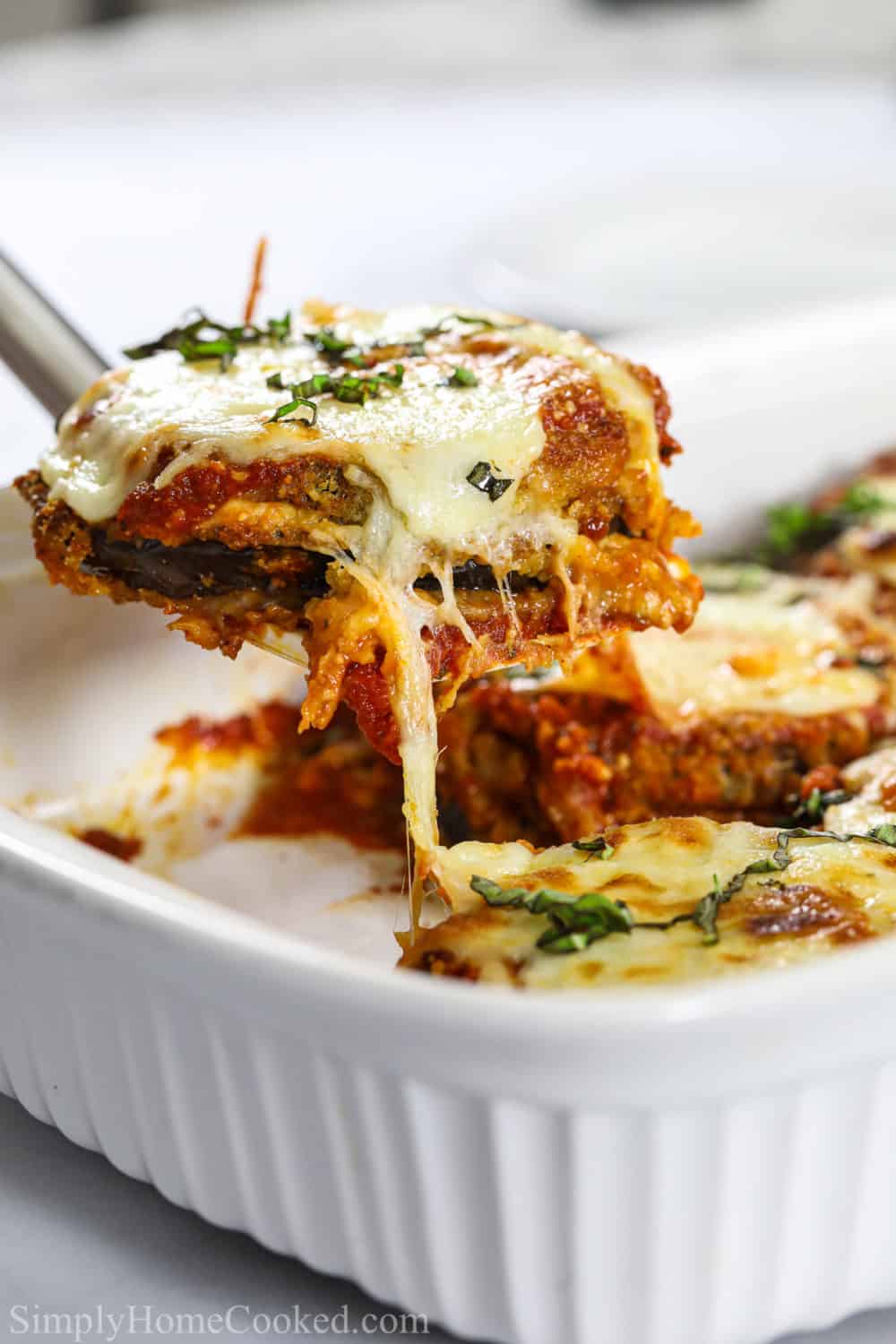 Can you freeze this eggplant parmesan
Yes. Make sure you assemble your parmesan in a disposable aluminum tray. This is to avoid cracking of your casserole/ceramic dish. If you do place it in a dish then you will want to let it sit at room temperature first. This can cause some sogginess from the melting of your ingredients.
Watch a video on how to make this baked eggplant parmesan
What to serve with this parmesan dish
Full Recipe Instructions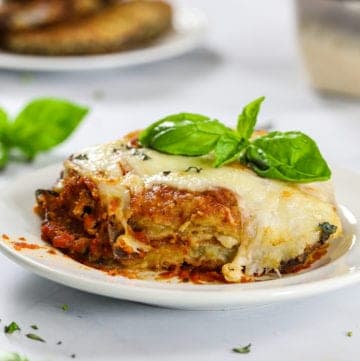 Baked Eggplant Parmesan
A classic Baked Eggplant Parmesan with breaded eggplants, marinara sauce, and hot bubbling mozzarella and parmesan. It's the ultimate Italian comfort food.
Print
Pin
Rate
Ingredients
2

eggplants

3/4

cup

all-purpose flour

2

tsp

salt

1/4

tsp

black pepper

1

cup

Italian breadcrumbs

One cup Panko breadcrumbs

2

large eggs

2

tbsp

milk

1

Garlic clove

pressed

1/4

cup

Olive oil

2

cups

marinara or spaghetti sauce

8

ounces

of fresh mozzarella

1/2

cup

grated Parmesan

1/4

cup

freshly chopped basil

for garnish
Instructions
1 . Slice eggplants into 1/4 inch slices then lay them on a baking sheet lined with paper towels and generously season with salt. Let them sit out for about 30 minutes to 1 hour to release bitter juices.

2 . Meanwhile, combine 3/4 cup all purpose flour, 2 tsp salt, and 1/4 tsp black pepper in a small bowl and set it aside.

3 . In another bowl combine 1 cup Italian breadcrumbs and 1 cup Panko breadcrumbs,

4 . In a third bowl combine 2 large eggs, 2 pressed garlic clove, and 2 tbsp milks

5 . Now begin dredging the eggplant in the flour Mixture, then the eggs, then the bread crumbs.

6 . Add 1/4 cup olive oil to a skillet, bring it to medium-high heat and brown both sides of the eggplant slices.

7 . Spread a thin layer of marinara or spaghetti sauce over the bottom of a baking dish. Mine was 9x13

8 . Now place the eggplants in a single layer into the baking dish and add 1 cup of marinara sauce on top. Then add 4 oz freshly sliced mozzarella on top along with 1/4 cup grated Parmesan.

9 . Now add another even layer of the fried eggplants on top and cover them with another cup of marinara, and the remaining 4 oz mozzarella cheese and 1/4 cup grated Parmesan.

10 . Bake the eggplant Parmesan in the oven at 400 degrees Fahrenheit for about 20 minutes. Then top it with some freshly chopped basil and enjoy.
Nutrition
Calories:
485
kcal
|
Carbohydrates:
48
g
|
Protein:
22
g
|
Fat:
24
g
|
Saturated Fat:
9
g
|
Cholesterol:
92
mg
|
Sodium:
1935
mg
|
Potassium:
768
mg
|
Fiber:
8
g
|
Sugar:
11
g
|
Vitamin A:
834
IU
|
Vitamin C:
10
mg
|
Calcium:
379
mg
|
Iron:
4
mg