Make scrumptious pastries filled with my favorite Poppy Seed Filling. Once you taste it, you'll see why it's such a favorite in my family.
If you love sweet fillings, then you should try these Sweet Poppy Seed Pull-Apart Buns and these Easy Cheese Danish Pastries (VIDEO).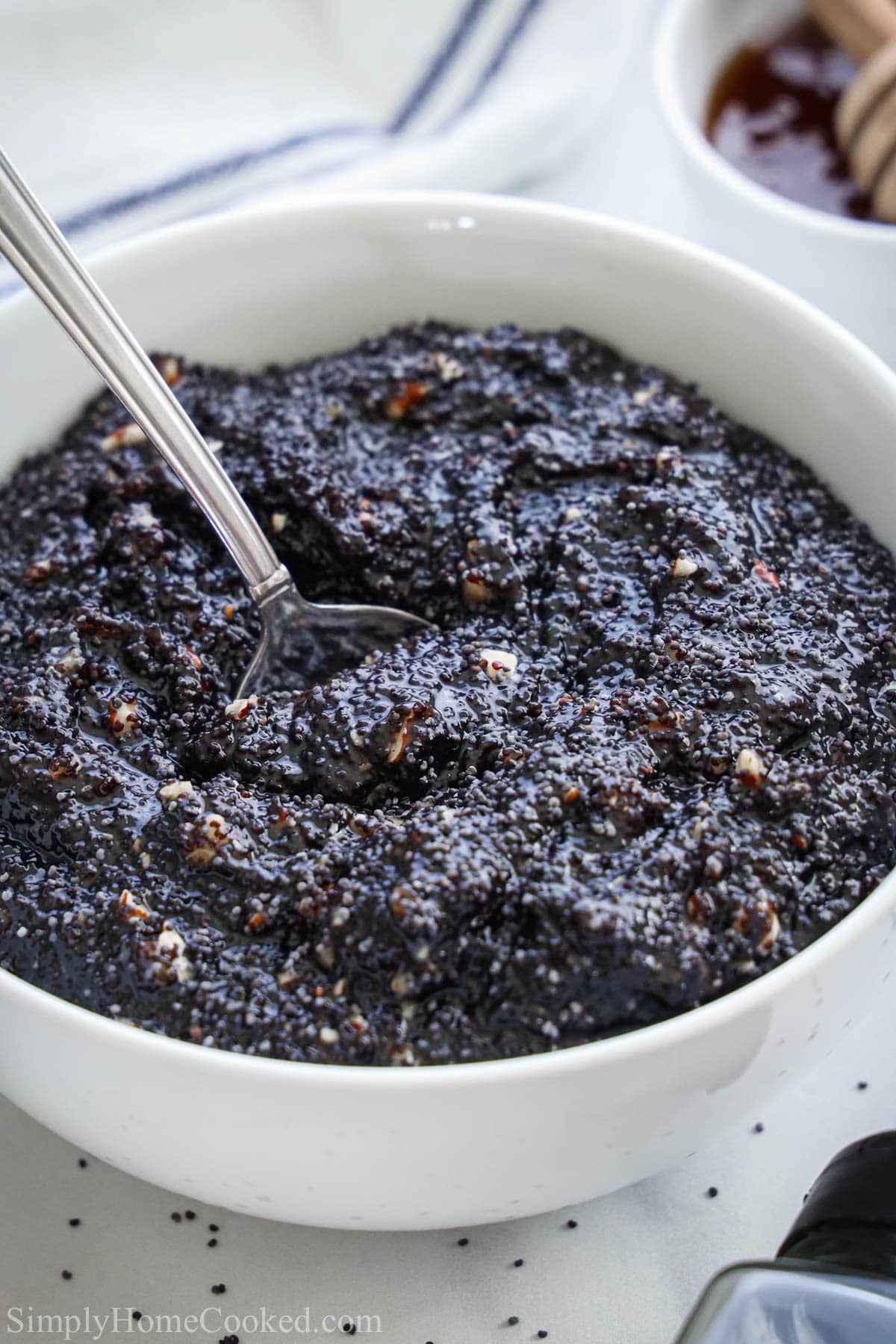 Table Of Contents
Recipe Details
Poppy Seed Filling is used in many pastries, especially European ones, and we typically incorporate it into most of our yeast breads. There is something so delicious about this sweet paste, and homemade is just the best!
TASTE: This filling is sweet and nutty. The walnuts and poppy seeds are highlighted by the golden sweetness of the honey.
TEXTURE: This Poppy Seed Filling is a paste that's full of ground poppy seeds, finely chopped walnuts, and thick gooey honey.
TIME: This recipe will take 18 minutes.
EASE: This is so easy to make at home and you only need 4 ingredients.
What You'll Need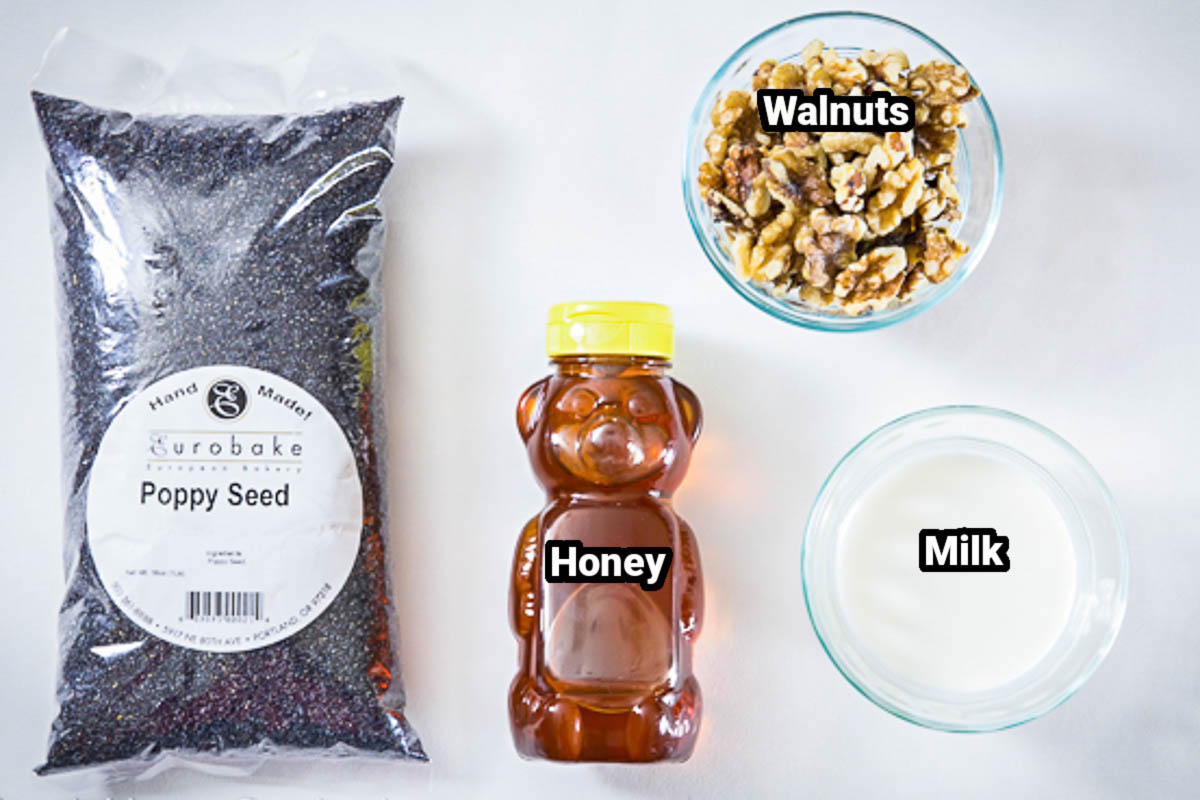 Ingredient Notes
Poppy seeds- These seeds are the star of this dish and they add a nutty flavor, as well as hints of fruitiness.
Milk- This will be used to soak and soften the dry poppy seeds. Any type will work.
Honey- This sweet syrup adds thickness as well as great flavor to this Poppy Seed Filling
Walnuts- Choose raw chopped walnuts (or chop them yourself) so they add only their own nutty, tangy flavor.
Add-ins and Substitutions
Substitute condensed milk- Instead of honey, you can add condensed milk to your strained and ground poppy seeds for sweetness and a thick consistency.
Add raisins- Add some chopped raisins (or whole) for extra texture and sweetness. This is terrific as a pastry filling.
Make it dairy-free- If you soak the poppy seeds in water or plant-based milk instead of regular milk, then you can serve this to those who can't have dairy.
Add citrus- The flavors in this Poppy Seed Filling go really well with citrus, so try it with some lemon or orange peel mixed in for bright, citrusy notes.
How to Make Poppy Seed Filling
Simmer poppy seeds and milk. Add dry poppy seeds and milk into a small saucepan. Bring to a simmer (not a boil) continuously stir until most of the milk is absorbed. (About 6-8 minutes).
Strain the poppy seeds. Strain the poppy seeds through a cheesecloth.
Pro Tip: If you don't have cheesecloth, you can also use a fine mesh sieve lined with coffee filters to drain the poppy seeds.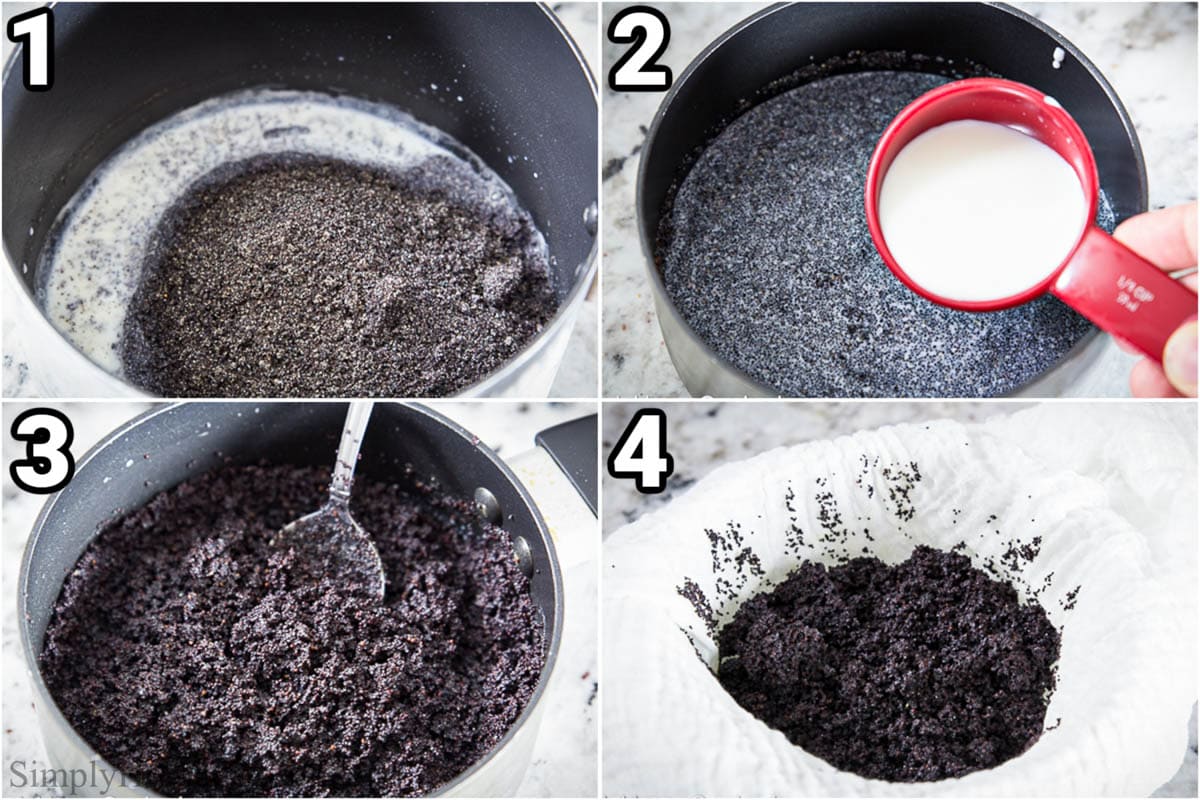 Grind the poppy seeds. Using a coffee grinder, grind the poppy seeds in small batches.
Combine everything and store. In a bowl, combine the ground poppy seeds, honey, and walnuts. Store in an airtight container until ready to use.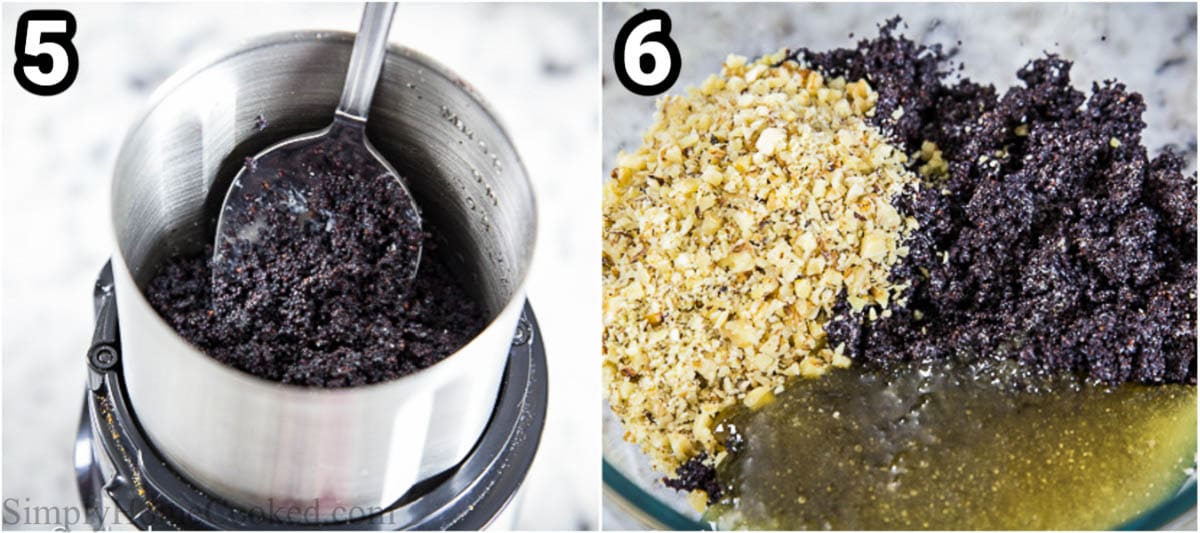 Recipe Tips
Use fresh walnuts- Walnuts have a lot of oil and they can easily go rancid in warmer temperatures. Make sure yours are fresh before using them, and store them in an airtight container.
Batch grind the poppy seeds in a food processor- If you want to grind more, use a food processor with a fine grinding plate. Otherwise, for small batches, a coffee grinder works fine.
Finely chop the walnuts- Since this is going to be a paste, you want to finely chop the walnuts, either by hand or with a food processor so the pieces are not too large and crunchy.
Store it immediately- Just as the raw walnuts can turn, so can this Poppy Seed Filling if it's not stored correctly in an airtight container in a cool place.
FAQs
Do poppy seeds need to be soaked before grinding?
Poppy seeds have a rough exterior. Soaking them breaks them down and makes them softer. The first step of simmering them in milk is enough of a soak to break down this coating.
Is it necessary to grind poppy seeds?
Yes, you definitely need to grind the poppy seeds. Since this is going to make a pastry filling, you want it to resemble a paste, not a bunch of individual seeds.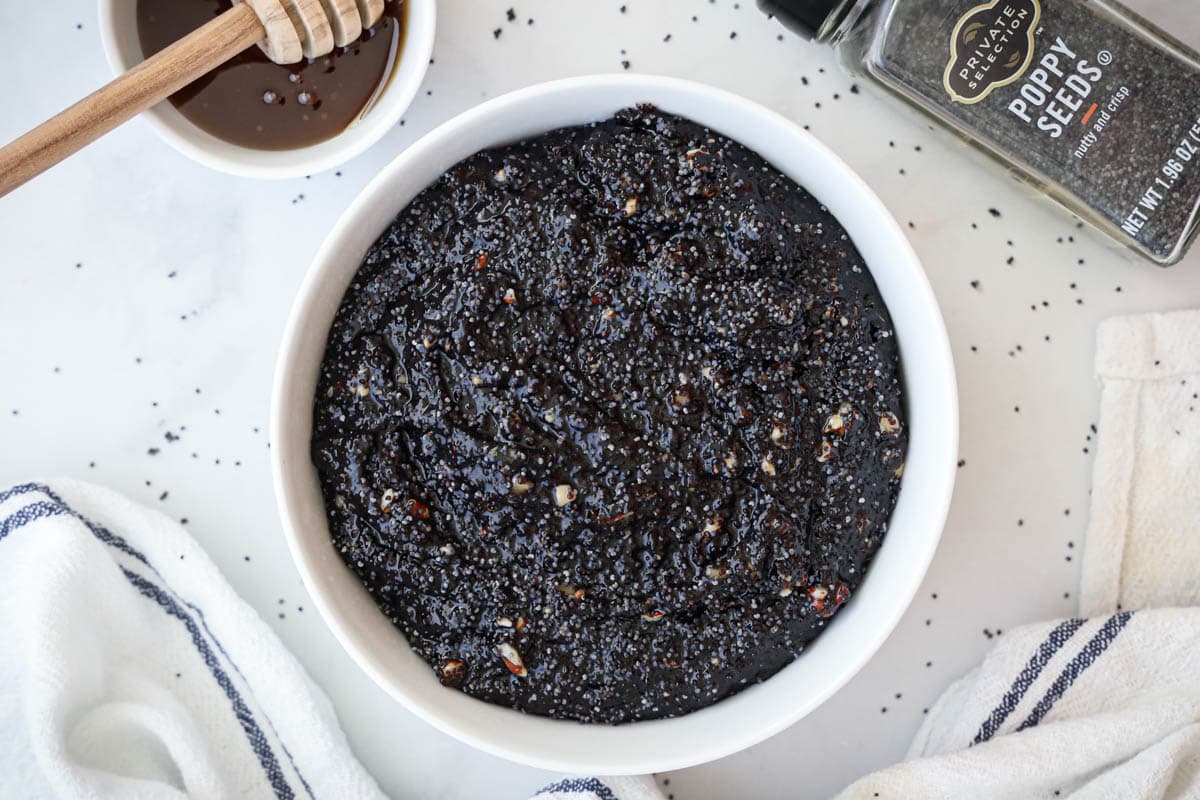 Serving Suggestions
This delicious Poppy Seed Filling is great in pastries, but can be served in other ways, too. Here are some delicious ideas to try.
Make This Recipe in Advance
Make ahead: You can make this recipe days ahead and store it until you're ready to use. Or if you want it fresh, soak and grind the poppy seeds, then store them in the fridge until you're ready to mix in the honey and walnuts.
Storing: Store this Poppy Seed Filling in the refrigerator in an airtight container for up to 5 days.
Freeze: Freeze this paste in a freezer-safe container or ziplock bag. It should last 3-4 months. Allow it to thaw in the fridge overnight and stir it well before using.
More Sweet Treats!
This recipe was originally posted on Mar 18, 2016, we've tweaked it a bit since then. This post may contain affiliate links. Read my disclosure policy here.
Full Recipe Instructions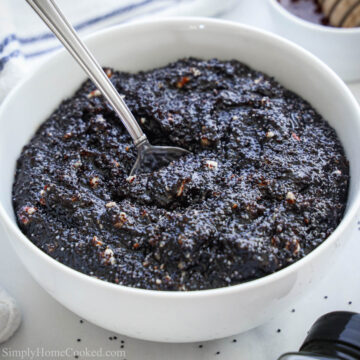 Poppy Seed Filling Recipe
Make scrumptious pastries filled with my favorite Poppy Seed Filling. Try it and you'll see what I mean…
Print
Pin
Rate
Instructions
Add dry poppy seeds and milk into a small saucepan. Bring to a simmer (not a boil) and continuously stir until most of the milk is absorbed. (About 6-8 minutes)
Nutrition
Calories:
145
kcal
|
Carbohydrates:
92
g
|
Protein:
16
g
|
Fat:
42
g
|
Saturated Fat:
5
g
|
Cholesterol:
9
mg
|
Sodium:
56
mg
|
Potassium:
653
mg
|
Fiber:
11
g
|
Sugar:
76
g
|
Vitamin A:
150
IU
|
Vitamin C:
0.9
mg
|
Calcium:
856
mg
|
Iron:
6.1
mg