This easy Quiche Lorraine recipe is made with a delicious buttery crust and an assortment of spring vegetables, cheese, and crispy bacon!
If you're making this quiche recipe for a brunch gathering, be sure to throw in some homemade buttermilk pancakes or brioche french toast on the menu.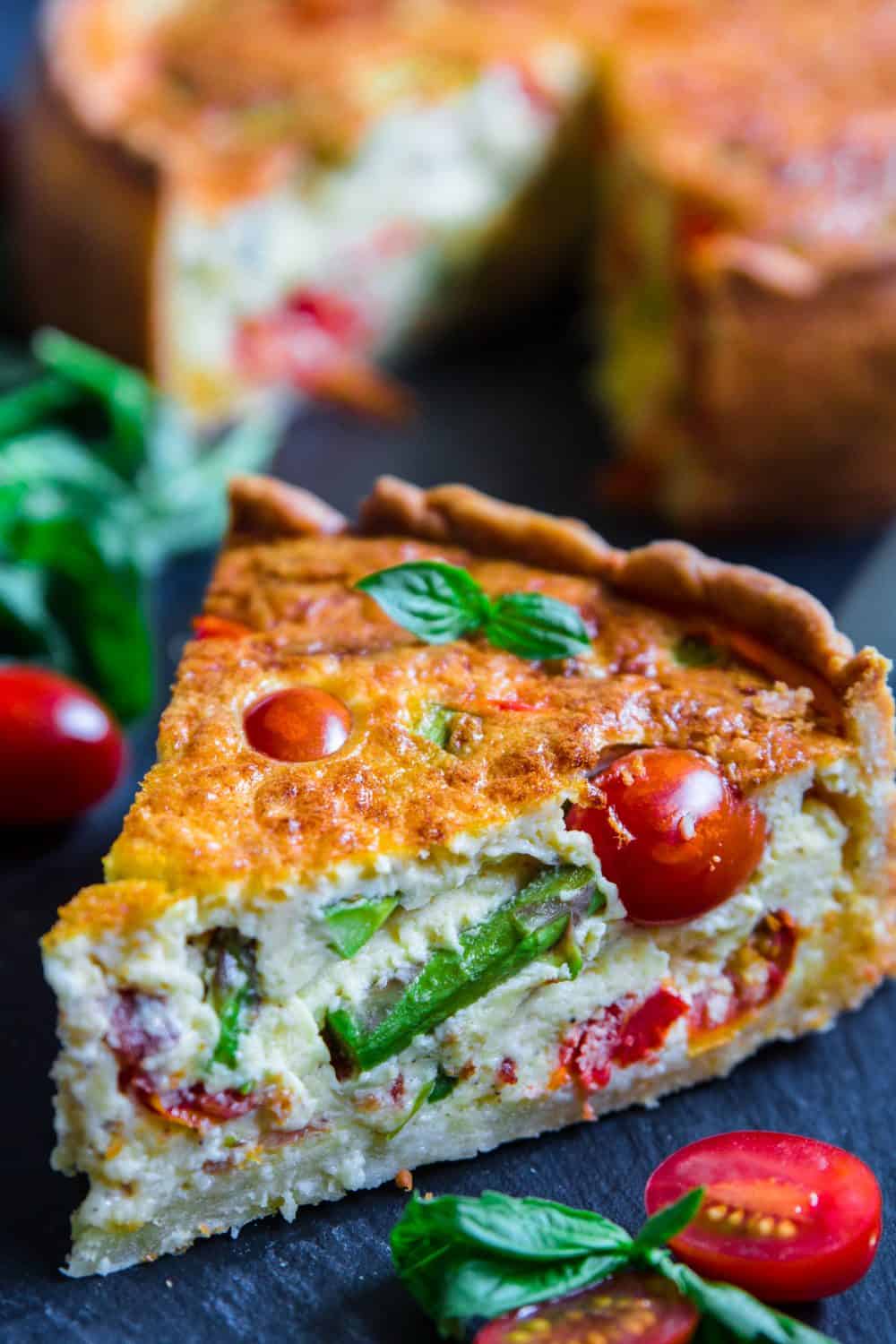 Quiche Lorraine
A traditional quiche lorraine recipe is made with a pastry crust, an egg custard, and some smoked bacon. Adding extra vegetables and cheese will definitely bring this easy quiche lorraine to a whole new level.
Quiche vs Quiche Lorraine
One of the biggest differences between a traditional quiche and a Lorraine is the filling ingredients. A Lorraine has a heavy cream and egg base and is filled with bacon and French cheeses. Whereas a traditional quiche is made with an egg center and mixed with a variety of cheeses, meats, and vegetables.
How to make quiche crust
Combine the COLD butter and cream cheese with the flour using a pastry cutter. Keep working the ingredients together until the butter gets down to the size of a pea.
Add in the eggs– make sure the eggs are lightly whisked beforehand and work them in with your hands until the dough begins to take shape.
Roll out the dough– You'll want to do this using a rolling pin. I find it easier to roll out the dough into some parchment paper so you can easily transfer it to the fridge to stiffen the butter again.
Pre-bake the crust- in a springform pan for about 10 minutes at 350 degrees Fahrenheit.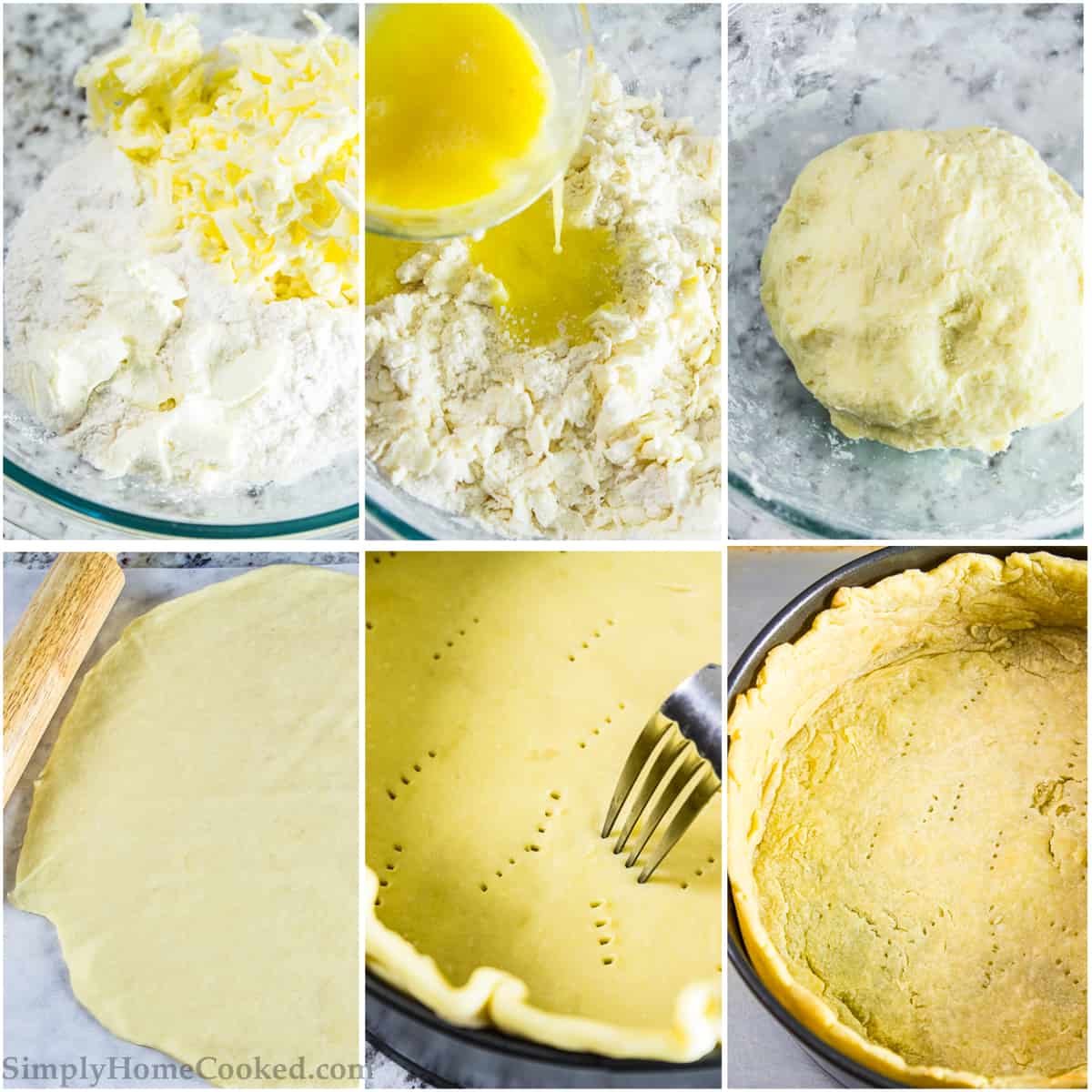 Pre-bake the crust for the quiche
When making a breakfast pie like this, you want to make sure to bake the crust before adding in the egg filling. This will help prevent the crust from becoming soggy.
How to make a quiche Lorraine
Make the buttery pie crust– The crust is the best part here so make sure your butter is nice and cold when incorporating it into the flour so it creates delicious pockets of buttery flakey crust.
Sautee the veggies– Slice up the zucchini and cherry tomatoes and sautee them with the minced garlic and hot oil.
Combine eggs with cream and spices– Make sure to use heavy cream for the ultimate creamy custard flavored egg base.
Fill the baked crust and bake again– After you've blind-baked your quiche crust, you can fill it with the egg mixture, bacon, veggies, and cheeses. Then bake it as mentioned in the recipe card.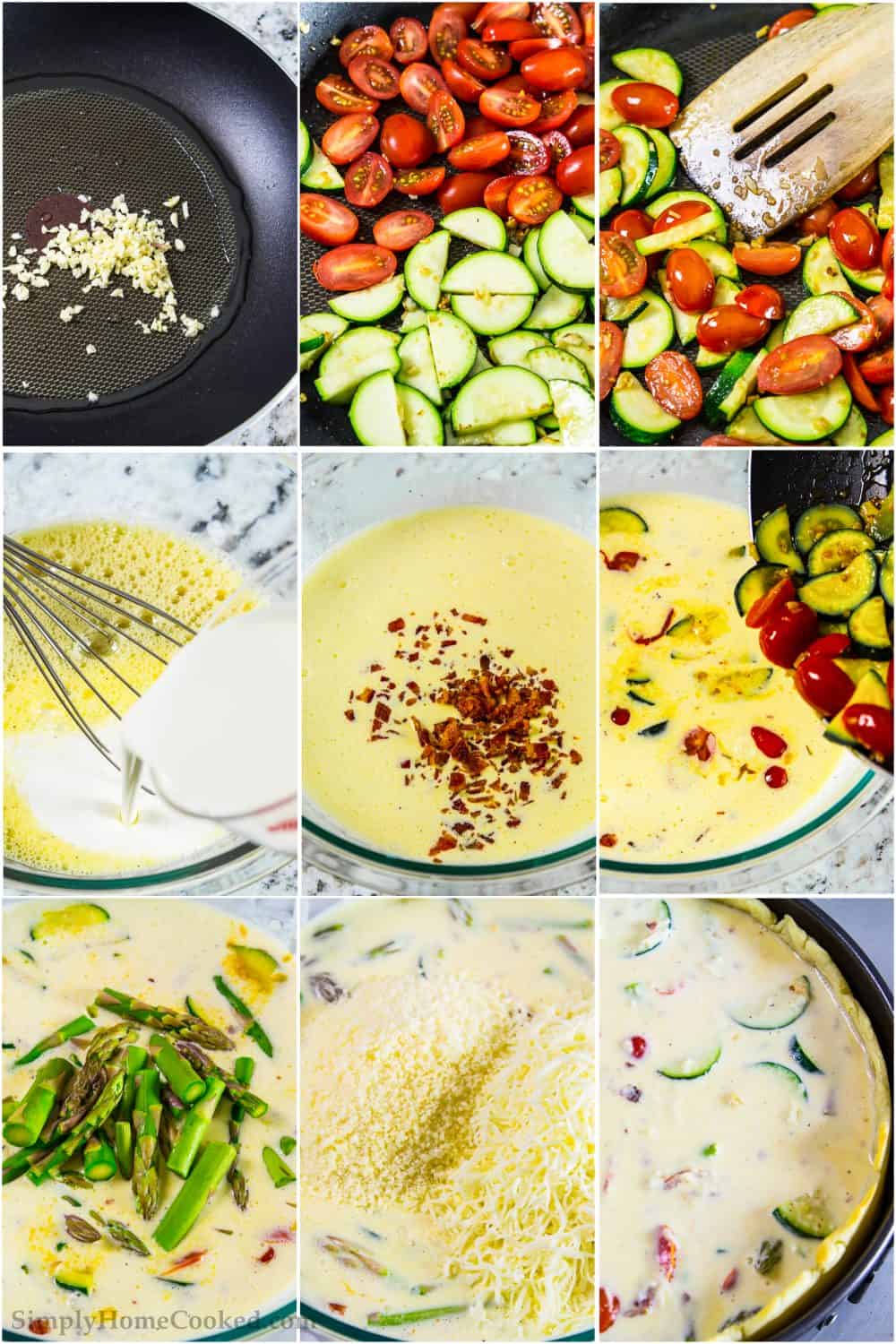 How to prevent the crust from getting soggy
Here are a few simple methods to keep your quiche crust moist-free.
Blind bake- All you have to do here is bake the shell of the crust before you add in the eggs. This will help it hold its shape better too.
Egg wash- Brushing the pie crust with a simple egg wash will create a semi-moisture proof barrier so that the eggs don't make it too wet.
Make sure you cook the bacon
If you only have uncooked bacon at home, make sure to cook it and chop it up before adding it to the quiche. You can either bake it in the oven or in a skillet. You can even use prepackaged bacon bits here as well.
Can you make quiche lorraine the night before
You can easily make a quiche in advance for easier breakfast prep the next morning. I highly recommend baking it completely and just leaving it in the fridge to cool overnight. Then all you need to do it reheat it in the oven the next day! You don't want to leave an unbaked quiche overnight since the uncooked eggs will soften up your crust and make a soggy mess.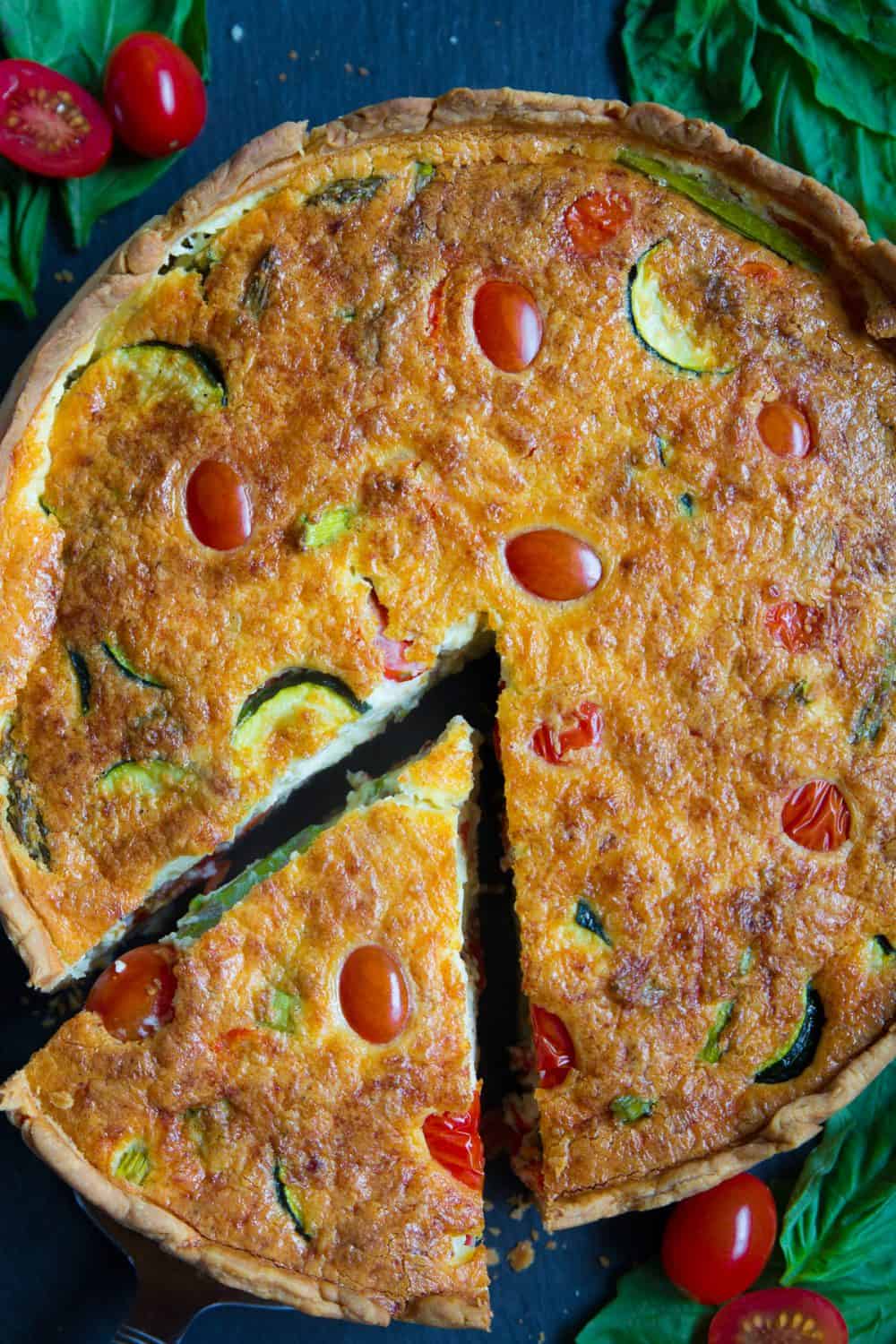 What goes with quiche lorraine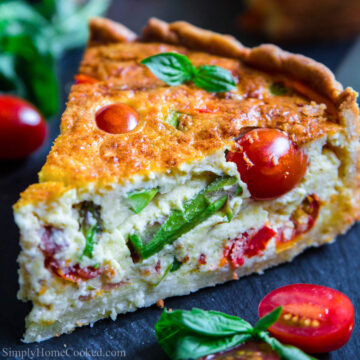 Quiche Lorraine Recipe
This Quiche Lorraine recipe is a scrumptious combination of flakey buttery crust filled with fresh spring vegetables, bacon, cheese, and eggs.
Print
Pin
Rate
Instructions
Make the crust
Start out with making the crust by combining the flour and salt in a large bowl.

Shred the cold butter and break the cream cheese into small pieces. Then add them both to the flour. If you don't want to shred the butter you can just cut it into the flour with a pastry cutter. Or you can mix everything together in a food processor to save time.

Using a pastry cutter or your clean hands, work the butter and cream cheese into the flour.

Lightly beat 2 eggs in a separate bowl and add them to the butter and flour mixture. Mix the dough with your hands until it begins to take shape.

Place the dough onto a sheet of parchment paper and use a rolling pin to roll it out to a circle about 15 inches in diameter.

Now, press the pie crust into a 9-inch spring form pan then trim the edges along the rim. Then place the crust in the freezer for at least 30 minutes to firm up the butter.
Blind Bake the pie crust
Once your crust is chilled, thoroughly prick the bottom and sides of the shell with a fork. Then line the crust with parchment paper and then fill it with pie weights or raw beans. Then bake the crust at 400 degrees Fahrenheit for 20 minutes. Remove the parchment paper and pie weights and bake for another 12-15 minutes.
Make the quiche filling
Place the bacon on a rimmed baking sheet lined with foil (for easy clean up) and cook at 400 degrees Fahrenheit for about 15-20 minutes flipping halfway through or cook it until golden and fully cooked. Let it cool, then chop it into small pieces.

Meanwhile, in a pan heat olive oil to medium-high heat, then quickly sauté the minced garlic, sliced zucchini, and cherry tomatoes for about 2-3 minutes. Then remove from heat.

Then in a large bowl, whisk 6 large eggs with salt, pepper, and heavy cream.

Then add the bacon, sautéed vegetables, freshly chopped asparagus, grated Parmesan, and shredded mozzarella cheese. Mix to combine.

Pour the egg filling into the baked pie shell and bake at 350 degrees Fahrenheit for 45-55 minutes or until lightly browned and set in the middle and no longer jiggles. Cool for about 15 minutes before serving. Note: every oven runs differently, so bake times may vary.
Notes
How to store homemade quiche with a crust?
After the quiche is baked and cooled, you can cover it with plastic wrap and keep it refrigerated for up to 5-7 days.
How to reheat quiche Lorraine
Place the cold quiche into a baking sheet and warm it in the oven at 350 degrees Fahrenheit for about 15 to 20 minutes.
Nutrition
Calories:
893.32
kcal
|
Carbohydrates:
38.35
g
|
Protein:
24.12
g
|
Fat:
72.46
g
|
Saturated Fat:
38.52
g
|
Cholesterol:
401.01
mg
|
Sodium:
1499.68
mg
|
Potassium:
348.31
mg
|
Fiber:
1.81
g
|
Sugar:
1.88
g
|
Vitamin A:
2447
IU
|
Vitamin C:
7.58
mg
|
Calcium:
292.16
mg
|
Iron:
3.85
mg
This recipe was originally posted on Apr 30, 2018, we've tweaked it a bit since then.