This BLT Pasta Salad is a delicious spin on the traditional BLT sandwich. You'll love the way the pasta, bacon, veggies, and dressing taste in this amazing dish.
Can't get enough bacon? This BLT wrap and air fryer bacon recipe will make your day!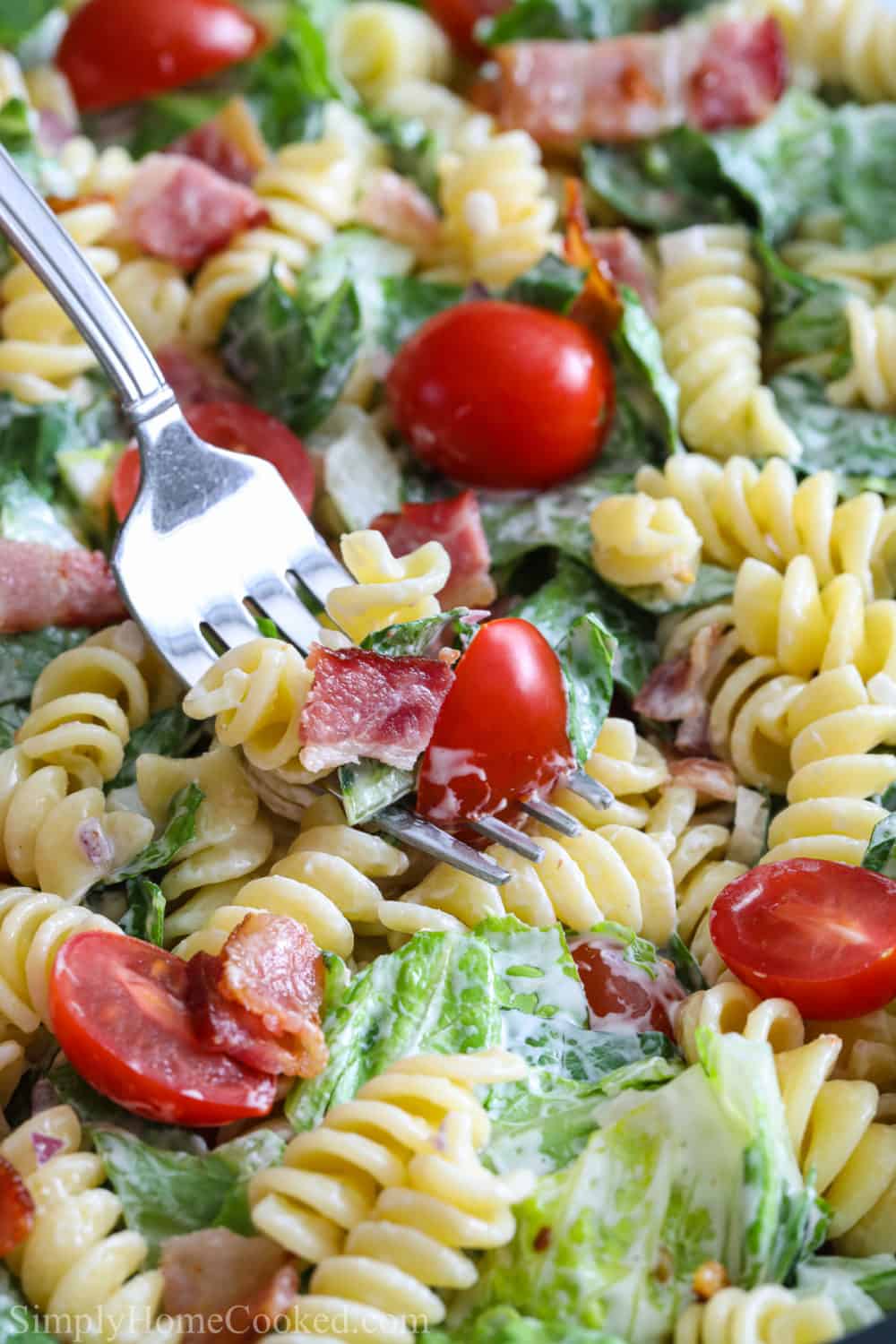 BLT pasta salad
This BLT pasta salad is so tasty. It combines all the best parts of a classic BLT – crispy bacon, crunchy lettuce, juicy tomato, and mayo – with rotini pasta and ranch. The flavors are amazing and this salad is the perfect thing to share with family or bring to a backyard barbecue. With simple ingredients and easy preparation, you can make it quickly whenever the urge strikes. Put together a salad bar with this savory pasta salad alongside other yummy offerings, like this Broccoli Cranberry Salad and Asian Chicken Salad. Or plate it with your favorite burger or sandwich. However you decide to serve it, definitely give this BLT pasta salad a try.
Best type of lettuce for BLT
The best types of lettuce are romaine and iceberg. Both are crisp and hold onto their crunch even with dressing. Romaine has more health benefits, while iceberg is crunchier. But both work great in this BLT pasta salad.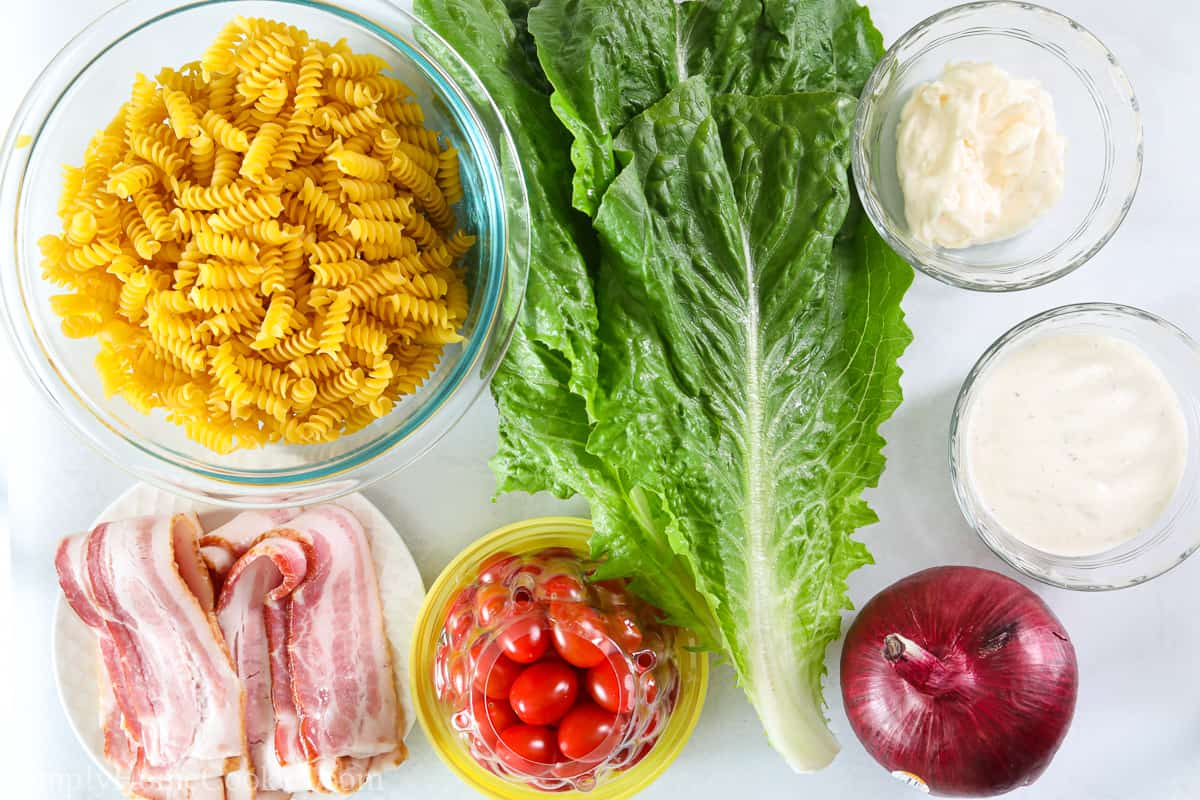 How to make a BLT pasta salad
Cook the bacon. You can cook the bacon in a pan or in an air fryer. Once it's crispy, cut it into tiny pieces and place it in a large bowl.
Chop the veggies. Chop the tomatoes, lettuce, and onion. Put them in the bowl with the bacon.
Cook the pasta. Prepare the rotini according to the package directions and then rinse it with cold water. Drain and add to the salad.
Make the dressing. Whisk together the mayonnaise and ranch in a small bowl.
Dress the BLT pasta salad. Drizzle the dressing over the other ingredients and toss it. Serve immediately for best taste and texture.
Make it more filling
This pasta salad doesn't have to just be a side dish. It can also be the main meal. To make it more filling, consider adding cubed chicken, chopped hard-boiled egg, or tofu. Other meats and vegetables can be added to this salad according to your preference, so experiment with your favorite ingredients.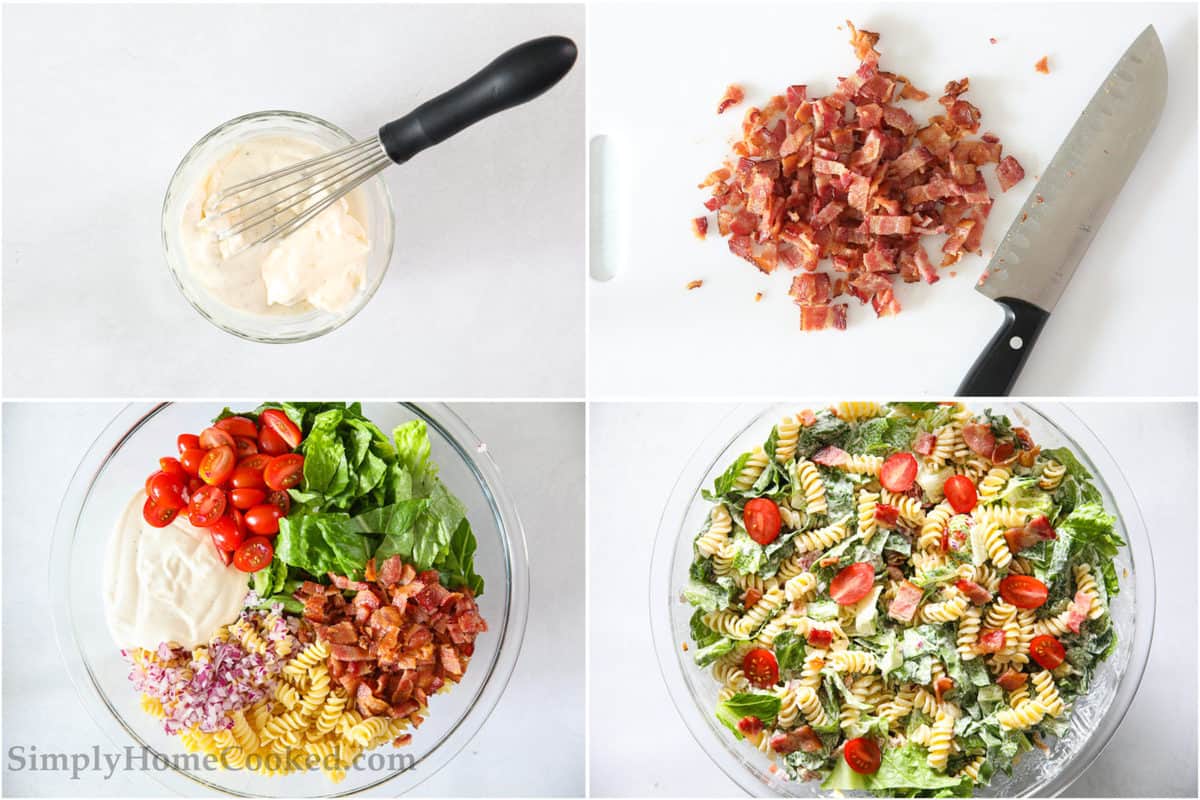 What kind of dressing goes well with it?
A mayonnaise-based ranch dressing goes best because it is similar to what is normally on a BLT. The sweet and tangy creaminess really offset the savory bacon and vegetables. But if you prefer other dressings, like caesar, 1000 island, or a vinaigrette, then give them a try. This BLT pasta salad is very versatile and goes well with so many flavors. If you love this type of salad, give my Italian pasta salad a try!
What to serve it with?
How long will this salad keep?
This BLT Pasta Salad is best enjoyed the same day as it's made. It just won't be the same the next day, especially the lettuce, once it's sat in the dressing, so serve immediately.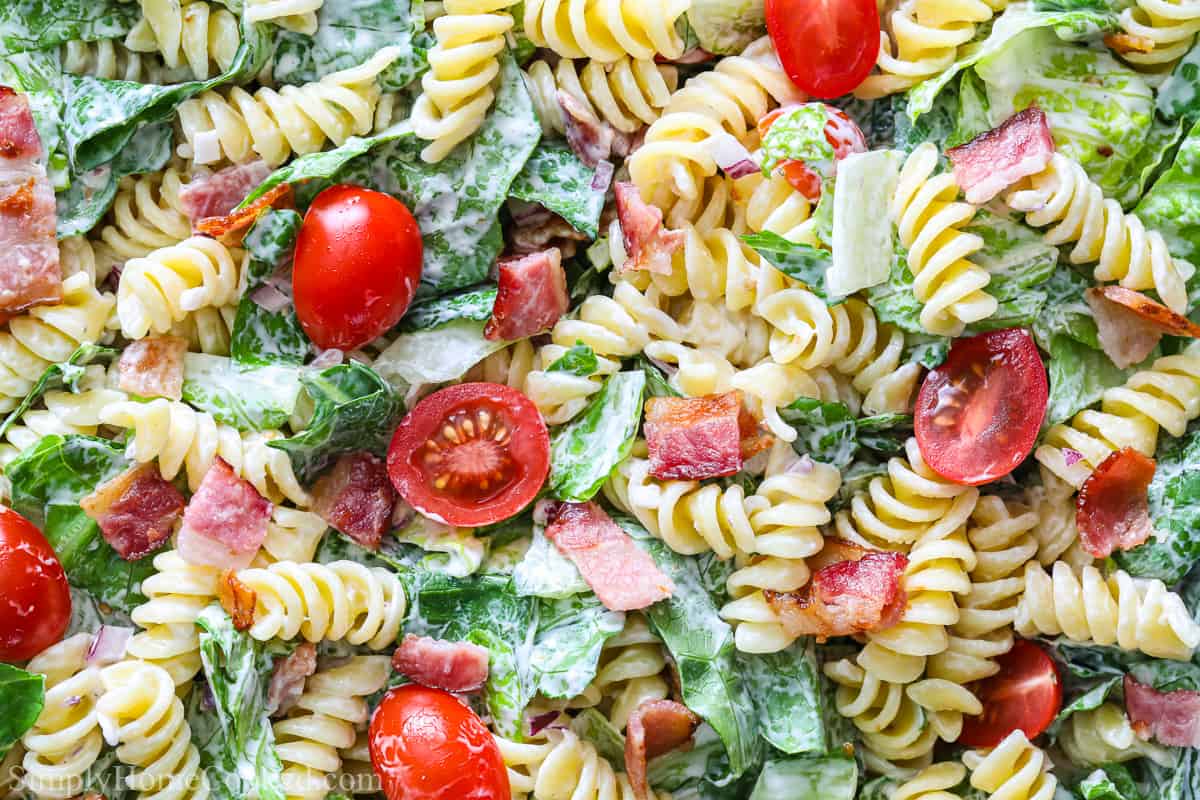 Full Recipe Instructions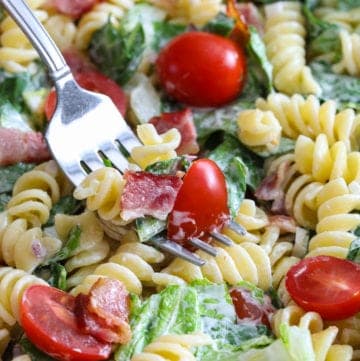 BLT Pasta Salad
Savory, creamy, and crunchy, this BLT Pasta Salad has it all. Try this delicious spin on a classic BLT and you might just have a new favorite recipe!
Print
Pin
Rate
Instructions
Chop up the salad ingredients
Now chop the lettuce, tomatoes, and red onion. Then place them in A large bowl along with the chopped bacon. 
Cook and cool the pasta
Make the dressing by combining the ranch and mayonnaise together with a whisk.
Make the dressing
Pour the dressing over the salad ingredients and give them a good throw toss. Served immediately for optimal crispiness and crunchiness. 
Notes
Nutrition
Calories:
367
kcal
|
Carbohydrates:
38
g
|
Protein:
9
g
|
Fat:
20
g
|
Saturated Fat:
4
g
|
Cholesterol:
20
mg
|
Sodium:
386
mg
|
Potassium:
263
mg
|
Fiber:
2
g
|
Sugar:
3
g
|
Vitamin A:
2172
IU
|
Vitamin C:
7
mg
|
Calcium:
27
mg
|
Iron:
1
mg