This Smoked Salmon Bagel consists of wild Alaskan sockeye salmon spread onto a warm toasted bagel with cream cheese, avocado, red onion, tomatoes, and fresh dill. It's truly scrumptious!
If you love smoked salmon, then you should try these delicious Smoked Salmon Cups and Smoked Salmon Cucumber Appetizers (VIDEO).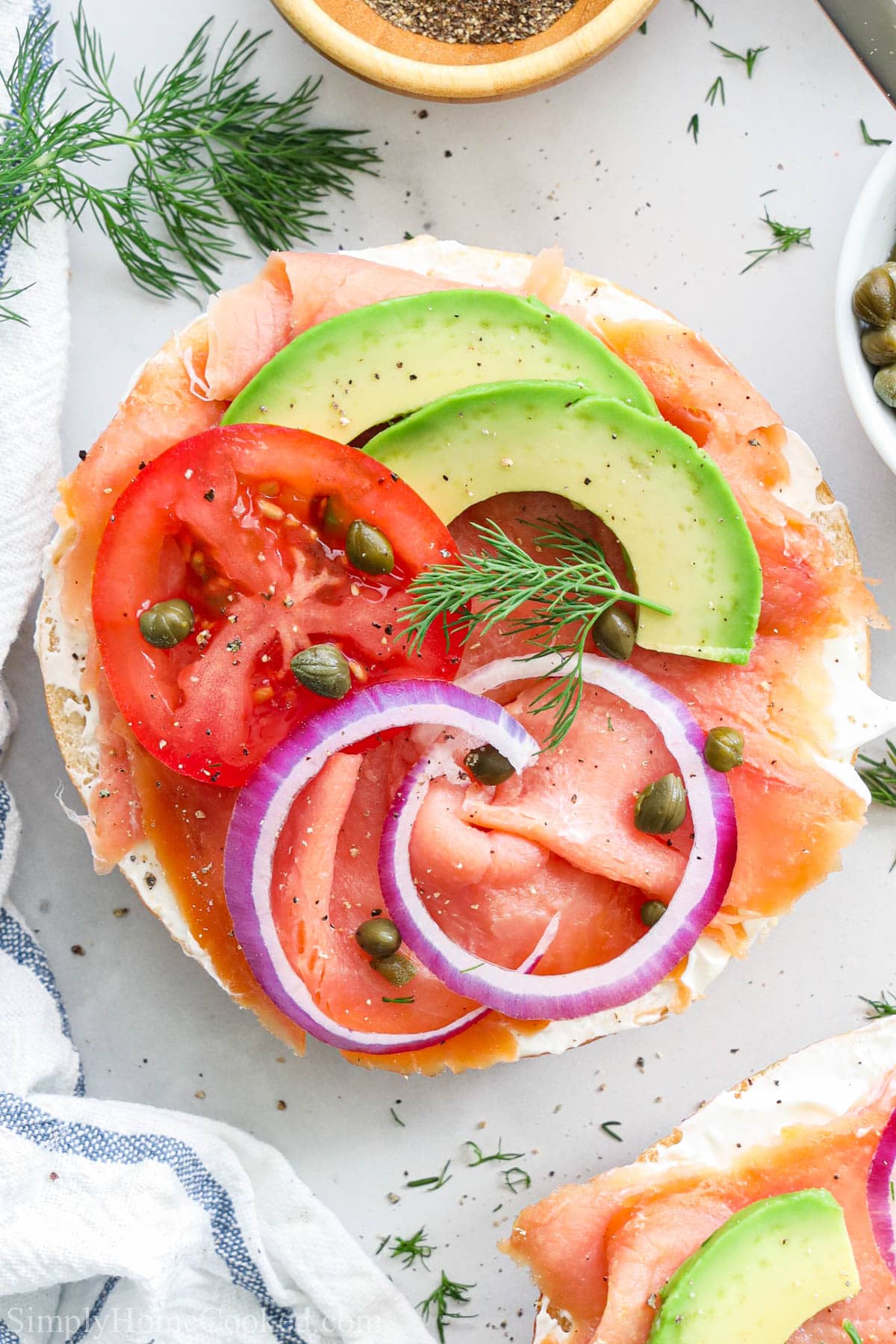 Table Of Contents
Recipe Details
I love this Smoked Salmon Bagel recipe because it can be customized according to anyone's preference. When I host a brunch, this is always on the menu.
TASTE: The smoky flavor of the salmon is balanced by the rich cream cheese and toppings. Salty, sweet, and herbaceous, these toppings add a lot of flavor to this dish.
TEXTURE: The smoked salmon is delicate and moist, while the bagel is toasted to a light crisp and covered with thick cream cheese and crunchy, juicy veggies.
TIME: It only takes 10 minutes!
EASE: This is such a simple recipe to make. You can whip up these Smoked Salmon Bagels with only a few ingredients and three easy steps.
What You'll Need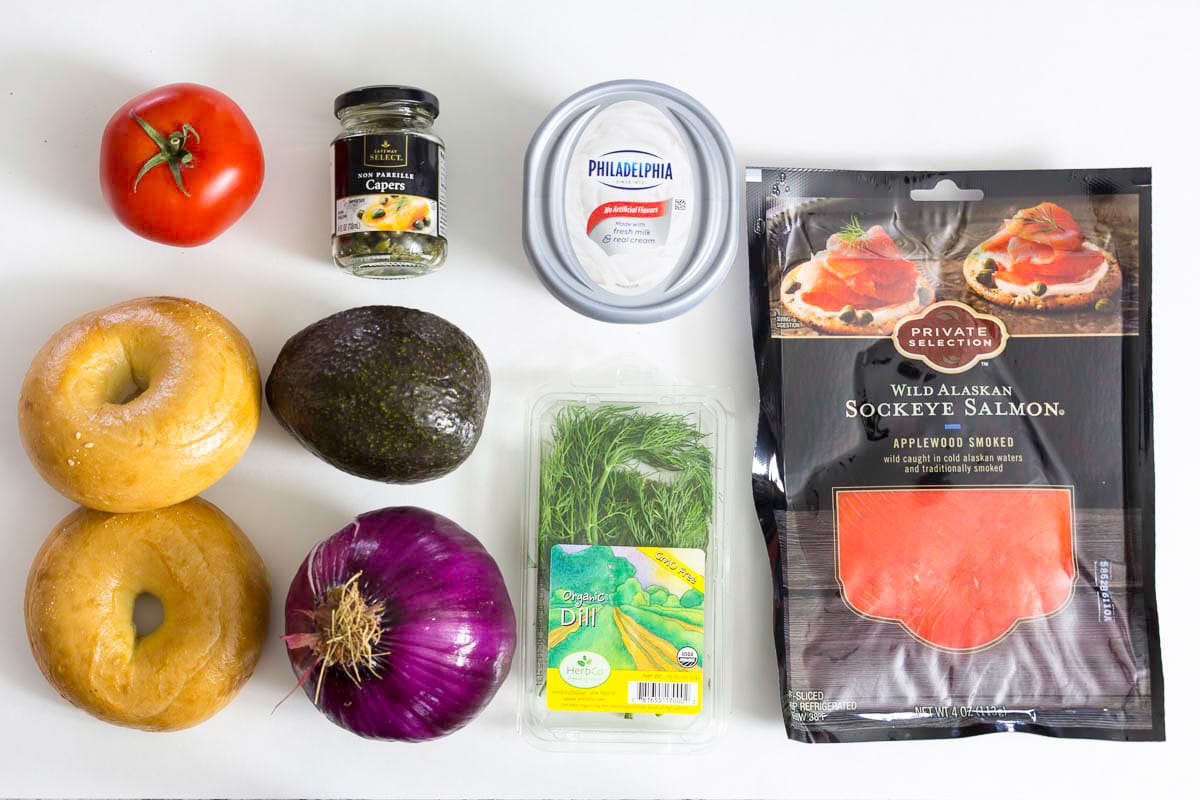 Ingredient Notes
Salmon- This ingredient is really the star of the show, so choose a good quality smoked salmon. I used wild Alaskan sockeye salmon that was applewood smoked.
Cream cheese- Plain, full-fat cream cheese is used for this smoked salmon bagel. You can also use flavored ones, such as scallion or chive, for added flavor.
Bagel- Plain bagels are great because they offer a hard outer layer and a fluffy inside, and the flavor is mild enough to not overshadow the smoked salmon. Use store-bought or make your own homemade bagels.
Add-ins and Substitutions
Add toppings- You can make this Smoked Salmon Bagel just the way you like it with toppings like sliced tomatoes, avocado, red onion, capers, and fresh dill.
Substitute the cream cheese- Instead of cream cheese, you can make this recipe with goat cheese, brie, neufchatel cheese, or gouda.
Use different types of bagels- Plain bagels don't overpower the flavors of the salmon and cream cheese, but you can also use poppy, garlic, egg, everything, or any other type of bagel you like.
Substitute different salmon preparations- Salt-cured, brined, or cooked salmon can be used in place of smoked if you prefer a silkier or firmer texture, respectively.
How to Make a Smoked Salmon Bagel
Toast the bagel. Toast the sliced plain bagels in a toaster until golden brown.
Add the cream cheese. Then spread your desired amount of cream cheese on top of each halved bagel.
Assemble rest of bagel toppings. Now add the smoked salmon and the rest of your favorite salmon bagel toppings. Serve.
Pro Tip: Allow the bagel to cool slightly so that the cream cheese doesn't melt. This recipe is best when the salmon stays cold.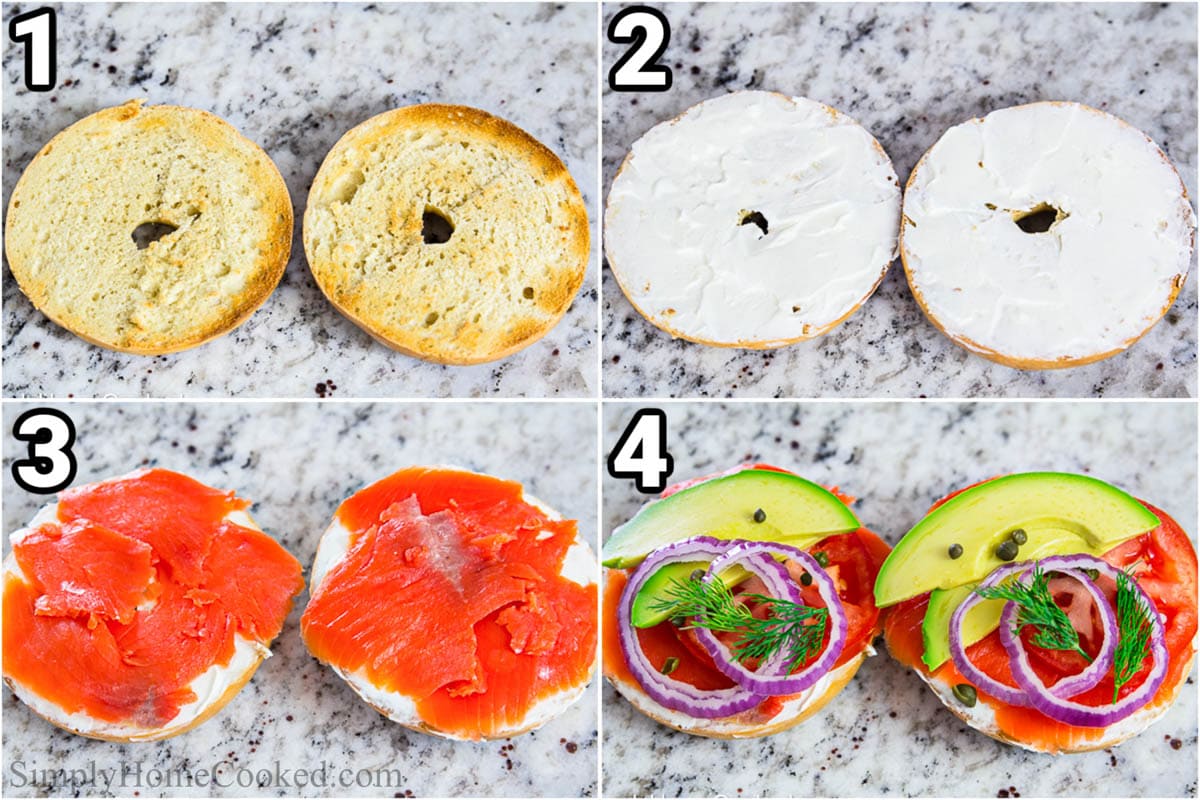 Recipe Tips
Toast the bagel- While this isn't mandatory, toasting gives the bagel some added texture and strength to hold your toppings without getting soggy or tearing.
Don't overdo the cream cheese- Cream cheese can easily take over with its rich flavor and thick texture, so only use about 2 tablespoons to keep your flavors in balance.
Slice your toppings thin- This is an elegant bagel sandwich, so you don't want huge slices of avocado or tomato on top. Slice everything thinly so a little of each ingredient makes it into every bite.
Be careful with strong flavors- Red onions, capers, and dill are just a few strongly flavored toppings that should be added with care. Don't go overboard or you won't taste your smoked salmon.
FAQs
Is smoked salmon on bagel cooked?
The salmon on this Smoked Salmon Bagel is first cured and brined, then smoked. While it's not technically "cooked," it is safe to eat as the smoking process keeps the meat from spoiling or growing bacteria.
Is there a difference between lox and smoked salmon?
Lox and smoked salmon are very similar, but not exactly the same. Lox is cured or salt-brined, leaving it with a mostly salty flavor. Smoked salmon is cured or salt-brined as well, but then it is smoked. This gives it a smoky flavor. The smoking process and resultant flavor are what differentiate the two.
Cold smoked salmon vs hot smoked salmon
Cold smoked salmon, also known as lox, is cured in a salt and sugar rub.
Hot smoked salmon is marinated in spices and sugar then smoked with heat along with wood chips.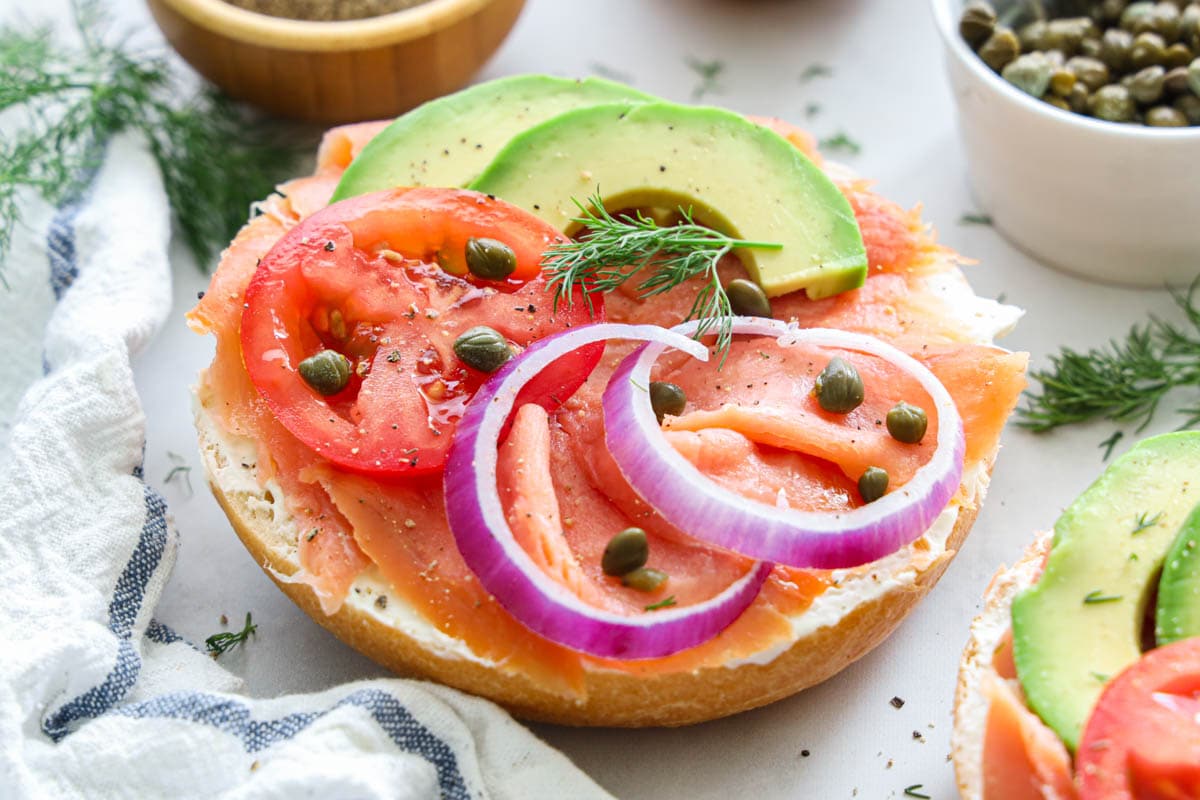 Serving Suggestions
This Smoked Salmon Bagel is elegant enough to be served as a party appetizer and simple enough to be enjoyed at family brunch.
Make This Recipe in Advance
Make ahead: You can make these ahead of time by slicing the toppings and storing them in the fridge. When you're ready, toast and assemble your Smoked Salmon Bagel and serve.
Storing: Store any leftovers in an airtight container or wrapped in plastic wrap in the refrigerator for up to one week. Wrap it well to avoid dryness and the bagel getting stale faster.
Freeze: You can separately freeze the salmon and bagels in airtight containers or ziplock bags for up to 3 months. The cream cheese and toppings should be kept in the fridge. Thaw the bagel and smoked salmon overnight in the fridge before assembling.
More Yummy Brunch Dishes!
This post may contain affiliate links. Read my disclosure policy here. This recipe was originally posted on Jan 12, 2017, we've tweaked it a bit since then.
Full Recipe Instructions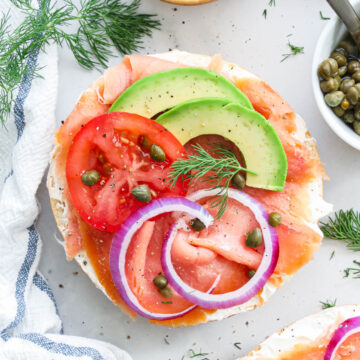 Smoked Salmon Bagels
An easy and delicious smoked salmon bagel. This recipe is loaded with cream cheese and healthy toppings.
Print
Pin
Rate
Ingredients
2

plain bagels

8

Tbsp

cream cheese

smoked Sockeye salmon

1

tomato

1

avocado

1

Tbsp

capers

1/4

Red onion

1

Tbsp

Fresh dill
Instructions
Slice the bagels in half and toast them in the toaster

Spread about 2 tablespoons of cream cheese on each bagel slice.

Add your desired amount of smoked salmon and sliced tomatoes.

Add sliced avocado, red onion, dill, and capers. Then season with freshly cracked pepper and enjoy.
Nutrition
Calories:
274
kcal
|
Carbohydrates:
33
g
|
Protein:
7
g
|
Fat:
13
g
|
Saturated Fat:
3
g
|
Cholesterol:
15
mg
|
Sodium:
389
mg
|
Potassium:
316
mg
|
Fiber:
4
g
|
Vitamin A:
270
IU
|
Vitamin C:
5
mg
|
Calcium:
30
mg
|
Iron:
1
mg