This Easy BLT Dip is flavorful, delicious, and so fun. If you love BLTs, then this dip will be a great addition to your table for easy snacking with your favorite chips or vegetables.
For more recipes that feed your BLT craving, try our BLT pasta salad and BLT wrap.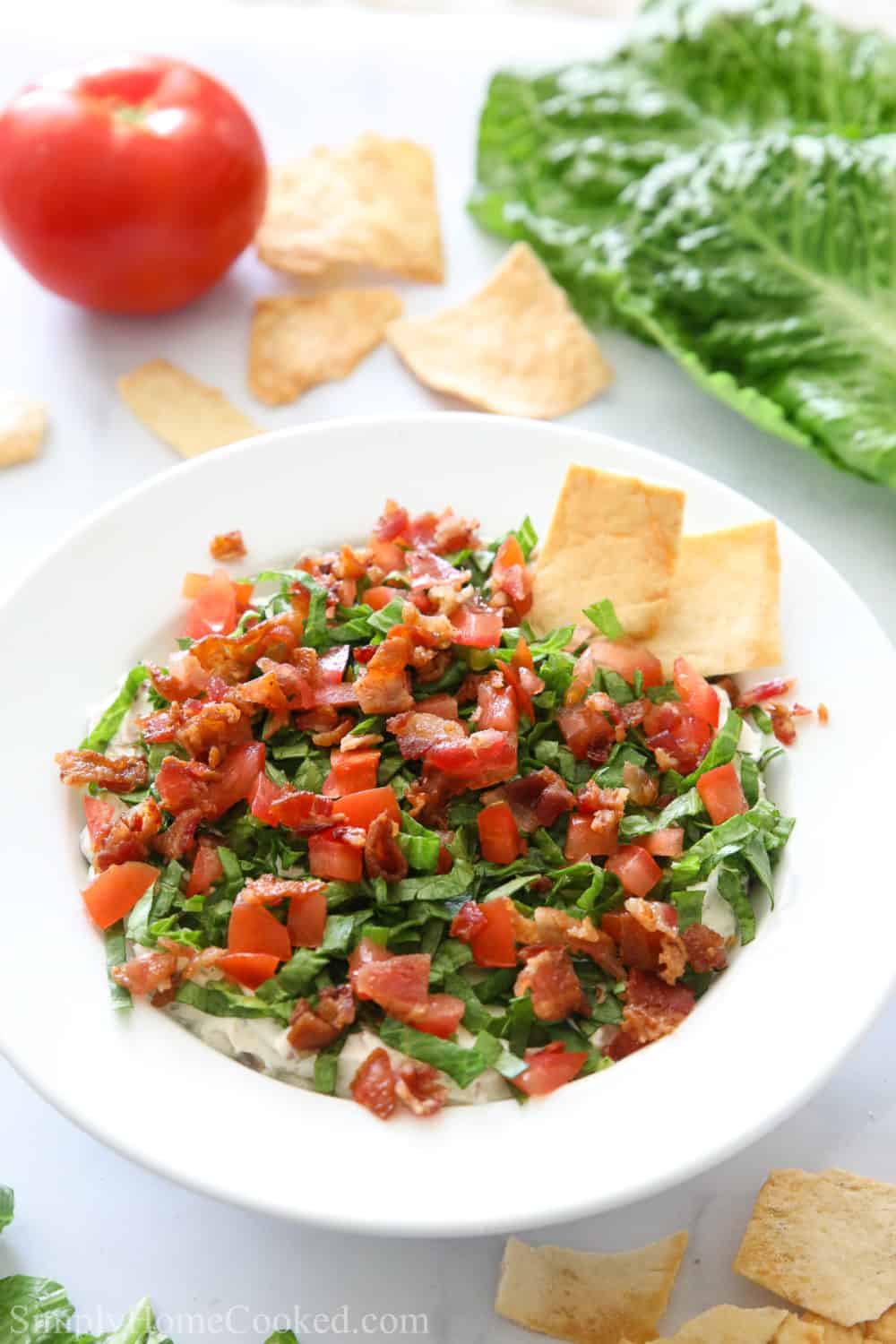 The BEST BLT dip
I just love a good dip. Something creamy and bursting with flavor. This easy BLT dip is one of the best. You're going to love the mix of bacon and ranch seasoning in a creamy base, with juicy tomatoes and lettuce, too. Grab your favorite chips or veggies to really enjoy this scoopable dish. If you're putting together a chip and dip table, this dip will fit right in with other tasty recipes, like Jalapeno Artichoke Dip and Seven Layer Taco Dip. If you prefer a fresher option, then serve the BLT dip with this Cream Cheese Fruit Dip.
What goes into a BLT dip?
Creamy base- Cream cheese, Sour cream, and Mayonnaise
Flavor boosters- Bacon, Lettuce, Tomato, and Ranch seasoning mix
Does it matter what type of lettuce I use?
No, the choice of lettuce is up to you. We used romaine lettuce in this best BLT dip recipe for its bright green color and mix of soft leaves and crunchy stems. But you can use any lettuce you like, such as iceberg, bibb, or red leaf.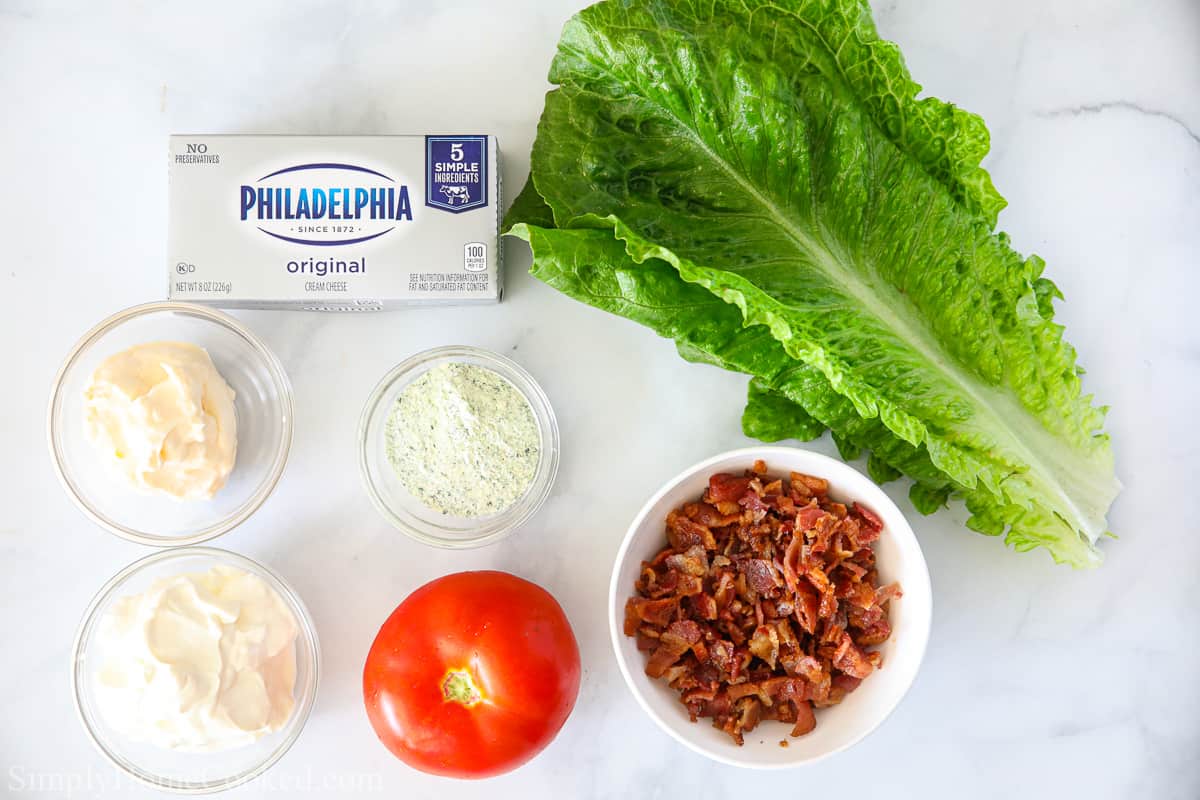 Tips
Use softened cream cheese- By leaving it out at room temperature to soften, it will make it easier to mix into the other ingredients thoroughly, and less likely to clump together.
Seed the tomatoes- Remember to seed the tomatoes so you get the juicy outer layer of the tomato without the somewhat slimy innards where the seeds reside. This will decrease water in the dip and also give it a better texture.
Cook bacon the easy way- If you place the bacon on a wire rack on a baking sheet, you can cook your bacon with less mess and work in the oven. After 15-20 minutes at 375 degrees Fahrenheit, the bacon will be crispy and ready for the dip. You can also cook it to perfection with this air fryer bacon recipe – and faster, too!
How to make it
Create the creamy base. Combine the cream cheese, mayonnaise,

sour cream,

ranch seasoning

, and crumbled bacon in a mixing bowl with an electric hand mixer.

Prep the tomatoes. Seed and dice the tomatoes. Place them in the mixing bowl and mix gently to avoid making them mushy.
Serve. Place the BLT dip in a serving bowl and top with lettuce bits and more bacon and tomatoes, if you wish.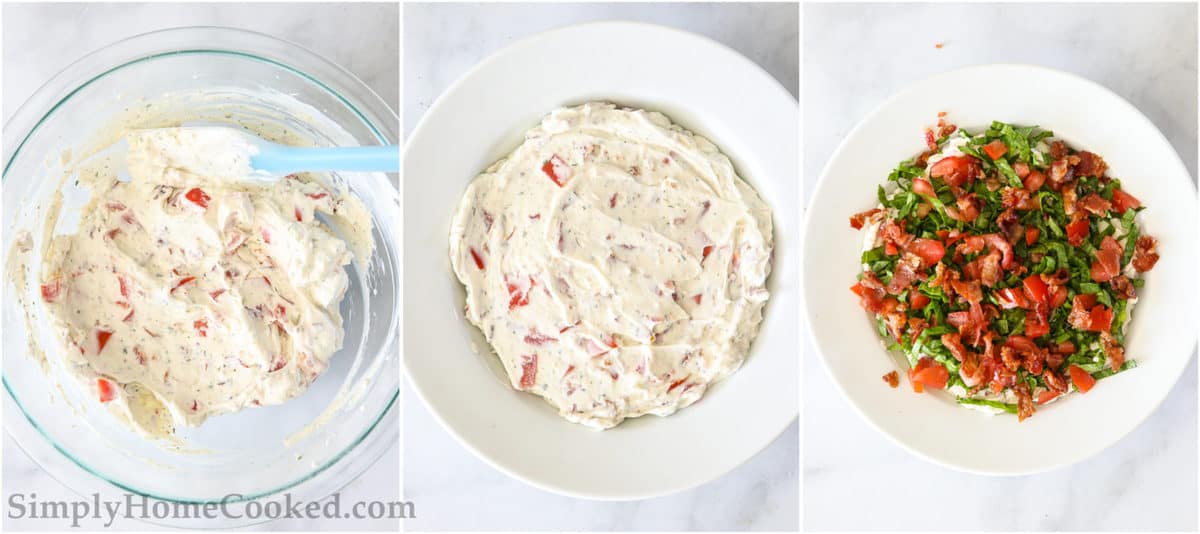 What can I serve it with?
This easy BLT dip goes great with almost anything. Rice crackers, chips, flatbread, bagels, and bread can all be used to either dip or spread this delicious appetizer. You can also use vegetables for dipping, like celery, cucumber, or carrots.
How long will it keep?
This best BLT dip will last for about 2-3 days in the refrigerator if it is stored in an airtight container. After that, many of the ingredients begin to get soft and mushy, so it's best served within a few days.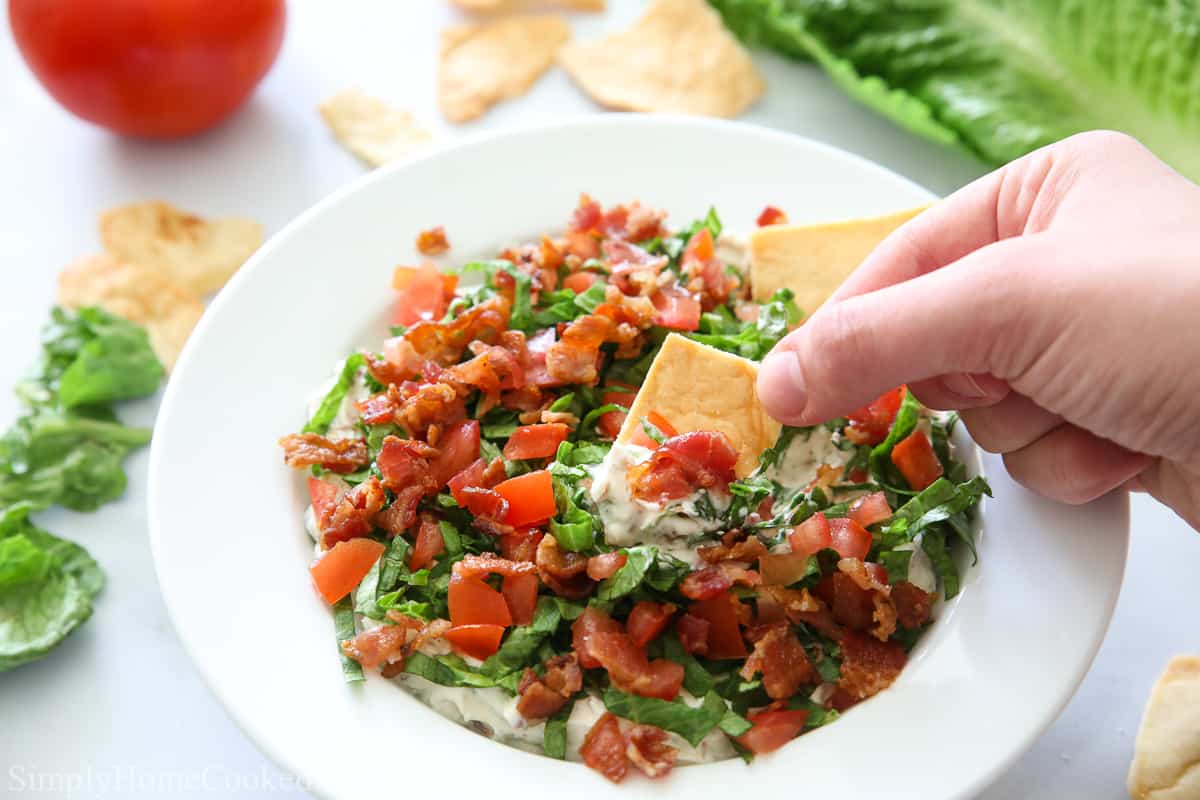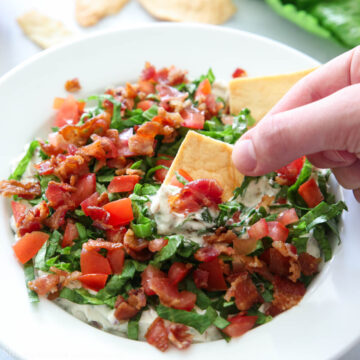 Easy BLT Dip
This Easy BLT Dip is creamy, savory, and delicious. Enjoy it with your favorite veggies or chips as a snack or serve it to guests as a tasty appetizer.
Print
Pin
Rate
Instructions
In a mixing bowl, combine the cream cheese, mayonnaise, sour cream, ranch seasoning, and crumbled bacon using an electric hand mixer.

Now seed your tomatoes and dice them up.

Gently mix in the tomatoes into the BLT dip. Over mixing with cause it to become mushy.

Now place then dip into a serving bowl and top with the crunchy Romain lettuce, or even add extra bacon and tomatoes on top.
Nutrition
Calories:
168
kcal
|
Carbohydrates:
4
g
|
Protein:
4
g
|
Fat:
15
g
|
Saturated Fat:
6
g
|
Cholesterol:
37
mg
|
Sodium:
450
mg
|
Potassium:
106
mg
|
Fiber:
1
g
|
Sugar:
1
g
|
Vitamin A:
361
IU
|
Vitamin C:
2
mg
|
Calcium:
34
mg
|
Iron:
1
mg