Make this simple Chocolate Bark Recipe with dried fruit and nuts as the perfect snack to satisfy your craving for something sweet and savory. This melt-in-your-mouth goodness is guaranteed to be a crowd pleaser.
When making baskets of candy to gift to friends and family, pair this chocolate bark with some of our Chocolate Meringue Cookies or Candied Pecans.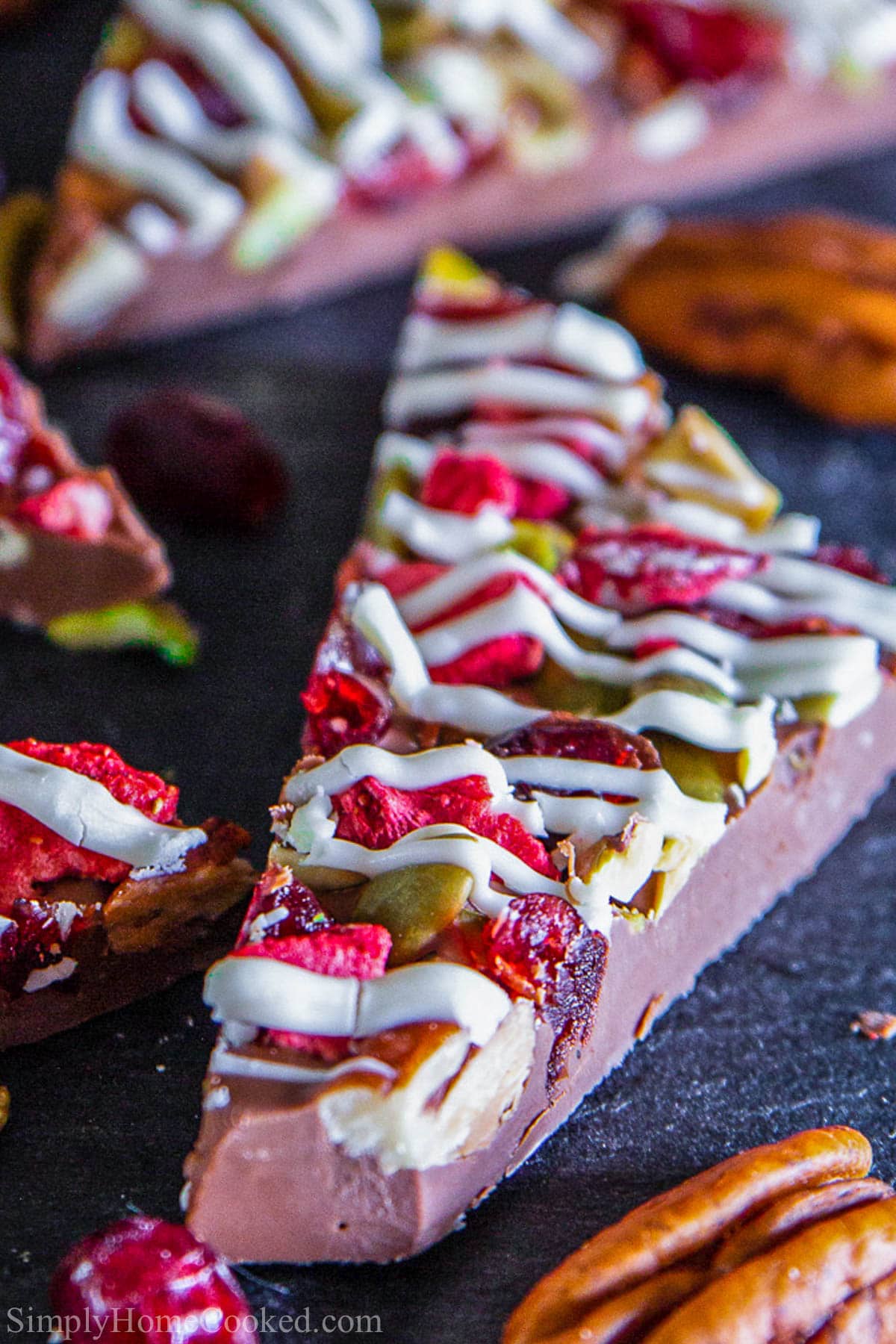 Table Of Contents
Recipe Details
I love chocolate, so this Chocolate Bark recipe is definitely a favorite in my candy and dessert making repertoire. It's so simple to make, but is perfect for satisfying everyone's sweet tooth.
TASTE: Sweet and salty, this bark is made with nuts and fruit that pair deliciously with the sweet, rich chocolate.
TEXTURE: The chocolate is solid, but melts in your mouth. The crunch of the nuts and seeds and chewy fruit are a tasty contrast.
TIME: This recipe only takes 15 minutes.
EASE: You will love how easy this is to pull together and how fast you can have it ready to serve to friends and family.
What You'll Need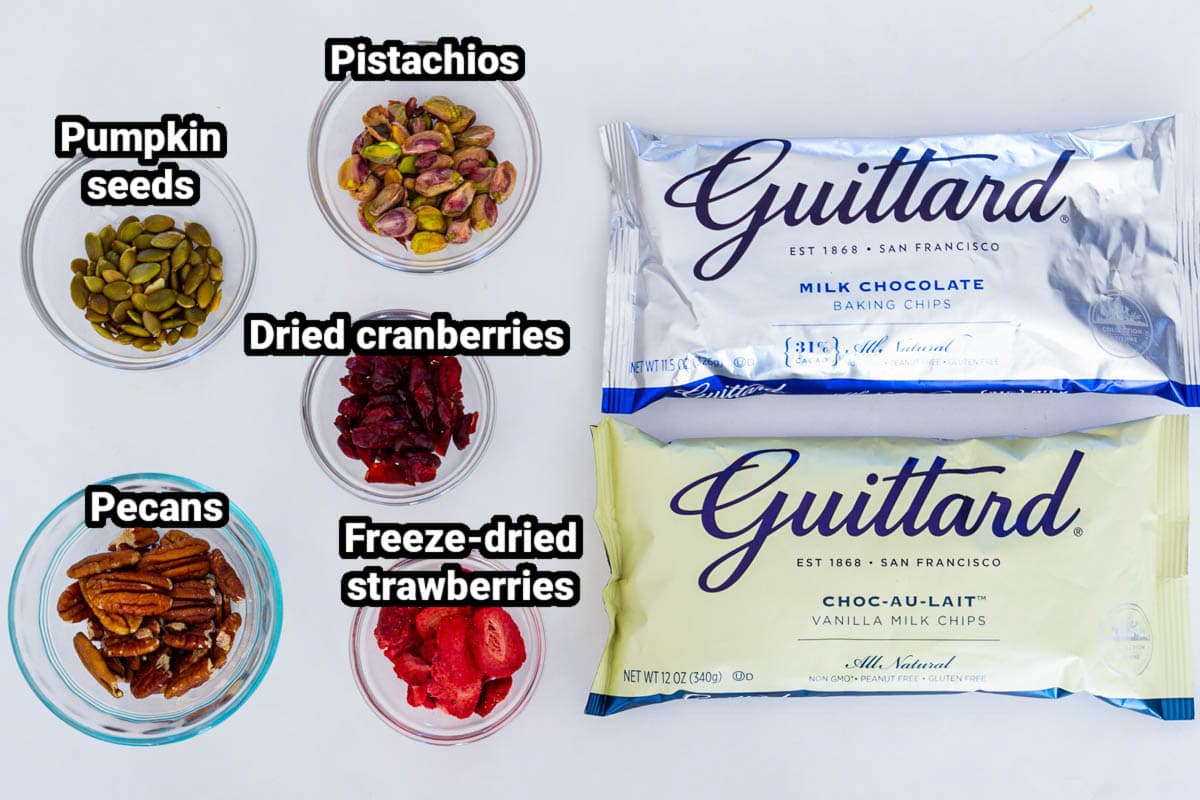 Ingredient Notes
Milk Chocolate Chips– This chocolate will be the base of the bark. I used chips, but you can also use chopped up blocks of chocolate.
White Chocolate Chips– This is melted to drizzle on top of the bark and toppings for extra chocolaty flavor and to make it even prettier.
Pistachios- These nuts have a fresh earthy flavor and add nice crunch to the Chocolate Bark.
Pumpkin Seeds– These are mild in taste, but have delicious chew, adding wonderful texture.
Dried Cranberries– Chewy, sweet, and tart, they are a good contrast to the sweetness of the chocolate.
Freeze Dried Strawberries– Crunchy rather than juicy, these will add strawberry flavor without making your bark soggy.
Pecans- These are crunchy with a sweet, buttery flavor.
Add-ins and Substitutions
Substitute another chocolate- Try this recipe with dark chocolate or semi-sweet chocolate, or use white chocolate as the bark with milk chocolate as the drizzle.
Add different nuts- You can use other nuts, such as walnuts, macadamia nuts, almonds, hazelnuts, or cashews.
Make it mint- Adding peppermint or mint extract to the chocolate while it's melted will give this Chocolate Bark a more holiday feel, especially if you sprinkle some crushed Christmas candy canes on top.
Substitute other fruits- Make this with dried cherries, bananas, or apricots for some flavor variation.
How to Make Chocolate Bark
Melt the chocolate. Melt the milk chocolate then pour it into a 9 x13 inch pan or baking sheet lined with parchment paper.
Prep the nuts and strawberries. Chop the pecans, pistachios, and freeze-dried strawberries.
Add them to the chocolate. Sprinkle the pistachios, pumpkin seeds, pecans, dried cranberries, and freeze-dried strawberries over the milk chocolate in an even layer.
Pro Tip: If you microwave the chocolate, stir it often and only just melt it to avoid scorching the bottom.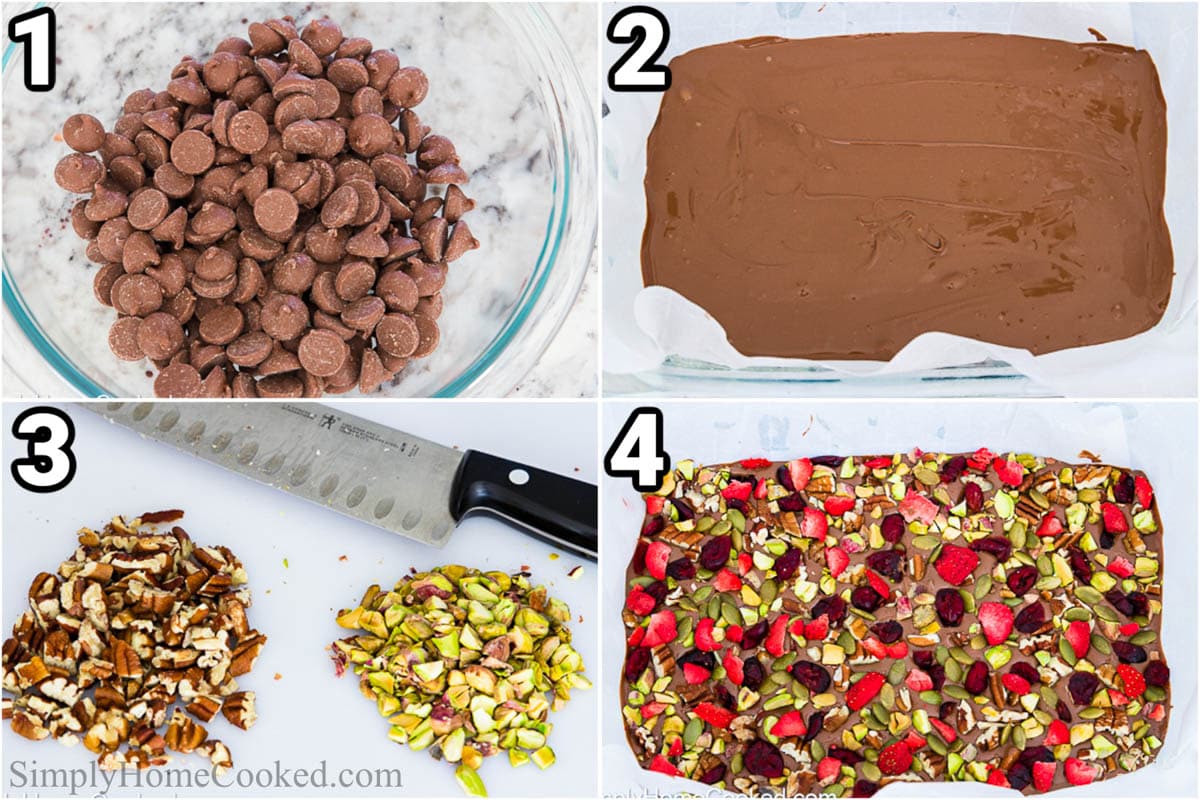 Add the white chocolate. Melt the white chocolate and drizzle it over the fruits and nuts. Let it sit for 6 hours at room temperature, until it sets completely.
Recipe Tips
Pre-chop the nuts- Don't wait until the last minute to do this or the chocolate will set. Chop them ahead of melting the milk chocolate.
Chop everything fine- Keep the pieces smaller so that each bite of Chocolate Bark gets a little bit of everything.
Melt the chocolate carefully- You don't want to scorch it, so melt it in 10-20 second intervals and stir in between to get it just melted enough without burning it.
Let it set completely- Before breaking it into pieces, let the bark completely set so that the toppings adhere to the chocolate and won't fall off as you crack it.
FAQs
What is chocolate bark used for?
This candy treat is great to break into pieces to be served on a dessert buffet or added to a candy dish. You can also put it into special tins and bags to be gifted to friends and family. The mix of chocolate, fruit, and nuts is always a crowd-pleaser.
Does chocolate bark need to be refrigerated?
So long as the temperature stays around 70 degrees, you can keep this chocolate bark at room temperature. If tempered, it can stay out for several weeks in an airtight container.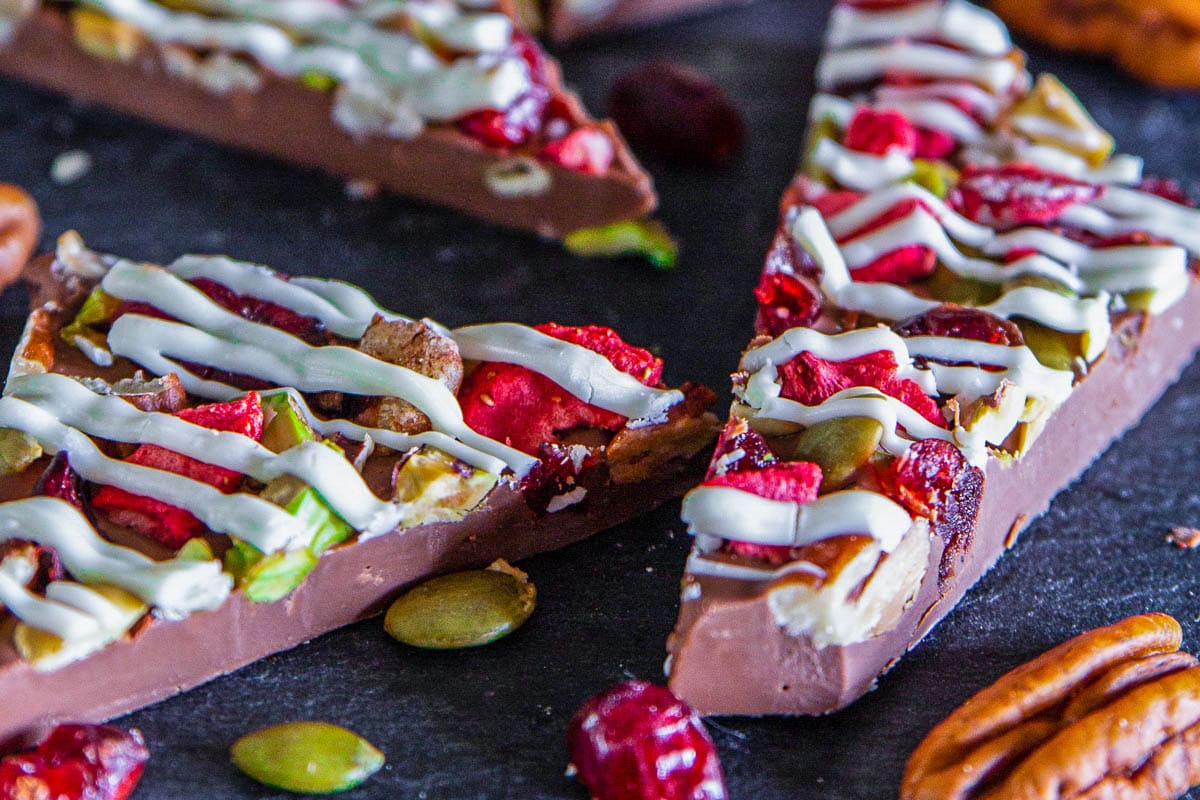 Serving Suggestions
This Chocolate Bark recipe is so versatile, it can be served with lots of other desserts. Enjoy it with cookies, cakes, sweet treats, and coffee.
Make This Recipe in Advance
Make ahead: Since this recipe can be made weeks in advance, you can prepare it ahead of time and store it in an airtight container until you're ready to serve it.
Storing: Store this Chocolate Bark at room temperature for at least 2 weeks, or in the refrigerator for a month. Keep it in an airtight container at about 70 degrees Fahrenheit.
Freeze: You can freeze this bark as well. Place it in a ziplock freezer bag once it's been broken into pieces and keep it frozen for up to 4 months.
More Delicious Chocolate Treats!
This recipe was originally posted December 20, 2016, we've tweaked it a bit since then. This post may contain affiliate links. Read my disclosure policy here
Full Recipe Instructions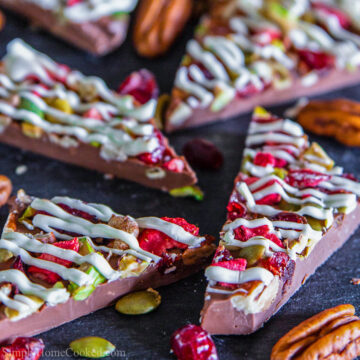 Chocolate Bark with Dried Fruit and Nuts
Make this simple Chocolate Bark with Dried Fruit and Nuts as the perfect snack to satisfy your craving for something sweet and savory.
Print
Pin
Rate
Nutrition
Calories:
265
kcal
|
Carbohydrates:
28.2
g
|
Protein:
4.1
g
|
Fat:
15.7
g
|
Saturated Fat:
6.6
g
|
Cholesterol:
1
mg
|
Sodium:
40
mg
|
Fiber:
2
g
|
Sugar:
25.7
g