This Cookie Cake recipe is deliciously festive and fun. Moist and chewy, this cookie is full of gooey chocolate chips and topped with chocolate buttercream frosting for a tasty treat.
For more scrumptious chocolate desserts, you should try our chocolate chip cookie bars and walnut chocolate chip cookies.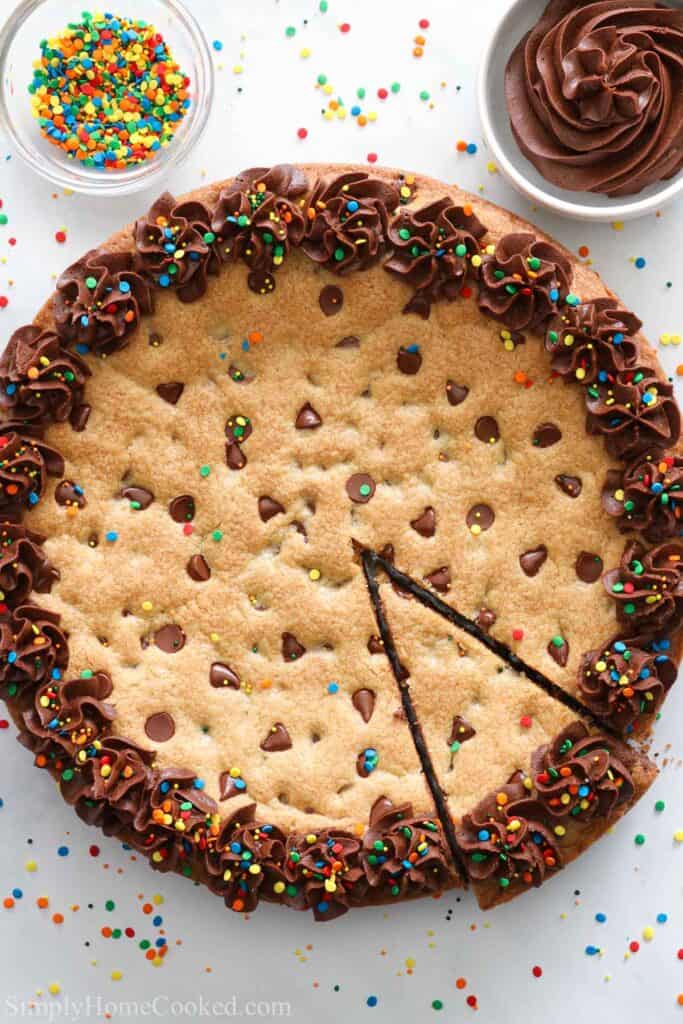 Table Of Contents
Cookie Cake Details
Taste: Since this cookie cake is made with generous amounts of butter, it has a very rich cookie flavor. The chocolate buttercream makes it a match made in heaven.
Texture: The outside has a golden baked crunch and the inside is chewy, gooey, and perfectly soft.
Time: Although the prep time is faster than traditional cookies, this cookie cake bakes at least 20 minutes in the oven since it's larger than a standard cookie.
Ease: This recipe is easier than making individual chocolate chip cookies since everything is dumped into one pan!
What you'll need
This recipe is made of 2 components. The cookie dough is the base of the cake and the chocolate frosting is for decorating the border of the baked cake.
Cookie Cake
Dry ingredients- All-purpose flour, Baking soda, and Salt
Wet ingredients- Unsalted butter (softened), Granulated sugar, Golden brown sugar, Egg + Egg yolk, Vanilla extract
Chocolate chips- Semisweet (plus extra for topping)
Chocolate Buttercream Frosting
Dry ingredients- Powdered sugar and Cocoa powder
Wet ingredients- Unsalted butter (softened), Vanilla extract, and Milk
Rainbow sprinkles- For topping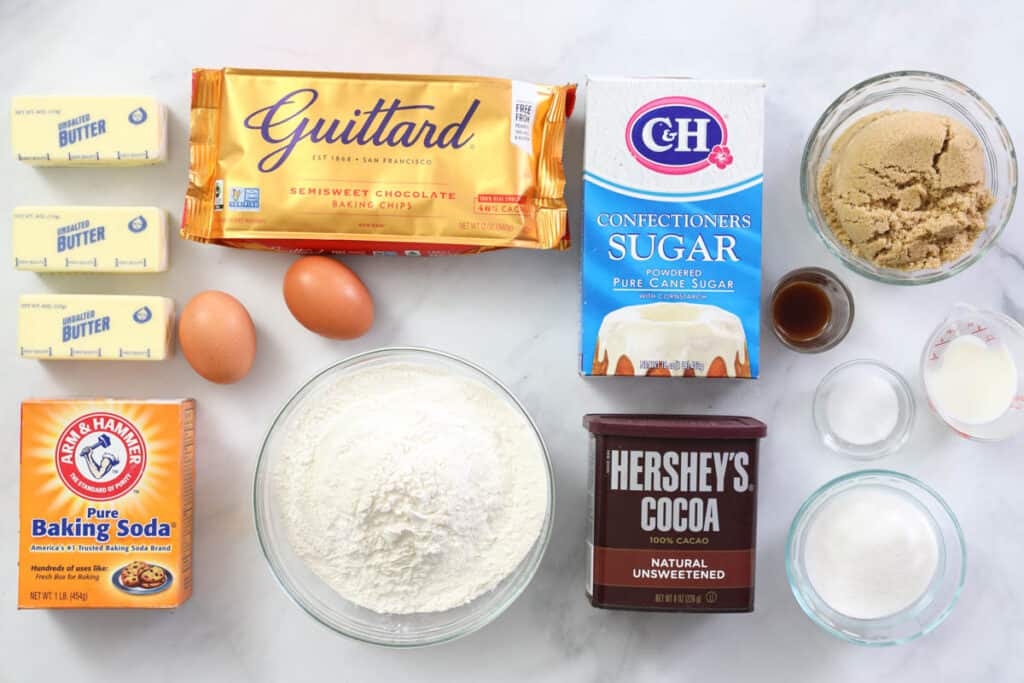 How to Make a Cookie Cake
Sift the dry ingredients. In a large bowl, sift the flour, baking soda, and salt together.
Mix the butter and sugars. Now in a separate bowl, mix the softened butter, sugar, and brown sugar together with an electric hand mixer for about 2 minutes, until well incorporated.
Add the eggs and vanilla. Then add the egg, egg yolk, and vanilla to the butter-sugar mixture, and mix thoroughly.
Combine. Pour the flour mixture into the wet ingredients and mix everything together well.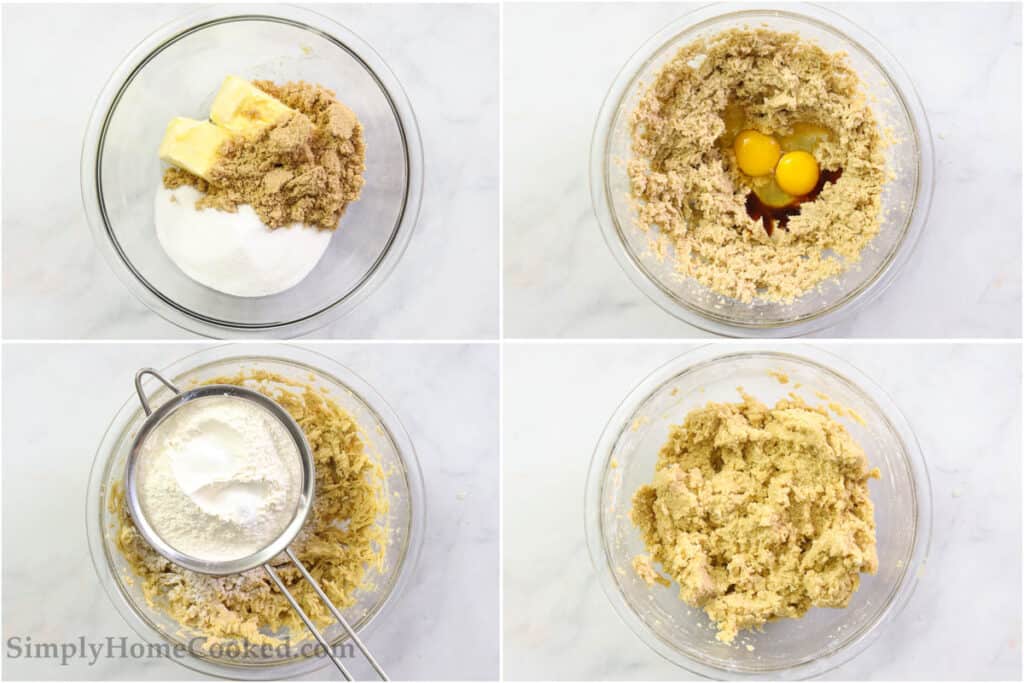 Add the chocolate chips. Mix the chocolate chips thoroughly into the cookie cake dough.
Bake. Line a 9-inch springform baking pan with parchment paper and press the cookie dough in. Top it with extra chocolate chips. Then bake it at 350°F for 22-25 minutes on the center rack.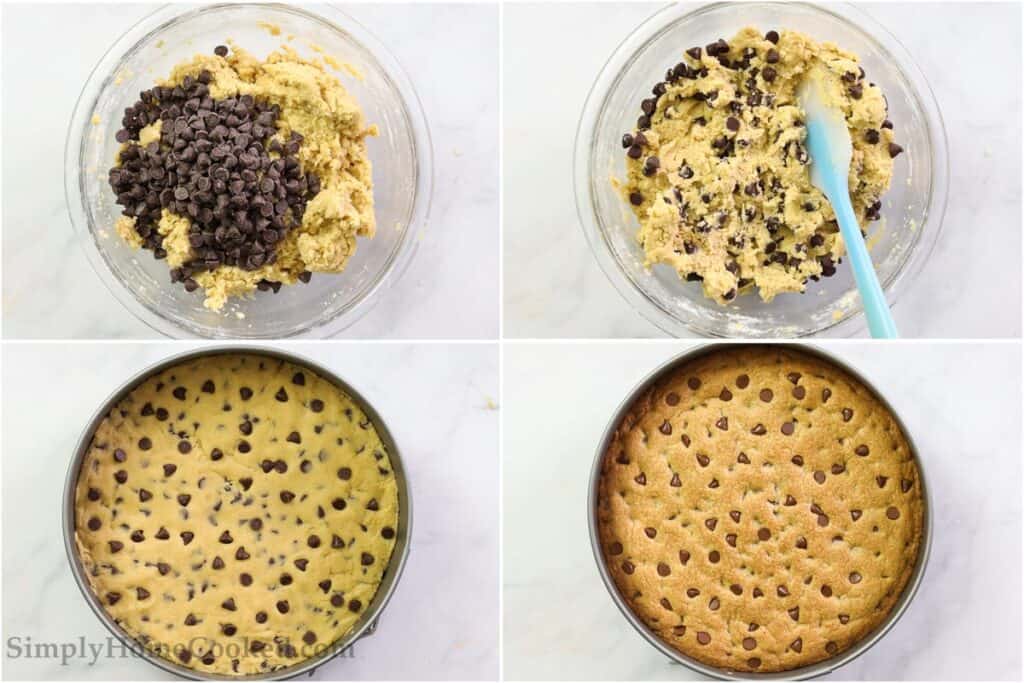 Make the buttercream frosting. In the meantime, add the softened butter, cocoa powder, powdered sugar, vanilla, and milk to a large bowl and mix with an electric hand mixer until smooth and creamy.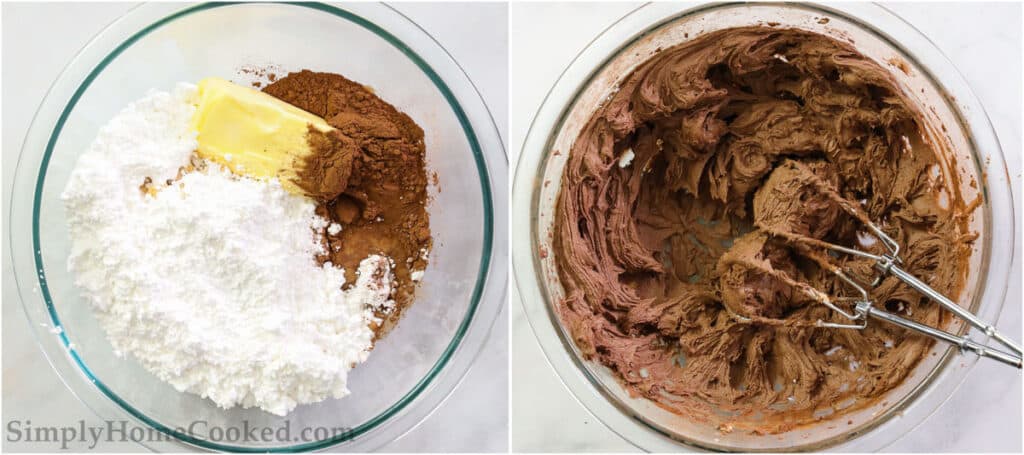 Frost and decorate. Allow the cookie cake to cool, then transfer it to a large flat serving dish and pipe a border of frosting around the edges of the cake. Add rainbow-colored sprinkles and enjoy!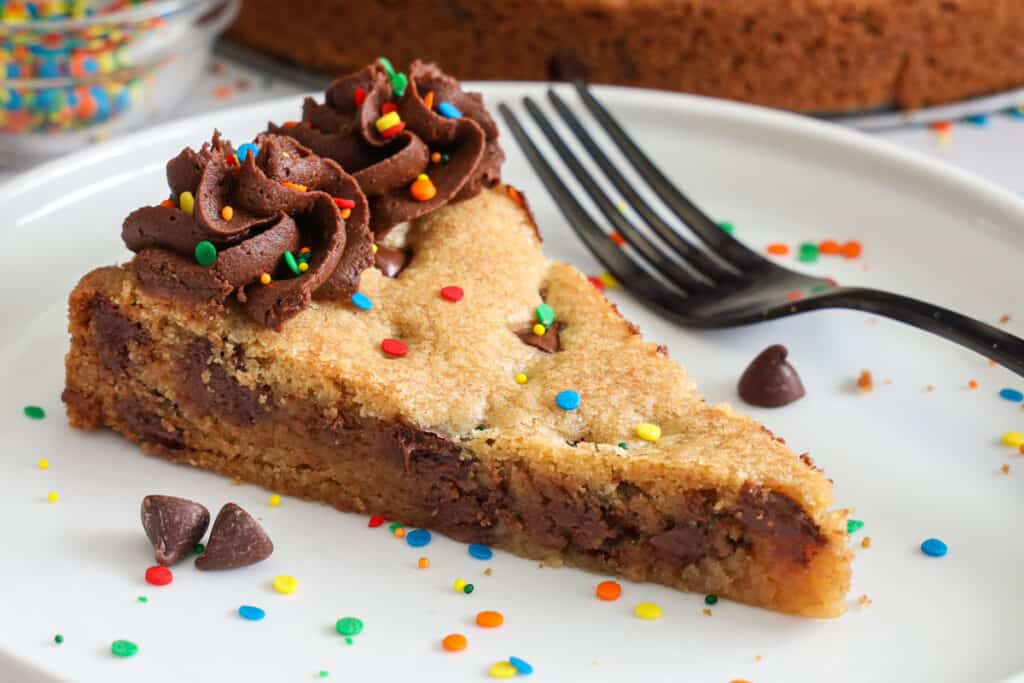 Tips for the most decadent Cookie Cake
Soften the butter- To get a smooth consistency and thoroughly mix the cookie batter and the frosting, soften the butter first. Leave it at room temperature for about 30 minutes so it is soft, but not melted.
Room temperature eggs- It helps to set out your eggs when you set out the butter because, again, room temp ingredients combine better. If you forget, 5 minutes in warm water will work, too.
Don't chill the dough- A lot of cookie recipes have you chill the dough to prevent spreading, but since this is for a cake in a pan, there's no need here.
Press the cookie cake dough down- We want the cookie to hold its form when it's sliced and served, so press the dough into the baking pan to avoid air pockets that will make it crumble once baked.
Bake on the center rack- The center rack gives you the best and most even heat distribution. You can tell your cookie cake is done when it is lightly golden around the edges and set in the center. It will continue to firm up as it cools.
Frost the cake with a piping tip- An actual piping tip will give your cookie cake a professional feel, so pipe the frosting on in your favorite pattern. I used a Wilton 2D piping tip for my cake.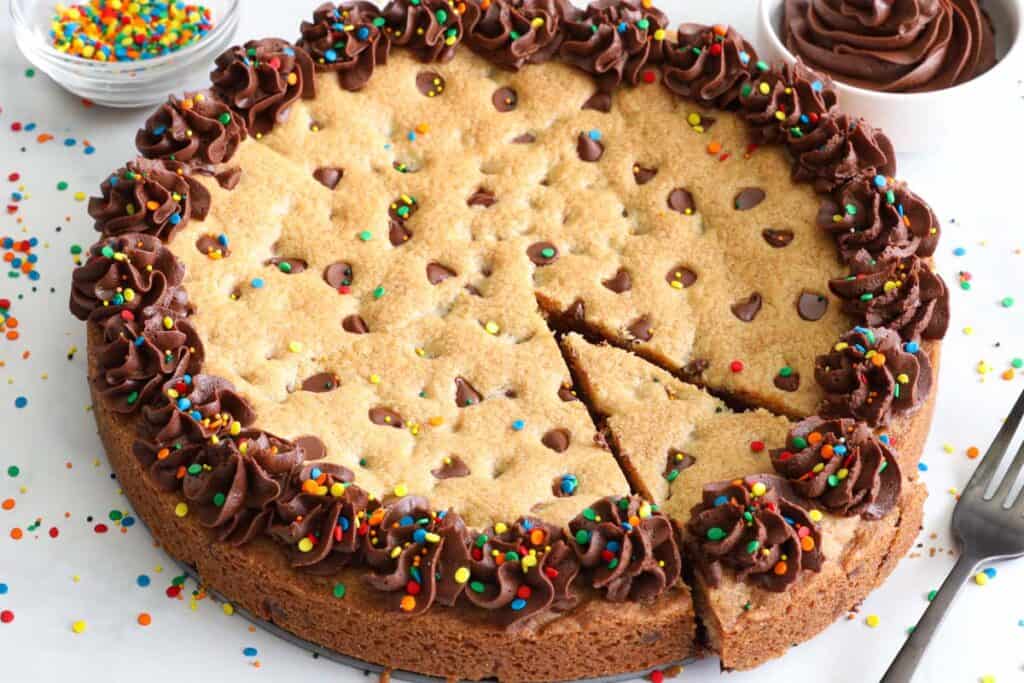 Topping variations
There are a lot of ways you can top a delicious chocolate chip Cookie Cake, but here are few variations you might enjoy:
FAQs
Is a cookie cake a cake?
It's technically a giant cookie with frosting and sprinkles on top. But it can be sliced and served like a cake.
How do you know when a cookie cake is done?
Once the top and edges are golden brown, it's usually done baking. If it looks unbaked in the center, keep in mind it will continue to bake a little more after is out of the oven.
Should you refrigerate cookie cake?
There is no need to refrigerate it. Just keep it at room temperature and make sure it's wrapped with plastic wrap or foil to preserve freshness.
Make The Cookie Cake In Advance
Make ahead: You can make a cookie cake 1 day ahead of time for optimal flavor. Or you can form the cookie dough in the pan a few days in advance. Just keep it wrapped in plastic wrap in the fridge until ready to bake. Just make sure to remove the plastic wrap when you bake it. Baking time will take a few minutes longer since the cookie dough will be cold.
Storing: To store any leftover Cookie Cake, lightly cover it with plastic wrap and leave it at room temperature for up to 3 days. Try to avoid refrigeration because this will dry it out and make it hard.
Freezing: Cookie cakes freeze really well! Just wrap the baked cookie cake in a few layers of plastic wrap and foil. Keep frozen for up to 3 months. Thaw at room temperature for about 2-3 hours. If your cake is unfrosted, you can even warm it in the oven (wrapped) at 350 degrees Fahrenheit for 10-15 minutes.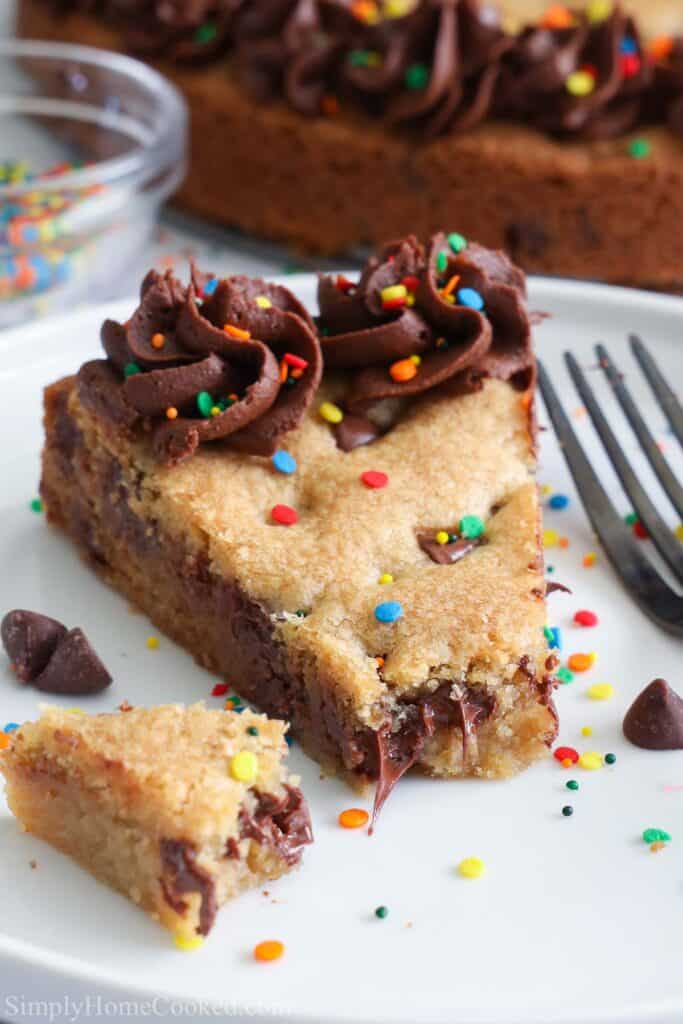 More delicious dessert to enjoy!
Full Recipe Instructions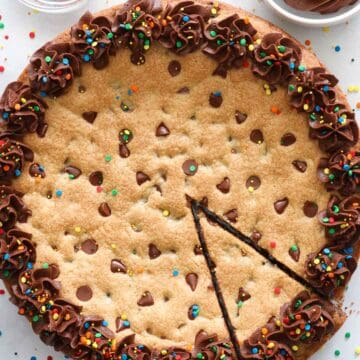 Cookie Cake Recipe
This Cookie Cake recipe is full of creamy butter, gooey chocolate chips, and sweet buttercream frosting. It's sinfully delicious!
Print
Pin
Rate
Ingredients
Chocolate Buttercream Frosting
Instructions
In a large bowl sift together 2 1/2 cups flour, 1 teaspoon baking soda, and 1 tsp salt.

In a separate bowl add 1 cup of softened unsalted butter, 1/3 cup of granulated sugar, and 1 cup of golden brown sugar. Using an electric hand mixer, mix it all together for about 1 minute. You want to make sure the sugar and butter are well incorporated together.

Now add 1 egg, 1 egg yolk, and 1 teaspoon of vanilla extract to the butter and sugar mixture. Mix again thoroughly.

Now add the flour mixture to the cookie batter and mix together thoroughly.

Add 1 1/4 chi semisweet chocolate chips to the cookie dough. Mix them in thoroughly.

Now line a 9-inch springform baking pan with parchment paper and press in the cookie dough. Now top it with extra semisweet chocolate chips and bake at 350°F for 22-25 minutes on the center rack.

In the meantime, make the chocolate buttercream by combining 1/2 cup unsalted softened butter, 1/2 cup cocoa powder, 2 1/2 cups powdered sugar, 1/2 teaspoon vanilla, and 2 tablespoons milk into a large bowl. Mix using an electric hand mixer for a smooth and creamy chocolate buttercream.

Once the cookie cake has cooled, transfer it to a large flat serving dish and pipe a border of frosting about the edges of the cake. I used a Wilton 2D piping tip. Then add on some rainbow-colored sprinkles and enjoy!
Nutrition
Calories:
925
kcal
|
Carbohydrates:
121
g
|
Protein:
8
g
|
Fat:
48
g
|
Saturated Fat:
29
g
|
Trans Fat:
1
g
|
Cholesterol:
138
mg
|
Sodium:
456
mg
|
Potassium:
347
mg
|
Fiber:
5
g
|
Sugar:
83
g
|
Vitamin A:
1146
IU
|
Calcium:
74
mg
|
Iron:
5
mg