This Paleo Chicken Casserole recipe is an easy and healthy dish that is whole 30 approved and gluten-free. Full of braised chicken and vegetables, it's delicious!
If you love paleo recipes, my Paleo Baked Lemon Chicken is a must for anyone following a paleo diet. And finish the meal with this Paleo Chocolate Fudge for dessert.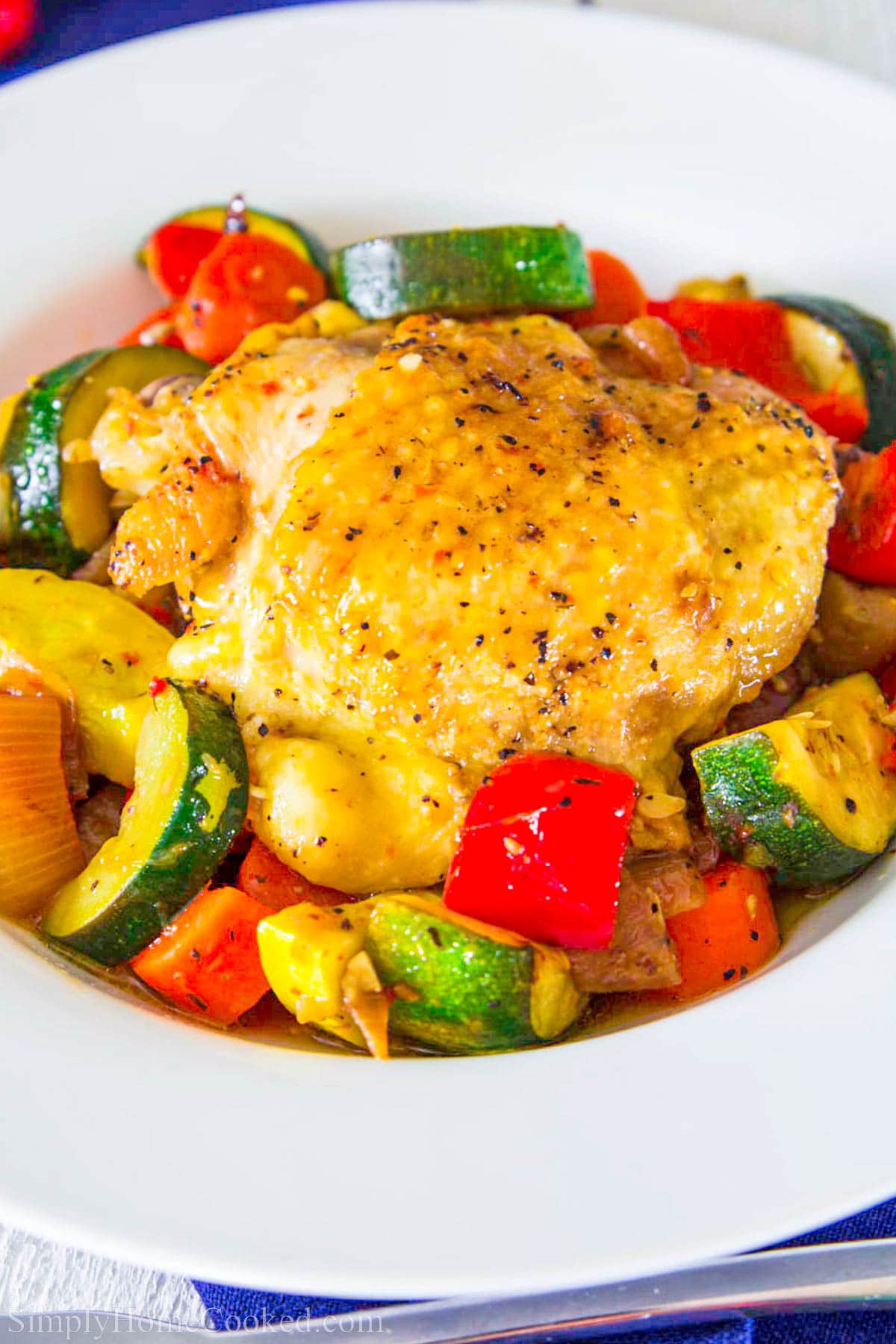 Table Of Contents
Recipe Details
When eating healthy, you should never compromise taste. This flavorful Paleo Chicken Casserole is absolutely delicious and also dairy-free and whole30 approved. It's loaded with protein and lots of vitamins from the vegetables, so you know you're getting the best when you eat it.
TASTE: Savory flavor from the chicken marries with the sweet and earthy flavors of braised vegetables to give this casserole an amazing taste.
TEXTURE: The chicken is juicy and tender after cooking. And the vegetables are fork-tender, but not mushy at all.
TIME: It takes just under 2 hours to make.
EASE: Eating Paleo is all about simplicity and this recipe is incredibly simple. Even though it doesn't have a lot of complicated ingredients, it comes out tasting divine.
What You'll Need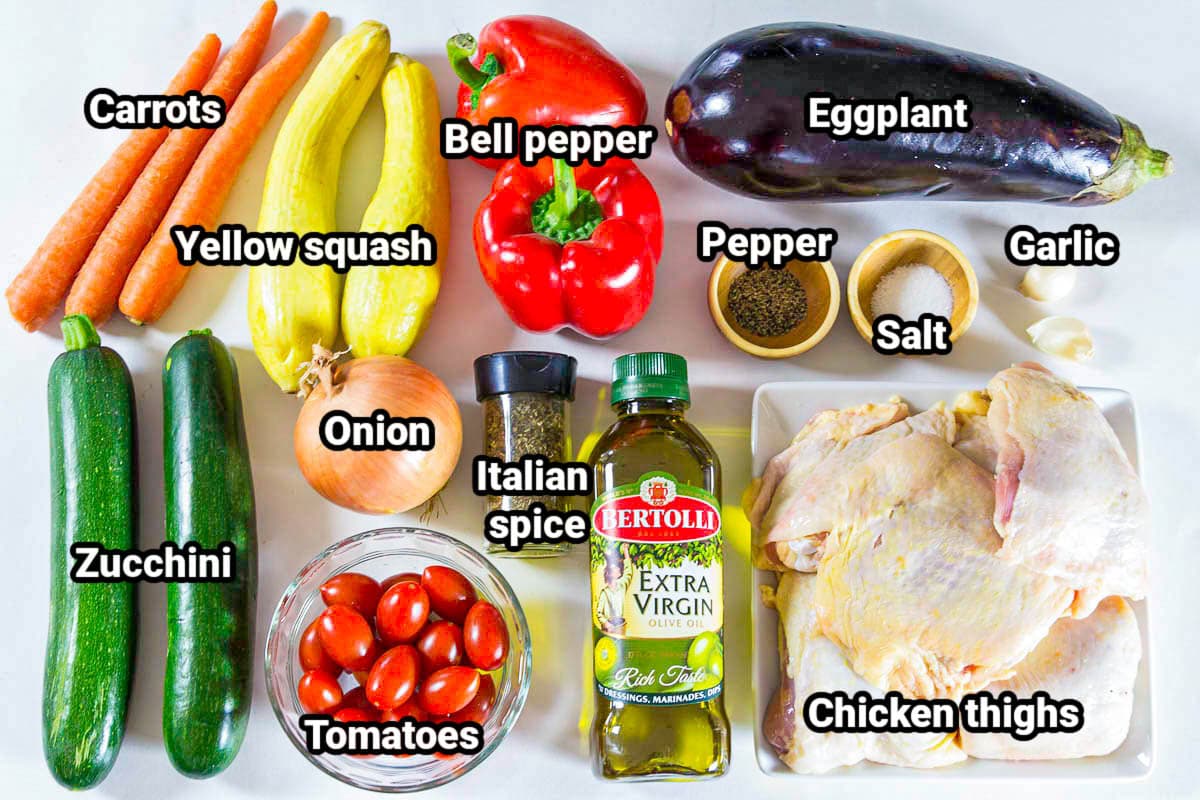 Ingredient Notes
Chicken thighs- We use bone-in, skin-on thighs for this recipe to get the maximum amount of flavor and juiciness from them. No antibiotics or hormones.
Vegetables- To add lots of flavor to this Chicken Casserole, we use Eggplant, Garlic, Carrots, Bell pepper, Onion, Yellow squash, Zucchini, and Tomatoes. You can use any varieties you like.
Seasonings- Salt, Black pepper, and Italian seasonings for a fresh, savory, and earthy flavor combination that will enhance the chicken.
Add-ins and Substitutions
Substitute other vegetables- You can make this recipe with broccoli, cauliflower, butternut squash, spinach, spaghetti squash, or any other veggies you love.
Add bacon- Up the savory flavor with the addition of crispy bacon. Cook it first, then chop it up to be added to this Paleo Chicken Casserole.
Use a different cut of chicken- You can make this recipe with boneless chicken thighs, chicken breasts, drumsticks, or even shredded chicken. Just remember to lessen the cook time for boneless cuts as they can easily overcook and become dry.
Add coconut milk- Make it creamier with the addition of coconut milk to create a savory, rich sauce for the chicken and vegetables to bake in.
How to Make Paleo Chicken Casserole
Brown the chicken. Season the chicken and chop up the veggies. Then brown both sides of the chicken thighs in a skillet with olive oil.
Put the chicken into a baking dish. Then place the chicken thighs in a 9×13 inch deep baking dish. Spread minced garlic clove over the top of the chicken.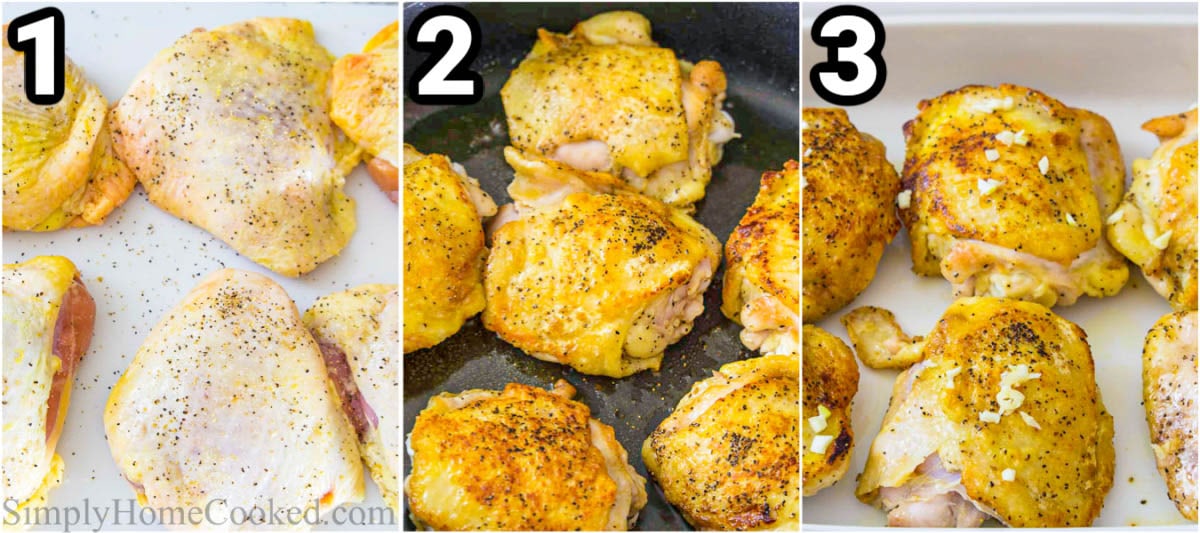 Start sauteing the vegetables. In that same skillet, sauté the onion and carrots first, then add red bell pepper. After a few minutes, add the eggplant.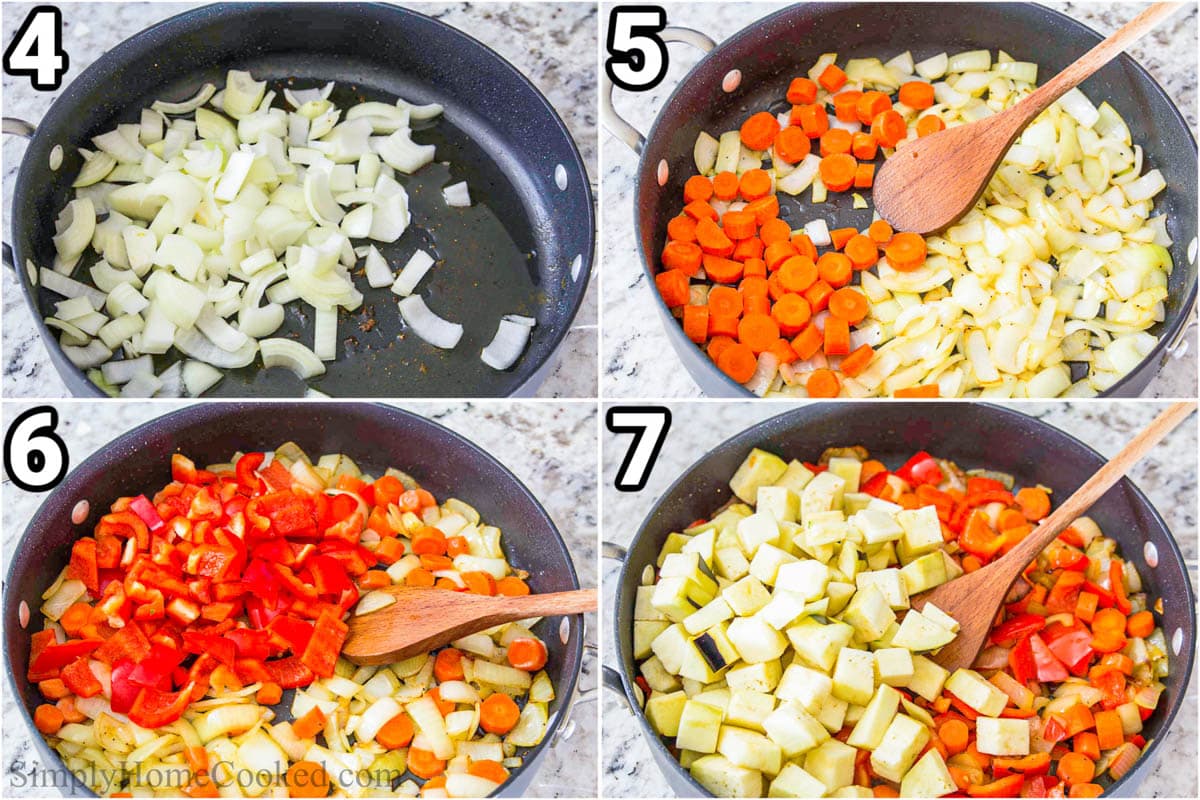 Add the rest of the veggies and spices. Add the yellow squash and zucchini, then mix in the tomatoes and garlic just enough to combine. Don't cook them in the skillet.
Combine and bake. Add all the sautéed vegetables to the baking dish and cover with foil. Then bake at 370 degrees Fahrenheit for 1 hour. Serve warm.
Pro Tip: Use the heat of the skillet to warm the tomatoes without actually cooking them. This will keep them from getting mushy from overcooking.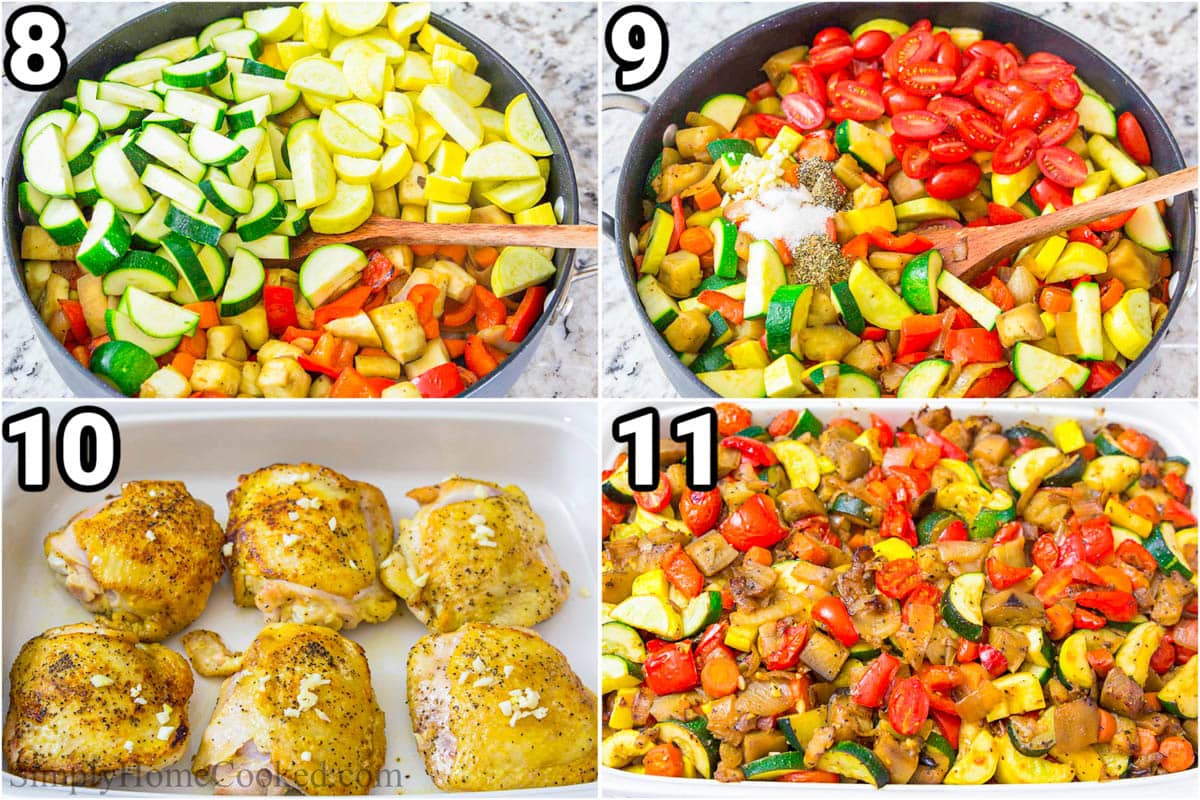 Recipe Tips
Top the chicken with minced garlic- Fresh minced garlic has a lot of pungent flavor and topping the chicken with it will give it a chance to really absorb into the meat.
Add the vegetables one at a time- I add each vegetable to the skillet one at a time instead of tossing everything in at once because doing this extracts as much flavor from each vegetable as possible and keeps them from getting mushy.
Cook the zucchini and yellow squash near the end- These vegetables can get mushy easily, so put them in together and let them saute near the end.
Cover the baking dish with foil- This is essential to letting steam gather and help cook the meat fully. It will keep everything moist and tender inside.
FAQs
What is Paleo?
At its core, the Paleo eating plan is all about eating clean. How would a caveman eat? Making chicken thighs that are compliant with Paleo means you find chicken raised without antibiotics or hormones (cavemen didn't have these things) and cooking with fresh ingredients. No processed flour, since cavemen didn't have the tools to process flour as we do.
What type of chicken is Paleo?
For a Paleo recipe, look for chicken that is antibiotic and hormone-free, and that is not grain-fed. Try for organic or pastured chicken to be Paleo compliant.
Serving Suggestions
This Paleo Chicken Casserole is versatile and perfect for serving with side dishes, salads, and more. Enjoy it with simple and delicious desserts, too.
Make This Recipe in Advance
Make ahead: You can brown the chicken and saute the vegetables, placing everything in the casserole dish and covering with foil. Place it in the fridge for a day, until you're ready to bake.
Storing: Store any leftovers of this Paleo Chicken Casserole in the refrigerator in an airtight container for up to 4 days. Reheat in the oven or microwave.
Freeze: Before baking the casserole dish, you can cover the dish with foil and plastic wrap, freezing it for up to 3 months. Place it directly in the oven to bake until the chicken is fully cooked (175 degrees by a meat thermometer).
More Tasty Paleo Dishes!
This recipe was originally posted April 7, 2016, we've tweaked it a bit since then. This post may contain affiliate links. Read my disclosure policy here.
Full Recipe Instructions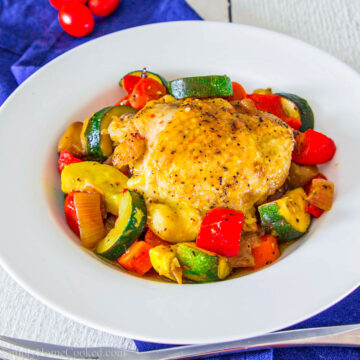 Paleo Chicken Casserole
This Paleo Chicken Casserole recipe is an easy and healthy dish full of braised chicken and vegetables that are whole30 approved and gluten-free. Make some Paleo chicken thighs for your next dinner.
Print
Pin
Rate
Ingredients
3

tbsp

olive oil

1

medium onion

3

small carrots

2

small yellow squash

2

zucchinis

1

eggplant

2

red bell peppers

1

cup

cherry tomatoes

2

garlic cloves

6

bone in chicken thighs

1

tsp

Italian spices

Salt and pepper to taste
Instructions
Season both sides of the chicken thighs with salt and pepper.

Heat olive oil in a large skillet over medium high heat. Brown both sides of the chicken thighs. Then place them in a 9×13 inch deep baking dish. Spread 1 minced garlic clove over the top of the chicken. Set aside.

In the same skillet sauté the onion and carrots for about 2 minutes.

Add the red bell pepper, sauté for 2 minutes. Add the eggplant, sauté for 2 minutes.

Add the zucchini and squash. Sauté for 2 minutes. The reason I sauté little by little is to bring out as much flavor from each vegetable as possible.

Lastly, add sliced cherry tomatoes, 1 minced garlic clove, salt, pepper, and Italian spices. Mix just to combine.

Add the sautéed vegetables to the baking dish and cover with foil. Bake at 370 degrees for 1 hour.
Nutrition
Serving:
1
cup
|
Calories:
457
kcal
|
Carbohydrates:
17
g
|
Protein:
27
g
|
Fat:
31
g
|
Saturated Fat:
7
g
|
Cholesterol:
141
mg
|
Sodium:
145
mg
|
Potassium:
1074
mg
|
Fiber:
5
g
|
Sugar:
10
g
|
Vitamin A:
6850
IU
|
Vitamin C:
84.2
mg
|
Calcium:
65
mg
|
Iron:
2.2
mg