This Salted Almond Toffee Recipe is the perfect blend of salty and sweet, and it's easier to make than you think. Whether it's a delicious gift or something to satisfy your own sweet tooth, you'll love the crunch and flavor of this homemade treat.
And speaking of sweet treats, you might want to try this Chocolate Honey Cake or this White Chocolate Creme Brulee, too.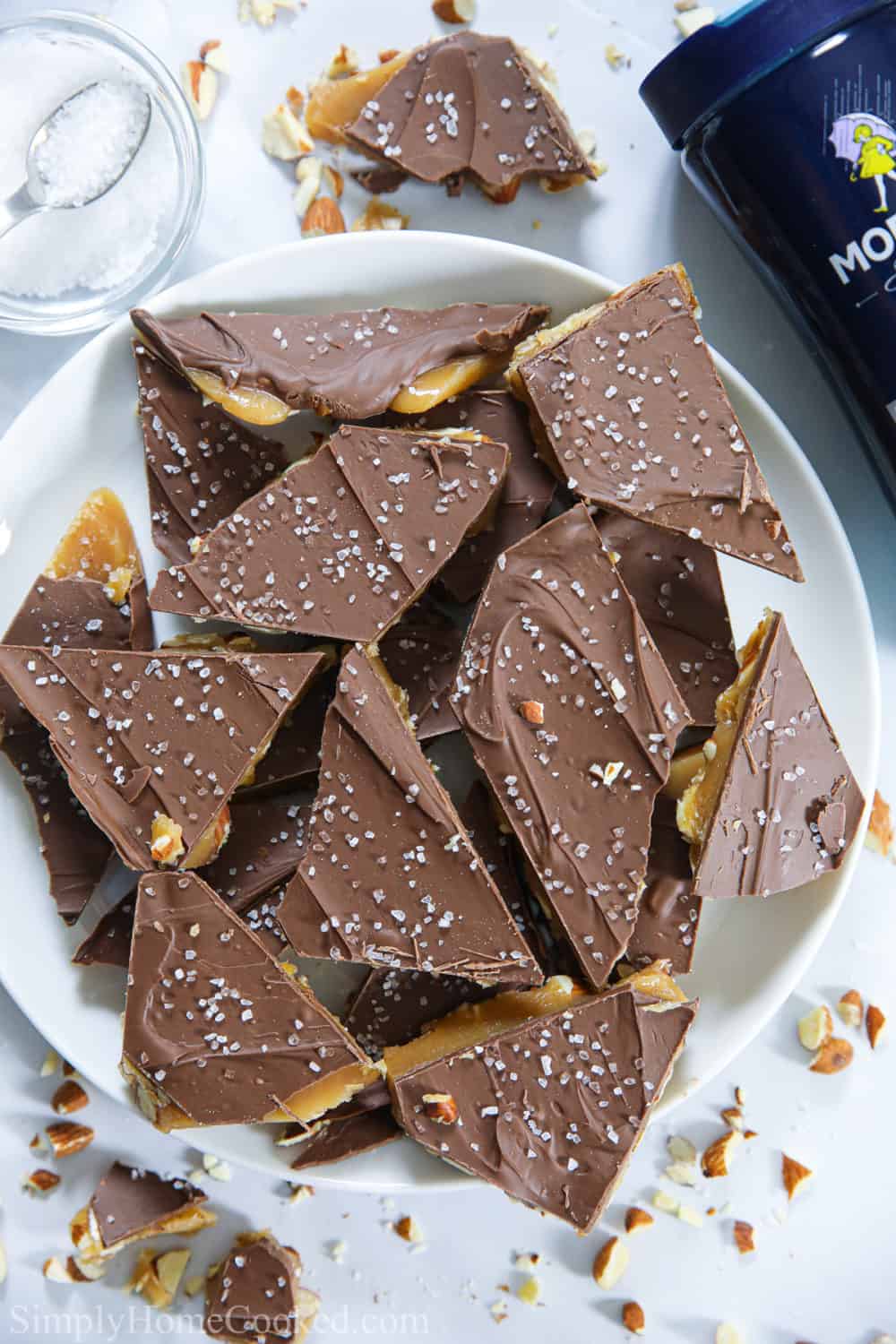 A huge thank you to Morton Salt for sponsoring this recipe!
Toffee
If you love a good no-bake dessert like my chocolate caramel pretzel bars or chocolate brandy fig bonbons, this toffee recipe is for you! It's salty, sweet, buttery, and delicious!
What does toffee taste like?
Toffee is typically made with sugar and butter. This gives it a smooth, buttery taste, similar to butterscotch, but harder, as it is cooked to the "hard-crack" stage.
What is the difference between toffee and English toffee?
American toffee is slightly different than English toffee because, in England, they use brown sugar instead of granulated sugar, which gives it a slightly different flavor. The English also are less likely to use nuts in their version, whereas American toffee usually does.
Caramel vs toffee
The main difference between caramel and toffee is texture: Caramel is soft and chewy, like what you would find in a candy bar, and toffee is harder and crunchy, like a brittle.
Their flavors are similar, but caramel is more toasty, while toffee is more buttery.
What is this Salted Almond Toffee recipe made of
Main ingredients- Granulated sugar, unsalted butter, vanilla extract, and Morton fine sea salt. For the actual toffee, you want to use the fine sea salt since it dissolves well under high heat. The new functioning lid on Morton salt makes it easy to measure and pour the salt for any recipe.
Toppings- Milk chocolate chips (melted), Almonds, and Morton coarse sea salt. With Morton's new sleek salt packaging design that fits right in your hand so it's easy to grab and sprinkle the perfect amount of coarse salt with their new sprinkle feature, giving this dish that extra crunch.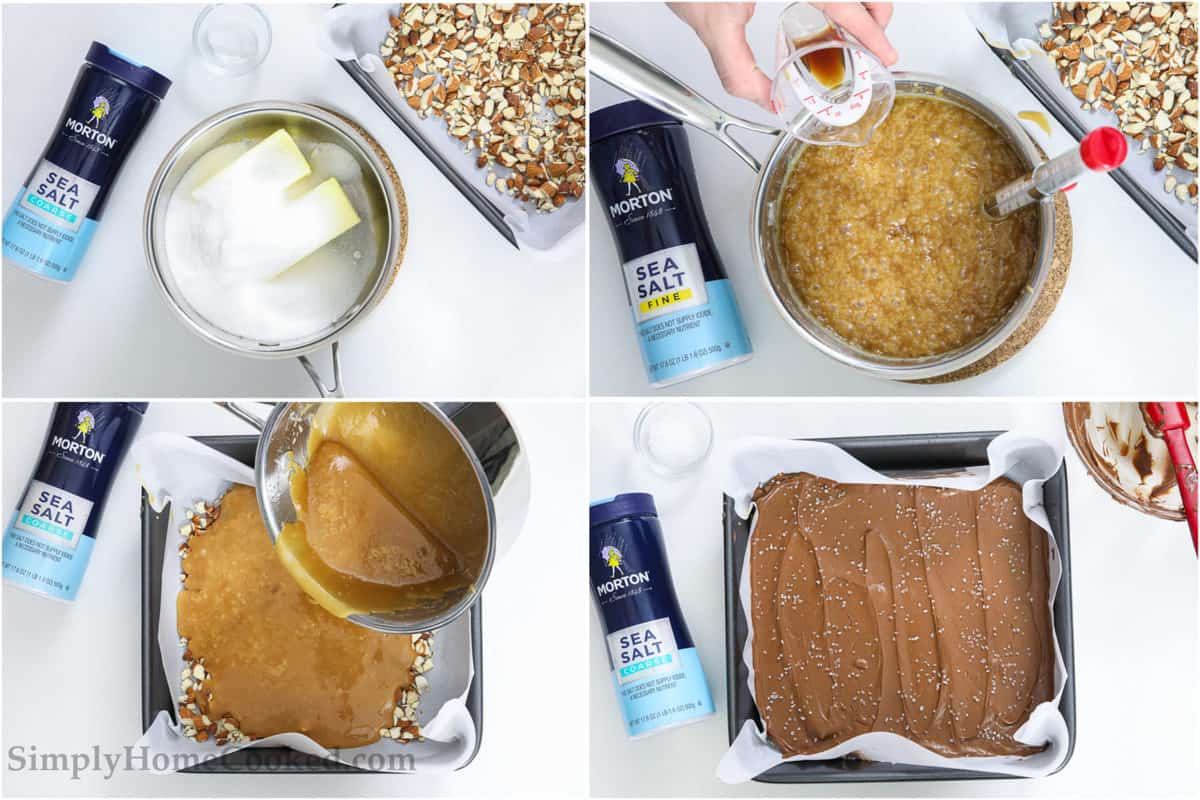 How to stir toffee
The quick answer is slowly and patiently. To get the perfect consistency for your salted toffee recipe, stir the sugar, butter, vanilla, and salt until the sugar has fully dissolved.
Next, you'll be stirring very gently and slowly, preferably with a long wooden spoon, until the toffee has become the color of peanut butter. You only need to stir occasionally at this point, not constantly. Over-mixing will cause the butter and sugar to separate, so be careful.
Perfect toffee temperature
In order to achieve a brittle "hard crack" homemade toffee, you'll want to use a candy thermometer to make sure the mixture reaches between 290-300 degrees Fahrenheit. Do NOT go above 300 or it will overcook the toffee and give it a burnt taste.
Soft vs hard toffee
Cooking temperature is what determines how soft or how hard your toffee will be. If you want to have softer toffee, then you will cook it at a slightly lower temperature. To get a harder toffee, like with this salted toffee, you will cook it to a slightly higher temperature. This allows the toffee to reach the "hard-crack" temperature so that it is brittle enough to crack apart cleanly.
Why is my toffee grainy and crystallized
If the toffee for your Salted Almond Toffee has become grainy and crystallized, that usually means that the temperature got too hot during the cooking process. It also happens when sugar crystals form on the edges of the pot and then spread throughout. Keeping the temperature at the right level is important for smooth and delicious toffee.
Why did my salted toffee separate?
If your toffee has separated, then it could be one of two things: the heat was too high during cooking, or you overmixed the toffee. Remember to be patient with toffee, cooking it at the right temperature so that it has time to develop, and mixing slowly and sparingly, so it can develop the right color and consistency.

How to store almond toffee
To store this salted toffee recipe, wait until it has completely cooled before breaking it into pieces. Then pack the pieces in an airtight container and store it at either room temperature, or in the refrigerator or freezer.
How long does homemade toffee last?
At room temperature, homemade toffee should last for 2 weeks. If your house is on the warm side, then you may want to keep this Salted Almond Toffee in the refrigerator to keep the chocolate from melting. In the fridge, it will last about a month.
Salted toffee also freezes very well, so you can put the pieces in an airtight container in the freezer for a few months.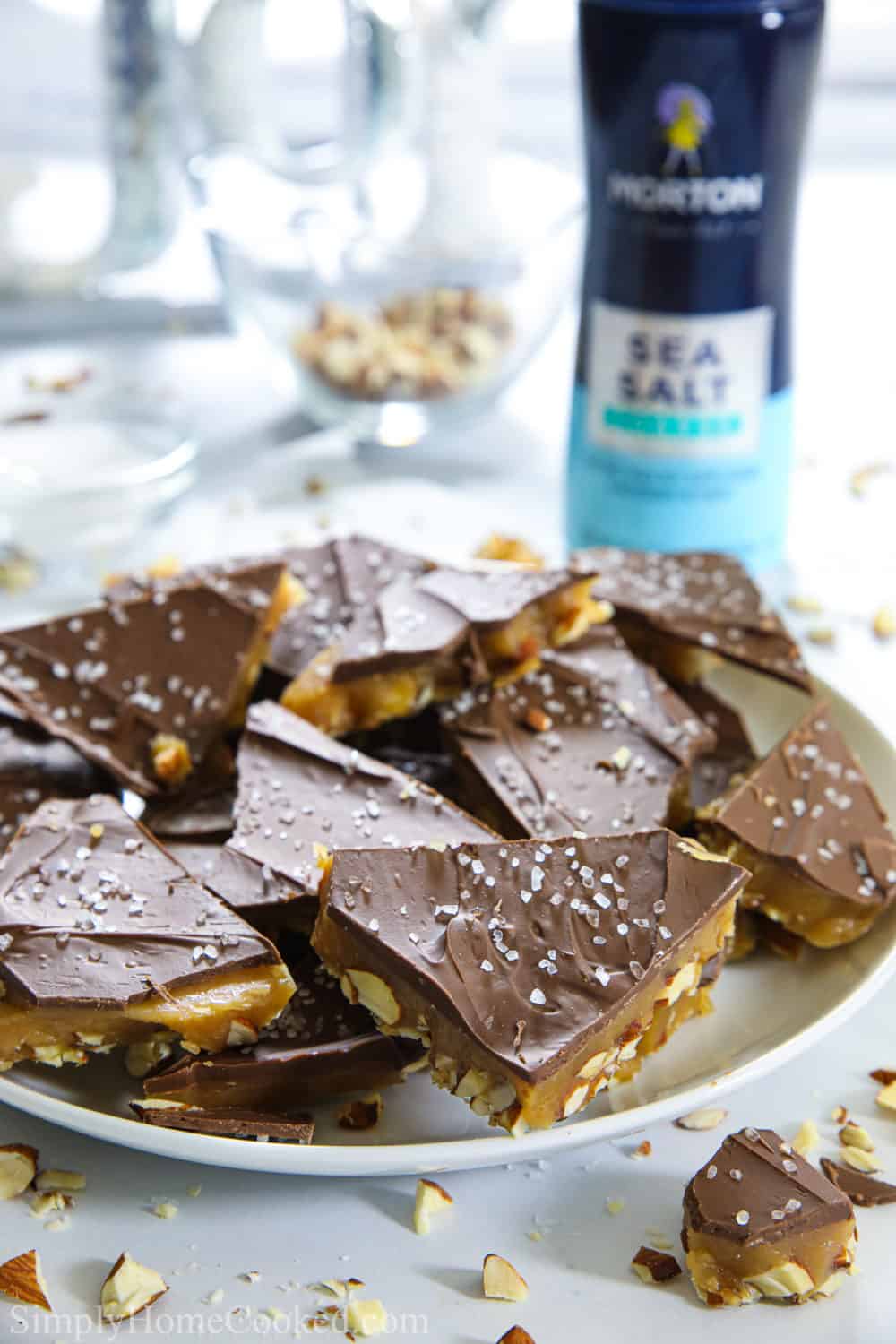 More dessert recipes to try!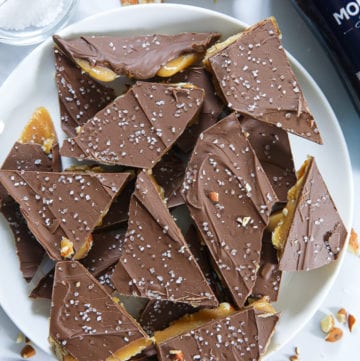 Salted Almond Toffee
This Salted Almond Toffee is the perfect blend of salty and sweet, and it's easier to make than you think. You'll love the buttery sweetness overlaid by hints of chocolate, almond, and Morton sea salt. Yum!
Print
Pin
Rate
Instructions
Simmer the toffee in a saucepan (this takes time, be patient)
In a saucepan add the unsalted butter along with the granulated sugar and Morton fine sea salt. Melt the butter and sugar on low heat until the butter is fully melted.

Now bring the saucepan to medium heat and let it simmer for about 10-15 minutes or until the toffee reaches 290-300 degrees Fahrenheit. Or until it becomes a brown "peanut butter-like" color. Be sure to mix only occasionally and in very slow gentle strokes using a long wooden spoon. Always use a candy thermometer to make sure your toffee reaches the correct "hard crack" temperature.
Pour into prepared pan
Place a piece of parchment paper in a 9x9 inch baking pan and place 1 cup of coarsely chopped almonds inside.

Then evenly pour the hot toffee mixture on top of the almonds and let it sit for 5-10 minutes.
Spread melted chocolate and top with coarse salt
Now melt your milk chocolate in a microwave-safe bowl. To avoid scorching the chocolate, heat it in 20-second intervals until smooth.

Next, you can spread your melted chocolate on top of the semi-hardened toffee and sprinkle some Morton coarse sea salt on top.

Let the salted almond toffee set and cool for about 2 hours. Then cut or crack into pieces.
Notes
How to store homemade toffee
Wait until it has completely cooled before breaking it into pieces. Then pack the pieces in an airtight container and store it at either room temperature, or in the refrigerator or freezer.
Nutrition
Calories:
420
kcal
|
Carbohydrates:
19
g
|
Protein:
5
g
|
Fat:
37
g
|
Saturated Fat:
18
g
|
Cholesterol:
64
mg
|
Sodium:
19
mg
|
Potassium:
133
mg
|
Fiber:
3
g
|
Sugar:
15
g
|
Vitamin A:
759
IU
|
Vitamin C:
1
mg
|
Calcium:
80
mg
|
Iron:
1
mg