This Double Chocolate Banana Bread Recipe is so sweet and decadent, you're going to love it. Moist and delicious, it's the perfect after-dinner dessert or tasty afternoon snack.
If you love this recipe, you should try our walnut banana bread and chewy banana oatmeal cookies.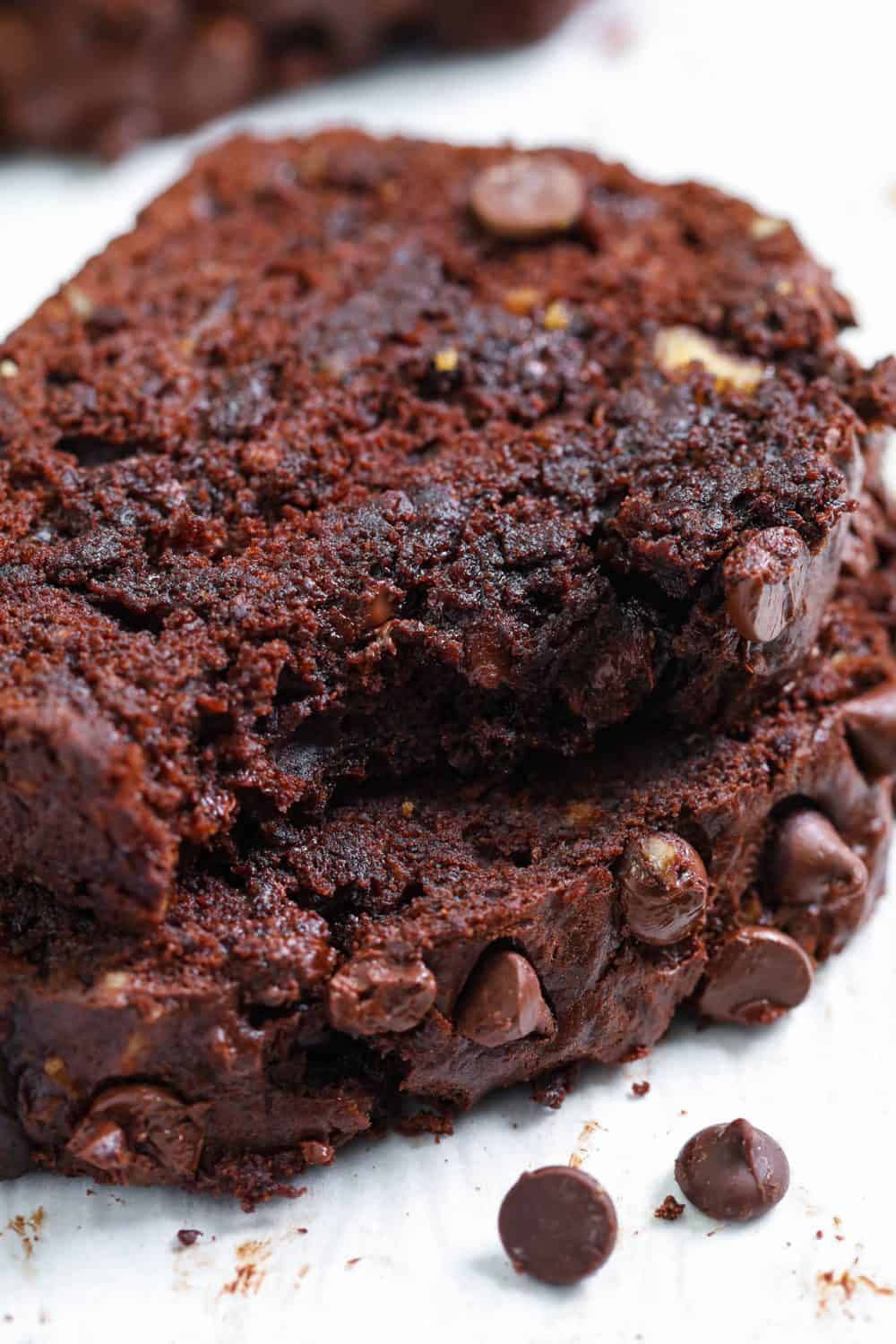 Double Chocolate banana bread
Chocolate and banana taste so good together, which is why this double chocolate banana bread is so heavenly. Moist and delicious, it has the perfect mix of sweet chocolate, ripe bananas, and rich buttery flavor that will make your banana bread really sing. These flavors are divine! This chocolate loaf includes plenty of cocoa and chocolate chips, as well as some walnuts for the perfect bit of crunch. It only takes 15 minutes to put together and then it's in the oven, filling your home with an amazing aroma that will make tasting this dessert even better. For extra deliciousness, serve it with some No-bake Chocolate Cheesecake Bars and Chewy Banana Oatmeal Cookies.
What makes the best banana bread?
The best banana bread is always moist and sweet, so you'll be using Unsalted butter, Brown sugar, Granulated sugar, Eggs, and Ripe bananas. For the dry ingredients, you'll be adding All-purpose flour, Baking powder, Baking soda, and Salt. And to make it double chocolate, you'll need Dutch process cocoa powder and Semisweet chocolate chips. For added taste and texture, we're using Toasted walnuts.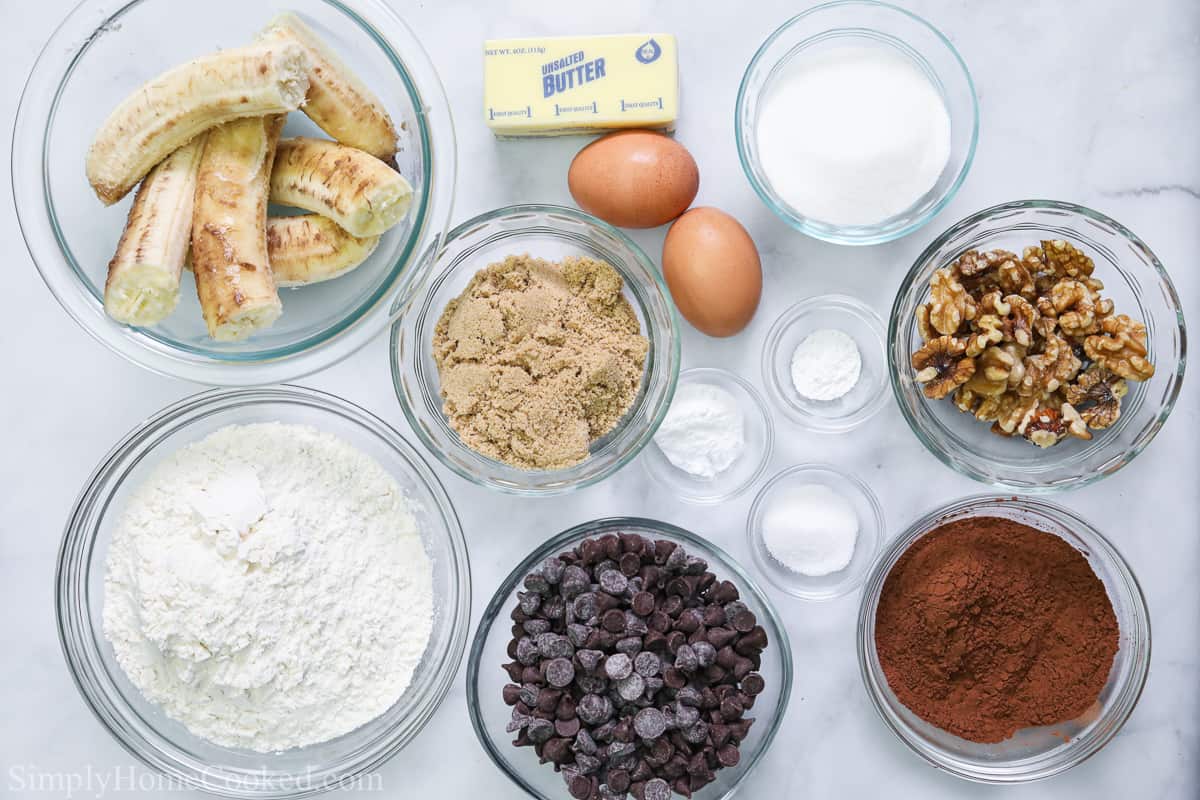 How to make chocolate banana bread
Mix most of the wet ingredients together. In a large bowl, add the sugars, butter, and eggs, mixing thoroughly.
Mash the bananas. Using a fork, mash the ripe bananas and add them into the bowl with the other wet ingredients.
Sift together the dry ingredients. Sift the flour, salt, baking soda, baking powder, and cocoa powder into a separate bowl. Set aside.
Combine. Add the dry ingredients to the banana bread batter bowl, mixing thoroughly with a spatula.
Toast the nuts. Toast the walnuts in a pan and then give them a rough chop.
Combine all ingredients. Add the toasted walnuts and 1 1/4 cup of the chocolate chips to the batter and stir until they are evenly distributed.
Pour the batter into the pan. Into a greased loaf pan, pour the chocolate banana bread batter and then top it with the remaining chocolate chips.
Bake. Bake your banana bread for one hour at 325°F, or until a toothpick inserted into the center of the loaf comes out clean. Allow it to cool before slicing.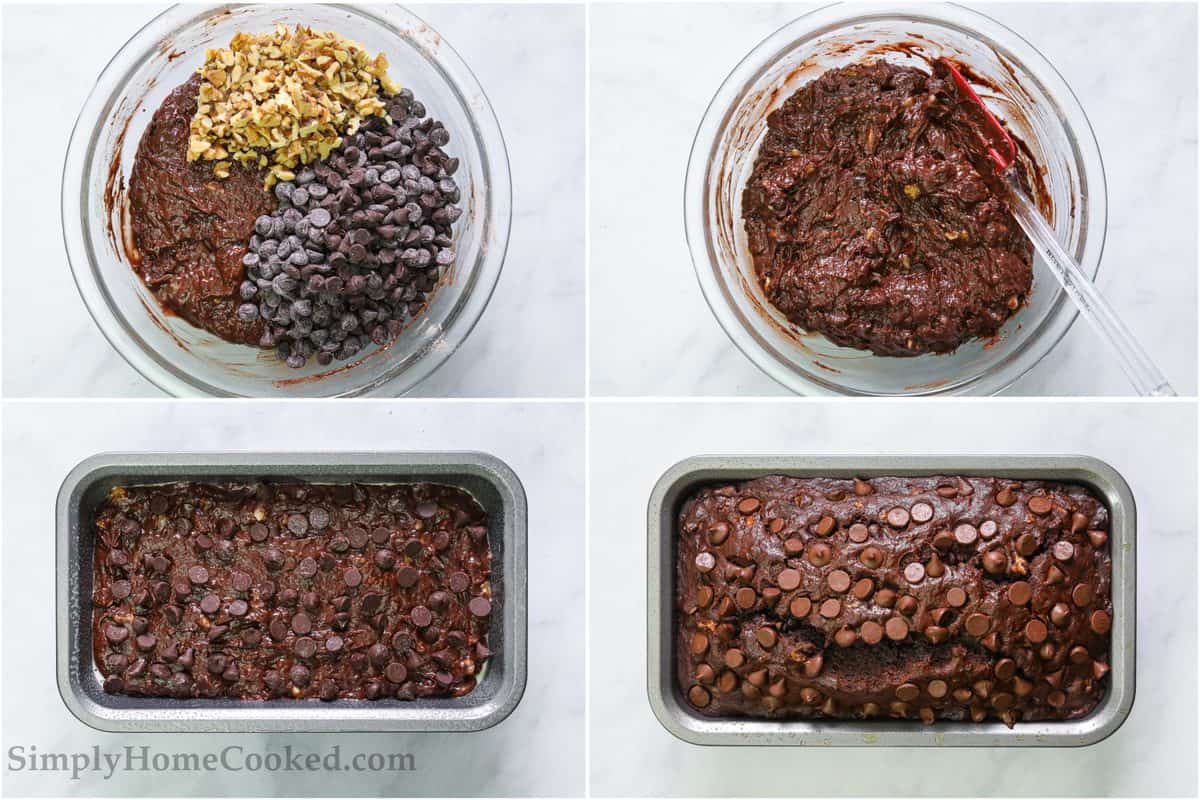 How ripe do bananas have to be for banana bread?
When it comes to banana bread, the riper the better. You can use bananas with peels that are streaked with brown. The riper the banana, the sweeter your banana bread will be. The only bananas to avoid are under-ripe or yellow bananas and those that have turned black on the outside. Otherwise, very ripe is very good.
How to ripen bananas fast
Don't you hate when you want banana bread, but your bananas just aren't ripe enough? The best way to ripen your bananas for this double chocolate banana bread is to place them unpeeled in the oven for about 15 minutes at 250°F. This will release the sweetness. Or, you can freeze them for a few hours, which will also do the trick.
Tips to make the BEST chocolate banana bread
Use melted butter- Melted butter is easier to incorporate with the other wet ingredients, giving the banana bread lots of moisture.
Use room temperature eggs- This is also important because it helps the eggs mix well with the other ingredients, especially the yolks that can be hard to break when cold.
Sift dry ingredients- When you sift the dry ingredients, you have an even distribution of everything, giving each bite of the bread the same amount of airy sweetness.
Use VERY ripe bananas- Ripe bananas are key because their sweetness and flavor make the banana bread. They add moisture and sweetness you just can't get from less-ripe bananas.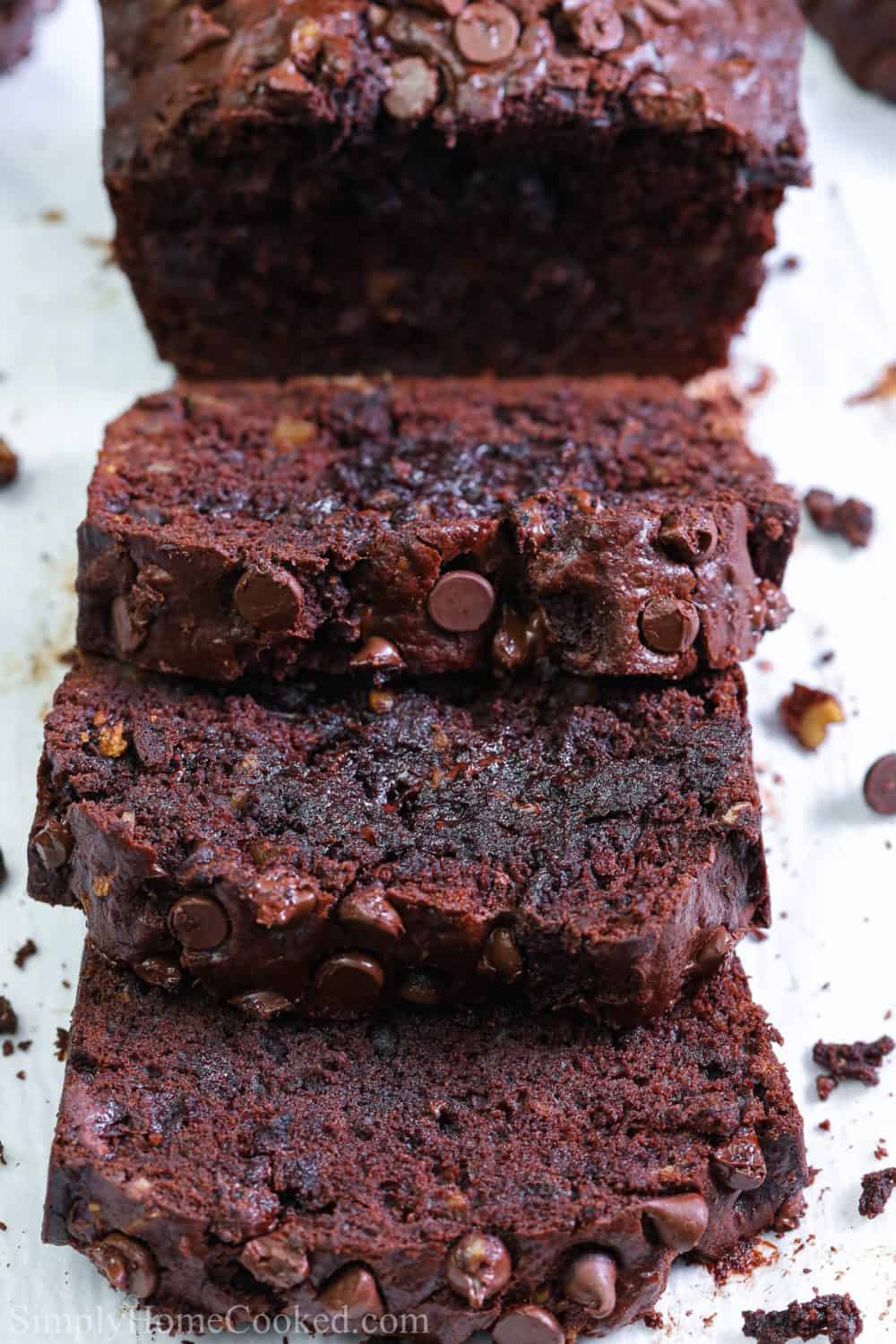 Should I refrigerate banana bread?
Yes, if you want your chocolate banana bread to last longer, refrigerate it. Wrap the loaf in plastic wrap or foil, or place it in an airtight container to keep it from drying out or going bad. It will last for about a week.
Can I freeze it?
Yes, you can freeze this banana bread. Place it in an airtight container or ziplock freezer bag to avoid freezer burn or drying out. It will keep fresh in the freezer for about 3-4 months.
How long do I have to wait before cutting into it?
You should wait at least 15 minutes. Once your double chocolate banana bread is out of the oven, let it sit in the pan for 10-15 minutes before putting it on a cooling rack or plate to allow the steam to condense, making cutting easier.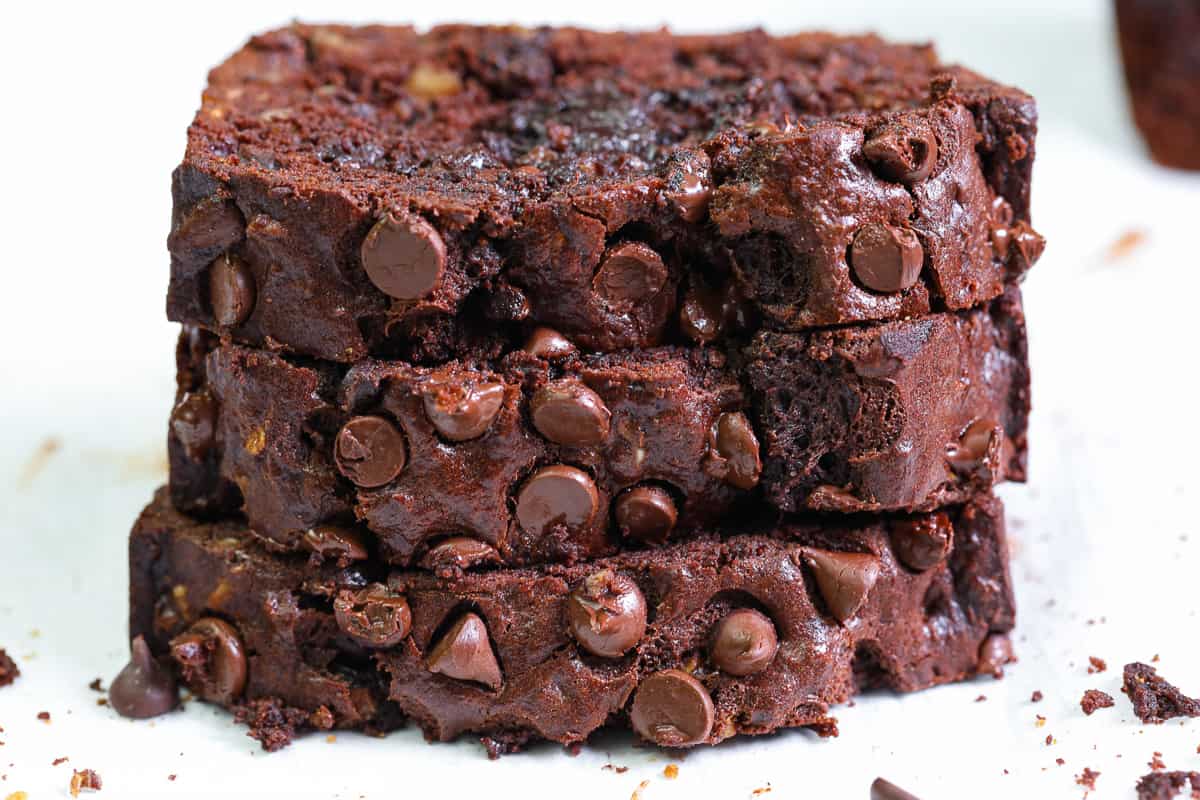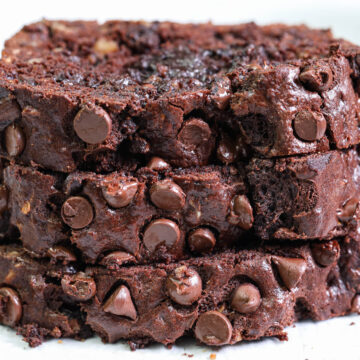 Double Chocolate Banana Bread
This Double Chocolate Banana Bread recipe is so rich & moist! Chocolate chips, toasted walnuts & ripe bananas give it the perfect taste & texture.
Print
Pin
Rate
Instructions
In a large bowl combine 1/2 cup unsalted melted butter, 1/2 cup granulated sugar, 1/2 cup brown sugar, and 2 large eggs.

Then mash up 3 very ripe bananas and add them to the butter and sugar mixture.

Now add the dry ingredients to the banana bread batter and mix thoroughly with a spatula.

Toast 3/4 cups of walnuts and chopped them roughly. 

Add the chopped walnuts to the chocolate banana bread batter along with 1 1/4 cup semisweet chocolate chips.

Bake at 325°F for about one hour or until a toothpick comes out clean after being inserted into the center of the banana bread.
Nutrition
Calories:
428
kcal
|
Carbohydrates:
64
g
|
Protein:
8
g
|
Fat:
18
g
|
Saturated Fat:
7
g
|
Cholesterol:
34
mg
|
Sodium:
379
mg
|
Potassium:
447
mg
|
Fiber:
6
g
|
Sugar:
35
g
|
Vitamin A:
84
IU
|
Vitamin C:
3
mg
|
Calcium:
55
mg
|
Iron:
4
mg
–