This Butternut Squash Ravioli is a fresh and delicious fall dish that you are going to love. Made with fresh herbs, Parmesan, and brown butter, the flavors of this pasta are absolutely mouthwatering.
To try other tasty ravioli recipes, check out our popular lobster ravioli and cheese ravioli.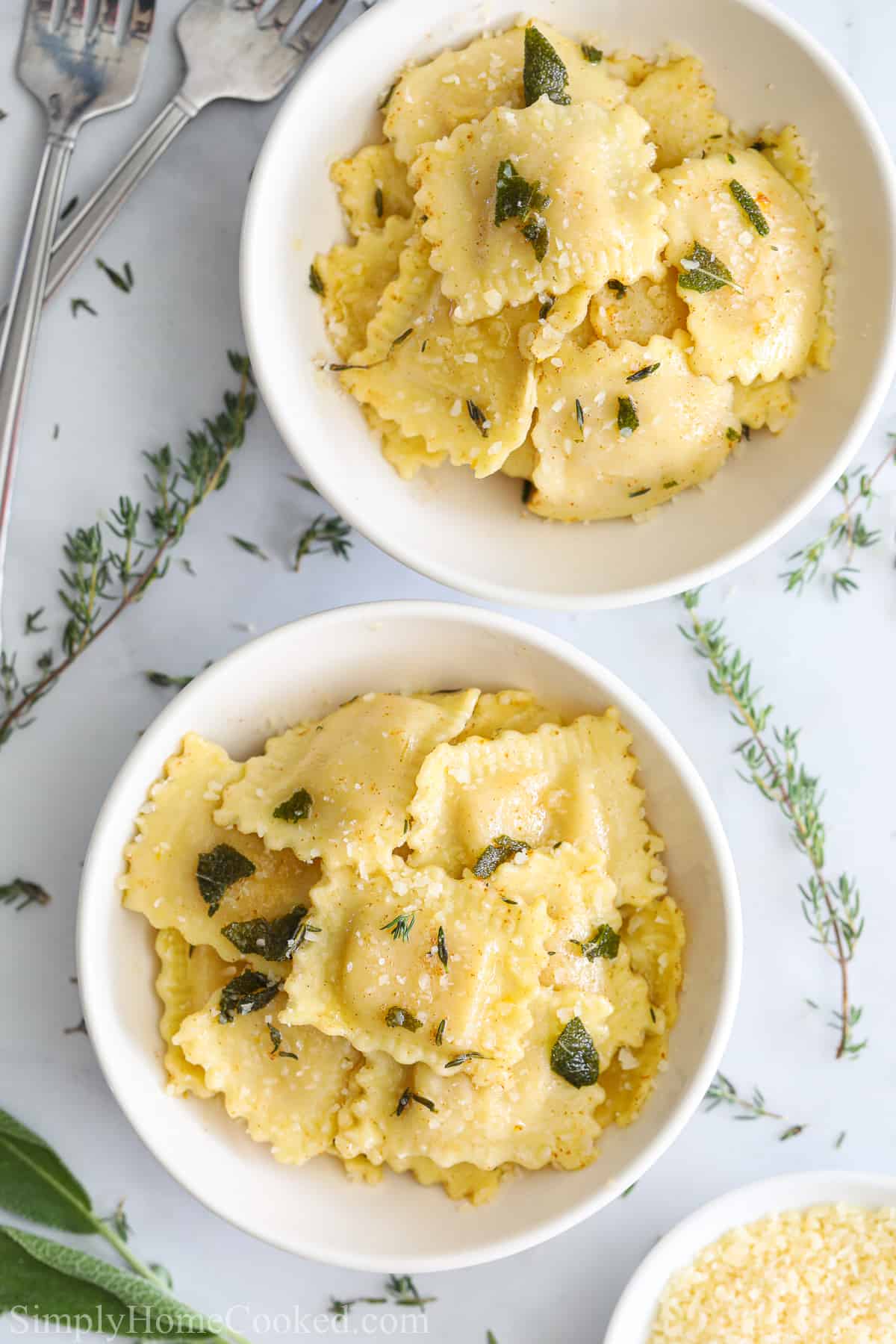 Butternut Squash ravioli
Butternut squash ravioli is the perfect dish for fall. It's festive flavors and satisfying texture make it a great comfort food on cold evenings. This ravioli is made even tastier with the addition of rich butter browned on the stove and fresh herbs that give a huge boost to the flavor. The best part of butternut squash ravioli is that it's easy to make and quick. Within 15 minutes, you can have this yummy dish on your table for the whole family to enjoy. It doesn't get much better than that!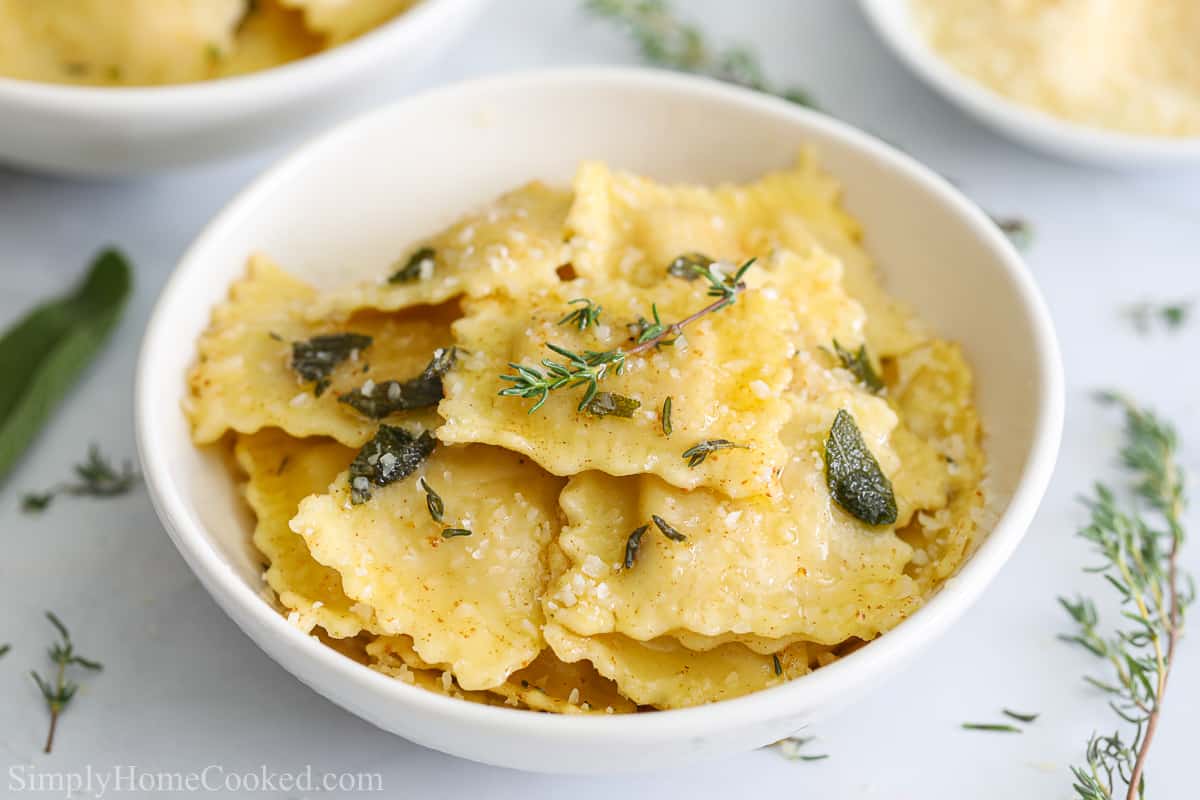 What makes it so amazing
Fresh herbs- Fresh sage and thyme impart an amazing amount of flavor, as well as being aromatics that enrich the scent of this delicious ravioli dish. These two go great with butternut squash.
Brown butter- When butter is cooked, the milk solids brown, giving it a rich, nutty flavor. This is the perfect complement to our butternut squash ravioli.
It comes together fast- This meal will take you only 15 minutes, which is perfect when you need something that's quick, tastes great, and that everyone will love.
Here is what you'll need to make it
For this recipe, you'll start with some Butternut squash ravioli. You'll also need Unsalted butter, Fresh sage leaves, Fresh thyme, and Parmesan. That's it!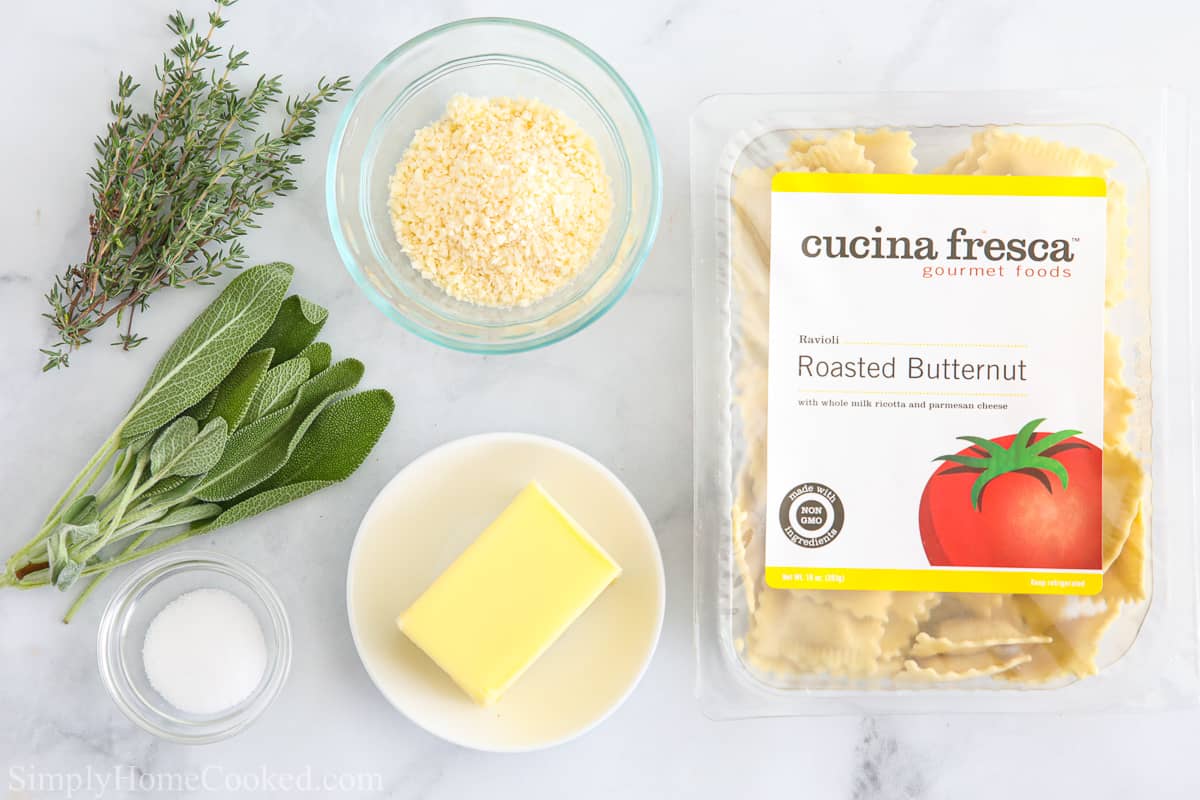 How to make the best butternut squash ravioli
Cook the ravioli. Boil a pot of salted water over high heat, and then add the butternut squash ravioli. Cook them until the ravioli start to float to the top of the pot.
Drain them. Place the ravioli in a colander to drain the water out. Then put them back in the pot.
Brown the butter. In a small saucepan over medium heat, place the unsalted butter. Carefully melt and brown it until it reaches a medium amber color.
Add the fresh herbs. Add the sage leaves and chopped thyme to the butter, giving it a quick stir.
Combine. Pour the butter mixture over the cooked ravioli and toss to combine. Serve the butternut squash ravioli hot with a garnish of grated Parmesan cheese.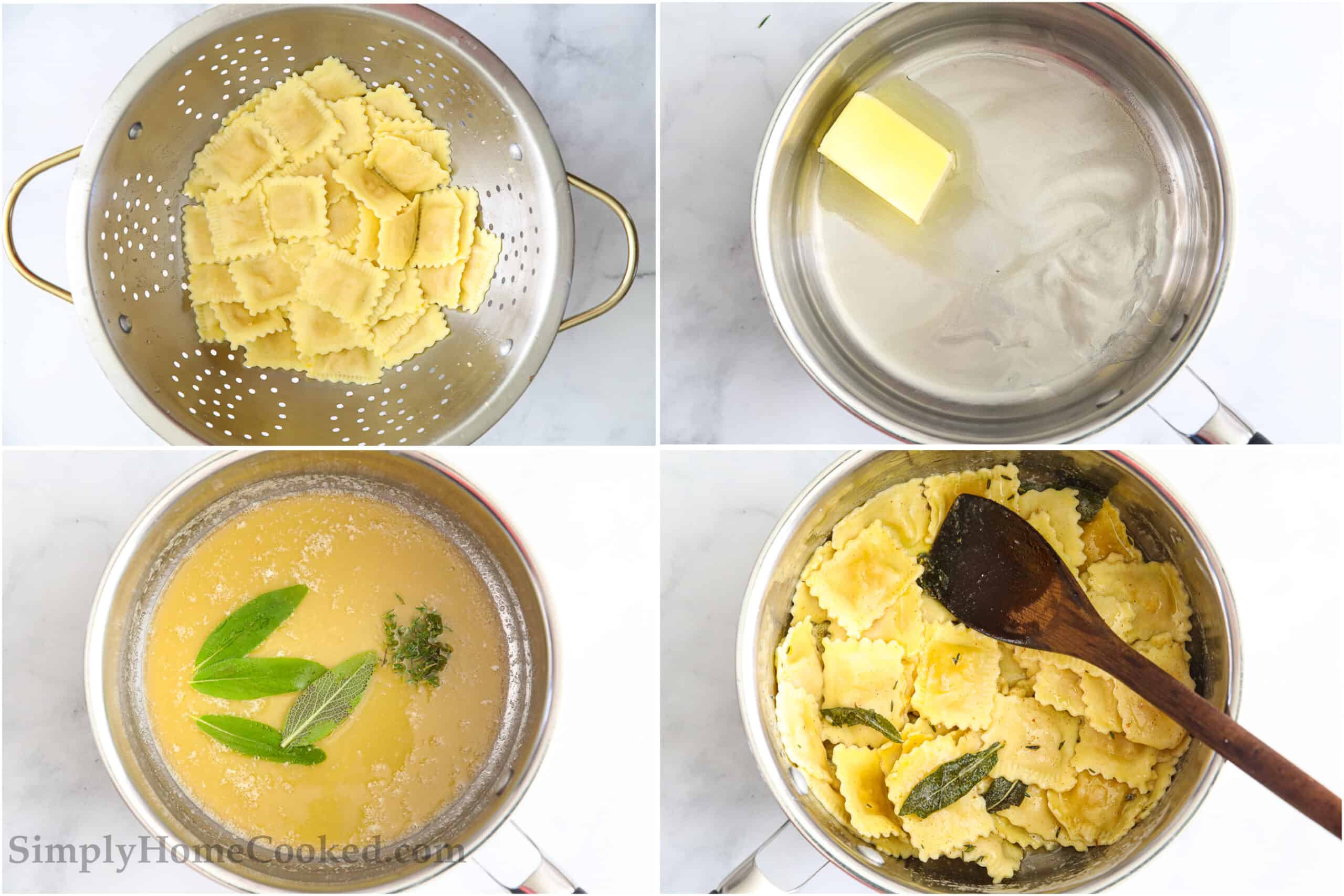 Tips
Don't use dry herbs- Fresh herbs have a ton more flavor than dried herbs. Make sure you're using fresh to get the full, rich flavor that this recipe promises.
Avoid overcooking the ravioli- Because ravioli has a filling, it's extra important to not overcook it. Overcooked ravioli can result in tears in the pasta and lost filling. Cook them al dente.
Keep a close eye on the butter so it doesn't burn- Brown butter is delicious, nutty, and intense. Burnt butter, not so much. Keep a close eye to make sure the butter browns only to a medium amber color.
Store and shelf life
To store your Butternut Squash Ravioli, place it in an airtight container in the refrigerator. It will last for about 3-5 days. When you are ready to warm it up, place it in a saucepan over medium heat for a few minutes. If the fridge has made it a little dry, you can add a little butter to loosen it up.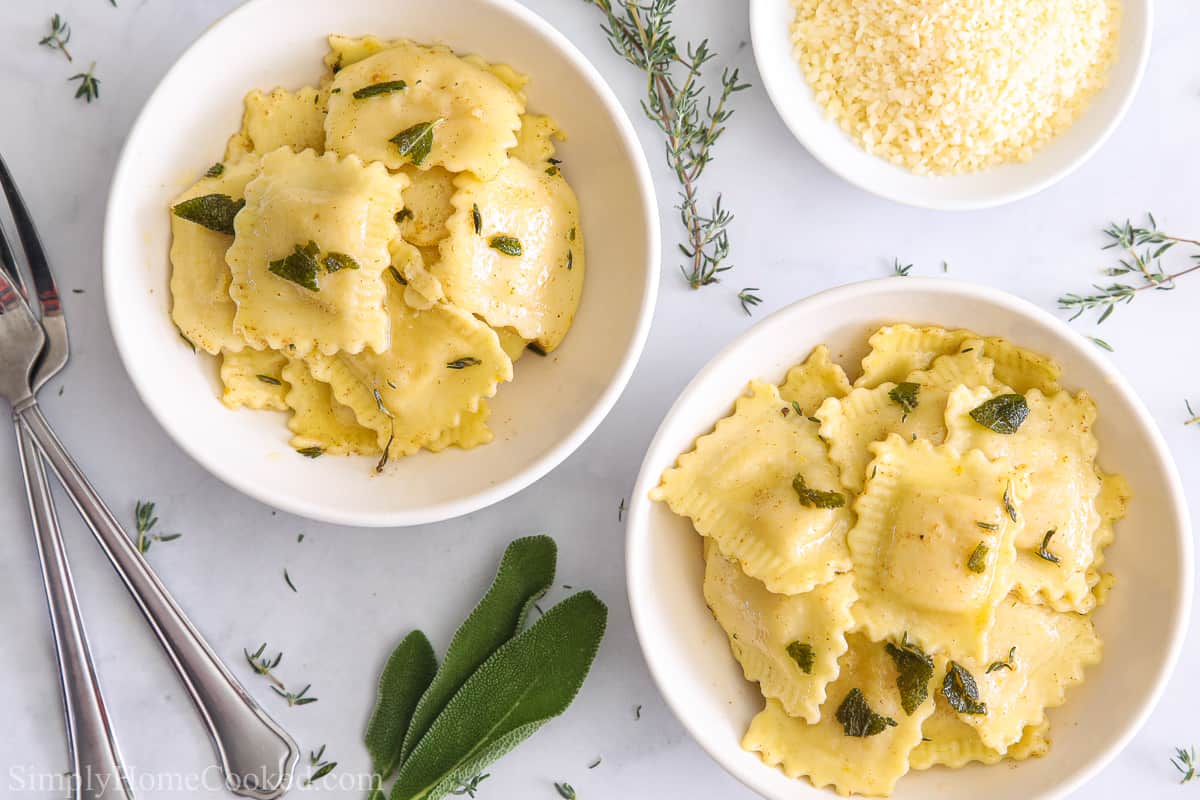 What to serve with butternut squash ravioli
Full Recipe Instructions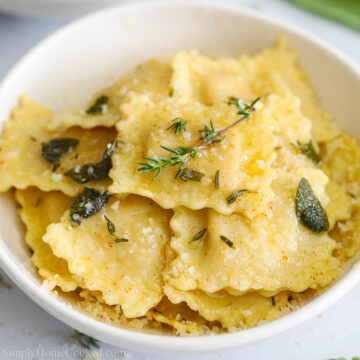 Butternut Squash Ravioli
This Butternut Squash Ravioli recipe is the perfect meal for fall. Brown butter, fresh herbs, and Parmesan makes this pasta dish so yummy!
Print
Pin
Rate
Ingredients
10

oz

butternut squash ravioli

6

tbsp

unsalted butter

4

whole fresh sage leaves

1

tsp

chopped fresh thyme

Freshly grated Parmesan 
Instructions
Start off by cooking 10 ounces of butternut squash ravioli and a pot of boiling salted water. Cook on high heat until the ravioli float to the top of the pot.

Then for the cooked ravioli into a colander to drain all the water out. Then place the ravioli back into the pot. 

In a small saucepan Brown 6 tablespoons of unsalted butter over medium heat. Careful not to burn the butter. You want to heat it just until the butter becomes a medium amber color.

Then add 4 fresh sage leaves and 1 teaspoon of chopped fresh thyme. Then give it a quick stir.

Now pour the brown butter and herb mixture over the cooked ravioli. Toss to combine and serve hot with a garnish of grated Parmesan cheese. 
Notes
Nutrition
Calories:
779
kcal
|
Carbohydrates:
59
g
|
Protein:
21
g
|
Fat:
51
g
|
Saturated Fat:
27
g
|
Cholesterol:
168
mg
|
Sodium:
879
mg
|
Fiber:
4
g
|
Sugar:
3
g
|
Vitamin A:
1112
IU
|
Vitamin C:
2
mg
|
Calcium:
39
mg
|
Iron:
15
mg